Braves rally in ninth as starters struggle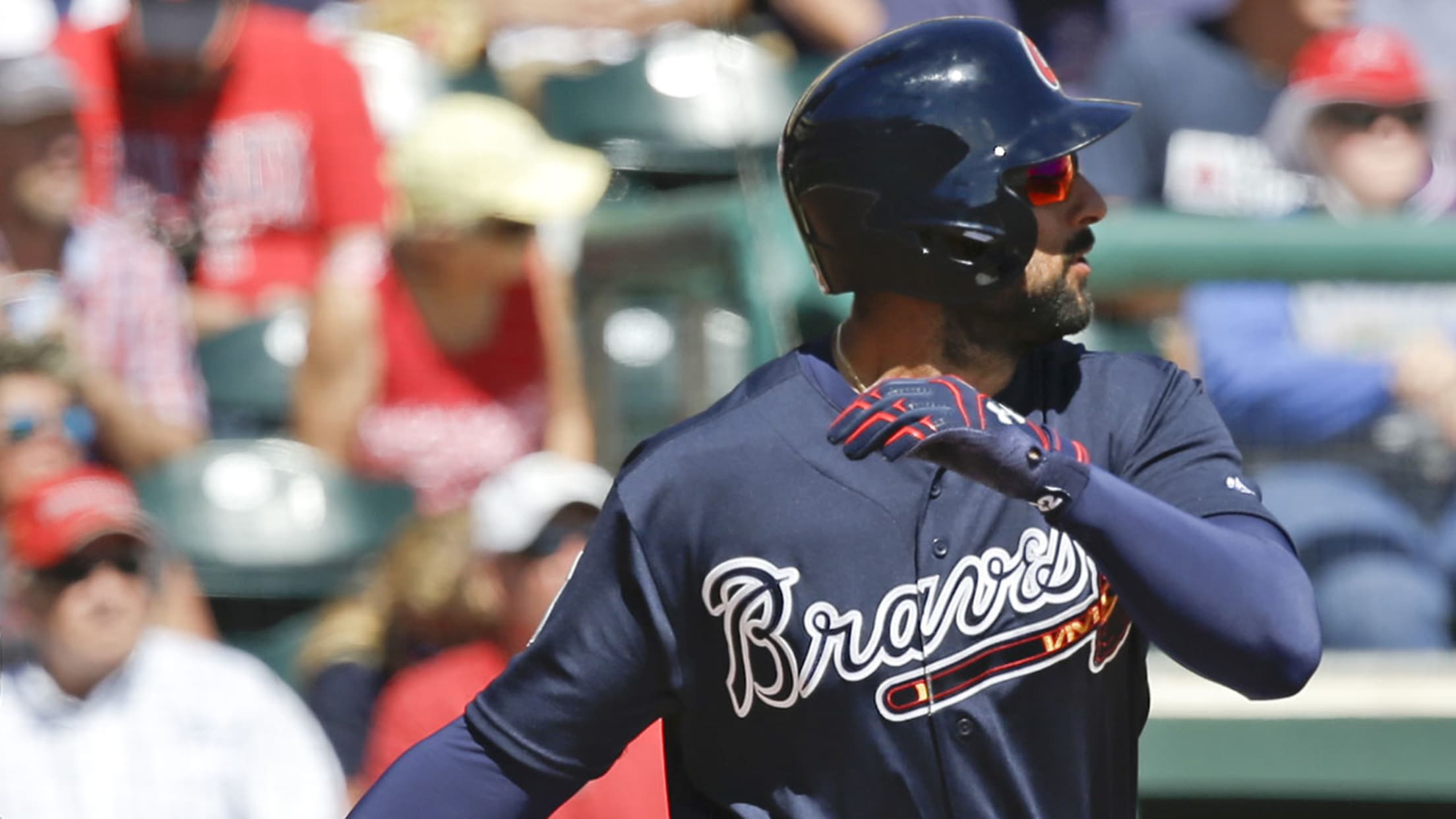 Nick Markakis drove in two runs against the Pirates. (AP) (John Raoux/AP)
LAKE BUENA VISTA, Fla. -- Long after Bartolo Colon and Tyler Glasnow completed their shaky starts at ESPN's Wide World of Sports complex on Monday afternoon, Adam Walker delivered a walk-off double that gave the Braves a 7-6 win over the Pirates.Johan Camargo began the bottom of the ninth with
LAKE BUENA VISTA, Fla. -- Long after Bartolo Colon and Tyler Glasnow completed their shaky starts at ESPN's Wide World of Sports complex on Monday afternoon, Adam Walker delivered a walk-off double that gave the Braves a 7-6 win over the Pirates.
Johan Camargo began the bottom of the ninth with a single and was replaced by pinch-runner Ronald Acuna, who scored the winning run from first base after Walker's double hit off the left-center-field wall. Eury Perez's game-tying single accounted for the only run Braves left-hander John Danks surrendered despite retiring just one of the first four batters faced during the top of the ninth inning.
"You can see some of our guys are starting to get their timing and put some good swings on the ball," Braves manager Brian Snitker said. "That's encouraging to see this time of the year."
Brandon Phillips' fourth-inning sacrifice fly off A.J. Schugel provided a lead for the Braves, who fell behind 5-1 after Colon retired just eight of the 18 batters he faced over three innings. The 43-year-old right-hander allowed eight hits (seven singles) and five earned runs. He issued a bases-loaded walk to Josh Bell before escaping a three-run second inning with Elias Diaz's double-play groundout.
Adam Frazier paced Pittsburgh's offense with four hits, including a double. Former Braves prospect Phil Gosselin added three hits for the visitors. Frazier, Gosselin and Austin Meadows began the game with three straight singles off Colon, who minimized damage during the first inning and then counted Glasnow's sacrifice bunt as the only out he recorded through the first seven batters faced in the second inning.
Twenty-years younger than Colon, Glasnow surrendered just one hit through the first two innings and then found trouble after walking Phillips with two outs in the third inning. Nick Markakis, Matt Kemp, Jace Peterson and Tyler Flowers followed with four consecutive two-out RBI singles.
Glasnow, who is vying for the fifth spot in Pittsburgh's rotation, allowed five earned runs and six hits over 2 2/3 innings. This was his first start of the spring. He had allowed one earned run and four hits over the 3 2/3 innings he'd worked as a reliever during this spring season.
"Today the game plan was just to be fastball-heavy and stay in the zone," Glasnow said. "When I was behind in the count I had to throw fastballs, but I just left 'em over the middle."
Pirates Up Next: After an off-day on Tuesday, the Pirates will play the Baltimore Orioles at 1:05 p.m. ET on Wednesday in Bradenton. Jameson Taillon is expected to make his third start of the spring. The game can be seen on MLB.TV.
Braves Up Next: The Braves will travel to Clearwater to play the Phillies at 1:05 p.m. on Tuesday. Aaron Blair will get another start in the spot that had been filled by Julio Teheran until he left Atlanta's camp to compete in the World Baseball Classic. The game can be seen on MLB.TV.
Watch every out-of-market regular-season game live on MLB.TV.
Mark Bowman has covered the Braves for MLB.com since 2001.
Dick Scanlon is a contributor to MLB.com.