Pena having a positive impact in Cards' clubhouse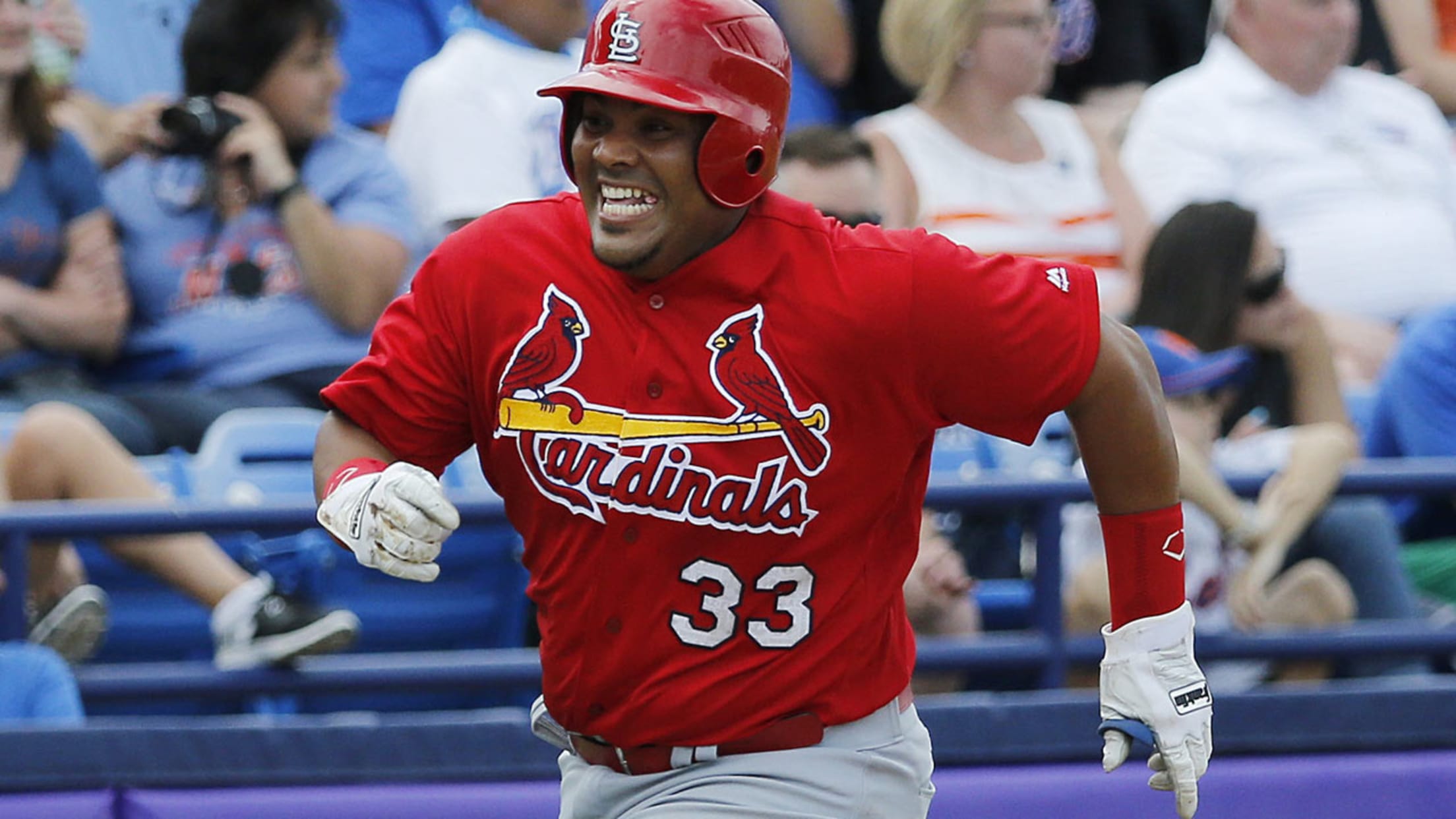 Brayan Pena is exhibiting the leadership characteristics manager Mike Matheny is looking for in his players. (AP)
FORT MYERS, Fla. -- Brayan Pena paused in the Cardinals' dugout, with more work ahead in his new beginning. As the veteran catcher spoke on Saturday morning at JetBlue Park about learning St. Louis' pitching staff, the energy that manager Mike Matheny considers valuable was clear."It's been very good," Pena
FORT MYERS, Fla. -- Brayan Pena paused in the Cardinals' dugout, with more work ahead in his new beginning. As the veteran catcher spoke on Saturday morning at JetBlue Park about learning St. Louis' pitching staff, the energy that manager Mike Matheny considers valuable was clear.
"It's been very good," Pena said of his communication with pitchers. "It's one of those things that's not going to be right away. It takes time to learn these guys. It's not the same when you face them [compared to] when you're actually working with them behind home plate. You try to be on the same page. You're trying to get to know them. But, at the same time, it's a process. But I'm very happy."
• Spring:Tickets | Ballpark | 40-man roster | NRIs
Pena, 34, signed as a free agent with the Cardinals last November to be Yadier Molina's backup, after spending the past two seasons with the Reds. He said he has formed positive connections with all the pitchers he has encountered since his arrival. Still, he singled out left-hander Jaime Garcia and right-handers Adam Wainwright and Mike Leake, who was Pena's teammate in Cincinnati during the 2014 and '15 campaigns, as three who have made his transition easier.
Pena has been quick to make positive impressions himself. To Matheny, the catcher's presence has multiple benefits.
"Just with his energy level, his optimism -- all those things really kind of lead in the direction that he could be around this game a long time, whether it's behind the plate or as a coach," Matheny said. "We thoroughly believe that's infectious, that type of positivity."
In addition to Pena's clubhouse demeanor, the Cardinals are optimistic about his on-field skills. He played a career-high 115 games with the Reds in 2014, and he followed that with 108 contests last year. He's a career .260 hitter with 23 home runs, 164 RBIs and a .652 OPS.
He returned to game action on Saturday, after dealing with tightness in his right arm that limited his throwing for a week. He went 1-for-2 during the Cards' 3-1, rain-shortened loss to the Red Sox.
"[I'm] feeling better," Pena said.
"Hopefully, knock on wood, everything will go my way and go from there. It's something that I've taken little by little, because our training staff has done such a good job taking care of me. I don't want to have any setbacks. ... It's part of going into the grind of Spring Training. Remember, we sit down for six months at home, and we don't do anything -- and then we come here. It's one of the things that I felt a little tightness. But our training staff has been doing such a great job making sure that I'm getting treatment the right way and making sure this bad boy is ready."
The Cardinals are ready to see what healthy, productive Pena can offer as he becomes more comfortable. Already, his energy has been embraced.
"He does a great job ... talking with the players -- especially the pitching staff," Matheny said. "He loves to communicate, encourage them, and he's just himself."
Andrew Astleford is a contributor to MLB.com.