Sunday's best: Honeywell spins another gem for Durham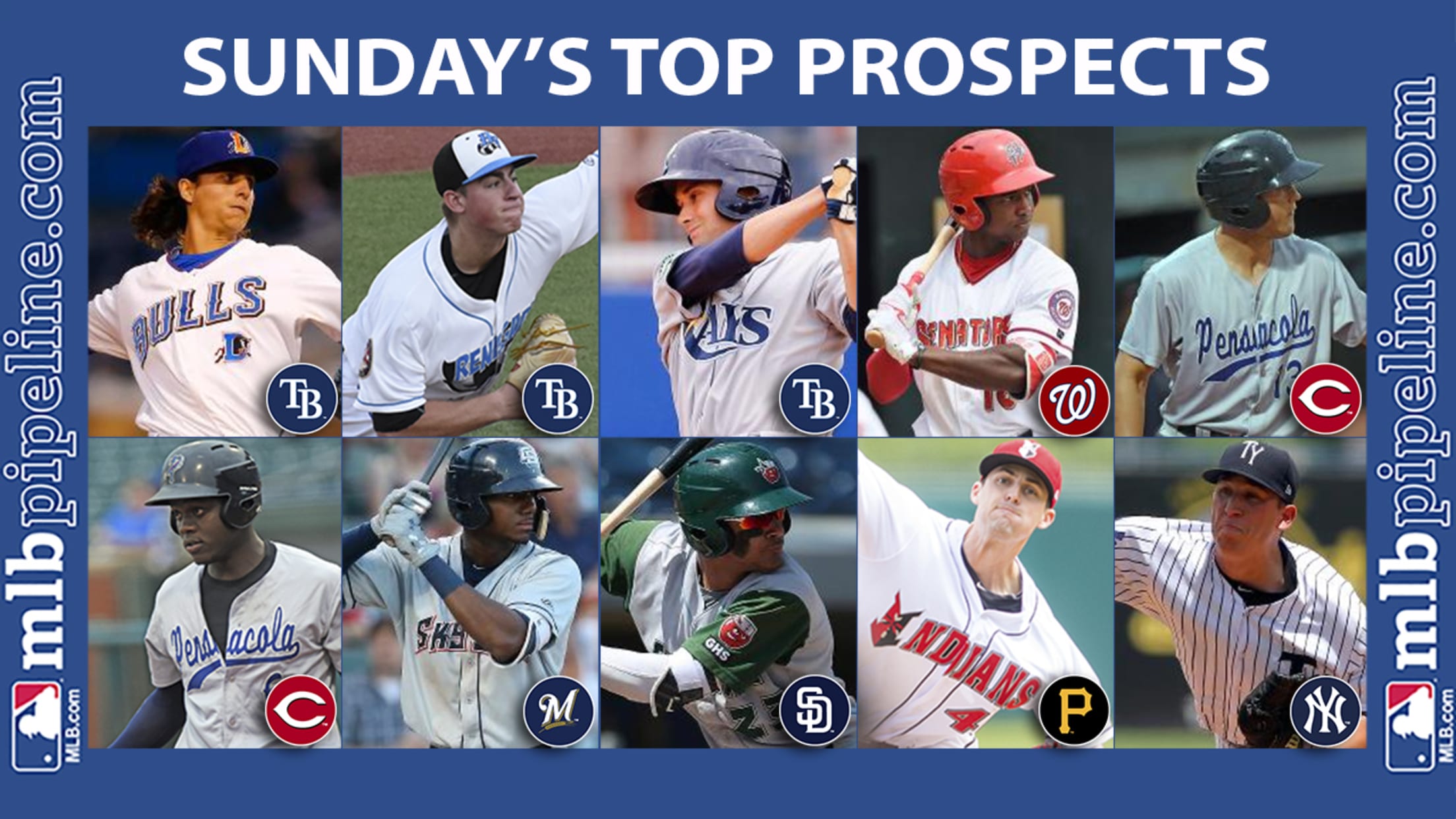 Brent Honeywell kept the opposing team off the board once again on Sunday as he tossed turned in his second scoreless start this week for Triple-A Durham.Honeywell, The Rays' top-ranked prospect (No. 14 overall), dominated over six innings, allowing just two hits while striking out five and generating six ground-ball
Brent Honeywell kept the opposing team off the board once again on Sunday as he tossed turned in his second scoreless start this week for Triple-A Durham.
Honeywell, The Rays' top-ranked prospect (No. 14 overall), dominated over six innings, allowing just two hits while striking out five and generating six ground-ball outs. He did not issue a walk in the outing, throwing 52 of his 70 pitches for strikes, but received a no-decision as the Bulls ultimately fell to Scranton/Wilkes-Barre, 4-2.
Honeywell, 22, began his start by retiring 10 straight before yielding a one-out double in the fourth inning to Donovan Solano, who was later thrown out at the plate to end the frame as he attempted to score on Christopher Austin's single.
"I was in a groove for a little while, nothing really extreme," Honeywell told MiLB.com. "I just stayed in the zone and used their aggressiveness against them and made them put the ball in play."
The right-hander then capped his outing with two perfect innings, even putting a bow on the performance with a swinging strikeout to end the sixth.
MILB Video - Title: Honeywell finishes with a strikeout - Url: http://www.milb.com/r/video?content_id=1725309683
Few Minor League pitchers have been as dominant as Honeywell since the calendar flipped to July. The 6-foot-2, 180-pounder owns a 0.93 ERA and a 0.93 WHIP over his last seven starts, with 51 strikeouts and seven walks in 38 2/3 innings.
"It's coming to the end of the year and my body feels good," Honeywell said. "You just need to remember that everybody's been doing the same thing as you since Spring Training, so this is when you start seeing the good guys take over. The guys who stay in shape and do the right thing and stuff like that."
Overall, Honeywell has pitched to a 3.38 ERA across 23 starts with Durham and Double-A Montgomery. He's issued just 32 walks in 125 innings while striking out 160 batters, the second-highest total in the Minor Leagues.
The rest of the best performances from top prospects Sunday
• No. 5 overall prospect Victor Robles (Nationals No. 1) pushed across two runs with his fourth-inning single and tacked on two more with a double in the eighth to match his career high with four RBIs. Despite scuffling a bit of late with Double-A Harrisburg, the 20-year-old outfielder still owns a .282/.368/.477 slash line with 45 extra-base hits and 19 steals in 96 games across two levels.
MILB Video - Title: Robles plates two - Url: http://www.milb.com/r/video?content_id=1724853583
• No. 11 overall prospect Nick Senzel (Reds No. 1) connected on a pair of solo homers in his second two-homer game this week for Double-A Pensacola. He finished the game 3-for-5 with three RBIs, and he's now slashing a robust .352/.405/.587 with nine homers through 47 games in the Southern League. Also going deep twice for Pensacola was Aristides Aquino (Reds' No. 7), who's homered three times in his last two games to push his season total to 15 home runs in his first Double-A campaign.
MILB Video - Title: Senzel goes yard - Url: http://www.milb.com/r/video?content_id=1725356383
"The power is coming naturally at this point. [Senzel's] not doing anything differently than before," Pensacola manager Pat Kelly told MiLB.com. "He's just a good hitter who's hitting the ball hard. When you do that and elevate them, they're going to get out. This isn't an easy league or park to hit home runs in, so it's impressive to see the power he's starting to show."
• No. 15 overall prospect Lewis Brinson (Brewers No. 1) accounted for much of Triple-A Colorado Springs' offense by going 2-for-5 with two home runs and three RBIs in an 8-4 loss against New Orleans. He went deep in his first two trips to the plate, which gave him three consecutive at-bats with a home run after he connected on a two-run shot in the ninth inning of Saturday's game.
MILB Video - Title: Brinson's second homer - Url: http://www.milb.com/r/video?content_id=1725770983
• No. 23 overall prospect Brendan McKay (Rays No. 3) allowed one hit and struck out a pair over three scoreless innings in his third start for Class A Short Season Hudson Valley. The 2017 No. 4 overall Draft pick has posted eight scoreless frames with two hits allowed and nine strikeouts to begin his pro pitching career. At the plate, McKay is slashing .205/.314/.397 with four homers through 73 at-bats.
MILB Video - Title: McKay notches a strikeout - Url: http://www.milb.com/r/video?content_id=1725270683
• No. 58 overall prospect Fernando Tatis Jr. (Padres No. 4) went 3-for-4 with a double and two runs scored, one day after he connected on his 21st home run to establish a new Class A Fort Wayne franchise record. The 18-year-old shortstop has been remarkable in his full-season debut, slashing .275/.381/.512 with 49 extra-base hits, 73 runs scored and 28 stolen bases in 112 games.
• Blue Jays No. 5 prospectTeoscar Hernandez matched his career high with five RBIs in a 2-for-5 effort for Triple-A Buffalo. He plated four with a grand slam in the second inning, his 13th home run in 90 games this season between the Astros' and Blue Jays' systems. The 24-year-old outfielder had been mired in a 1-for-21 skid before Sunday's multihit game.
MILB Video - Title: Watch: Hernandez launches grand slam - Url: http://www.milb.com/r/video?content_id=1726789283
• Blue Jays No. 8 prospect Nate Pearson, the 2017 No. 28 overall Draft pick, hurled three hitless innings with six strikeouts, both career highs, in a dominant start for Class A Short Season Vancouver. The 20-year-old righty has begun his career with five straight scoreless outings during which he's yielded four hits while striking out 14 batters.
• Pirates No. 19 prospectClay Holmes tossed five hitless innings with four strikeouts and one walk as Triple-A Indianapolis shutout Syracuse, 2-0. The 24-year-old right-hander has been on a roll over his last six starts, posting a 1.82 ERA with a .177 batting average against in 24 2/3 innings.
MILB Video - Title: Holmes throws five hitless - Url: http://www.milb.com/r/video?content_id=1725762883
• Rays No. 27 prospect Zach Rutherford enjoyed his first career multihomer game, hitting a solo homer in his first at-bat and later adding a three-run shot to finish 2-for-5 for Rookie-level Princeton. The 2017 sixth-rounder has put up solid numbers in the Appalachian League, producing a .760 OPS with six homers and 30 runs scored in 36 games.
• Yankees No. 17 prospect Taylor Widener was untouchable for Class A Advanced Tampa, as the 22-year-old right-hander fired five hitless frames to pace his team in a shutout of St. Lucie. Throwing 40 of his 60 pitches for strikes, Widener registered six strikeouts and one walk en route to facing the minimum 15 hitters in what was his second straight scoreless start.
• Yankees No. 23 prospect Dermis Garcia blasted a pair of home runs and drove in three in his second straight multihit performance for Class A Charleston. The 19-year-old third baseman has gone deep three times in 12 games since being promoted from the Rookie-level Appalachian League, where he hit nine homers while slashing .270/.397/.565 in 33 games.
MILB Video - Title: Garcia's second homer - Url: http://www.milb.com/r/video?content_id=1724384483