After dominating Triple-A, Kennedy set for debut
Righty went 10-0 with 2.72 ERA for El Paso, will start vs. Brewers on Wednesday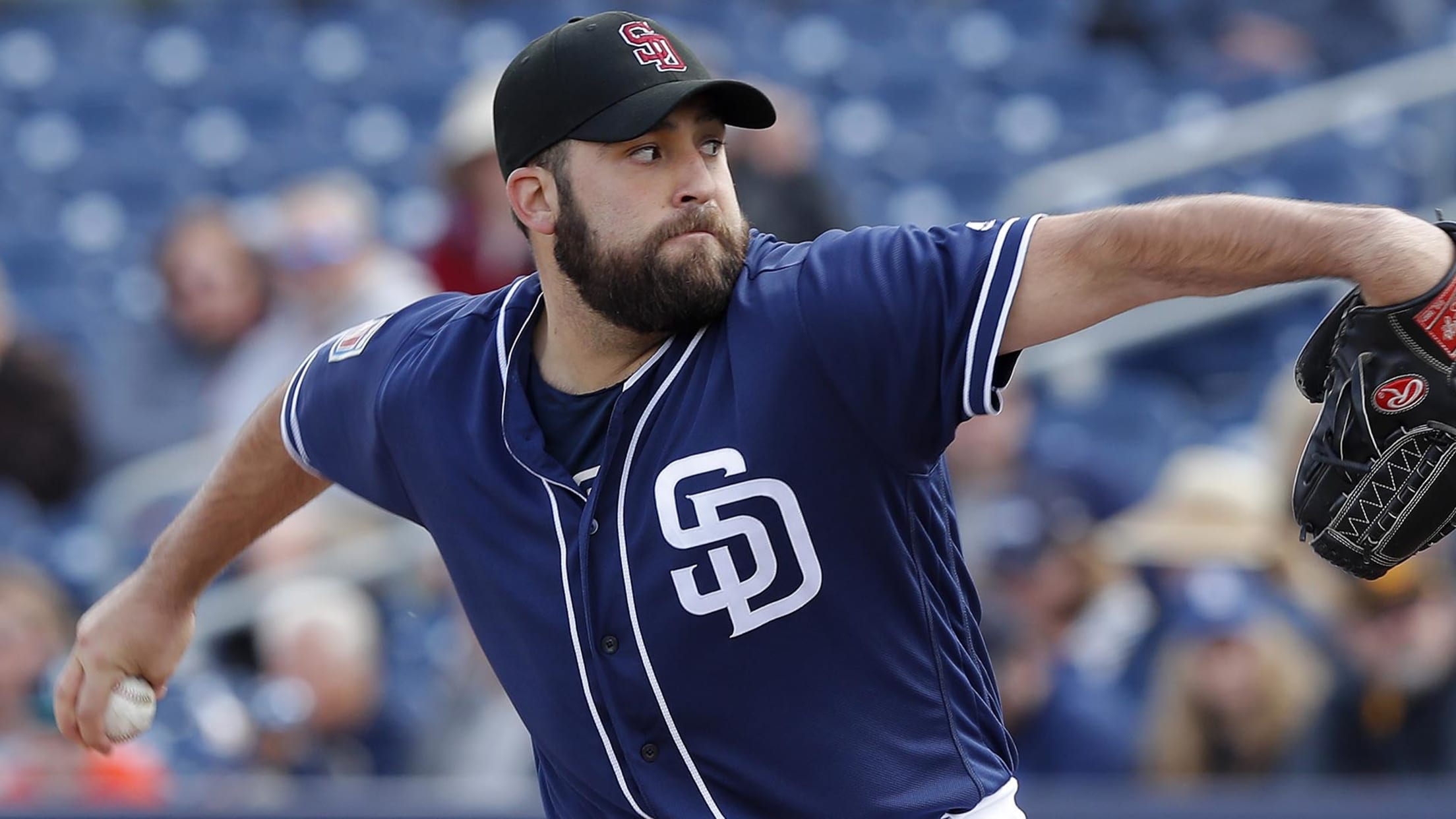 San Diego Padres starting pitcher Brett Kennedy winds up during the first inning of a baseball spring exhibition game against the Seattle Mariners, Friday, Feb. 23, 2018, in Peoria, Ariz. (AP Photo/Charlie Neibergall) (Charlie Neibergall/AP)
MILWAUKEE -- In a loaded Padres farm system, right-hander Brett Kennedy wasn't a top-30 prospect. He was an 11th-round pick -- No. 327 overall in the 2015 Draft -- as a senior out of Fordham University. He turned 24 on Saturday and still hasn't garnered much national attention.But make no
MILWAUKEE -- In a loaded Padres farm system, right-hander Brett Kennedy wasn't a top-30 prospect. He was an 11th-round pick -- No. 327 overall in the 2015 Draft -- as a senior out of Fordham University. He turned 24 on Saturday and still hasn't garnered much national attention.
But make no mistake: Kennedy earned his way to the big leagues. And if he keeps pitching well, he'll earn the right to stay.
Kennedy will make his Major League debut Wednesday night, when he starts the second game of the Padres' three-game series against the Brewers in Milwaukee. Kennedy went 10-0 at Triple-A El Paso this season, posting a 2.72 ERA over 16 starts in the extremely hitter-friendly Pacific Coast League.
"For me, it was just about pitching as well as I could at Triple-A and forcing their hand," Kennedy said.
Kennedy is the beneficiary of the Padres' decision to cut ties with Tyson Ross and Jordan Lyles, who were claimed off waivers by the Cardinals and Brewers, respectively, on Sunday. Neither factored into the organization's long-term plans.
Kennedy might, so it was time to take a look. The Padres' so-called "rotation of the future" is still wide open. There's not a single pitcher on the staff with a guaranteed place.
"He's got sitting out in front of him the opportunity to pitch in the big leagues," Padres manager Andy Green said. "We didn't bring him up with the anticipation of one outing, and that's it. We brought him up with the anticipation of: 'Let's see what you can do here.'
"He's earned that right. You don't see many guys with [2.72] ERAs in the PCL. You don't see guys that have won pretty much every game they've pitched this year in the PCL."
In some ways, Kennedy's arrival felt like a long time coming. The Padres' rotation struggled in July. It was a matter of time before the club turned over the bulk of its starting opportunities to its youngsters.
To his credit, Kennedy didn't view it that way.
"You look at things and try to worry about what you can control," Kennedy said. "What I could control is going out there and pitching. Every day I went out and tried to become the best pitcher I could. That's something I still have to do.
"The Padres have a plan for everyone. For me, they had a plan. If now is when they wanted me, then now I want to go out there and help the team win."
Injury updates
• Left fielder William Myers (left foot contusion) is expected to begin running on Wednesday. Myers is out of the walking boot he wore during the weekend and is walking with no noticeable limp, Green said. The Padres are optimistic Myers could return next week, but that remains up in the air until Myers begins running at full speed.
• Left-hander Eric Lauer (left forearm tightness) played catch on Monday, and the Padres are close to mapping out a progression for him to return to the mound. Lauer was placed on the disabled list last week.