Friday's best: Burnes dominant again for Biloxi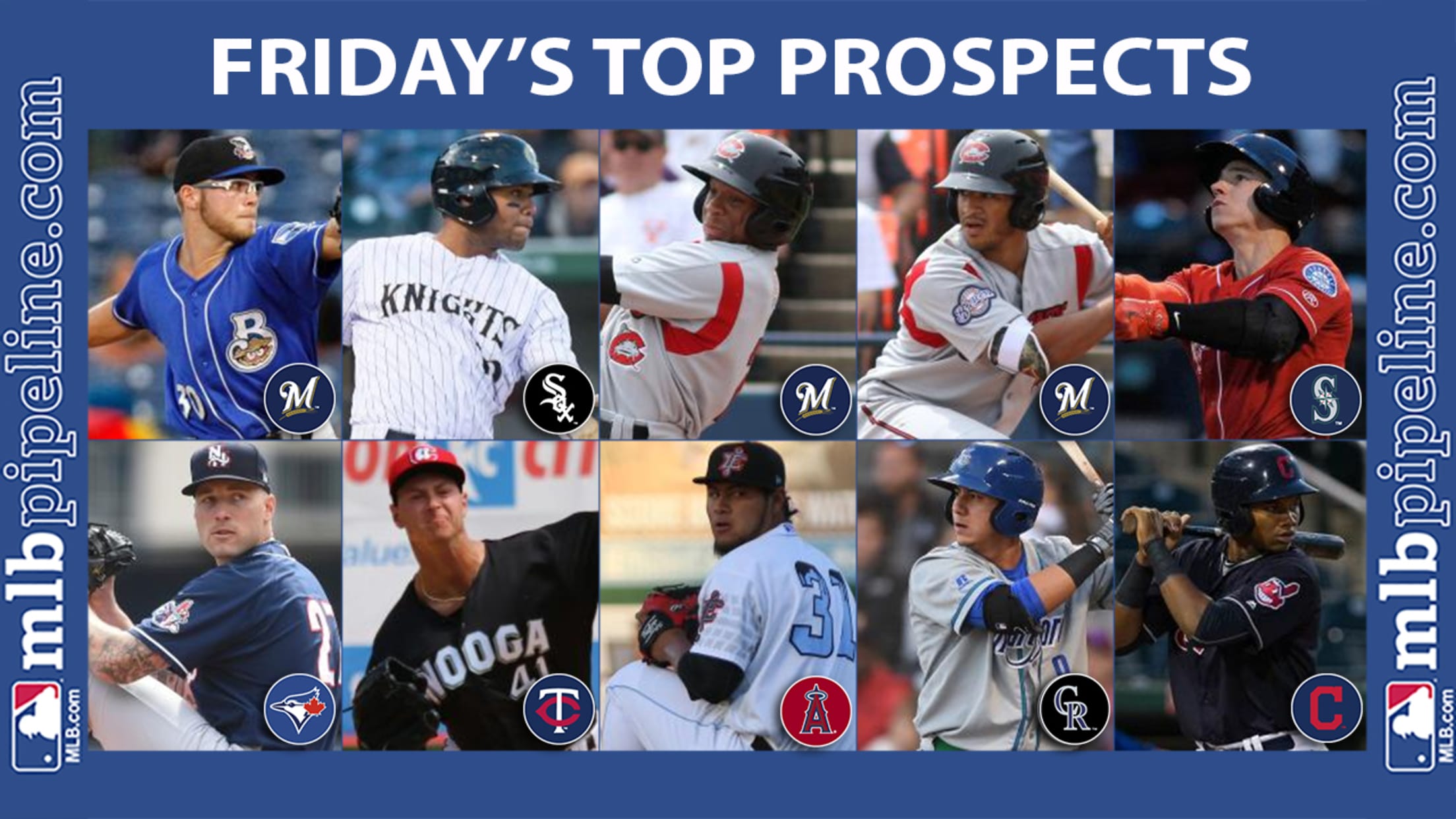 After a dominant start to his season with Class A Advanced Carolina, Corbin Burnes is continuing to make it look easy in Double-A.The Brewers' No. 20 prospect tossed a four-hit shutout on Friday as Biloxi defeated Mississippi, 2-0, in Game 1 of a doubleheader. He threw 62 of his 94
After a dominant start to his season with Class A Advanced Carolina, Corbin Burnes is continuing to make it look easy in Double-A.
The Brewers' No. 20 prospect tossed a four-hit shutout on Friday as Biloxi defeated Mississippi, 2-0, in Game 1 of a doubleheader. He threw 62 of his 94 pitches for strikes over seven innings, allowing one walk and striking out seven.
The scoreless performance was Burnes' third in four starts since joining the Shuckers, and he's now posted a stellar 0.76 ERA with a 26-to-5 strikeout-to-walk ratio and a .128 opponents' average over 23 2/3 frames in the Southern League.
MILB Video - Title: Burnes gets the shutout - Url: http://www.milb.com/r/video?content_id=1530684483
A fourth-round Draft pick in 2016, Burnes split his professional debut between the Rookie-level Arizona and Class A Midwest Leagues before opening the 2017 season with Carolina. The 22-year-old right-hander breezed through the Carolina League, posting a circuit-best 1.05 ERA and 0.88 WHIP over 60 innings while winning five of his 10 starts.
Overall, Burnes is leading all Minor League hurlers with a 0.97 ERA and a 0.81 WHIP, and he's also tied for first place in opponents' average at .167. What's more, he's an unblemished 7-0 in 14 starts between the two levels, with 82 strikeouts and 21 walks in 83 2/3 innings.
The rest of the best performances from top prospects Friday
• No. 1 overall prospectYoan Moncada (White Sox No. 1) fell a double short of hitting for the cycle in Triple-A Charlotte's loss against Durham. He went 3-for-5 in the contest, tallying his ninth home run as well as his third triple while also recording his 15th stolen base. The 22-year-old second baseman is batting .341 with 11 runs scored and more walks (11) than strikeouts (10) in his last 10 games.
MILB Video - Title: Moncada hits two-run homer - Url: http://www.milb.com/r/video?content_id=1530833883
• No. 5 overall prospect Victor Robles (Nationals' No. 1) couldn't come up with a single in his final at-bat to complete his cycle, though he still went 3-for-4 with his seventh home run and a season-best four RBIs in Class A Potomac's loss against Carolina. He's hit safely in 12 of his last 13 games while batting .383 with 11 extra-base hits in that span.
• In that same game, No. 23 overall prospect Corey Ray (Brewers' No. 2) and Trent Clark (Brewers' No. 6) both went 3-for-5 with three RBIs for Carolina. Ray tallied two doubles as well as his 16th stolen base out of the leadoff spot for the Mudcats, while Clark connected on his sixth homer, a three-run shot in the top of the ninth, and scored a pair of runs. They are hitting .255 and .225, respectively.
• No. 31 overall prospect Tyler O'Neill (Mariners' No. 2) hit a pair of two-run homers as well as a bases-clearing double to finish 3-for-6 with a season-high seven RBIs for Triple-A Tacoma. His career-high in RBIs is eight, which he achieved on June 8, 2016 with Double-A Jackson.
• No. 55 overall prospect Sean Reid-Foley (Blue Jays' No. 2) tossed a season-high seven scoreless innings, scattering four hits while striking out five and walking two, as Double-A New Hampshire defeated Binghamton, 5-1. The 21-year-old righty also induced 10 ground-ball outs in the outing, which saw him throw 65 of his 97 pitches for strikes. He's allowed three or fewer earned runs in four of his last five turns.
MILB Video - Title: Reid-Foley records K - Url: http://www.milb.com/r/video?content_id=1531475383
"My changeup was working tonight and then after the fourth inning my curveball started to become effective, so I started to rely on those two pitches more as the game went on," Reid-Foley told MiLB.com.
• No. 80 overall prospect Stephen Gonsalves (Twins' No. 2) struck out nine over seven innings en route to his third win in four starts for Double-A Chattanooga. The 22-year-old southpaw threw 69 of his 101 pitches for strikes, allowing one earned run on three hits (one a solo homer) and one walk. He lowered his ERA to 2.85 with the performance, and he's now compiled 51 strikeouts against nine walks in 41 innings (seven starts).
• Angels No. 8 prospect Jaime Barria went the distance for the first time in his career, tossing a two-hit shutout with six strikeouts for Double-A Mobile in game one of a doubleheader against Tennessee. The 20-year-old righty threw 56 of his 82 pitches for strikes and retired his final 16 batters en route to facing one over the minimum in the seven-inning game. He's posted a 0.92 ERA in 19 2/3 innings (three starts) since being promoted to Double-A.
MILB Video - Title: Barria completes the shutout - Url: http://www.milb.com/r/video?content_id=1531601883
• Rockies No. 9 prospect Dom Nunez connected on a pair of solo homers to help lead Double-A Hartford past Altoona. It was the first career multi-homer game for the 22-year-old catcher, who's hitting .205/.354/.377 with seven homers through 51 games.
• Mets No. 9 prospect Peter Alonso recorded four extra-base hits and five RBIs, both career highs, to lead Class A Advanced St. Lucie in a 19-7 rout of Charlotte. Three of those extra-base hits were doubles and the other was a fifth-inning grand slam, marking his second homer in as many games. After a slow start to his season that included a six-week stint on the disabled list with a broken hand, the 21-year-old first baseman is batting .555 (10-for-18) with three homers and 12 RBIs during his current five-game hitting streak.
"I'm feeling outstanding and I'm super, super, super happy with the progress I've made so far this year and correcting a few things," Alonso told MiLB.com. "Now I'm just seeing the fruits of my labor and sticking with my routine, and everything's coming together."
• Red Sox No. 10 prospect Michael Chavis homered on the first pitch he saw in his first at-bat before finishing 2-for-4 in his debut for Double-A Portland. The 21-year-old third baseman was promoted from Class A Advanced Salem after pacing the Carolina League in OPS (1.029), home runs (17) and RBIs (55) through 59 games.
MILB Video - Title: Watch: Chavis hits his first Double-A homer - Url: http://www.milb.com/r/video?content_id=1533276083
• A's No. 12 prospect Heath Fillmyer turned in his best start of the season to help pace Double-A Midland in a shutout of San Antonio. Fillmyer, 23, completed a season-high 7 1/3 frames as he scattered three hits, walked two and struck out seven. He owns a 0.47 ERA over his last three starts, during which he's allowed just 10 hits in 19 innings.
MILB Video - Title: Fillmyer picks up seventh - Url: http://www.milb.com/r/video?content_id=1531961483
• Indians No. 26 prospect Oscar Gonzalez's two home runs and five RBIs accounted for all of Class A Short Season Mahoning Valley's offense in their 5-4 win over Auburn. After leading the Rookie Arizona League last season in home runs (eight) and slugging (.556) as the circuit's MVP, Gonzalez, 19, is batting .381 (8-for-21) with seven RBIs through his first five games in the New York-Penn League.
• Nationals No. 26 prospect Daniel Johnson hit his South Atlantic League-leading 14th home run and plated three in Class A Hagerstown's win against Greensboro. He's batting .292/.364/.542 with 28 extra-base hits in 64 games this season.