Saturday's Brewers-Cubs game postponed
Tilt rescheduled as day game on July 6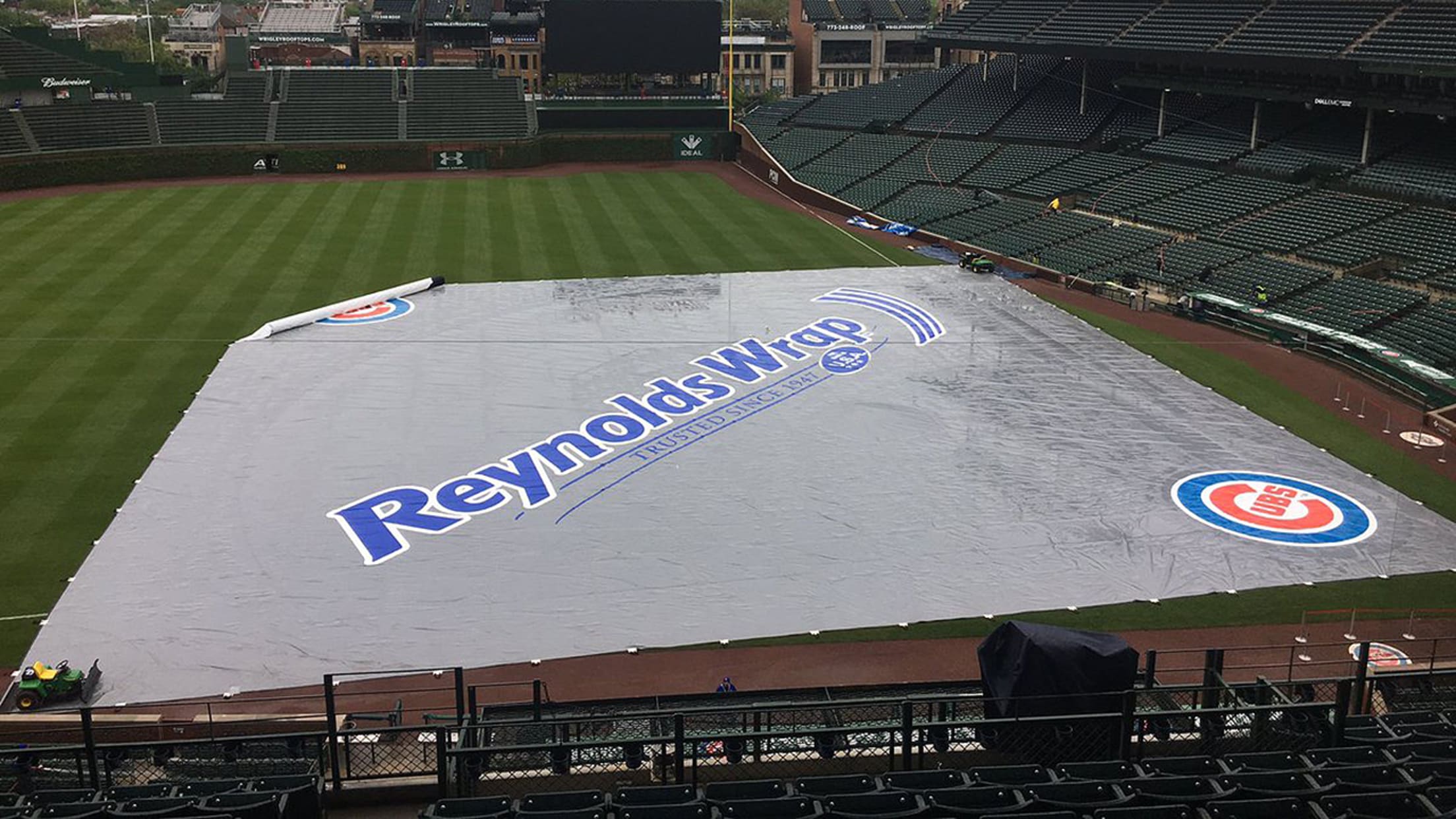 After enduring a long rain delay in Friday's opener, the Cubs opted to postpone Saturday's game. (Scott Chasen)
CHICAGO -- After playing through a miserable rain at Wrigley Field on Friday, the Cubs and Brewers didn't repeat on Saturday afternoon.Saturday's game was postponed because of inclement weather and was rescheduled for Thursday, July 6 at 1:20 p.m. CT -- previously a mutual off-day for the teams. Fans who
CHICAGO -- After playing through a miserable rain at Wrigley Field on Friday, the Cubs and Brewers didn't repeat on Saturday afternoon.
Saturday's game was postponed because of inclement weather and was rescheduled for Thursday, July 6 at 1:20 p.m. CT -- previously a mutual off-day for the teams. Fans who had tickets for Saturday's game were asked to retain them to use for the rescheduled contest.
Both teams opted to push Saturday's scheduled starters back a day, so Chase Anderson will start for Milwaukee against Chicago's Jacob Arrieta on Sunday.
"There's nothing you can do about it," Cubs manager Joe Maddon said. "You can cry about it, complain, 'Oh, the weather has been bad, it's been unfortunate.' ... That's what it is, you gotta deal with it, and you move forward. Regardless, [Friday] was just a tougher day -- both sides -- I mean having the start, the stop, the intensity of the weather, how cold -- I mean, that's just not real baseball weather by any means. It wasn't."
The Cubs fell in Friday's series opener, 6-3, after enduring a one-hour, 59-minute rain delay in the sixth inning. It was Milwaukee's 10th win in its past 12 games.
The rainout gave the Brewers another day to rest hard-worked closer Corey Knebel, who was not available Friday and might have been off limits Saturday, too, after pitching four times in five days through Thursday. But the Brewers are hot right now, in first place in the National League Central at 25-18, so a number of staffers were keeping tabs on the weather forecast Saturday morning with hope of playing.
Milwaukee manager Craig Counsell joked about technology creating an army of amateur meteorologists.
"Weather apps have made everybody an expert, and then the other thing is everybody has their own different weather app, so everybody's weather app says something different," he said. "So everybody's got a different answer now."
Of course, everyone thinks their own answer is right.
"Exactly," Counsell said, smiling. "But I would recommend that the Cubs use a different app, because the one they were using [Friday] wasn't working."
The Cubs did not make a roster move regarding outfielder Jason Heyward. He was to be activated from the disabled list and was in the lineup for Saturday's game before the rainout was announced. However, because the game was postponed, no move was made.
The Brewers, meanwhile, may activate left fielder Ryan Braun from the disabled list as soon as Sunday. Braun has been on the 10-day DL with a left calf strain, and Sunday is the first date he's eligible to return -- though the wet weather has so far prevented him from testing his legs in running drills. The Crew planned to meet again Sunday morning to make a decision.