Santana's HR powers Crew's bats vs. Padres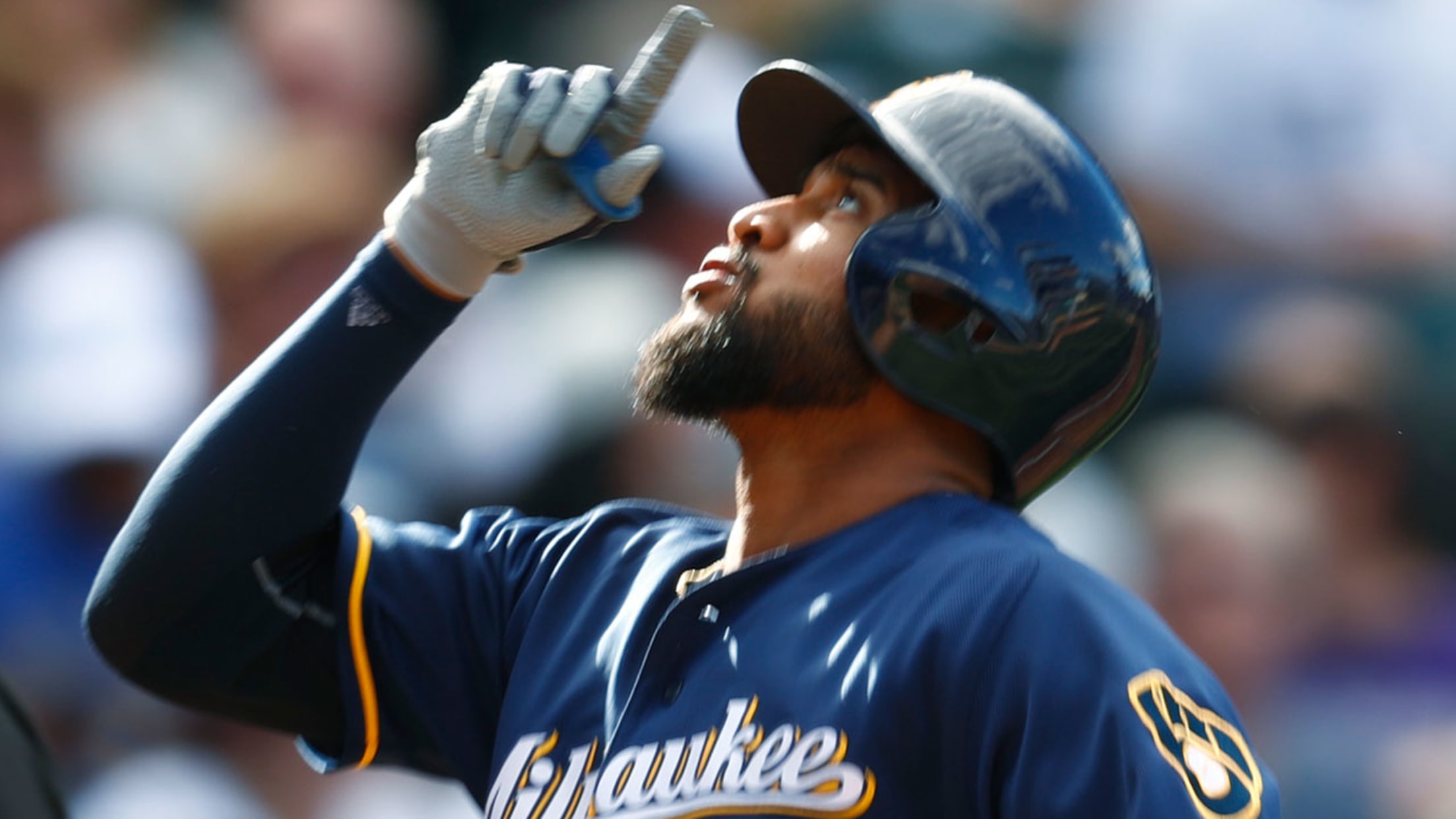 Domingo Santana went 2-for-3 with a home run against the Padres in the Brewers' win on Thursday. (AP)
PEORIA, Ariz. -- Domingo Santana hit a three-run homer in the third inning, sending the Brewers on to an 8-2 victory over the Padres on Thursday in Cactus League play at Peoria Sports Complex.It was the third home run of the spring for Santana, who is seeking to rebound from
PEORIA, Ariz. -- Domingo Santana hit a three-run homer in the third inning, sending the Brewers on to an 8-2 victory over the Padres on Thursday in Cactus League play at Peoria Sports Complex.
It was the third home run of the spring for Santana, who is seeking to rebound from a 2016 season that included extended stints on the disabled list for shoulder and elbow injuries. He connected against Padres right-hander Jason Jester, San Diego's second pitcher of the game.
"This was the first time I [did not] play winter ball, so I guess that helped me a lot," Santana said. "I'm just trying to get my body into the season, try to be healthy with my elbow and my shoulder. I focused on getting my arm strength back and being 120 percent."
The Padres scored single runs the third and fourth, with William Myers smacking his second homer of the spring with two out in the third against Milwaukee starter Zach Davies, who pitched 2 2/3 innings, allowing the lone run and four hits while striking out two and walking one. Myers is now hitting .412 this spring after a 2-for-2 game.
Right-hander Jarred Cosart made his second Cactus League start for the Padres in his recovery from having a bone spur removed from his right elbow last October. He threw 36 pitches and was yanked with two out and nobody on in the second, having allowed a run on three hits, all of which came in the first inning
"They were going for 35 pitches, somewhere around there," Cosart said. "I was going two innings or 35 pitches no matter what, so they wouldn't let me finish the inning. I could've thrown 12 pitches and I would've pitched only two innings. It's just a buildup process. It's different for me. I've never had surgery before so this is all new to me."
• Cosart builds up strength during rotation battle
Davies, meanwhile, cited progress in his 47-pitch outing.
"When you have limited innings early in spring, you have to try to work in some things," said Davies, whose rotation spot is secure. "I got up in pitch count, so that last inning I said, 'Let's try to do some early contact here to make sure you finish without having to come out of the inning.' Unfortunately, I gave up the homer [to Myers] on 3-1."
Brewers Up Next:Ryan Braun is scheduled to make his spring debut on Friday in the Brewers' split-squad home game against the White Sox. Left-hander Tommy Milone is Milwaukee's scheduled starter for that 2:05 p.m. CT game at Maryvale Baseball Park. Meanwhile, in Scottsdale, right-hander Chase Anderson will start for the Brewers against the D-backs at 2:10 p.m. CT on MLB.TV.
Padres Up Next: The Friars are at Tempe Diablo Stadium on Friday to face the Angels. Veteran left-hander Clayton Richard will be on the mound for a 12:10 p.m. PT start on MLB.TV.
Watch every out-of-market regular-season game live on MLB.TV.