Gennett caps homestand strong vs. lefty
2nd baseman notches 2 hits vs. Matz, leaving oblique injury behind him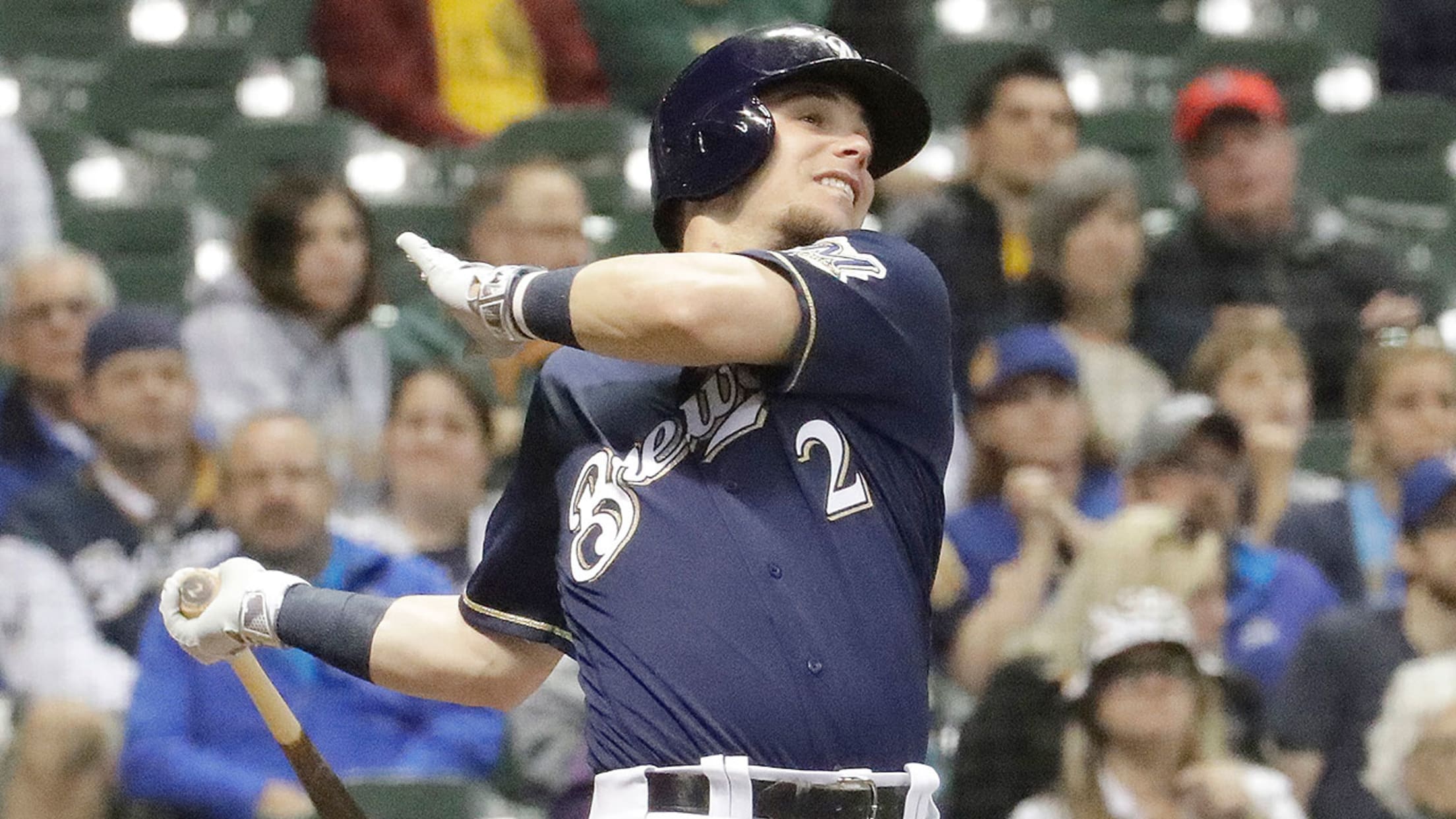 Scooter Gennett went 9-for-20 during the Brewers' six-game homestand. (AP)
MILWAUKEE -- It didn't matter whether it was a righty or a lefty on Sunday against the Mets. Scooter Gennett was going to keep swinging his hot bat.Receiving only his fifth start of the season against a left-handed pitcher, a fully healthy Gennett went 2-for-3 with a double in a
MILWAUKEE -- It didn't matter whether it was a righty or a lefty on Sunday against the Mets. Scooter Gennett was going to keep swinging his hot bat.
Receiving only his fifth start of the season against a left-handed pitcher, a fully healthy Gennett went 2-for-3 with a double in a 5-3 win to cap off a homestand in which he went 9-for-20 (.450) with one homer and five RBIs.
• Cast your Esurance All-Star ballot for Gennett and other #ASGWorthy players
It was no ordinary southpaw that Gennett and the Brewers had to face on Sunday with Steven Matz on the mound for New York. Still, Milwaukee roughed him up for nine hits and five runs (four earned) over six innings.
"You've just got to capitalize on mistakes, and we were able to do that for the most part today," Gennett said. "When he did make a mistake, we jumped on it, and that's the difference between a good-hitting game for us and a bad one, is we capitalize on those mistakes. You don't get many of them, especially from a good pitcher like that."
Gennett had only 27 plate appearances against lefties this season, and he came into Sunday's game a career .134 hitter with a .398 OPS against left-handers. He insists, though, that his approach remains the same regardless of which side the pitcher he's facing throws from.
"When you face a starter, you see him a few times that day, and it's just normal, it's a normal starting pitcher," he said. "So for me, lefty-righty, it doesn't matter. If I'm starting, I'm just going to go in with the same approach, and that's just swinging at good pitches."
Coming into the weekend, Gennett had five career extra-base hits against lefties. The 26-year-old hit two over Milwaukee's past two games -- including a homer off Mets reliever Antonio Bastardo on Saturday.
Gennett's torrid six-game homestand served as evidence that he has fully recovered from a pesky right oblique injury that shelved him from April 28 until May 11. He hit .186 in May with no homers as his OBP plummeted to .222.
"That was my first experience with [an oblique injury]," said Gennett, now batting .259 with a .326 OBP. "Physically, it changed my whole mechanics. For a while there, it wasn't extremely painful, but I still felt it when I came back. Created some bad habits just with that physical change."
A 5-for-17 series in Philadelphia as the calendar flipped to June began the turnaround for Gennett, who says his production is a result of feeling 100 percent once again.
"I'm able to go out and just focus on hitting and not worry about that oblique issue," he said. "So lately, it's been a lot better. I've just got to stay on top and make sure that it doesn't affect me anymore. It's actually really nice, not having to worry about an injury or something like that."
Curt Hogg is a reporter for MLB.com based in Milwaukee..