Mets prospects extend camaraderie to pros
Former Stanford homer leader, runner-up battled, but they look to one another in Minors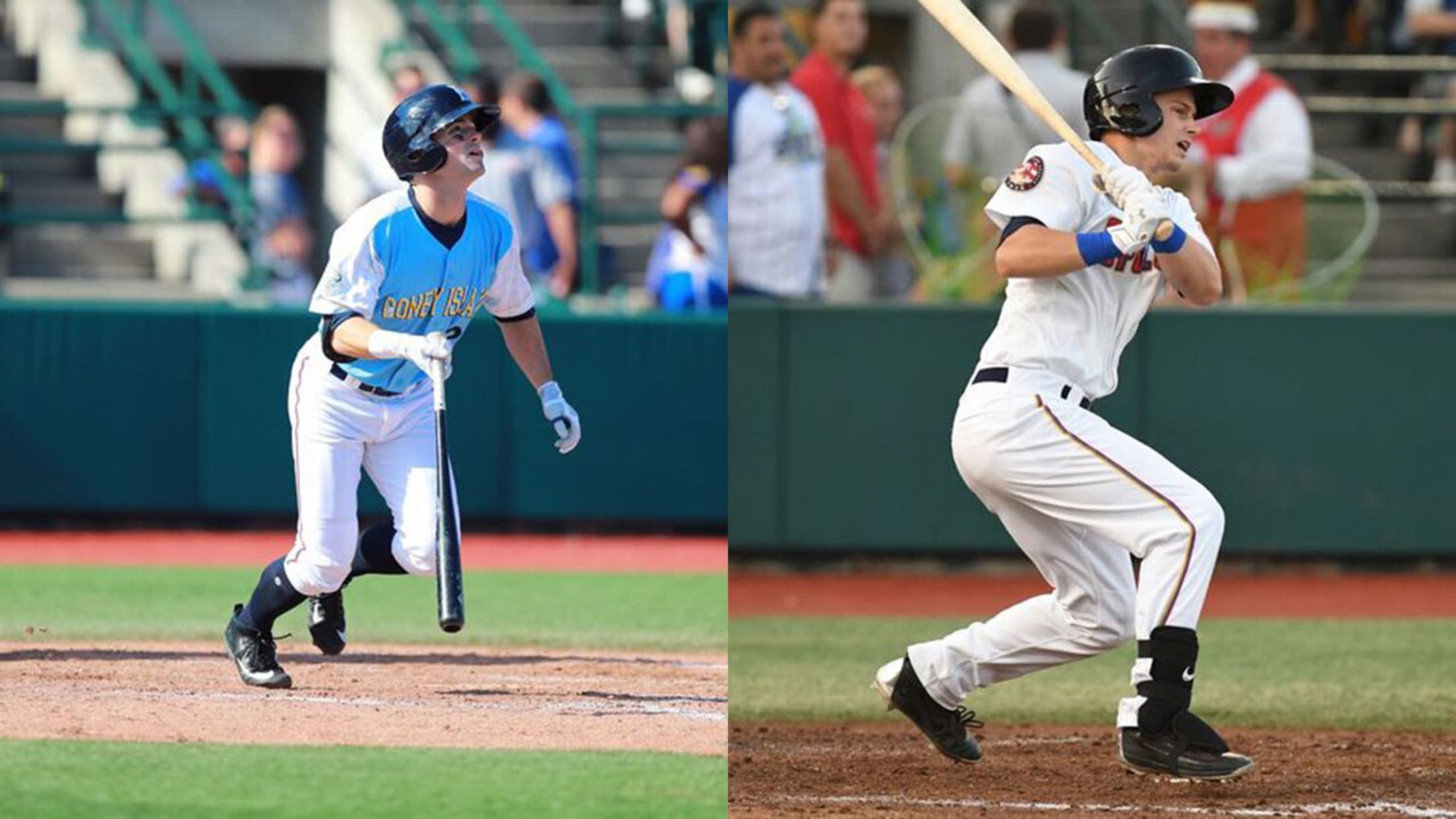 NEW YORK -- Quinn Brodey was lounging in his aunt and uncle's living room in the Central Valley of California, surrounded by friends and family. It was June 13, Day 2 of the 2017 MLB Draft, and as the third round was nearing its end, the Stanford product finally heard
NEW YORK -- Quinn Brodey was lounging in his aunt and uncle's living room in the Central Valley of California, surrounded by friends and family. It was June 13, Day 2 of the 2017 MLB Draft, and as the third round was nearing its end, the Stanford product finally heard his name called by the Mets with the 97th pick, triggering a sprint into the backyard pool. His phone was left on a lawn chair and the computer was shut off, blocking most of Brodey's connections to the world.
As Brodey's phone sat poolside, he saw a Facetime call pop up.
It was Matt Winaker, a teammate of his at Stanford.
"Hey man, I'm joining you," said Winaker, a first baseman and the 157th pick, also by the Mets.
The news shocked Brodey as he realized that the next legs of their careers would begin with the same organization -- and, as it turned out, the same Minor League team. Both players were assigned to play for the Brooklyn Cyclones of the Class A Short-Season New York-Penn League.
For Brodey and Winaker, their relationship over the past three years has been multifaceted. There are times when the support is visible, but the competitive juices to one-up each other are also there. Within a month of being on the Cyclones' roster, the two have confided in one another as they try to reach the ultimate goal of plying their trade a borough away, at Citi Field in Queens.
"It's great to have someone else around, who knows you, knows your swing, knows how you work," said Winaker. "We're able to help each other out when we notice things, and [it's nice to have] someone to hang out with, someone to share the struggle with."
Last season at Stanford, the duo challenged each other for the team homer lead. Brodey, an outfielder, got off to a hot start and at one point had seven home runs to Winaker's zero. Eventually, the first baseman caught up, with the pair racing to the end. Brodey claimed the "title," 11 homers to nine.
"The camaraderie, the pushing each other to always do more and to do better, it's light-hearted and extremely competitive," Winaker said. "Neither one of us wants to lose to one another. Those are the little things in the game that are really rewarding."
The two left-handed hitters agree that having each other to lean on while in the Minors is advantageous, especially during batting practice when they get second opinions on their swings.
"We'll talk about hitting, 'What did you see in that swing?' or 'What did you see in that at-bat?'" said Brodey. "Just to help each other out and push each other because you are kind of on your own."
The transition to pro ball has not been easy for either of them. Winaker has shown a good control of the strike zone, posting a .402 on-base percentage with more walks than strikeouts, but he has just one extra-base hit in 87 plate appearances. Brodey is hitting .252 and is tied for third on the team with five doubles.
"The professional game is quite a bit different. Especially the first year," said Cyclones hitting coach Sean Ratliff, who coincidentally played his college ball at Stanford. "Neither one of them are really, really struggling. They just need a little bit of time to find their stride. They both have shown the ability to make adjustments and feel where they are in their swing. It bodes well for both of them moving on in their careers."
As the two prepare for a long ride to their ultimate goal, they both have a sense of what it will take to stand at home plate in their first big league at-bats in front of 42,000-plus fans.
"The biggest thing is staying focused and staying diligent in your preparation," said Brodey. "There's nothing I would rather be doing than playing baseball every day, so it's been a lot of fun."
DeArbea Walker is a reporter for MLB.com.