A's 'Baby Prince' excited for Players Weekend
New event to take place during all games from Aug. 25-27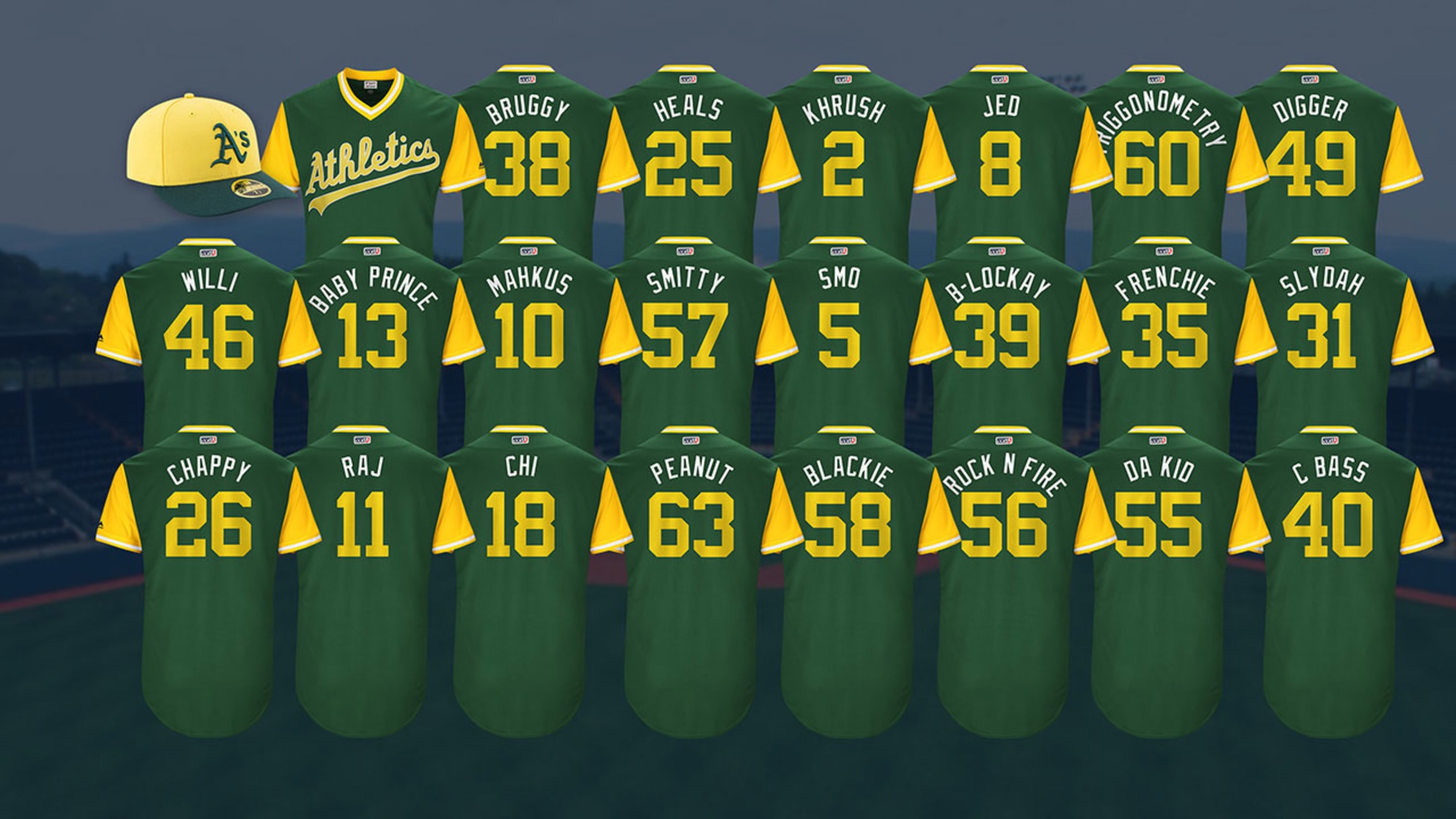 OAKLAND -- A's catcher Bruce Maxwell was without a nickname until teammate Khris Davis anointed him "Baby Prince" last spring, a nod to the toe-tap he uses at the plate, a la Prince Fielder."KD always called me that," Maxwell said, "and it stuck."For three days, as part of the inaugural
OAKLAND -- A's catcher Bruce Maxwell was without a nickname until teammate Khris Davis anointed him "Baby Prince" last spring, a nod to the toe-tap he uses at the plate, a la Prince Fielder.
"KD always called me that," Maxwell said, "and it stuck."
For three days, as part of the inaugural Players Weekend being introduced by MLB and the MLB Players Association, "Baby Prince" will be seen on the back of Maxwell's game jersey.
• Players Weekend gear available at MLBShop.com
From Aug. 25-27, all players will be seen in colorful, non-traditional uniforms featuring alternate designs made by Majestic Athletic -- many of them featuring the kind of nicknames that have been bestowed upon players like Maxwell.
For A's reliever Liam Hendriks, that means "Slydah" will appear on his -- given to the Australian pitcher by former Blue Jays teammate Robert Osuna.
"He called me 'Slydah' because of the way I pronounce slider, and it just kind of stuck a little bit," Hendriks said. "I really don't have a nickname per se, it's just a pitch I've thrown and something you can play off the accent a little bit."
Hendriks and Co. will also have the opportunity to wear uniquely colored spikes, wristbands and compression sleeves. In addition, players will be able to mix it up with their batting gloves, catcher's masks and bats.
• Players Weekend: Nicknames of the game
Specially designed caps by New Era will also be on display. Ditto unique socks from Stance. And during pregame workouts and postgame interviews, players are encouraged to wear T-shirts highlighting a charity or cause of their choice.
"I think it's a good idea, just because of the fact it's a different uniform you get to wear for three days, and it's a chance to take away all the color restrictions and all that," Hendriks said. "So it's a good weekend for players to kind of show their personalities. You get the chance to show your character.
"I think it's a good idea to break up the monotony of everything. It will be interesting to see how it all plays out, but I do think it's a good idea."
Maxwell is especially keen on the addition of a special jersey patch that will feature the progression of a child evolving into a Major Leaguer, with space below it for players to mark the name of a person that's helped them advance their careers.
"I feel like it's something cool, something personalized," Maxwell said. "This gives us an opportunity to have a little fun. I feel like it's a fun idea, and it kind of gives the fans a little insight into us."
Game-worn jerseys from Players Weekend will later be auctioned at MLB.com/auctions with 100 percent of net proceeds donated to the MLB-MLBPA Youth Development Foundation, a joint effort established in July 2015 by MLB and the MLBPA with an initial commitment of $30 million focused on improving the caliber, effectiveness and availability of amateur baseball and softball programs across the U.S. and Canada.
Here's a list of nicknames that some A's are expected to sport on the back of their jerseys on Players Weekend:
• Khris Davis: "KHRUSH"
• Marcus Semien: "MAHKUS"
• Josh Phegley: "PTBNL"
• Matt Joyce: "DJ SS"
• Ryon Healy: "HEALS"
• Matt Chapman: "CHAPPY"
• Sean Manaea: "DA KID"
• Santiago Casilla: "WILLI"
• Jharel Cotton: "SQUEAKY"
Jane Lee has covered the A's for MLB.com since 2010.