Bullpen is stellar in back-to-back wins
Relievers combine to allow one hit over nine scoreless innings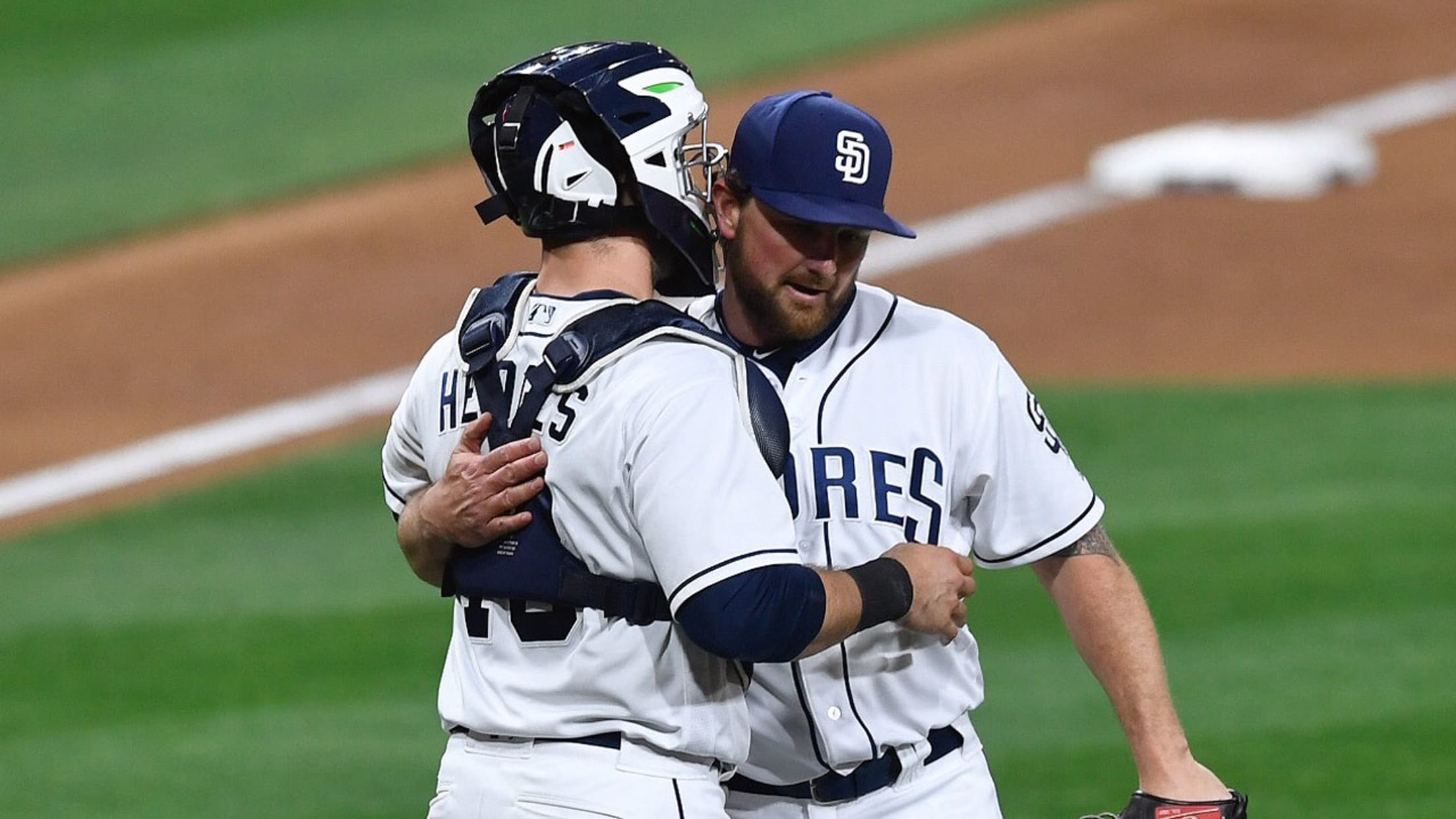 Bill Center, longtime sportswriter for U-T San Diego, is an employee of the Padres.The Padres have had a number of players step up during their back-to-back wins over the reigning World champion Cubs Monday and Tuesday. Rookie right fielder, for example, had the decisive hit in both games
Bill Center, longtime sportswriter for U-T San Diego, is an employee of the Padres.
The Padres have had a number of players step up during their back-to-back wins over the reigning World champion Cubs Monday and Tuesday.

Rookie right fielder, for example, had the decisive hit in both games with a grand slam home run Monday and a tie-breaking, two-run double Tuesday.

Catcher Austin Hedges had a career-high four RBIs Tuesday with a two-run double and a two-run homer.

And right-hander Dinelson Lamet allowed two runs on five hits and a walk with eight strikeouts Tuesday night to run his record to 2-0 in two starts while becoming only the eighth pitcher in Major League history to have eight strikeouts in each of his first two games.

Great performances. But no match for what the Padres bullpen did in the two wins.

Asked to work five innings Monday afternoon and four more Tuesday night, six relievers allowed only one hit over nine scoreless innings. They issued seven walks and hit two batters with nine strikeouts. But no Cub crossed the plate against the Padres bullpen in 5-2 and 6-2 wins.

Left-hander Jose Torres worked both games, pitching a total of 2 2/3 hitless innings. And right-hander Kirby Yates gave end-of-game pitchers Brad Hand and Brandon Maurer Tuesday off by working two innings.

Rookie Torres was the first reliever into both wins. He allowed two walks with a strikeout in two innings Monday. Tuesday night he hit a batter in two-thirds of an inning. Kevin Quackenbush followed Torres and issued two walks in 1 1/3 hitless innings.

Yates gave up the hit, a single to the first Cub he faced (former Padre Jonathan Jay) Tuesday night. He then retired six straight Cubs to end the game, including four by strikeouts.

Hand worked 1 2/3 innings Tuesday night, hitting a batter while striking out two. Maurer struck out one in a perfect ninth to get his seventh save. Ryan Buchter also appeared for one-third of an inning Tuesday, although he walked the bases loaded before Hand killed the threat.

NOTE WORTHY:

-- Lamet is 2-0 after two Major League starts. The 24-year-old has allowed three runs on eight hits and three walks with 16 strikeouts in his first 10 Major League innings. He has exactly eight strikeouts in each of his first two Major League starts, becoming only the 13th pitcher in Major League history to accomplish that feat . . . and the first since the Yankees' Masahiro Tanaka in 2014.

-- Renfroe was 1-for-4 with his tie-breaking, two-run double in the fifth inning Tuesday night. Renfroe has hit safely in eight straight starts, going 13-for-34 (.382) in those eight starts with five doubles, two home runs, eight RBIs and four walks. His 12 doubles on the season lead all Major League rookies.

-- Hedges had a career-high four RBIs Tuesday off a two-run homer in the second and a two-run double in the fifth. Hedges' homer was his ninth of the season, the second-highest total among catchers in the Major Leagues this year to the 11 hit by Kansas City's Salvador Perez.

-- 2B Yangervis Solarte is 11-for-28 (.383) with seven walks (.514 on-base percentage) in eight games since moving into the No. 2 slot in the order. Solarte's batting average had tailed off to a season low .226 on May 20 before moving from the fourth to the second slot. He is now hitting .251 after going 2-for-3 with a walk Tuesday.