Team Cano rallies past Cruz in hitting game
Fun contest signals last day before Cactus League action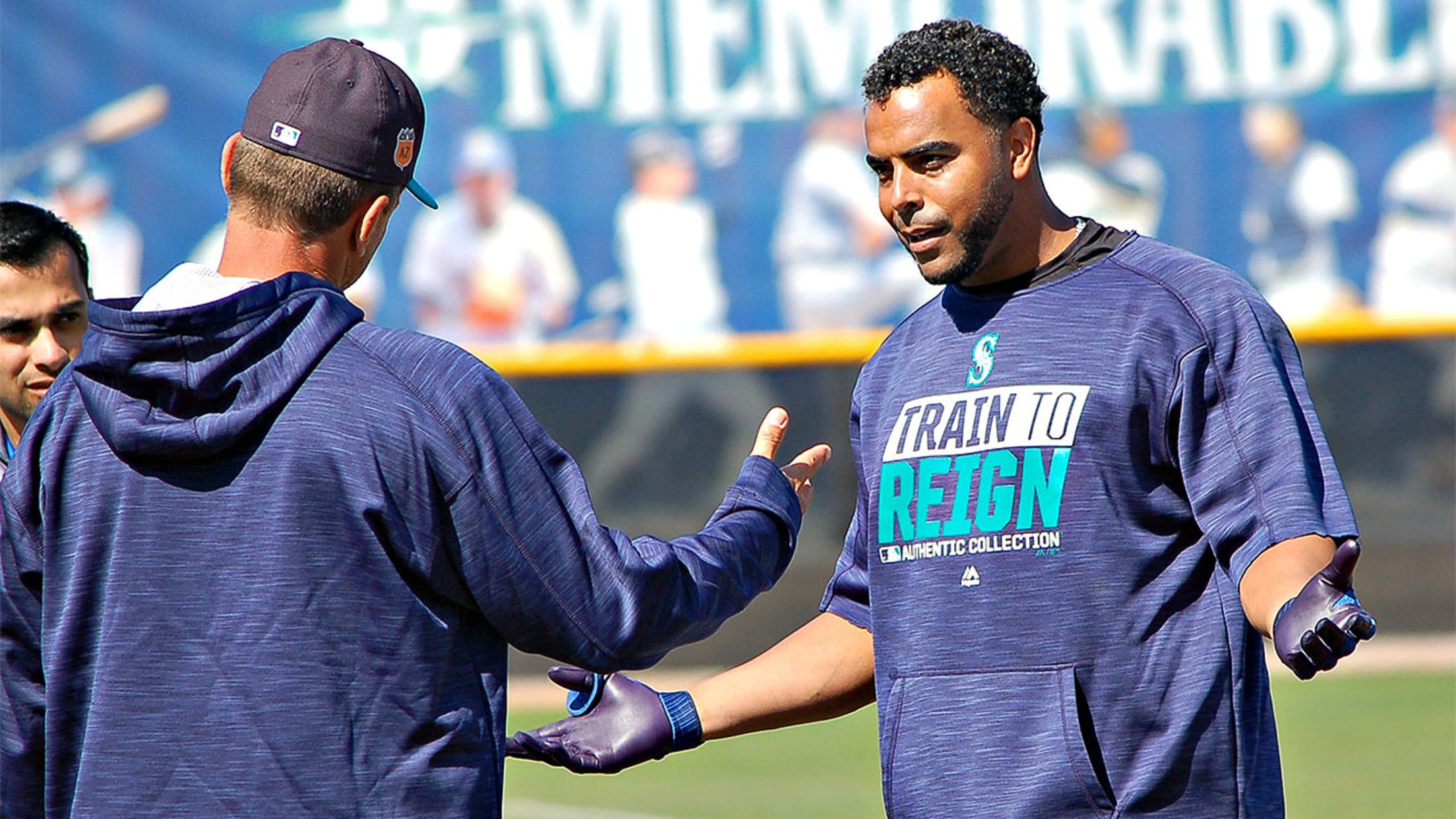 Nelson Cruz pleads his case to bench coach Tim Bogar after Robinson Cano's team was ruled the victor in a situational hitting contest. (Greg Johns)
PEORIA, Ariz. -- It ended in controversy, with "coach" Nelson Cruz arguing valiantly that his team got robbed in its situational hitting contest Friday against a team captained by Robinson Cano. But for the Mariners, this was the perfect windup to their first week of camp as they prepare for
PEORIA, Ariz. -- It ended in controversy, with "coach" Nelson Cruz arguing valiantly that his team got robbed in its situational hitting contest Friday against a team captained by Robinson Cano. But for the Mariners, this was the perfect windup to their first week of camp as they prepare for Saturday's Cactus League opener.
Manager Scott Servais eschewed the traditional intrasquad scrimmage as a final warmup for a second straight year. He split the position players in half and let them battle it out for fun in an informal game where points were tallied based on the ability to advance runners in different situations and taken away when the opposite occurred.
Even home runs were considered a negative, since that wasn't the desired goal, with rookie Tyler O'Neill getting dinged for minus-four points when he cleared the fence.
At stake? A free dinner for the winning team at pitcher Hisashi Iwakuma's expense, a prize determined by the coaching staff based on Iwakuma having the best run support of any starter on the team last year.
The game before the games. Working on a little situational hitting. #MarinersST pic.twitter.com/BCgXqZb6JF

— Seattle Mariners (@Mariners) February 24, 2017
Two rounds of hitting -- with a runner on second and one out and a runner on third with less than two outs -- resulted in Cruz's squad putting up a healthy 80-64 lead. But there was a final situation, with the opposing coach allowed to choose a runner from the other team to go to second, and three hitters -- also selected by the opposing squad -- given a chance to drive him home with two outs already on the board.
Cruz's team, hitting first, wound up getting negative points in that round, and the big lead dwindled. Cruz then chose Daniel Vogelbach to be the runner at second for Cano's team, and the big first baseman wound up scoring on hits by catchers Steve Baron and Carlos Ruiz, then hustled home one last time for the winning run on a close play at the plate on a single by O'Neill.
Cruz charged Cano's team with cheating, but eventually relented.
"It's OK," he said with a smile. "I'm not the one paying for dinner."
Vogelbach didn't sound entirely sure he was safe on the final play, but the rookie did know that the team-building exercise was a home run after being mobbed by happy teammates as he scored the go-ahead points.
"That's really fun," Vogelbach said. "That's what it's about, competing and enjoying yourself. I enjoy that type of stuff. It makes a team come together, for sure."
Now come the real games -- or at least the real Spring Training games. And the Mariners insist they're more than ready.
"We're excited," Cruz said. "This is what we're all waiting for. It's been a long break, so we're definitely looking forward to this."
Said Vogelbach: "Practicing is fun and everything, but there's nothing like games. I'm ready to get rolling."
Greg Johns has covered the Mariners since 1997, and for MLB.com since 2011. Follow him on Twitter [
---
@GregJohnsMLB]() and listen to his podcast.