Reyes among top prospect performers in debut
Righty K's eight over four scoreless frames for Cardinals' Triple-A club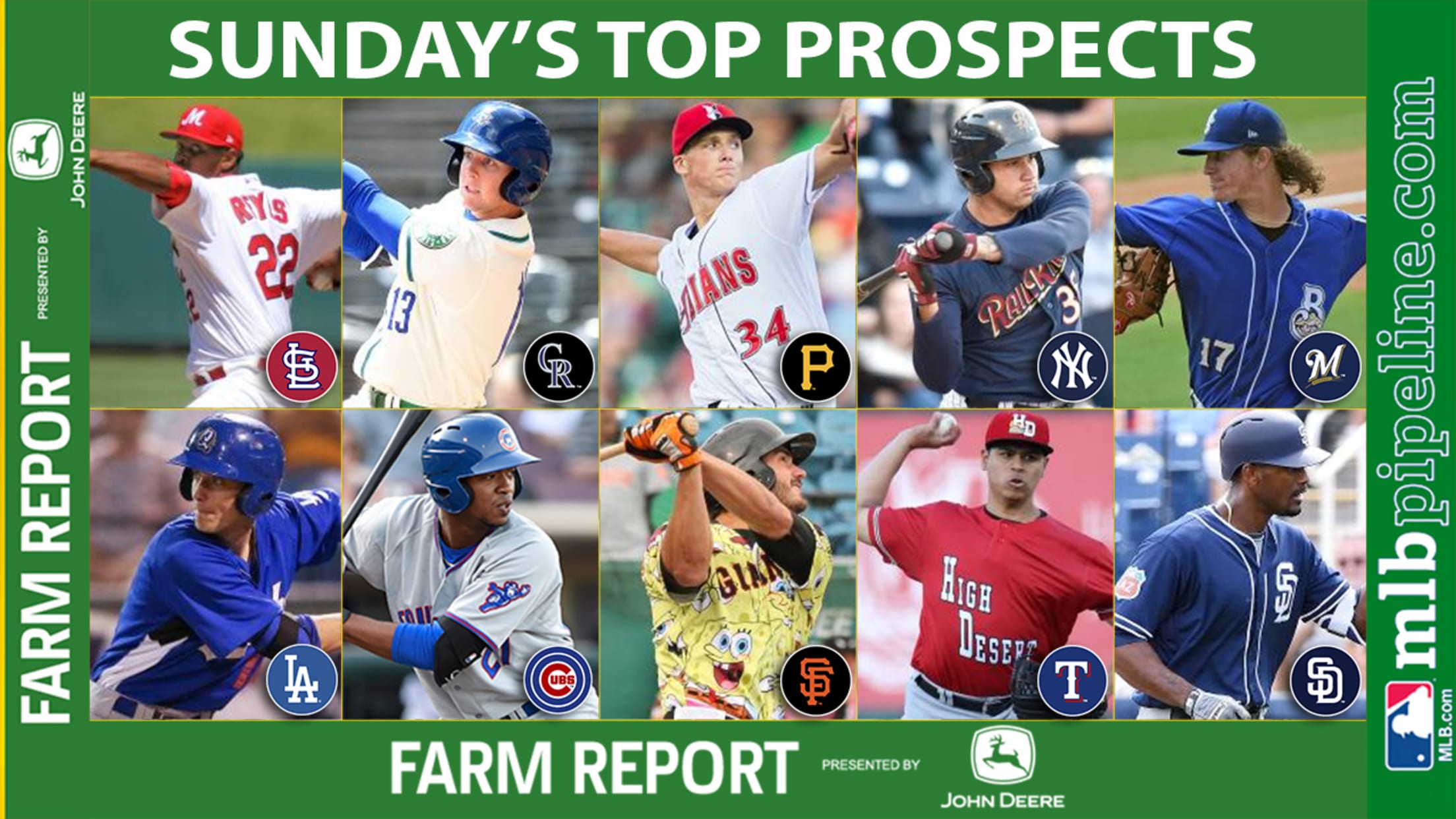 (Paul Sancya/AP)
Alex Reyes did not disappoint in his highly anticipated season and Triple-A debut on Sunday, as the No. 11 overall prospect allowed just two hits (both singles) in four scoreless innings to pace Memphis in an 8-1 win over Fresno. He recorded eight strikeouts -- matching the season-high for a
Alex Reyes did not disappoint in his highly anticipated season and Triple-A debut on Sunday, as the No. 11 overall prospect allowed just two hits (both singles) in four scoreless innings to pace Memphis in an 8-1 win over Fresno. He recorded eight strikeouts -- matching the season-high for a Redbirds starting pitcher -- against three walks, with 48 of his 85 pitches going for strikes.
The Cardinals' No. 1 prospect fanned a two Memphis hitters in the first inning and then struck out the side in the following frame, while pitching around a pair of walks. He punched out three more hitters across his final two innings, including back-to-back called third strikes to end the third after he had allowed the first two batters to reach base.
The outing marked Reyes' first game action since he received a 50-game suspension for testing positive for a drug of abuse on Nov. 9, 2015, while pitching in the Arizona Fall League. Last season, the electric 21-year-old righty posted a 2.49 ERA with 151 strikeouts in 101 1/3 innings (22 starts) across three levels. He finished the year with Double-A Springfield, where he pitched to a 3.12 ERA with 51 strikeouts in just 34 2/3 innings.
MILB Video - Title: Reyes strikes out 8 in debut - Url: http://www.milb.com/r/video?content_id=728151583
The rest of the best performances from top prospects Sunday:
• After he was unable to hit a home run in his first 36 games for Double-A Hartford, No. 43 overall prospect Ryan McMahon (Rockies' No. 3) went deep for a second straight day in a loss against New Hampshire. The 21-year-old third baseman finished 2-for-5 at the plate with a season-high four RBIs and now has multiple hits in three of his last five contests for the Yard Goats.
MILB Video - Title: McMahon goes yard - Url: http://www.milb.com/r/video?content_id=727053083
• No. 8 overall prospect Tyler Glasnow (Pirates' No. 1) turned in another impressive outing for Triple-A Indianapolis, striking out nine hitters in six innings, but he was done in by No. 54 overall prospect Gary Sanchez's (Yankees' No. 3) tie-breaking (and ultimately game-winning) two-run homer -- his sixth of the season -- in the sixth inning. Glasnow scattered eight hits and walked a pair, but he still managed to complete six frames for a second straight turn. On the year, he owns a 2.16 ERA and a 63/22 strikeout-to-walk ratio in 50 innings (nine starts).
• No. 56 overall prospect Josh Hader's (Brewers' No. 4) lights-out start to 2016 continued Sunday as he recorded his fifth scoreless start in nine opportunities for Double-A Biloxi, who defeated Tennessee, 5-0. The 22-year-old lefty allowed two hits, walked three and fanned five in five innings, during which he threw strikes with 57 of 86 pitches. With the performance, Hader now leads the Southern League in ERA (0.79) and strikeouts (59), and he hasn't allowed a home run in 45 2/3 innings for the Shuckers.
• No. 96 overall prospect Cody Bellinger (Dodgers' No. 5) blasted a two-run home run in the top of the 11th inning to lead Double-A Tulsa past Northwest Arkansas, 6-4. A hip injury sidelined the 20-year-old for most of the season's first month, and he went just 4-for-37 with zero extra-base hits in his first 11 games. Since then, however, Bellinger has gone 15-for-40 (.375) with home runs, three doubles and 11 RBIs.
MILB Video - Title: Bellinger blasts go-ahead homer - Url: http://www.milb.com/r/video?content_id=728044083
• Class A South Bend's stacked outfield was on display in a 6-4 win over Lake County, as Cubs No. 10 prospect Eloy Jimenez, No. 12 Donnie Dewees and No. 15 Eddy Martinez all hit home runs and drove in five of the Cubs' six runs. Jimenez and Martinez went back-to-back with their sixth and fifth home runs of the season, respectively, in the top of the first inning, while Dewees added a solo shot, his second of the year, in the fifth.
• Giants No. 5 prospect Chris Shaw blasted two more home runs and drove in four runs to lead Class A Advanced San Jose past Rancho Cucamonga. The 2015 first-round Draft pick has hit 10 dingers in 39 games this season, and he now has 22 in 85 games as a professional. Shaw's first home run of the game was of the inside-the-park variety, and he later hit a tape-measure three-run shot to center field off of highly touted Dodgers international signee Yaisel Sierra in the sixth.
• Rangers No. 12 prospect Ariel Jurado struck out nine hitters in seven scoreless innings, both season highs, as Class A Advanced High Desert shut out Lancaster, 6-0. The 20-year-old righty allowed a pair of hits and walks in his second scoreless outing of 2016. Jurado has given up just three runs in 17 innings over his past three starts for the Mavericks, also posting a 20-to-3 strikeout-to-walk ratio in that span.
• Padres No. 13 prospect Jabari Blash showcased his robust power in Triple-A El Paso's win against Round Rock, going 2-for-4 with a pair of home runs and four RBIs. After he was held without a homer in 25 big league at-bats with the Padres, Blash has slugged three in his first three games for El Paso.
• Orioles No. 18 prospect Joe Gunkel returned to his workhorse ways with his best start of 2016, firing seven scoreless innings of two-hit ball in Triple-A Norfolk's win against Syracuse. The 24-year-old righty owns a 4.24 ERA in 46 2/3 innings (nine starts) this season, though that number was inflated heavily by his nine-run, three-inning outing on May 12.
MILB Video - Title: Gunkel finishes the seventh - Url: http://www.milb.com/r/video?content_id=726765983
• White Sox No. 27 prospect Jason Coats hit his fourth home run as part of a 3-for-4 day at the plate and gave Triple-A Charlotte the win over Gwinnett with his walk-off single in the 11th inning. The 26-year-old outfielder also hit a two-run double in the game en route to driving in a season-high five runs.
MILB Video - Title: Coats hits walk-off single - Url: http://www.milb.com/r/video?content_id=728151983
• Blue Jays No. 28 prospect Dwight Smith Jr. hit his first home run since August 25 of last year on Friday, snapping a 44-game homerless streak. On Sunday, the 23-year-old outfielder hit a pair of home runs -- his second career two-homer game -- tallied three RBIs and scored three times in New Hampshire's win over Hartford. Smith has been red hot of late for the Fisher Cats, with a .421 average (16-for-38) and multiple hits in six of his past 10 games.