Correa will miss Angels series to rest back
Astros shortstop expected to play during upcoming road trips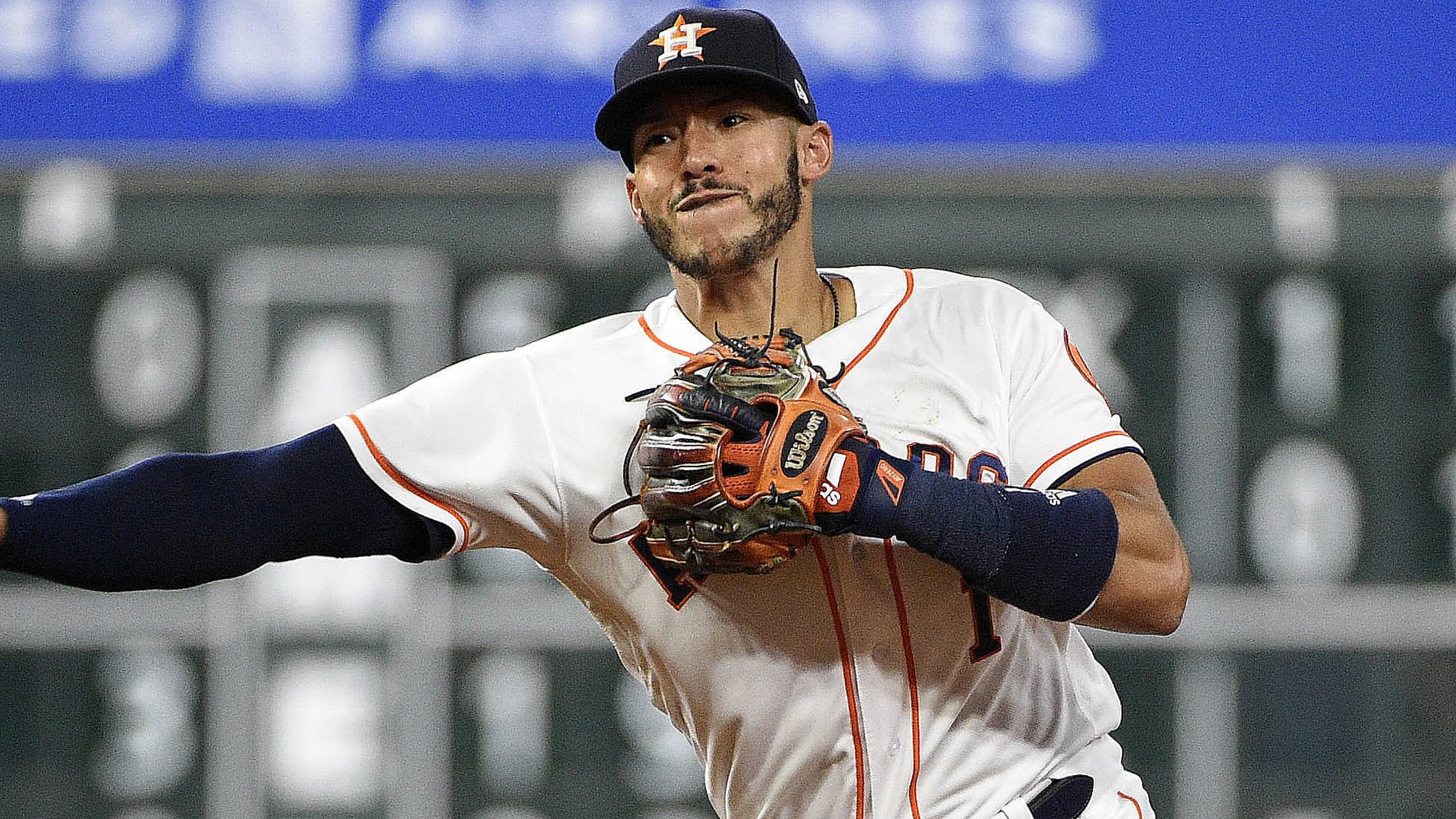 Houston Astros shortstop Carlos Correa throws out Tampa Bay Rays' Kevin Kiermaier during the third inning of a baseball game Wednesday, June 20, 2018, in Houston. (AP Photo/Eric Christian Smith) (Eric Christian Smith/AP)
HOUSTON -- Astros shortstop Carlos Correa, who is still bothered by lower back soreness, won't play during this weekend's series against the Angels at Minute Maid Park. But he is expected to play during next week's road trips to Toronto and Baltimore to conclude the regular season."Carlos is still not
HOUSTON -- Astros shortstop Carlos Correa, who is still bothered by lower back soreness, won't play during this weekend's series against the Angels at Minute Maid Park. But he is expected to play during next week's road trips to Toronto and Baltimore to conclude the regular season.
"Carlos is still not right," manager AJ Hinch said before Friday night's game. "He's played through it and it hasn't worked out.
"I'm not going to put a timetable on it until I know our situation, I know his situation, where we're at. But most importantly, we need him to feel better for him to be the player he is."
Correa, who was at the ballpark on Friday, has played in 34 games since returning from the disabled list and he has struggled at the plate. He has only four extra-base hits in 140 plate appearances since coming off the DL. Correa, an All-Star in 2017, was on the DL from June 26-Aug. 10, missing 36 games.
"He's a perfectionist by nature, so performance wise, he always wants to be elite," Hinch said. "From a comfort standpoint, he hasn't looked comfortable.
"He's been able to maintain that defensively, but it looks like he's had a little bit of a governor on his swing when he's been at-bat. I haven't seen him let it go since his time off the DL."
Correa's fielding hasn't been affected by his sore back. His .984 fielding percentage is third best in franchise history for a single season, trailing only Adam Everett (.990 in 2006) and Roger Metzger (.986 in 1976).
Hinch on Friday said the team doctors and training staff believe that Correa will be where he wants to be at the end of this rest period.
For the season, Correa is batting .238 in .390 at-bats, with 14 home runs and 62 RBIs. He went 0-for-5 in the series against the Mariners. His 11 sacrifice flies lead the Majors. Last year, Correa batted .315 with 24 homers and 84 RBIs.
Alex Bregman started at shortstop on Friday. Hinch said Marwin Gonzalez will also play short this weekend, freeing outfield spots for Tony Kemp and Jake Marisnick.
McCullers nearing return
Lance McCullers pitched a simulated game on Friday at the Astros' Spring Training facility, effectively pitching 1 1/3 innings and coming out of it feeling good. The right-hander will rejoin the club on Saturday and he could get two relief appearances next week during the final week of the regular season.
"He threw all his pitches, his velocity was still hovering in the same area," Hinch said. "I know he said he feels better. Whatever a good step forward means, it's a nice accomplishment for him to throw an outing pain free.
"So the plan is, some time on the road trip, we'll get him in on some competition."
Houston opens a three-game series against the Blue Jays on Monday at Rogers Centre, followed by four games against the Orioles at Camden Yards.
McCullers has been on the disabled list since Aug. 5 with a muscle strain in his right forearm. Friday was his third simulated game in his rehab at West Palm Beach, Fla. McCullers threw to a batter, sat down for 5-10 minutes, before throwing a full inning. On Tuesday, McCullers' simulated game consisted of around 30 pitches.
"I'd like to see him pitch and pitch well, and see if he feels like himself," Hinch said. "And we want to see the spin on his breaking ball, we want to see some velocity. We want to see if he can be effective as a Major League pitcher."
The earliest McCullers would pitch for the Astros is Monday. His first outing will be dictated by game situations.
"I will lay out some plans for him over those seven days, and we also need to win the division," Hinch said.
Richard Dean is a contributor to MLB.com based in Houston.