Martinez impressive in spring debut
Cardinals RHP goes three scoreless in only start before WBC '17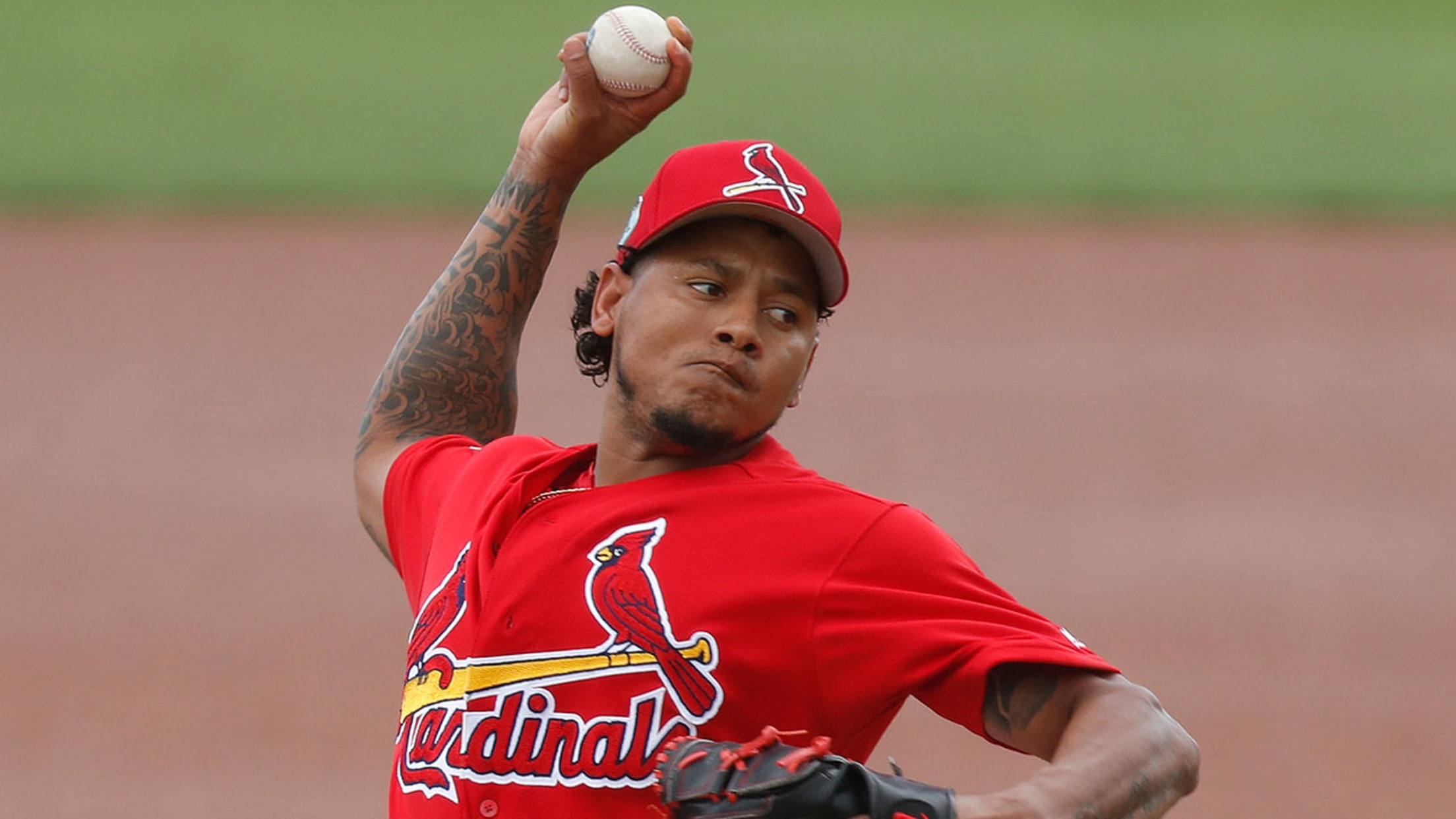 In his lone start before heading off to the World Baseball Classic, Carlos Martinez pitched three scoreless innings. (AP)
JUPITER, Fla. -- Carlos Martinez faced the minimum in three innings of work as the Cardinals starter in their 6-1 win over the Mets on Wednesday at Roger Dean Stadium."I feel good," he said of his only appearance before leaving Sunday for the World Baseball Classic. "I'm really working on
JUPITER, Fla. -- Carlos Martinez faced the minimum in three innings of work as the Cardinals starter in their 6-1 win over the Mets on Wednesday at Roger Dean Stadium.
"I feel good," he said of his only appearance before leaving Sunday for the World Baseball Classic. "I'm really working on my breaking ball. That's going to make the innings go faster and that's what I'm working on right now; staying ahead on the count, that's what's helping the innings go faster."
After a 1-2-3 first inning, Martinez struggled a bit with his control in the second inning. He walked Wilmer Flores to start the frame, but worked out of trouble with a strike-'em-out-throw-'em-out double play. Mets' left fielder Brandon Nimmo struck out on a 3-2 pitch and Cards catcher Yadier Molina threw out Flores attempting to steal second base.
• Spring Training: Info | Tickets | Schedule | Gear
Martinez said he gambled on the pitch and it paid dividends.
"I tried to keep it on the outside corner," he said. "I knew that he was going to swing. I took a chance [on the 3-2 pitch] and it ended up being positive."
:: 2017 World Baseball Classic ::
Martinez got the next batter to fly out to finish the inning, but he scuffled in the third as well, before battling out of trouble with another double play. This time it was more of the generic variety.
Martinez got T.J. Rivera to bounce into a 6-4-3 double play and then ended the inning with a weak ground ball. His linescore read three innings pitched, one hit, a walk and a strikeout.
Now, it's on to the World Baseball Classic to represent his native Dominican Republic.
"Mentally I feel prepared and I'm hoping I stay prepared physically," Martinez said. "I'm looking forward to it. I'm going to treat it like any other game, any other competition."
But it really won't be just any other competition.
"I feel extremely honored and I'm happy to be able to represent my country," Martinez said. "My family is going to be watching me every step of the way. It's an opportunity that I'm really happy that I can take advantage of. I'm going to try to have fun."
Glenn Sattell is a contributor to MLB.com.