Smith continues to trend upward in rehab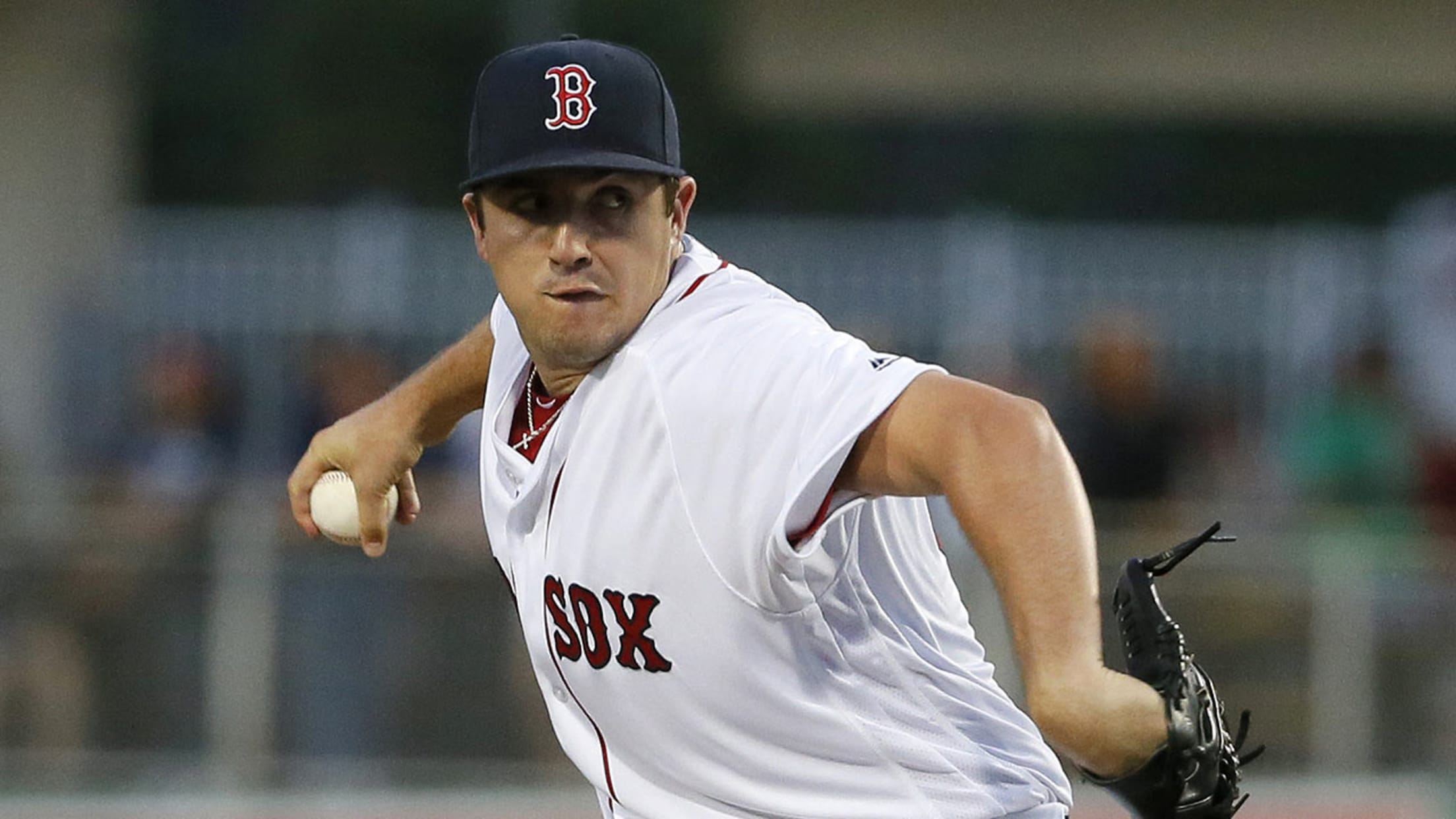 Red Sox reliever Carson Smith is working his way back from May 2016 Tommy John surgery. (AP)
NEW YORK -- The Red Sox continue to get encouraging reports on righty reliever Carson Smith, who pitched a scoreless inning with two strikeouts for Triple-A Pawtucket on Saturday, marking the third appearance of his rehab stint."Positive, both from Pawtucket manager] Kevin Boles and from talking to Carson today," said
NEW YORK -- The Red Sox continue to get encouraging reports on righty reliever Carson Smith, who pitched a scoreless inning with two strikeouts for Triple-A Pawtucket on Saturday, marking the third appearance of his rehab stint.
"Positive, both from [Pawtucket manager] Kevin Boles and from talking to Carson today," said Red Sox manager John Farrell prior to Sunday's game at Yankee Stadium. "The command was better last night. There was an uptick a little bit in velocity from maybe five days prior and in talking with Carson he just feels now he's gotten three appearances, the recovery time both in terms of his arm and his body is getting [shorter]. So these are encouraging things as we go through the early phase here. He'll be in a game again on Tuesday."
Smith underwent Tommy John surgery on May 24, 2016. Given how much time he has missed, the Red Sox are likely to give Smith the full 30 days on his rehab assignment, which expires on Sept. 3.
"I would expect to. We're sitting here in the middle of August. He's got three appearances, it's been a year and a half," said Farrell. "We're still spacing it out to no sooner than every third day in which he'd be in a game at some point. That will close down a little bit more to more frequent outings, but I think for right now, given all that he's been through, the more we can keep his trend moving upward, we'll stay the course for right now."
The addition of Smith would complement an already deep Red Sox bullpen that includes a stud closer in Craig Kimbrel along with setup men Addison Reed, Matt Barnes, Joe Kelly and Richard Hembree.
Worth noting
• Left-hander David Price played long toss for the third straight day on Sunday. There is still no time table for Price to throw off a mound, which is critical step in his attempted comeback from left elbow inflammation. Price was placed on the disabled list for the second time this season on July 28.
"Threw out to 90 feet, and tomorrow he'll have a scheduled off-day as part of the plan that's been laid out," said Farrell. "As we've done with each of his throwing sessions in which he's come out, we evaluate where he's at, assess how he's feeling and go from there."