Cubs-Nationals NLDS Game 1: In Real Life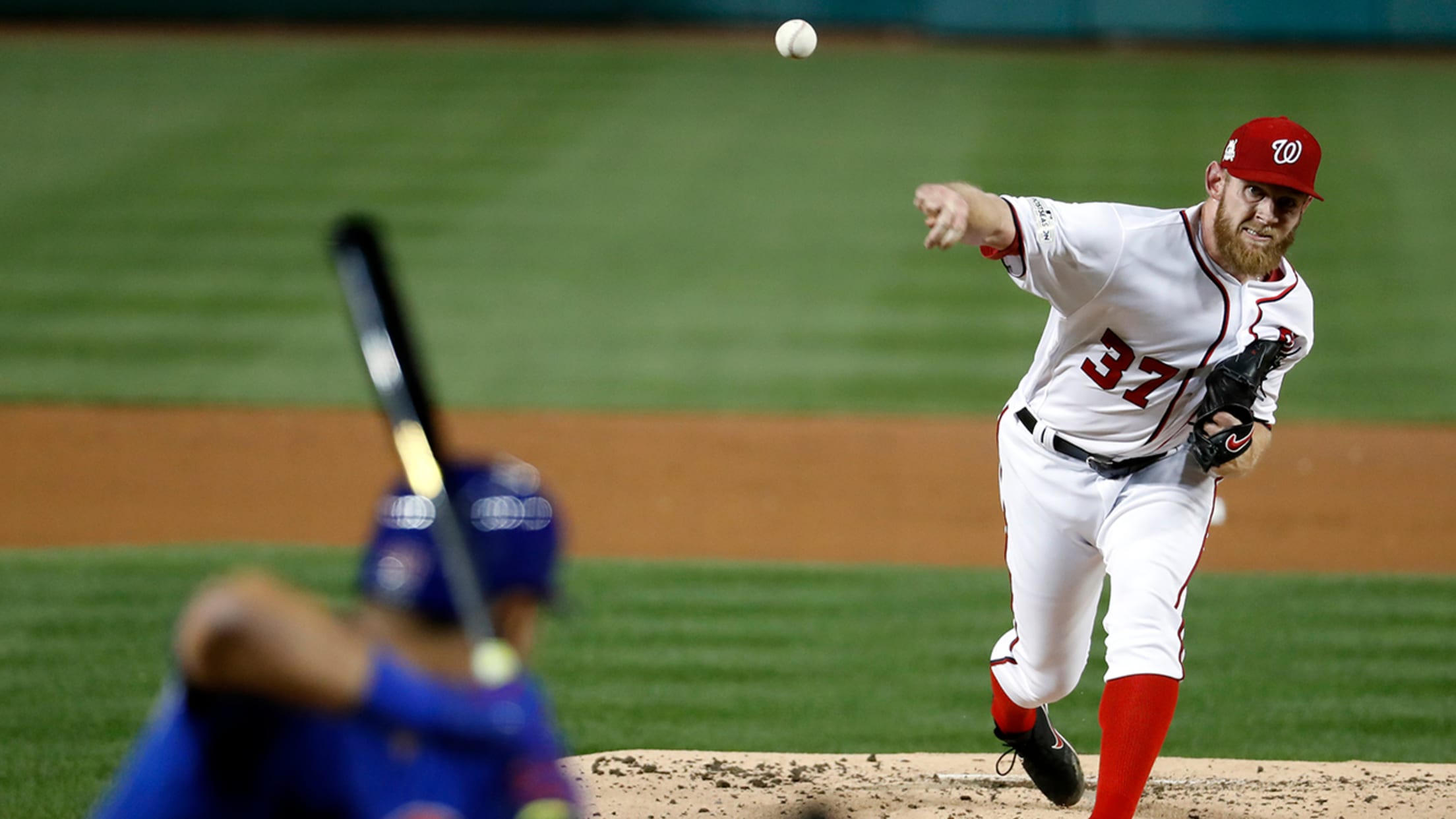 • The Cubs beat the Nationals, 3-0, on Friday night to take a 1-0 lead in the National League Division Series presented by T-Mobile. We were at the scene in and around Nationals Park.10:32 p.m. ET: Davis does what Davis doesCubs closer Wade Davis took the mound in the ninth
• The Cubs beat the Nationals, 3-0, on Friday night to take a 1-0 lead in the National League Division Series presented by T-Mobile. We were at the scene in and around Nationals Park.
10:32 p.m. ET: Davis does what Davis does
Cubs closer Wade Davis took the mound in the ninth inning, and he secured the shutout by sitting down the Nationals in order. The ninth didn't come without a little drama, though: Ryan Zimmerman struck out swinging for the second out of the frame, but ran to first base after Davis' pitch hit the dirt. Catcher Willson Contreras' ensuing throw to first pegged Zimmerman between the numbers, but umpires ruled it was an out because Zimmerman was inside the baseline when he was struck. The call brought Nationals manager Dusty Baker on the field, but stood after a short delay.
Jayson Werth followed up with a foul popout to end the game.
9:52 p.m. ET: Maddon's musical chairs
The Cubs started Kyle Schwarber in left field, believing the slugger could make a difference against Nationals starter Stephen Strasburg, but planned to upgrade their outfield defense once they had a lead to protect. With the Cubs leading, 2-0, Schwarber took his final at-bat against Strasburg in the seventh inning. Cubs manager Joe Maddon then called for an outfield shuffle, as Leonys Martin entered to play center field, Jason Heyward moved from center to right and Benjamin Zobrist shifted from right to left.

9:27 p.m. ET: Bryzzo rears its head
Strasburg's no-no went out the window with two outs in the sixth, and with it, the Cubs jumped to a 2-0 lead. Kristopher Bryant singled up the middle to plate Javier Baez, who reached on an Anthony Rendon fielding error to open the frame. Bryant then scored on an Anthony Rizzo liner to right field. Well, it's not like those two haven't done this before ...
Most postseason RBI, #Cubs history
(obviously there are more rounds now)
14 Bryant (1 tonight)
14 Russell
13 Rizzo (1 tonight)
11 Báez

— Christopher Kamka (@ckamka) October 7, 2017

9:10 p.m. ET: Strasburg still cruising, but no more no-no
Strasburg has been simply dominant tonight. The Nationals starter held the Cubs hitless through the first 5 2/3 innings before Bryant lined a single to right field that also scored the game's first run. Strasburg set a Nationals franchise postseason record with eight strikeouts, seven of which were notched through the first four innings. Per Statcast™, he recorded a swinging strike with five of his first eight changeups thrown.
Stephen Strasburg's 8 Ks (and counting) are a new franchise postseason record. pic.twitter.com/O2m7ie1uPV

— Washington Nationals (@Nationals) October 7, 2017
8:56 p.m. ET: Soak it up while you can
As two pitchers at the top of their game made the game buzz by, Nationals fans and Cubs fans alike were eager to bask in the atmosphere of their playoff teams.

8:50 p.m. ET: Kicks for a cause
There was some question about whether Bryce Harper would wear his newest pair of cleats during Game 1, but the Las Vegas High grad didn't disappoint. Harper, who also played two years for the University of Southern Nevada, paid homage to his hometown and the victims of Sunday's horrific shooting at Mandalay Bay with the cleats, printed with the words "Pray for Las Vegas." He chose the perfect way to break them in, too, lining a single to right field in his first at-bat.

8:30 p.m. ET: Hendricks responds in kind
Not to be outdone, Cubs starter Kyle Hendricks efficiently hushed the Nationals' powerful lineup through three innings. Hendricks held the Nats scoreless on two hits in that span, struck out two and threw 43 pitches (30 strikes).

8:20 p.m. ET: Well someone's certainly excited for the postseason
Strasburg has fueled the energy at Nationals Park and held the Cubs hitless through three innings. Strasburg recorded five strikeouts in that span, including during an eight-pitch first inning. Per Statcast™, his fastball has touched 98.2 mph, and he recorded a called strike with three of his first eight curveballs thrown.
Think Strasburg is ready for this?

Blew 97.7 mph past Rizzo in the 1st, his 3rd-fastest swinging strike this year. Fastest since June 7.

— Andrew Simon (@AndrewSimonMLB) October 6, 2017
7:37 p.m. ET: Play ball!
House Majority Whip Steve Scalise, who was shot and wounded in June while practicing for the annual Congressional Baseball Game, walked onto the field with a walker and threw the ceremonial first pitch to U.S. Capitol Police officer David Bailey.
What a memorable birthday! I threw the first pitch at tonight's @Nationals vs. @Cubs #NLDS game! pic.twitter.com/1F7XrRGwiP

— Steve Scalise (@SteveScalise) October 7, 2017
6:08 p.m. ET: Batter (almost) up
It's only a matter of time.

6:02 p.m. ET: Fired up, ready to go
The gates are open and fans are streaming in.

#Cubs Kris Bryant takes BP ahead of #NLDS Game 1 vs. #Nationals. Such a pretty swing pic.twitter.com/Ij0HfZaUUw

— Oliver Macklin (@basebollie) October 6, 2017
5:58 p.m. ET: Band meeting
The Green Machine, George Mason University's pep band, plays a rousing rendition of Stevie Wonder's "Living for the City" as fans stream into the ballpark.

#Nationals top prospect Victor Robles getting ready for his 1st career postseason. Dusty was feeling his #Need4Speed pic.twitter.com/JcxmBVebML

— Oliver Macklin (@basebollie) October 6, 2017
5:52 p.m. ET: Made you look
A two-time Cy Young Award winner has eyes on everything at Nationals Park.

5:44 p.m. ET: Presidential bump
A young Bryce Harper fan gives George Washington a fist bump upon entry to Nationals Park ahead of Game 1.

5:28 p.m. ET: Get-in-the-zone time
The Cubs huddle on the field before batting practice at Nationals Park.

3:38 p.m. ET: Nationals Park ready for spotlight
The weather is absolutely perfect in the nation's capital, and the ballpark is decked out in style for another postseason opener.

3:18 p.m. ET: Lineups set
Cubs lineup

Ben Zobrist, RF

Kris Bryant, 3B

Anthony Rizzo, 1B

Willson Contreras, C

Kyle Schwarber, LF

Addison Russell, SS

Jason Heyward, CF

Javier Baez, 2B

Kyle Hendricks, P
Nationals lineup

Trea Turner, SS

Bryce Harper, RF

Anthony Rendon, 3B

Daniel Murphy, 2B

Ryan Zimmerman, 1B

Jayson Werth, LF

Matt Wieters, C

Michael A. Taylor, CF

Stephen Strasburg, P