Sale set to come off DL Sunday, start vs. O's
Devers on track for Wednesday return; Wright, Pedroia progressing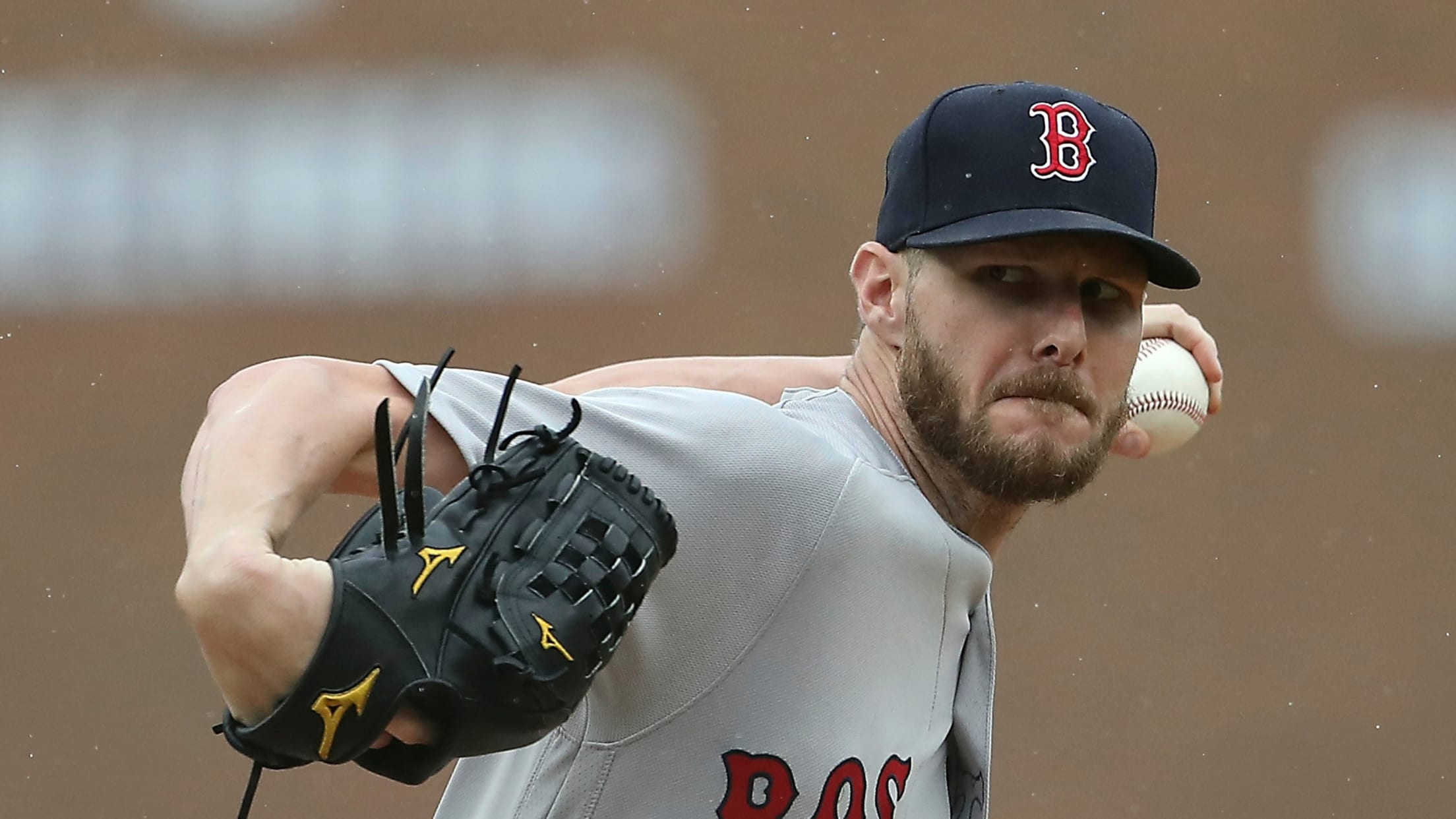 TORONTO -- Red Sox ace Chris Sale is expected to return from his short stint on the disabled list on Sunday to pitch the finale of a four-game series in Baltimore.The 29-year-old went on the disabled list on July 31, retroactive to July 28, with mild left shoulder inflammation."I didn't
TORONTO -- Red Sox ace Chris Sale is expected to return from his short stint on the disabled list on Sunday to pitch the finale of a four-game series in Baltimore.
The 29-year-old went on the disabled list on July 31, retroactive to July 28, with mild left shoulder inflammation.
"I didn't want to pitch David [Price] and Chris the same day in the doubleheader," said Red Sox manager Alex Cora. "Nate [Eovaldi] is pitching Friday, so we're shooting for Sunday. [Sale] played catch yesterday. He played catch today. He's throwing his bullpen tomorrow. Everything seems fine, so it looks like that's going to happen."
That is good news for the Red Sox, especially when you consider Sale was in a stretch as dominant as any in his career before going on the DL.
In his last nine starts, Sale is 6-1 with a 0.75 ERA, notching 97 strikeouts in 60 innings and not giving up a homer.
Sale is having a Cy Young-caliber year so far, going 11-4 with an American League-best 2.04 ERA and 207 strikeouts.
Another of Boston's lefty starters is also making solid progress. Eduardo Rodriguez, who suffered a severe right ankle sprain on July 14, will throw live batting practice on Friday in Baltimore.
"Ankle was good," Cora said. "He feels great as far as his shoulder and stuff, so that's the next step Friday."
Devers on target
Third baseman Rafael Devers belted a home run in a one-game rehab assignment for Class A Lowell on Monday and is expected to be activated by the Red Sox on Wednesday, the first day he is eligible.
Devers was sidelined with a left hamstring strain.
"Raffy is fine," Cora said. "He had four at-bats yesterday. He moved around. He's not sore. He's going to go through a workout today and then we'll make a decision tomorrow."
Good news on Wright, Pedroia
Knuckleballer Steven Wright and second baseman Dustin Pedroia, who have both had topsy-turvy rehabs in their return from a cartilage restoration procedure of the left knee, are starting to make progress. Cora was particularly enthused about Wright, who was effective in his initial return from the surgery, going 2-1 with a 3.38 ERA in 10 appearances.
"He actually got on the mound during the weekend, we had a conversation with him on Sunday and he's feeling a lot better," Cora said. "Actually, he said that now he feels a lot better than when he came back the first time.
"Kind of knowing what he has to do to avoid lapses like this, he's been doing great in the weight room, he's been keeping his arm in shape. I don't want to get ahead of myself, but I do feel he's going to be back at some point during the season. I'm not saying that's next week, but the way he's been working the last week, even getting on the mound for a few pitches, is telling us that it's gonna happen. When? I don't know. But it's gonna happen."
Pedroia was able to play just three games in late May and early June before the knee flared up again. He has been rehabbing in Arizona.
"I had a great conversation with Dustin today. There's a lot of stuff going on as far as with his rehab over there," Cora said. "There's like three sessions of stuff that he's doing. He feels good about it. The door is still open. He feels it might happen. I believe [him]. I know the player, I know he's going to do everything possible for this to happen, and if he's able to come back, that's a plus for us, too."