7 contenders with prospects to make a big deal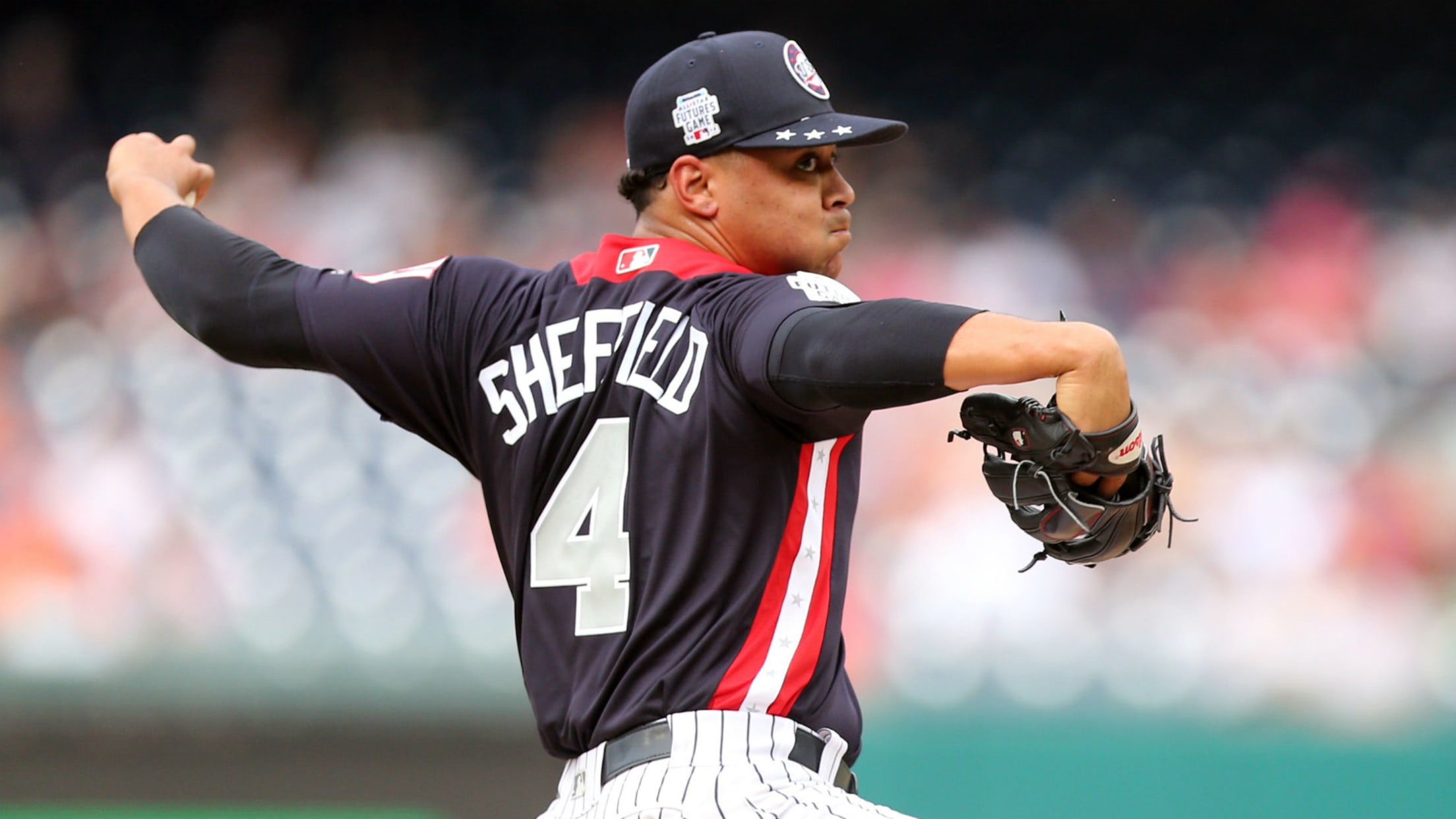 At this time of year, when buyers are competing to bolster their rosters for the stretch run and sellers are looking to next season and beyond, arguably nothing is more important than the prospects contenders have -- and are willing -- to trade.While much attention is paid to the top
At this time of year, when buyers are competing to bolster their rosters for the stretch run and sellers are looking to next season and beyond, arguably nothing is more important than the prospects contenders have -- and are willing -- to trade.
While much attention is paid to the top name or two in each team's farm system, depth matters too.
• Catch up on the Latest Trade Talk
Just look at the Dodgers, who were able to acquire Manny Machado from the Orioles without giving up their top two prospects, outfielder Alex Verdugo (No. 29 overall, per MLB Pipeline) and catcher Keibert Ruiz (No. 38 overall). They also held onto right-hander Dustin May (No. 83 overall), whom Baltimore reportedly coveted.
And yet, Los Angeles' five-player package, which was headlined by outfielder Yusniel Diaz, was enough to get a deal done. Diaz was the Dodgers' No. 4 prospect at the time of the trade, and he now tops the O's system while ranking 57th overall.
:: Complete prospect coverage ::
So which clubs are in the best position to make a trade like that between now and Tuesday's 4 p.m. ET non-waiver Trade Deadline? Here are seven teams with the prospects to swing a summer blockbuster, ordered based on the number of prospects they have on MLB Pipeline's Top 100 list.
Note: Prospect Points are determined by assigning a numerical value to each spot in the Top 100, giving 100 points to No. 1, 99 points to No. 2, and so on. A team's total is calculated by adding the values assigned to each of its Top 100 prospects.
1. Braves
Top 100 prospects (8): Right-hander Mike Soroka (No. 15 overall, per MLB Pipeline), right-hander Kyle Wright (No. 25), right-hander Ian Anderson (No. 40), third baseman Austin Riley (No. 44), catcher Cristian Pache (No. 58), left-hander Luiz Gohara (No. 63), right-hander Touki Toussaint (No. 78), left-hander Kolby Allard (No. 93)
Prospect Points ranking: 3rd
The Braves' system is stacked, as the club has four more prospects in the Top 100 than any other team on this list. With Atlanta in rebuilding mode over the past several years, the club hasn't made a major Trade Deadline acquisition since Michael Bourn in 2011, and that was under a different regime. Braves general manager Alex Anthopoulos was at the helm in Toronto when the Blue Jays picked up David Price from the Tigers for Matthew Boyd, Daniel Norris and Jairo Labourt in July '15, but Anthopoulos has expressed his reluctance to trade young assets for a rental player this time around. If the Braves do deal from their wealth of Top 100 prospects, it will likely be for controllable talent. They are believed to be in the market for relief help and have also been linked to Toronto starter Marcus Stroman, who is under team control through '20.
2. Yankees
Top 100 prospects (4): Left-hander Justus Sheffield (No. 28 overall), outfielder Estevan Florial (No. 47), right-hander Jonathan Loaisiga (No. 77), right-hander Albert Abreu (No. 79)
Prospect Points ranking: 12th
The Yankees' farm system remains among the best in the game without even taking into account Gleyber Torres and Clint Frazier, who have both lost their prospect status. The club's system has also been heralded for its depth, even beyond the players in the Top 100. Though the Yankees made a bid for Machado and have discussed Jacob deGrom and Noah Syndergaard with the Mets, general manager Brian Cashman seemingly has been hesitant to raid the farm for a big-name player. New York has already acquired Zach Britton and J.A. Happ without moving any Top 100 prospects, and there's a chance it won't make any other major moves, even with Aaron Judge sustaining a chip fracture in his right wrist on Thursday and the Yankees sitting 4 1/2 games behind the Red Sox in the American League East entering Friday.
3. Dodgers
Top 100 prospects (4): Verdugo, Ruiz, catcher/third baseman Will Smith (No. 74 overall), May
Prospect Points ranking: 11th
Yep, even after acquiring Yu Darvish last July and Machado on July 18, the Dodgers still possess an impressive collection of youngsters in the Minors. But it remains to be seen if president of baseball operations Andrew Friedman and general manager Farhan Zaidi are looking to make another big transaction. On one hand, the Dodgers' World Series window is open now, and adding a big-name pitcher such as deGrom or Chris Archer could be the move that brings home a title. Furthermore, it would give the club an insurance policy if Clayton Kershaw decides to opt out of his contract in the offseason. On the other hand, the Dodgers have an incredibly deep roster, six healthy starters and a bullpen that could get Josh Fields and Tony Cingrani back from the disabled list soon.
4. Phillies
Top 100 prospects (3): Right-hander Sixto Sanchez (No. 17 overall), third baseman Alec Bohm (No. 46), right-hander Adonis Medina (No. 73)
Prospect Points ranking: 14th
Another surprise contender in the National League East, the Phillies have been consistently featured in Trade Talk throughout July, and their reported willingness to part with right-hander Medina made them a finalist for Machado. But after falling short in their pursuit of Machado, Philadelphia has turned its attention to lower-cost players. Meanwhile, the club has remained steadfast in its refusal to deal the crown jewel of its farm system, Sanchez, who has recorded a 2.51 ERA in Class A Advanced this season. Still, even if Sanchez remains off the table, the Phils have the pieces to make a Trade Deadline splash should the club's front office decide it is one big acquisition away from emerging as the favorite in a wide-open NL.
5. Brewers
Top 100 prospects (3): Second baseman Keston Hiura (No. 27 overall), right-hander Corbin Burnes (No. 53), right-hander Freddy Peralta (No. 82)
Prospect Points ranking: 17th
Milwaukee was a Trade Deadline seller in general manager David Stearns' first season in charge, sending Jonathan Lucroy and Jeremy Jeffress to the Rangers and Will Smith to the Giants in 2016, and Stearns held off on making a notable deal last July despite being in contention for the postseason. It's been a different story this year, with the Brewers landing reliever Joakim Soria and third baseman Mike Moustakas, though the highest-ranked prospect they moved in those transactions was outfielder Brett Phillips, who was 10th on Milwaukee's list before being sent to Kansas City for Moose. That leaves Stearns with a strong system to trade from as he looks to address the rotation, which remains the club's biggest area of need. Peralta has already made a significant impact in the Majors, posting a 3.74 ERA with an 11.8 K/9 rate in eight starts, so it's unlikely the Brewers would move him for another starter. Meanwhile, the belief around baseball, according to The Athletic (subscription required), is that Milwaukee won't trade Hiura, who has recorded an .868 OPS in the Minors this season. But Burnes could be in play as the headliner in a blockbuster deal.
6. Astros
Top 100 prospects (3): Right-hander Forrest Whitley (No. 7 overall), outfielder Kyle Tucker (No. 8), outfielder Yordan Alvarez (No. 42)
Prospect Points ranking: 6th
After winning the 2017 World Series championship with former highly rated prospects such as Carlos Correa, George Springer, Alex Bregman and Lance McCullers playing key roles and trading for Gerrit Cole in the offseason, the Astros still have a good deal of promising youngsters on the farm. But Houston's MLB roster is so talented that the club likely won't need to move any of its top prospects for a substantial upgrade. Of course, if Astros president of baseball operations and general manager Jeff Luhnow does want to bring in, say, the Reds' Raisel Iglesias or the Marlins' J.T. Realmuto, he likely could make it happen by dangling Whitley, Tucker and/or Alvarez.
7. A's
Top 100 prospects (3): Left-hander Jesus Luzardo (No. 12 overall), left-hander A.J. Puk (No. 39), catcher Sean Murphy (No. 54)
Prospect Points ranking: 10th
Although the A's financial restrictions are well documented, executive vice president of baseball operations Billy Beane hasn't been averse to dipping into the farm system to make a trade when the club has been in contention in the past. In July 2014, Beane sent top prospect Addison Russell along with youngsters Billy McKinney and Dan Straily to the Cubs for Jeff Samardzija and Jason Hammel. The A's supplemented their system by trading Sonny Gray to the Yankees and Sean Doolittle and Ryan Madson to the Nationals last summer, adding Luzardo, Jorge Mateo (Oakland's No. 7 prospect), James Kaprielian (No. 9), Sheldon Neuse (No. 10) and Dustin Fowler in those deals. Luzardo may be off the table, but Beane still has plenty to work with here.
Thomas Harrigan is an editor for MLB.com.