Where do fans think Kimbrel will sign?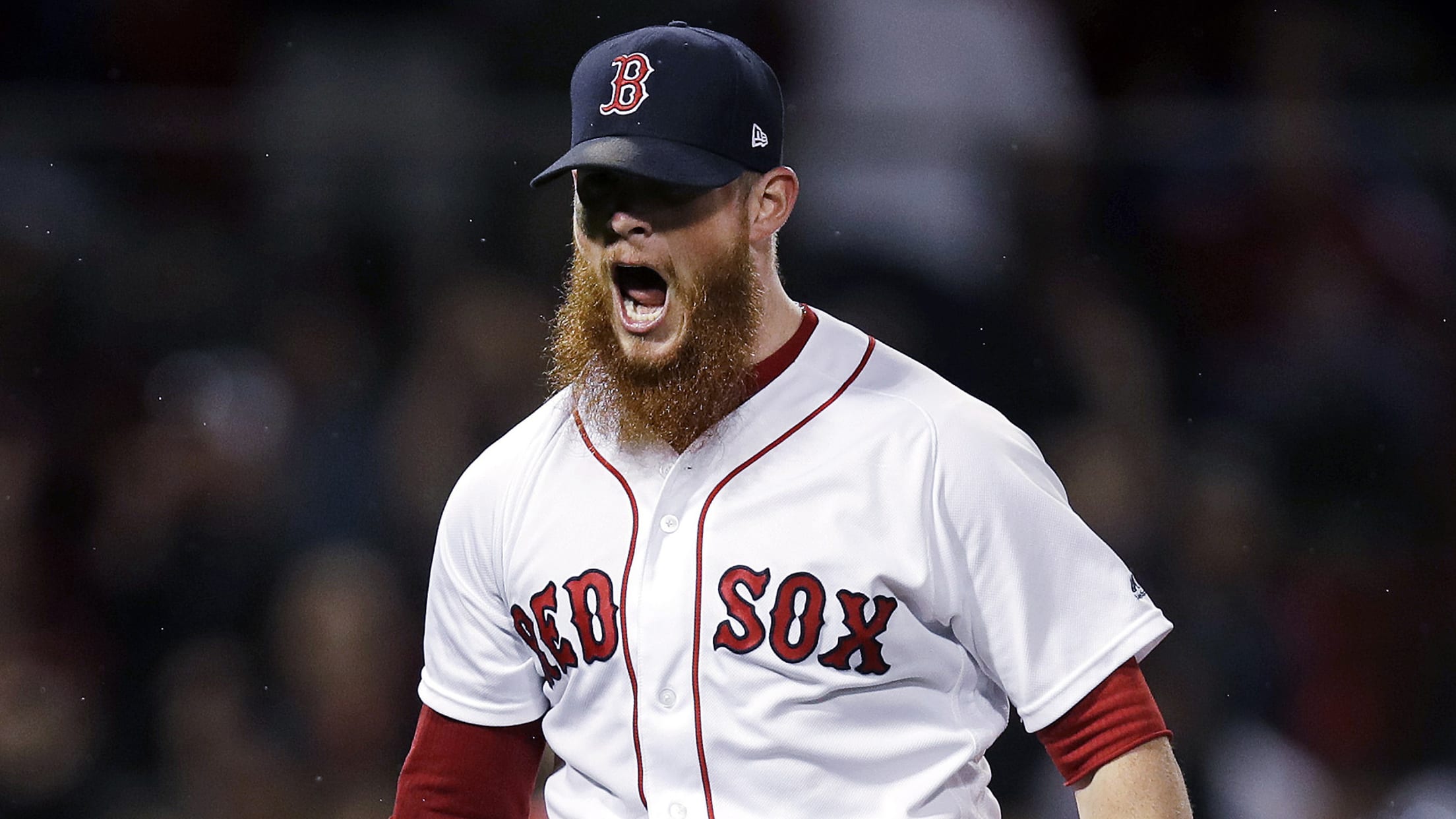 Closer Craig Kimbrel has compiled an impressive resume during his nine seasons in the big leagues, recording a microscopic 1.91 ERA with a 0.92 WHIP, 333 saves and a 14.7 K/9 rate, and he is one of the biggest names remaining on the free-agent market. Below you will find a
Closer Craig Kimbrel has compiled an impressive resume during his nine seasons in the big leagues, recording a microscopic 1.91 ERA with a 0.92 WHIP, 333 saves and a 14.7 K/9 rate, and he is one of the biggest names remaining on the free-agent market.
Below you will find a list of the latest news and rumors surrounding the right-hander.
What do the fans think?
March 13: Who will sign Kimbrel?
It's one of the last lingering questions from the Hot Stove, and MLB Trade Rumors sought fans' opinions Wednesday with a poll that included all 30 MLB clubs -- just in case the ultimate dark horse emerges late in the race.
The Braves were the clear choice of the fans as of 2 p.m. ET, garnering 17 percent of the fan vote, followed by the Red Sox, Cubs, Phillies and Cardinals. That represents many of the perceived frontrunners for the All-Star closer, with the Cubs' case bolstered by Pedro Strop's recent hamstring strain that could jeopardize his status for Opening Day. The Nationals were further down the poll, in eighth place, and Washington's general manager Mike Rizzo reiterated to MLB.com Wednesday that the club's ownership "wants to stay under" the $206 million competitive balance tax threshold -- which would in all likelihood knock them out of consideration for Kimbrel.
Could Kimbrel sit out until June?
March 11: With Opening Day just 17 days away for most Major League clubs, time is of the essence for Kimbrel. Or is it?
In a column for The Athletic published Monday, MLB Network insider Ken Rosenthal wonders if Kimbrel and his agent, David Meter, would consider holding out until after the MLB Draft in early June. The point of a holdout would be for Kimbrel to shed the Draft pick compensation attached to him by way of rejecting the Red Sox's one-year, $17.9 million qualifying offer last November. If Kimbrel re-entered the Hot Stove discussion in mid-June, contenders might be more interested in simply paying an expensive one-year prorated salary to the All-Star closer (in perhaps the neighborhood of $20 million) instead of dealing away top prospects to acquire a different reliever at the July 31 non-waiver Trade Deadline. Kimbrel could then re-enter free agency next offseason without Draft compensation concerns, and he would figure to be a top dog again in the reliever market.
Of course, Kimbrel would still likely prefer to sign a contract before Opening Day, but there has been little public movement from three of his biggest potential suitors in the National League East. The Nationals seem unwilling to surpass the competitive balance tax threshold to sign Kimbrel, Rosenthal notes, while the Braves are more interested in a shorter contract and the Phillies might be hesitant to splurge any further after an expensive offseason. The Red Sox also appear to have moved on from their former closer. Last year, fellow closer Greg Holland wound up signing a $14 million contract right on Opening Day that was ultimately less than the qualifying offer he rejected from the Rockies. Kimbrel is surely looking to avoid the same fate.
Should Dodgers splurge on Kimbrel after offering Harper $35 million per year?
March 7: The Dodgers were reportedly willing to go as far as offering superstar Bryce Harper a four- or five-year contract of at least $35 million in annual average value before Harper signed a 13-year, $330 million deal with the Phillies. If they were willing to spend that kind of money for Harper, what about star closer Kimbrel? Imagine a bullpen that featured Kenley Jansen and Kimbrel at the end of games.
MLB Network insider Joel Sherman writes in an article for the New York Post that Los Angeles should give the idea serious consideration. He suggests that a one-year deal in the neighborhood of $25 million could be good for both sides, given Jansen's health concerns last season and the notion that Kimbrel might accept a one-year deal that would set a record for a reliever. It's been reported that Kimbrel has been looking for a five- or six-year contract from $80 million to $100 million or more, but as it gets closer to Opening Day, the prospects for that may be dwindling.
"If all worked well, the Dodgers could have Kimbrel and Jansen collecting the final six outs," Sherman writes. "But if Jansen goes down, the Dodgers would ask a thinner bullpen with no experienced closer to soldier on. They have the financial might to better protect themselves and by doing this with money, they keep their prospects for July, when their in-season needs arise."
Kimbrel spotted near Braves camp
March 5: With Opening Day coming closer and closer, Kimbrel's closest contenders appear to be the Nationals and his original team, the Braves. A tweet from The Athletic's David O'Brien fanned the flames of speculation toward the latter Tuesday, as Kimbrel was apparently seen quite close to Atlanta's Spring Training facility in Kissimmee, Fla.
Spotted at a restaurant Monday night in Celebration, Fla., just down the road from Braves camp: Craig Kimbrel and family.

— David O'Brien (@DOBrienATL) March 6, 2019
This isn't the first time Kimbrel has been spotted in that general area; he was also seen at Orlando International Airport in mid-February. But with current closing candidate A.J. Minter one of many Braves pitchers dealing with injury concerns in camp, it's worth wondering if Kimbrel and his agent, David Meter, have been in touch with Atlanta's front office in recent days.
Kimbrel claimed the 2011 National League Rookie of the Year Award and compiled two top-five finishes in Cy Young Award voting in a Braves uniform, finishing with a 1.43 ERA and 186 saves over his first five seasons in Atlanta.
Will Nats go over the luxury tax line for Kimbrel?
March 3: In the wake of recent reports that the Nationals remain interested in All-Star closer Craig Kimbrel, Washington is about $4.5 million away from the luxury tax threshold, and if the organization exceeds that for a third consecutive year, it will pay a 50 percent tax on every dollar over the limit.
With Kimbrel reportedly looking for a long-term deal in the range of $80 million to 100 million or more, signing him would surely put the Nats over the limit, leading to the question of whether the franchise is willing to take on that extra cost, not to mention the Draft pick compensation attached to him since he declined a qualifying offer from the Red Sox to become a free agent.
According to MLB.com's Jamal Collier, the front office in Washington is averse to going over the luxury tax line, casting some doubt over whether Kimbrel's next home would be the nation's capital.
If Kimbrel were to sign with the Nationals, an already strong bullpen featuring Sean Doolittle, Trevor Rosenthal and Kyle Barraclough would be bolstered in what is shaping up to be a very competitive National League East.
Kimbrel market gathering steam
March 2: Once the second superstar domino fell when free-agent outfielder Bryce Harper signed a 13-year, $330 million contract with the Phillies, the market for All-Star closer Craig Kimbrel began picking up. According to MLB Network insider Ken Rosenthal in an article for The Athletic (subscription required), the Nationals "remain interested" in Kimbrel and may be willing to offer a long-term contract. ESPN's Keith Law reports that the two sides are "further down the road than reported."
heard Nationals/Kimbrel is "further down the road" than reported

— keithlaw (@keithlaw) March 3, 2019
Kimbrel is reportedly seeking a five- to-six-year deal in the range of $80-100 million. Should the Nationals add him to their bullpen, it would fortify what was already a formidable group featuring three relievers with closing experience in Sean Doolittle, Kyle Barraclough and Trevor Rosenthal.
Rosenthal adds that the Braves, who drafted and developed Kimbrel, are "exploring" him, though Atlanta would likely want to offer a short-term contract. Atlanta has seen a rash of injuries hit the pitching staff early in Spring Training, the latest being closer candidate A.J. Minter (shoulder tightness).There is also the speculation that the Braves may desire to upgrade further than they already have this offseason after Harper signed with the division-rival Phillies.
MLB Network insider Jon Heyman tweets that the Nationals are "keenly interested" in Kimbrel, and that another club that may be in the mix is the Phillies, even after Philadelphia's acquisition of Harper.
The Nats have Doolittle, Rosenthal (who looks great) and Baraclough but they remain keenly interested in Craig Kimbrel. Two of the other main threats on CK are the Braves and Phillies, who have done plenty. @Buster_ESPN and @Ken_Rosenthal mentioned Nats interest

— Jon Heyman (@JonHeyman) March 2, 2019
Though he reports the club is not pursuing Kimbrel at this time, the Tampa Bay Times' Marc Topkin writes that reigning American League Cy Young Award winner Blake Snell wants the Rays to bring the star closer aboard.
"I want Kimbrel," Snell said Saturday. "He's a veteran. He's established. He's the best. Who wouldn't want the best closer on their team?"
Though he struggled in the postseason last year, Kimbrel has been among the game's elite closers for most of his career. In three seasons with the Red Sox, he posted a 2.44 ERA with a 42 percent strikeout rate and 108 saves.
Kimbrel declined a qualifying offer from Boston, and as a result his cost will be higher than the contract he receives because of Draft pick compensation attached to his free agency. In Washington's case, the cost would probably go beyond even that, as the club is already very close to the luxury-tax threshold.
Could Minter's injury open door for Kimbrel's return to Atlanta?
March 1: The Braves have long been mentioned as a logical landing spot for Craig Kimbrel, given the club's need for bullpen help and familiarity with the right-hander, who spent his first five seasons in Atlanta. But the team hasn't been willing to meet Kimbrel's reported asking price.
However, Atlanta may need to reevaluate its plans after closer candidate A.J. Minter left Friday's game with left shoulder tightness. Arodys Vizcaíno, the Braves' other option to close, also has a history of arm injuries.
Even if the Braves remain reluctant to offer Kimbrel a long-term contract, the club could try to make him a lucrative one- or two-year offer with an annual value that is high enough to get him to end his pursuit of a long-term deal. The club certainly has the financial flexibility to do so, as MLB.com's Mark Bowman notes.
How does Harper's record deal impact Kimbrel's market?
Feb. 28: With Bryce Harper reportedly agreeing to a record 13-year, $330 million deal with the Phillies, what lies ahead for one of the best closers in the game, Craig Kimbrel? MLB.com's Mark Feinsand suggests three clubs that may be likeliest to sign the All-Star right-hander: the Braves, Phillies and Twins.
Kimbrel entered the offseason reportedly seeking a six-year deal in the $100 million range, which would be a record for a closer. Though that may have scared off some potential suitors, the Braves may consider Kimbrel more seriously now that division-rival Philadelphia has secured Harper's services for the long term. And Atlanta presumably has the financial flexibility to make a Kimbrel deal happen.
Feinsand notes that while the Phillies capped an impressive offseason by landing the most coveted free agent on the market, were Philadelphia to add Kimbrel to a bullpen that already features David Robertson and Seranthony Dominguez, it could create some separation from the pack in the NL East.
The Twins are another potential landing spot for Kimbrel, according to Feinsand, although it would probably require Kimbrel to be amenable to a one-year deal. Minnesota has made some moves in an effort to close the gap with the Indians, but adding Kimbrel could narrow that gap considerably. More >
Phillies out on Kimbrel?
Feb. 28: How does Bryce Harper's reported 13-year, $330 million deal with the Phillies affect Kimbrel? It may have just taken one of his suitors off the board, sources tell MLB.com's Todd Zolecki.
A source said it remains unlikely the #Phillies sign Dallas Keuchel or Craig Kimbrel at this point, unless one of them suddenly wants a short-term deal.

— Todd Zolecki (@ToddZolecki) February 28, 2019
Harper's deal would put Philly's competitive balance tax figure at roughly $191 million, per RosterResource.com, leaving the club about $15 million shy of the luxury-tax threshold. Kimbrel reportedly began the offseason looking for a $100 million deal, but is thought to have lowered his asking price to somewhere closer to Kenley Jansen's five-year, $80 million deal with the Dodgers or Aroldis Chapman's record five-year, $86 million deal with the Yankees. But the average annual value of both deals would surpass the Phillies' luxury tax cushion for 2019, not to mention that the club just made a huge long-term investment Thursday and may be hesitant to ink another one this offseason.
Why has Kimbrel's market been so slow?
Feb. 28: From a statistical standpoint, Kimbrel is already one of the most accomplished closers in history. Just about every team could use a reliever with his track record. But if teams are paying for Kimbrel's future performance, are there red flags that are making suitors hesitant?
MLB.com's David Adler points out that while Kimbrel's swing-and-miss numbers remain elite, the right-hander was one of the game's biggest decliners when it came to both locating pitches within the strike zone and getting hitters to swing through those in-zone offerings. Teams could be worried that those numbers indicate a turning point in the 30-year-old's performance moving forward, particularly after a rocky postseason performance with Boston. More >
Would Kimbrel sit out '19 without the right deal?
Feb. 28: Spring Training games have started, and Kimbrel is still looking for a team -- and a big payday. But what if he doesn't get it, and he also doesn't budge on the type of deal he wants?
One extreme possibility: sitting out the season. MLB Network Radio analyst and former general manager Jim Bowden reported Saturday that sources close to Kimbrel think he'd consider sitting out 2019 without the right contract offer. Not only that, citing multiple GMs, Bowden reports that the star closer's asking price still hasn't come down.
According to multiple GMs Craig Kimbrel asking price has still not come down and sources close to Kimbrel think he will consider sitting out the year if he doesn't get close to his perceived value.

— Jim Bowden (@JimBowdenGM) February 23, 2019
But Kimbrel's agent, David Meter, was quick to shut down any ideas of Kimbrel sitting out the year.
In a statement to MLB Network insider Ken Rosenthal, Meter said Saturday: "The report is wholly inaccurate and Craig looks forward to signing a new contract in the near future. Any report pertaining to his not playing this season is utterly false."
Craig Kimbrel's agent, David Meter, on the report that Kimbrel is considering sitting out the season: "The report is wholly inaccurate and Craig looks forward to signing a new contract in the near future. Any report pertaining to his not playing this season is utterly false."

— Ken Rosenthal (@Ken_Rosenthal) February 23, 2019
Red Sox's stance on Kimbrel remains the same
Feb. 18: The Red Sox have maintained a consistent stance on Craig Kimbrel over the past few months, with president of baseball operations Dave Dombrowski saying multiple times that he doesn't expect the team to make a "large expenditure" on a closer.
Still, the longer the righty has remained on the market, the more it has seemed like he would ultimately end up back in Boston, perhaps on a one-year deal before trying again in free agency next offseason.
But Dombrowski didn't waver as Spring Training began last week, throwing even more cold water on the possibility of a Kimbrel-Sox reunion by indicating that even a short-term deal for an expensive closer was not in the plans.
Asked Dombrowski if the Red Sox outlook on not having a "big expenditure at the closer position" would change on a one-year deal and he was steadfast that it wouldn't. Seems like a certainty that Craig Kimbrel will not be with the Red Sox in 2019. DD said closer likely "internal"

— Jason Mastrodonato (@JMastrodonato) February 13, 2019
It was more of the same from Tom Werner on Monday, as the team chairman said "it's extremely unlikely" Boston will re-sign Kimbrel.
Werner says 'it's extremely unlikely' that the Red Sox re-sign Kimbrel

— Alex Speier (@alexspeier) February 18, 2019
ESPN's Jeff Passan recently broke down why signing Kimbrel for $17 million annually would actually require the Red Sox to pay close to $28 million for his services in 2019 due to the Competitive Balance Tax, which explains why the team is content to go with an internal option at closer.
Matt Barnes and Ryan Brasier are considered the two favorites to open this season as the Red Sox's ninth-inning man, with Tyler Thornburg as a dark horse.