Russell exits in 4th with shoulder discomfort
Maddon doesn't believe injury is serious, but Cubs shortstop will rest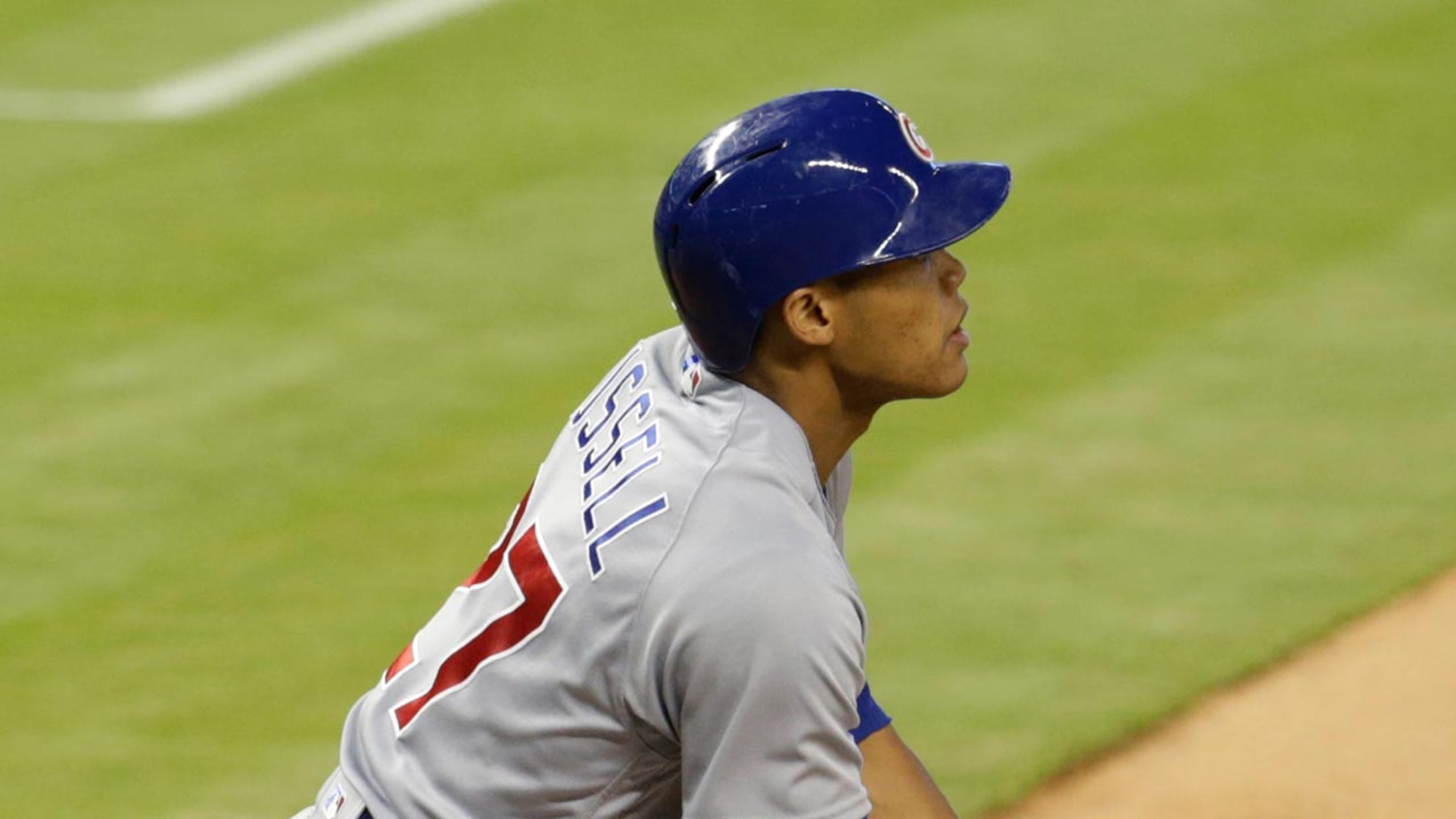 Addison Russell was 0-for-2 on Sunday before exiting with right shoulder discomfort. (Lynne Sladky/AP) (Lynne Sladky/AP)
MIAMI -- Injuries are never something to be taken lightly, and staying healthy is certainly priority No. 1 over a long season.So when Cubs shortstop Addison Russell felt discomfort in his right shoulder during Sunday's 4-2 loss to the Marlins, it was time to shut it down. He exited after
MIAMI -- Injuries are never something to be taken lightly, and staying healthy is certainly priority No. 1 over a long season.
So when Cubs shortstop Addison Russell felt discomfort in his right shoulder during Sunday's 4-2 loss to the Marlins, it was time to shut it down. He exited after Chicago batted in the fourth inning not because of any particular throw, but just a general discomfort on all of them.
"Just my throws in general, it's just a sharp pain in the front of the shoulder," Russell said. "I think it's going to subside if I go in and do all the treatments that I need to do, really pinpointing where the sensation is coming from."
It's a nagging injury that dates back to last season, and it has forced him to miss time in 2017 as well. Russell missed a May 10 game at Colorado because of the shoulder as the issue was building. The team had a scheduled off-day on May 11 and Russell was limited to pinch-hitting duties on May 12-13.
"[I] definitely know when I can go and when I need to shut it down," Russell said. "There's a difference between when you're trying to work through something or you're working against something. So I think it's just going to be day to day and I'm going to pay attention to getting some treatment."
Manager Joe Maddon said he doesn't anticipate the injury being anything long term.
"It's never been debilitating," Maddon said. "It's been something that requires a little bit of rest and then he's fine again. I think it's just a young arm. Almost like a young pitcher, as he develops more arm strength and gets into probably a more consistent routine in between playing, meaning a little weights and different things that you do -- exercises that you do to prevent that kind of nagging kind of a thing.
"I don't anticipate him starting tomorrow based on him having to come out of the game today. I think it's something he will overcome with time as he gets more mature as a baseball player."
Russell agreed that he doesn't believe it's a serious injury, although it remains frustrating nonetheless.
"Missing time stinks," Russell said. "You definitely want to be out there every single day. But with this type of particular discomfort, I don't think you work through it. You have to pinpoint what's aggravating the shoulder."
Glenn Sattell is a contributor to MLB.com based in Miami who covered the Cubs on Sunday.