Cubs bracing for the elements in Chicago
After basking in the sun in Arizona and Anaheim, the club heads home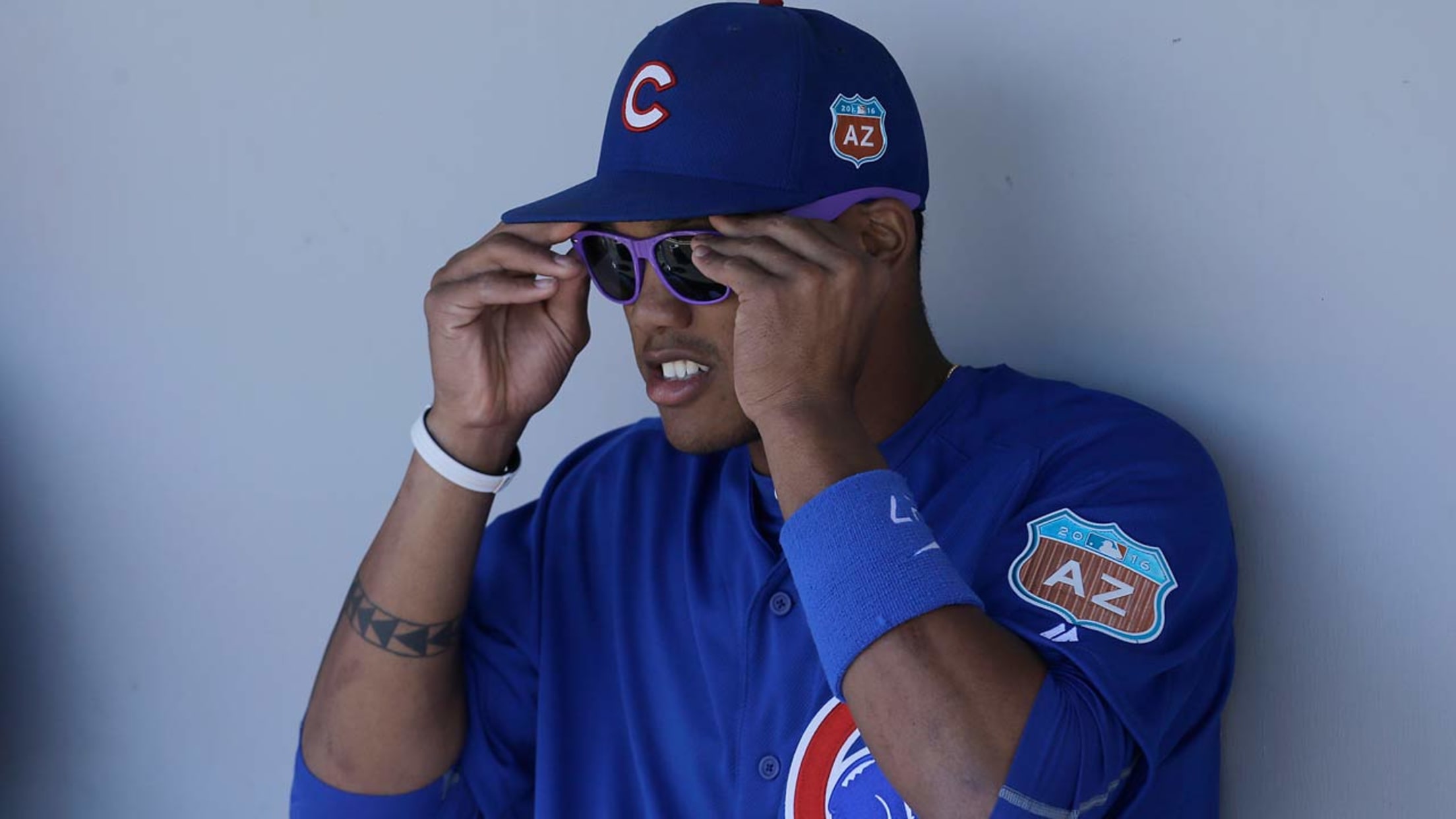 "It's just another element we'll have to overcome," shortstop Addison Russell said of the chilly Chicago weather. (AP)
PHOENIX -- The Cubs will trade in their flip flops for balaclavas. They've enjoyed perfect weather since reporting to Arizona in mid-February for Spring Training, and playing in Anaheim and back in Phoenix. The forecast for Monday night's game in Chicago calls for temperatures in the 30s."A lot of heat
PHOENIX -- The Cubs will trade in their flip flops for balaclavas. They've enjoyed perfect weather since reporting to Arizona in mid-February for Spring Training, and playing in Anaheim and back in Phoenix. The forecast for Monday night's game in Chicago calls for temperatures in the 30s.
"A lot of heat packs help," reliever Justin Grimm said. "Honestly, once you're warmed up and throwing, it's really not that bad. It's probably tougher for the hitter because their hands are going to sting if they don't hit it right. The biggest thing is sitting in [the bullpen] and watching the game. If you're a part of it, you try not to pay attention to the cold -- your adrenaline is flowing. We use a lot of heat packs and do a lot of stretching to make sure you're loose more than normal."
The Cubs relievers do get small portable heaters in the bullpen, and need to make sure they cover them with towels to trap the heat.
"It's just another element we'll have to overcome," shortstop Addison Russell said. "We just have to go out there and tough it out. There's really not much more that you can do."
Worth noting
• Dexter Fowler, who has been playing despite bruising his right hip Thursday night in a collision with Kyle Schwarber, was given Sunday off. Cubs manager Joe Maddon said he had been looking for a day to give Fowler a breather.
Fowler leads the National League in on-base percentage (.625), and was expected back in the lineup Monday night for the Cubs' home opener.
• New Cubs Jason Heyward and Ben Zobrist have made quite an impression on Jon Lester.
"Those two guys have really elevated the young guys because of the way they go about their business, which is even more impressive based on what I saw last year [of the young Cubs players]," Lester said. "I told [hitting coach Eric Hinske] last night, 'This isn't a knock on you as a hitting coach, but my favorite part of this team is the way they run the bases.' I think that's a testament to [Heyward]. That's what he's known for."
• Adam Warren, who made his Cubs debut Saturday night in relief, also got an at-bat, the fourth of his career. Warren's total bat supply is three. That's it, unless he breaks one. He doesn't expect to use them much.
"It was my 'welcome to the National League moment' last night," Warren said.
• Javier Baez, on the disabled list with a left thumb contusion, will begin a rehab assignment Monday with Triple-A Iowa. Baez was examined by the Cubs medical staff Sunday in Phoenix. He had been rehabbing at the Cubs' complex in nearby Mesa.