Cubs eye reinforcements, likely done dealing
Cahill, Soler rehabbing in Minors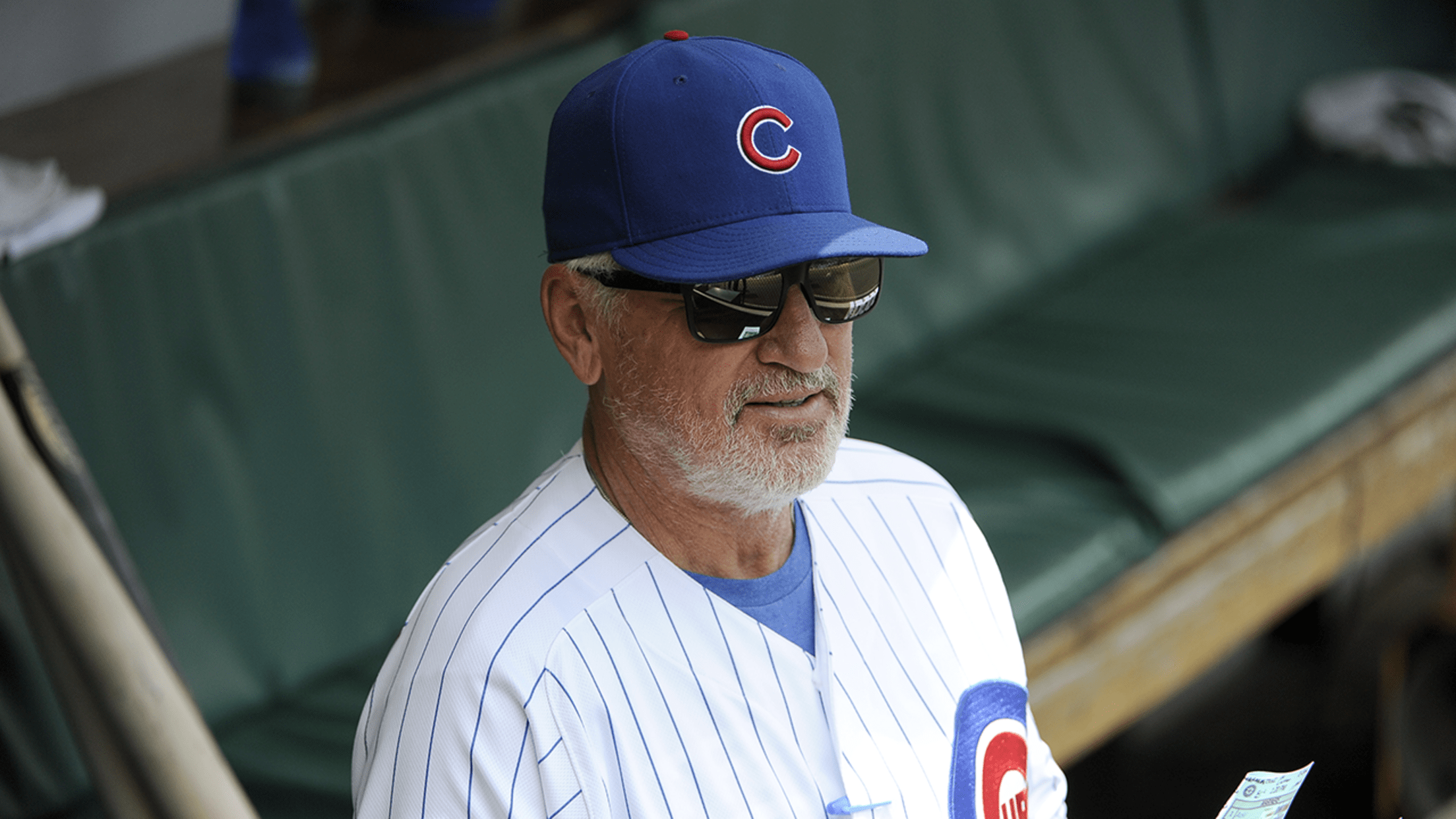 Cubs manager Joe Maddon said he wasn't aware of any more trades in the works as Monday's Deadline nears. (AP)
CHICAGO -- With the Trade Deadline at 3 p.m. CT on Monday, the Cubs are looking at getting players healthy rather than adding anyone else to the roster."There's nothing going on as far as I know -- crickets," Cubs manager Joe Maddon said on Sunday.The Cubs bolstered their bullpen with
CHICAGO -- With the Trade Deadline at 3 p.m. CT on Monday, the Cubs are looking at getting players healthy rather than adding anyone else to the roster.
"There's nothing going on as far as I know -- crickets," Cubs manager Joe Maddon said on Sunday.
The Cubs bolstered their bullpen with the additions of Aroldis Chapman, who was acquired from the Yankees on Monday, and Mike Montgomery, picked up in a trade with the Mariners. Chicago has reinforcements coming in Trevor Cahill and Jorge Soler, who are both rehabbing in the Minor Leagues. Cahill (patellar tendinitis in right knee) was starting for Triple-A Iowa, while Soler (left hamstring strain) was playing for Double-A Tennessee.
Plus, the Cubs recently optioned infielder Tommy La Stella and right-handed reliever Justin Grimm to Iowa to open roster spots, and both of them could be key additions later in the season.
Worth noting
• Maddon is concerned about giving players enough rest, and on Sunday night, the Cubs selected the contract of left-hander Brian Matusz, who was inserted into the rotation as a sixth starter. What will the other starting pitchers do with an extra day between outings?
"Getting an extra day, there's nothing wrong with it," said right-hander Kyle Hendricks, who had been scheduled to start Sunday night. "You just have to work it into your routine and take advantage of it."
Normally, Hendricks throws a bullpen session and a short side between starts, but said this time, he was able to do two extended bullpen sessions.
"Sometimes it gives you a chance to get more work in," he said. "You can take a breather. Whatever guys think they need, I think they can take advantage of the extra day."
• After blowing a potential four-out save on Saturday, Chapman said he preferred three-out situations, not four.
"I didn't know that," Maddon said on Sunday. "Not that it mattered, but I didn't know that."
Maddon thought the matchups against the Mariners in the eighth inning were a perfect fit for Chapman, who served up a two-run double to Leonys Martin in Seattle's 4-1 victory.
"Chapman did nothing wrong, it was just good hitting," Maddon said.
• Javier Báez had made six straight starts at second base, but was not in the starting lineup on Sunday. When asked if he was just giving Baez a day off, Maddon quipped: "I didn't know he was a regular."
Baez was hitless on Saturday, but 5-for-16 on the homestand with a home run and four RBIs.
• On Monday, Ichiro Suzuki arrives at Wrigley Field for the start of a three-game series between the Cubs and Marlins. Suzuki is two hits shy of 3,000. The only player to collect his 3,000th hit at Wrigley was Stan Musial, who did so on May 13, 1958, with a pinch-hit double off Moe Drabowsky in the sixth inning.
Maddon met Suzuki when he managed the American League All-Star team in 2009. The Japanese outfielder, who was then playing for the Mariners, dined at the same Italian restaurant Maddon did the night before the game, and the manager sent over a bottle of wine.
"I had one request -- that he hit a home run on the first pitch of the game," Maddon said. "He did swing, and it was well struck, but it went foul. He tried.
"He's done it on two different worlds, he's been the best hitter in both places," Maddon said. "What he's doing right now is pretty remarkable."