Cubs host groundbreaking ceremony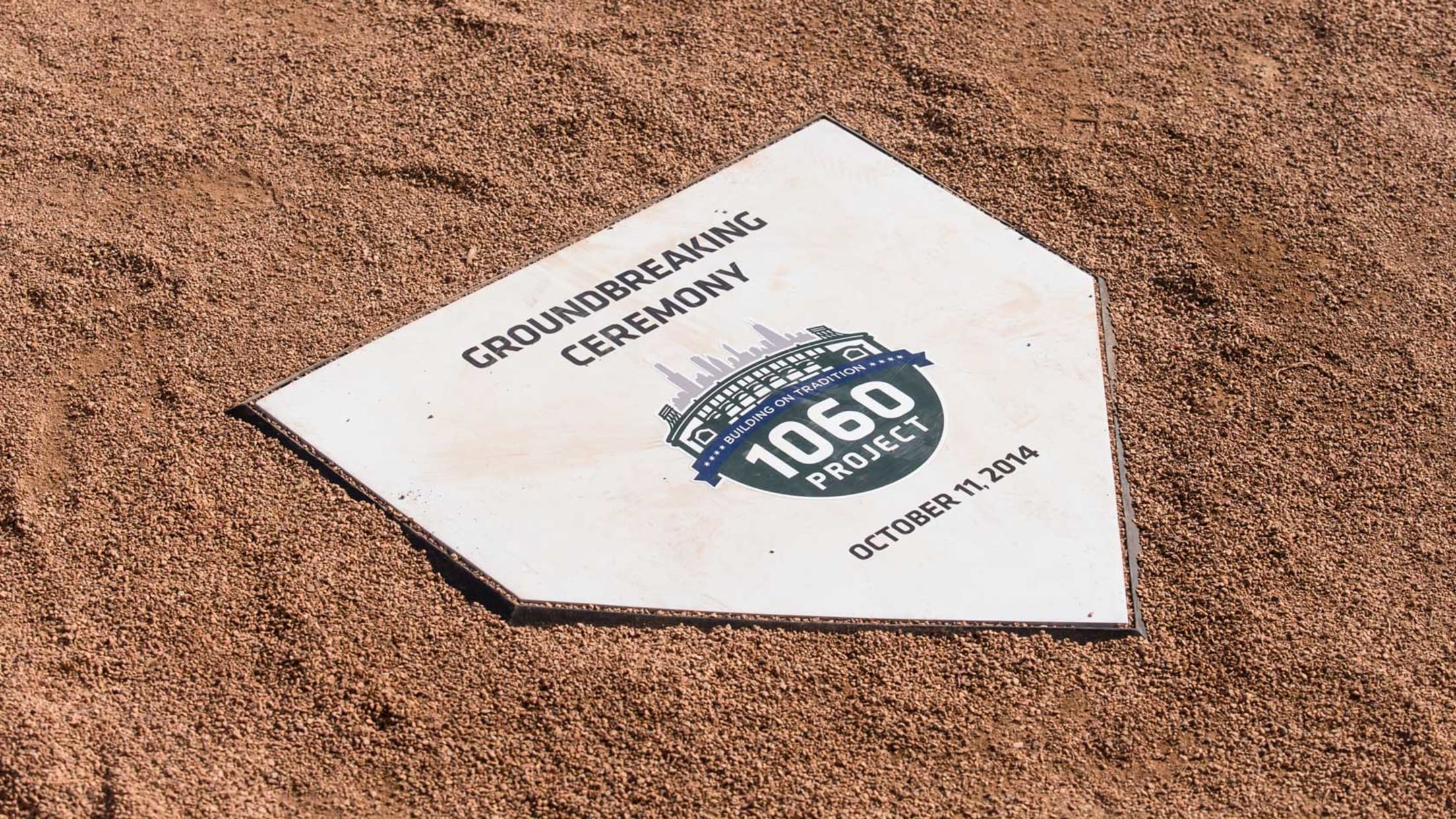 View groundbreaking photosThe restoration of historic Wrigley Field is officially underway. On Saturday, Oct. 11, the Chicago Cubs and the Ricketts family hosted Chicago Mayor Rahm Emanuel, Major League Baseball Commissioner Allan H. (Bud) Selig, former Cubs pitchers Milt Pappas and Kerry Wood, city and state officials, community and corporate
View groundbreaking photos
The restoration of historic Wrigley Field is officially underway. On Saturday, Oct. 11, the Chicago Cubs and the Ricketts family hosted Chicago Mayor Rahm Emanuel, Major League Baseball Commissioner Allan H. (Bud) Selig, former Cubs pitchers Milt Pappas and Kerry Wood, city and state officials, community and corporate partners, and representatives from the project team at the groundbreaking ceremony for Wrigley Field's long-awaited expansion and restoration, now titled The 1060 Project.
More than 350 people joined the team for the event, which included a ceremonial dig with special Cubs-themed shovels and a backdrop of construction already underway in the outfield.
"After years of working on a solution to save and improve Wrigley Field, we are thrilled to break ground on The 1060 Project," said Cubs Chairman Tom Ricketts. "This day marks a significant milestone in our quest to provide our players and fans with the best facilities in baseball."
The 1060 Project will ensure the viability of the 100-year-old ballpark for future generations of Cubs fans, while preserving the beauty, charm and historic features fans have come to know and love.
"When you think of a baseball park that embodies its city, its community and its fans, there is simply no more powerful example in baseball than that of Wrigley Field and the profound bond it continues to inspire with Chicago, Illinois," Selig said.
The four-year plan -- which includes structural updates; improved player facilities; new signage, including video boards in left and right field; expanded concessions; new and improved restroom facilities; and much more -- will be rolled out in four separate phases, beginning in the 2014-15 offseason. This privately-funded, $575 million project will create approximately 2,100 jobs and generate $1.2 billion in net new revenue to the local economy over the next 30 years.
"This restoration project is a significant private investment that will create thousands of jobs, ensure Wrigley Field can be enjoyed by Chicagoans for generations to come and help the Cubs toward their goal of giving their fans a long-awaited World Series championship," Emanuel said. "With this project, the Cubs are investing in more than just their historic stadium. They will continue to be a good neighbor by investing in the surrounding area for traffic flow, security and public parks. This is a great step for the Cubs and for all of Chicago."
The 1060 Project team includes Pepper Construction, a Chicago-based firm that has nearly a century of experience on large-scale projects such as the Merchandise Mart, Marshall Field's and the Shedd Aquarium; VOA, a full-service international architectural firm that designed many high-profile projects in the Chicago area, including Navy Pier, the Old Town School of Folk Music and Prentice Women's Hospital; D'Agostino Izzo Quirk Architects (DAIQ), a full-service architectural firm instrumental in restoring Boston's Fenway Park, Dodger Stadium and The Rose Bowl; ICON Venue Group, a project management company that has produced more than $4 billion worth of home venues for franchises in each major professional sports league, and has worked on Chicago's U.S. Cellular Field, Toyota Park in Bridgeview and the Cubs' new Spring Training complex in Mesa, Arizona; and Harboe Architects, led by nationally-known, Chicago-based preservation architect Gunny Harboe, who has had oversight of major restoration projects such as the Sullivan Center, the Chicago Board of Trade and the Field Building.
The primary focus of the project's first phase, to be completed this offseason, is infrastructure work. The ballpark's structural steel and foundation will be strengthened, and much of the concrete in the Budweiser Bleachers will be replaced. More than 50 million pounds of new concrete will be poured at the Friendly Confines during the course of the restoration.
The first phase also includes the expansion and improvement of the left- and right-field Budweiser Bleachers. This expansion will provide more room for fans in the concourse, additional concession areas, and new group terraces where fans can congregate during Cubs games and other events. Several new outfield signs will be added this offseason, including a 3,990-square-foot video board in left field and a smaller 2,225-square-foot video board in right field.
Subsequent phases will address the improvement and expansion of player facilities; new bullpens and batting tunnels; new restrooms, concessions, seats, luxury suites, clubs, restaurants, and retail and entertainment spaces for fans; additional commissary space for food preparation; and an improved press box. A separate Ricketts family development will feature a hotel, a fitness club, a retail space and an open-air plaza adjacent to the ballpark.
"One-hundred years ago, Charles Weeghman decided to build a ballpark on the North Side of Chicago to promote his fledgling Federal League team, then called the Chi-Feds," said Cubs President of Business Operations Crane Kenney. "Over the decades, as the city grew, so did the importance of Wrigley Field. More than a ballpark, it became a place where history was made, heroes were born and everlasting memories were created."
The primary goal of The 1060 Project is to ensure that those precious memories can continue to be created over the next 100 years at the corner of Clark and Addison.