Chicago youth get to 'Play Ball' with Zastryzny
Reliever relishes chance to toss pitches at event prior to Game 1 of NLCS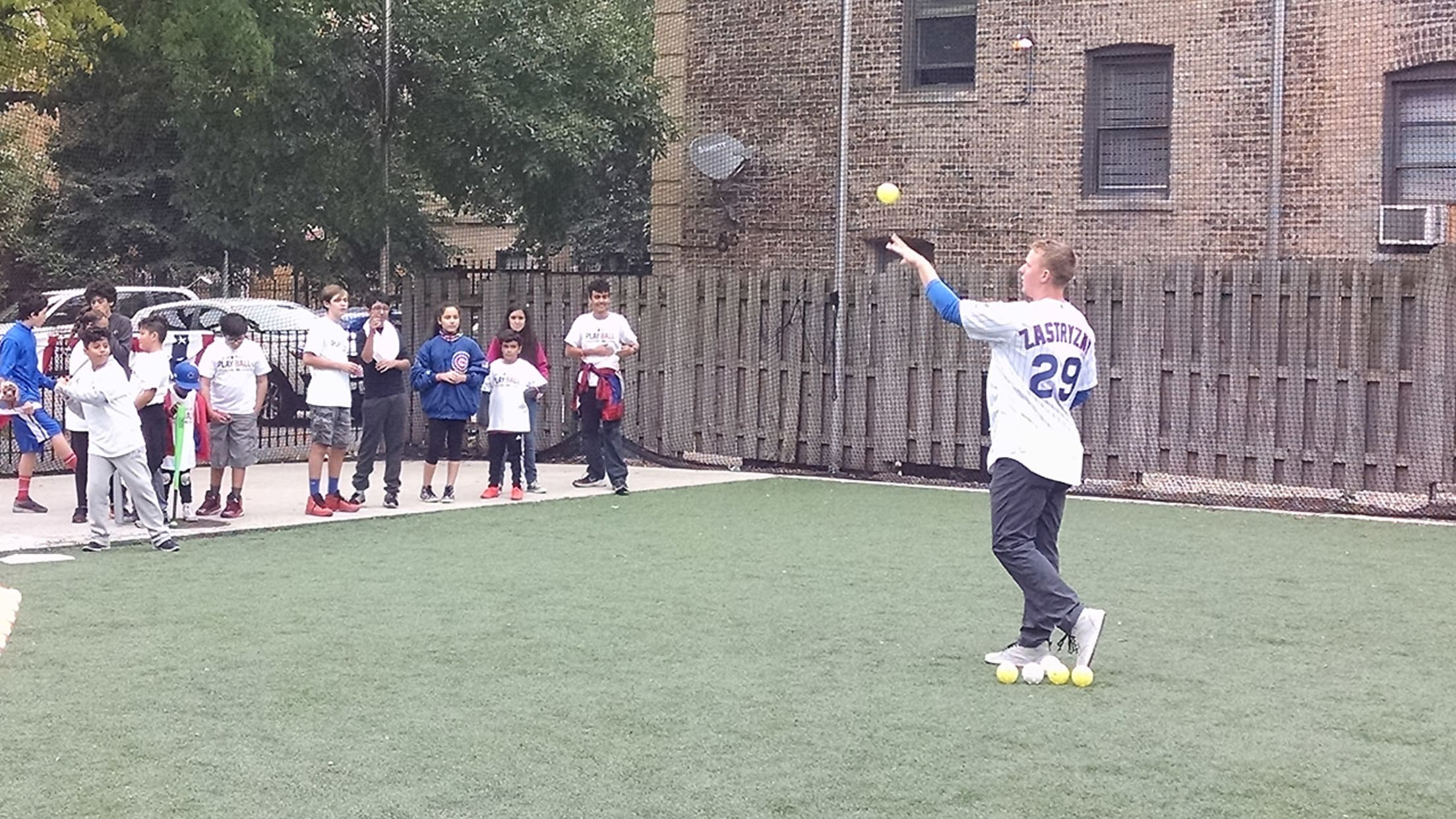 Cubs reliever Rob Zastryzny pitches to the children participating in Saturday morning's Play Ball event. (MLB.com)
CHICAGO -- Rob Zastryzny, just hours after being added to the Cubs' National League Championship Series roster, took a detour on his way to Wrigley Field on Saturday morning.Before turning his focus to Game 1 (8 p.m. ET/7 p.m. CT on FS1), Zastryzny stopped by the Inter-American Magnet School, where
CHICAGO -- Rob Zastryzny, just hours after being added to the Cubs' National League Championship Series roster, took a detour on his way to Wrigley Field on Saturday morning.
Before turning his focus to Game 1 (8 p.m. ET/7 p.m. CT on FS1), Zastryzny stopped by the Inter-American Magnet School, where approximately 150 kids gathered for a "Play Ball" event designed to encourage youth participation in baseball and softball. Cleveland, the site of the first two games of the American League Championship Series, hosted a similar youth clinic on Saturday, as well.
For about 30 minutes, Zastryzny took his place as a pitcher, flipping balls to kids eager to impress the Major League Baseball player who had stopped by to spend time with them.
:: NLCS: Dodgers vs. Cubs coverage ::
"I used to be on the other end of this," said Zastryzny, who attended similar youth baseball clinics while growing up in Texas. "I used to remember thinking that if I ever got to this level, I'm going to do the exact same thing. I was fortunate to do it in the Minor Leagues and in college and now here in Chicago. I'm having an absolute blast, and I know they're having a good time. It's nice to see that."
MLB worked alongside the Cubs to select this particular school, which is nestled two blocks east of Wrigley Field, as the site for Saturday's event. The turf play area was transformed into a series of baseball diamonds, where children were able to learn various baseball/softball skills.
Each participant rotated through four stations -- home run derby, grounders/popups, baserunning and an informal game. The latter is where Zastryzny could be found.
"I get just as excited throwing the Wiffle ball to them, because I know how much fun they're having," he said. "It means a lot to me that I can contribute to it."
Members of the nearby Lakeview High School baseball team volunteered as workers at the stations, and former Cubs outfielder/coach Bob Dernier roamed around offering instruction. Clark, the Cubs' mascot, joined in the fun.
"I think the important thing is that kids are out here doing baseball and softball activities, swinging the bat, throwing, and they're having fun," said David James, vice president of youth programs for MLB. "We want kids to have fun, but we're also looking for the kids who aren't currently playing in a league. They come out here to this event and do all of these activities and they go, 'You know what? This is fun. I want to go play in a league.' That's really what we're trying to focus on."

As a follow-up to Saturday's event, MLB will provide parents with information on how to get their kids involved in local baseball and softball leagues. And in addition to photos and memories, all participants left the 90-minute event with a "Play Ball" T-shirt and wristband.
Plans for an even larger "Play Ball" initiative in two weeks is in the works, James said. It would be held in either Chicago or Los Angeles (whichever city is hosting Game 4 of the World Series that night) and open to the public.