Maddon wants Cubs to adjust approach at plate
Team struck out 17 times in game Saturday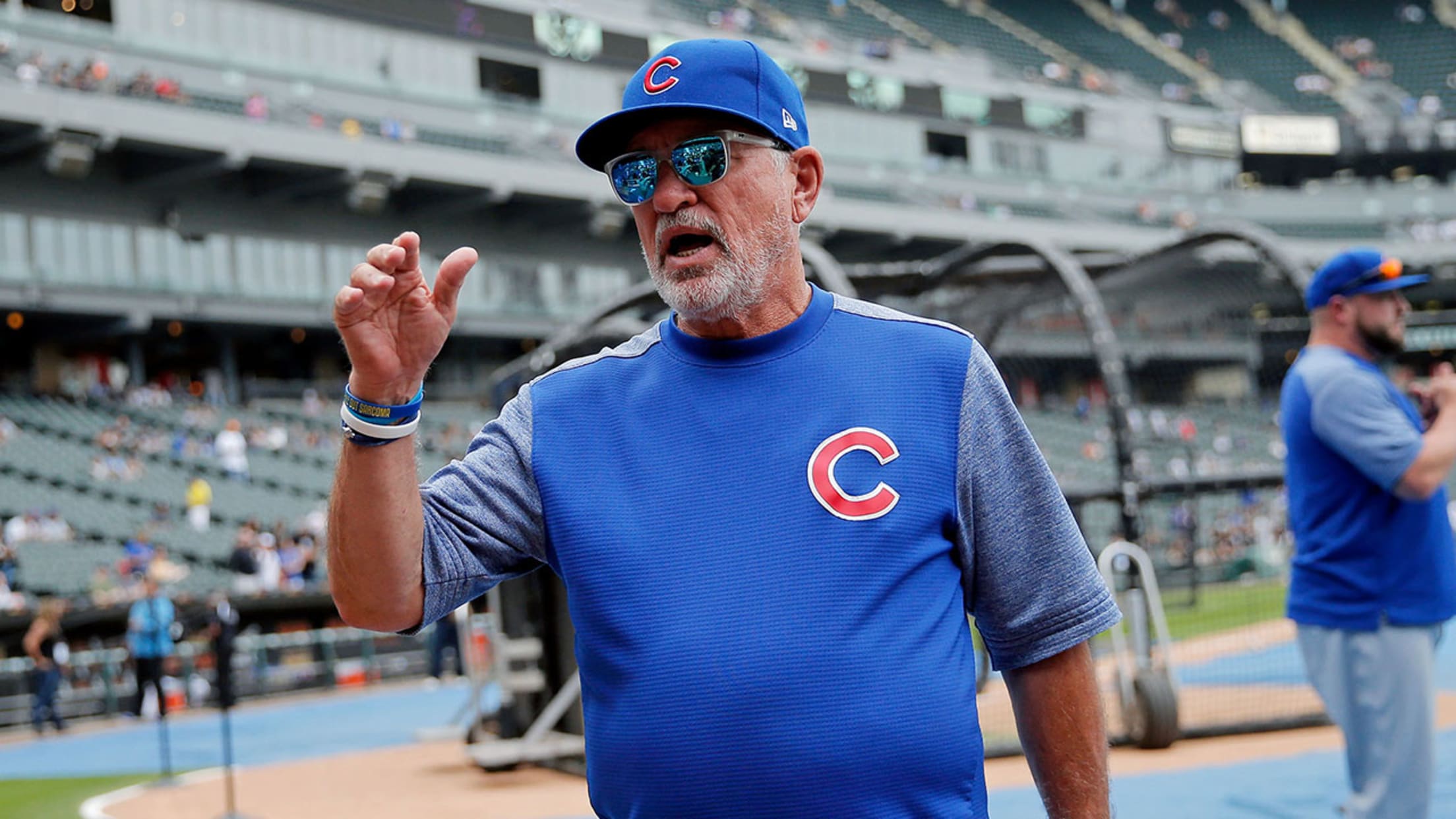 Cubs manager Joe Maddon wants his team to focus on putting the ball in play. (Getty)
MILWAUKEE -- Javier Baez, Kyle Schwarber and Ian Happ combined for eight of the Cubs' 17 strikeouts on Saturday night and the trio was not in the Cubs lineup on Sunday, but manager Joe Maddon said that was not a punitive move. However, Maddon is not pleased with what he's
MILWAUKEE -- Javier Baez, Kyle Schwarber and Ian Happ combined for eight of the Cubs' 17 strikeouts on Saturday night and the trio was not in the Cubs lineup on Sunday, but manager Joe Maddon said that was not a punitive move. However, Maddon is not pleased with what he's seen lately as far as the Cubs' approach at the plate.
"I was upset," Maddon said Sunday about his comments following Saturday's 2-1, 11-inning win over the Brewers. "We can't expect to win the World Series again this year and have those kind of at-bats. That's a bad method.
"I know it's just one game but it's happened a couple times recently," he said. "I want us to get away from that method now. The second half has been good and I don't want us to fall backward. That's my biggest concern."
On Saturday, the Cubs became the first team in the last 100 years to record two wins while striking out at least 17 times in each within a five-game span. They also struck out 17 times last Tuesday against the White Sox, but still won.
The Cubs stranded 11 baserunners on Saturday and went 1-for-6 with runners in scoring position. They had done better in situational hitting since the All-Star break.
"I thought we were making great strides in regard to opposite-field, situational hitting, moving the baseball, putting pressure on the defense," Maddon said. "When you get to the playoffs, you're facing good pitching all the time. You've got to go out there prepared for that. You've got to force pitchers to get us out in the strike zone, not outside of the strike zone. That's the championship-caliber offense mentality."
Maddon, who does not like team meetings, said he talked to players individually and also expected the coaches to get his message across. Baez, though, is one of the more frustrating players on the Cubs. He's batting .302 since the All-Star break but also had a game in which he struck out five times.
"He's been there before and then he hits the ball in the upper deck," Maddon said of Baez. "I know he has so much ability in right-center also, and I want him to utilize that. The same with Happ -- you've seen the ball go to left-center a lot and hard. I want us to continue to nurture utilizing the whole field and make the pitcher get us out in the strike zone and not expanding so much."
• Maddon talked to Cubs president of baseball operations Theo Epstein Sunday and said the front office was meeting in Chicago ahead of Monday's non-waiver Trade Deadline.
"They're going through their war room stuff now," Maddon said. "There's nothing yet. There's no white smoke. By the time we get back [to Chicago] tonight, there might be more to talk about."
• Maddon's Respect 90 Foundation is hosting a golf tournament on Monday and he planned on teeing off for each group rather than worry about a potential trade. He's leaving that to Epstein and Co.
"I think our guys do a great job recognizing the need and not being afraid to go out and get [good players] at the expense sometimes of giving up prospects," Maddon said. "They need to really feel as though the group we have now has a solid chance in order to give up people we may like over the next couple years.
"You've got to feel good about what this group is doing right now to be that aggressive, like last year with Aroldis [Chapman]," Maddon said of the closer, who was added at the non-waiver Trade Deadline in 2016. "They read the tea leaves well and know what we're all about now and reacting to that situation."