Sunday's top prospect performers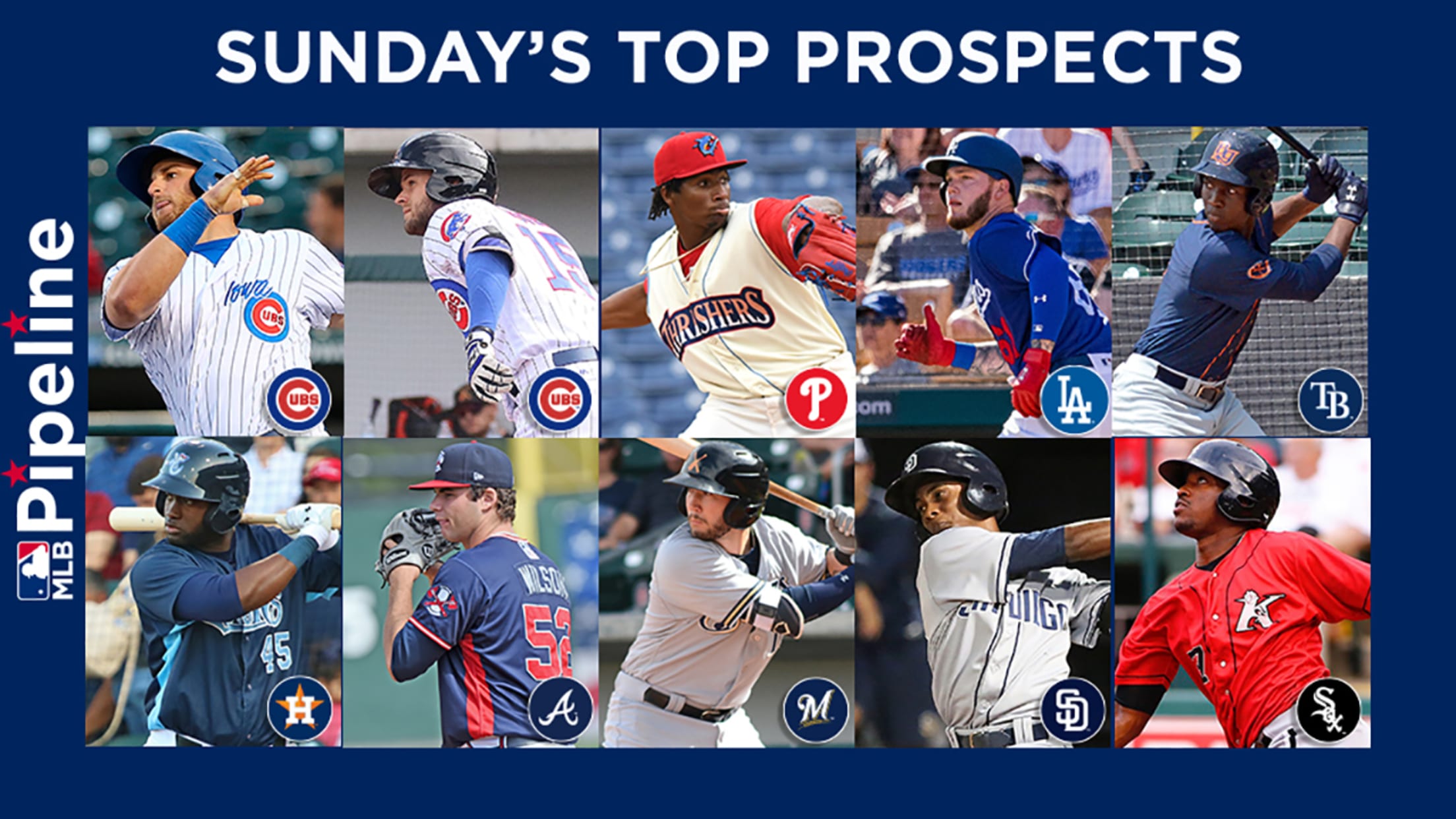 Here's MLB Pipeline's roundup of the top prospect performances in the Minor Leagues on Sunday.The Iowa Cubs received strong offensive contributions from a pair of top prospects, as Mark Zagunis and David Bote each collected three hits, including a home run, while combining for five RBIs and five runs in
Here's MLB Pipeline's roundup of the top prospect performances in the Minor Leagues on Sunday.
The Iowa Cubs received strong offensive contributions from a pair of top prospects, as Mark Zagunis and David Bote each collected three hits, including a home run, while combining for five RBIs and five runs in a 9-4 win over Memphis.
Zagunis, the Cubs' No. 13 prospect, singled in his first at-bat before connecting on a solo home run in the fourth inning. He would later add a two-run double to finish the game 3-for-5 with three RBIs and two runs. Zagunis' double and homer were both firsts this season for the 25-year-old outfielder, and he improved his average from .130 to .214 with the multi-hit performance (also a first).
Bote (No. 14) also posted a pair of extra-base hits in his three-hit game. He launched his second solo home run in as many days in the third inning, before pushing across a run in the ninth with a triple and finishing 3-for-5. The 25-year-old second baseman scuffled out of the gate, but has swung a hot bat of late, hitting .375 with two homers and five RBIs in his past four games.
The rest of the best performances from top prospects Sunday
• Making his 2018 debut, No. 26 overall prospect Sixto Sanchez (Phillies' No. 1) allowed four earned runs on seven hits in four innings in a no-decision for Class A Advanced Clearwater. While the 19-year-old struggled with his control in the outing as he issued four walks and threw just 46 of his 83 pitches for strikes, he still managed to register six strikeouts and routinely hit triple digits with his fastball.
• One night removed from hitting a game-tying home run in the eighth inning, No. 33 overall prospectAlex Verdugo (Dodgers' No. 2) one-upped himself with a walk-off, three-run blast that powered Triple-A Oklahoma City past New Orleans, 8-6, in 10 innings. Making the feat all the more impressive was that the 21-year-old outfielder had entered the game in the top of the frame as part of a double switch. He's hitting .324 on the season, with two homers, two doubles and eight runs in nine games.
MILB Video - Title: Verdugo's walk-off homer - Url: http://www.milb.com/r/video?content_id=1943030583
• No. 57 overall prospectJesus Sanchez (Rays' No. 4) homered for a second straight day, hitting a three-run shot that proved to be the difference in Class A Advanced Charlotte's 9-6 win over Lakeland. He finished the game 2-for-5 at the dish and has now hit in four straight for the Stone Crabs, including three multi-hit games. Shortstop Lucius Fox (No. 7) stayed hot with a 3-for-6 performance, his sixth multi-hit performance in 10 games this season, while Josh Lowe (No. 11) went 2-for-5 with a double and two RBIs.
• Yordan Alvarez's lone hit was a big one, as the Astros' No. 4 prospect belted a three-run, walk-off home run in the 11th inning of Double-A Corpus Christi's 10-7 win over Arkansas. The 20-year-old outfielder had struck out three times in his previous five at-bats before delivering the game-winning blast. Overall, Alvarez owns a .286 average through nine games, with two homers and 10 RBIs.
MILB Video - Title: Alvarez hits walk-off - Url: http://www.milb.com/r/video?content_id=1943119183
• Astros No. 10 prospect Corbin Martin carried a no-hit bid into the fifth inning and went on to complete six scoreless innings as Class A Advanced Buies Creek blanked Salem, 5-0. The 2017 second-rounder earned his first career win with the performance, as Martin allowed two hits and three walks with six strikeouts. He is yet to allow an earned run in two starts, during which he's permitted three hits while striking out 13 in 10 innings. At the plate, Ronnie Dawson (No. 15) paced the Astros' offense by hitting his first home run, a third-inning solo shot, as part of a 3-for-5 day. The 22-year-old outfielder had just four hits in 33 at-bats (.121) heading into the game.
• Braves No. 13 prospect Bryse Wilson extended his season-opening scoreless streak to 8 2/3 innings behind five dominant innings Sunday in Class A Advanced Florida's win over Palm Beach. The 20-year-old righty allowed just one hit, generated six ground-ball outs and struck out five for a second straight start. Wilson's five-inning, scoreless performance was the third in as many games for the Fire Frogs after Joey Wentz (No. 10) and Ian Anderson (No. 5, No. 51 overall) accomplished the feat on Friday and Saturday, respectively.
• Brewers No. 4 prospect Lucas Erceg, Corey Ray (No. 7) and Trent Grisham (No. 8) each tallied at least two hits and one run as Double-A Biloxi defeated Mississippi, 7-4, in game one of a doubleheader. Ray recorded the lone extra-base hit of a the trio, hitting a double in a 2-for-4 effort out of the leadoff spot, while Erceg lifted his average to .389 by going 2-for-3. Grisham, meanwhile, paced the Shuckers' lineup with two runs as he finished 2-for-3. Ray would later add two more hits in the nightcap, giving him multiple hits in four of his past five games.
• Make it three wins in as many starts for Brewers No. 10 prospectFreddy Peralta. Starting game one of Triple-A Colorado Springs' double-dip, the 21-year-old worked six strong frames, allowing two earned runs on seven hits and one walk with seven strikeouts. He's pitched to a 1.13 ERA in the early going this season, with 11 hits allowed and 20 strikeouts in 16 innings. Mauricio Dubon (No. 11) and Jacob Nottingham (No. 27) both entered the home-run column with solo shots to help lead the Sky Sox past Round Rock, 7-4.
• Dodgers No. 6 prospect DJ Peters smashed a solo home run and a double as he collected three hits for the second time in four games for Double-A Tulsa. The long ball, a third-inning solo shot, was Peters' third in 10 games this season. In 2017, the 6-foot-6, 225-pound outfielder hit 27 homers to finish third in the Class A Advanced California League.
MILB Video - Title: Peters goes yard - Url: http://www.milb.com/r/video?content_id=1942946183
• Dodgers No. 15 prospect Connor Wong recorded a career-high five RBIs behind a pair of home runs, the latter of which, a three-run shot in the eighth inning, proved to be the game-winner for Class A Advanced Rancho Cucamonga against Inland Empire. The 21-year-old second baseman, the Dodgers' second-round pick last June, finished the game 3-for-4 with a double and three runs. He's off to a red-hot start to begin his first full season, with a .361 average, five home runs, 11 RBIs and 13 runs through nine games.
• Padres No. 12 prospectEsteury Ruiz hit a two-run home run off of No. 25 overall prospect Brendan McKay (Rays' No. 3), though it wasn't enough to keep Class A Fort Wayne from falling to Bowling Green, 5-3. It was the first home run in 2018 for the 19-year-old second baseman, who garnered MVP honors last season after pacing the Rookie-level Arizona league in average (.350), hits (72), doubles (20), triples (10) and total bases (124) last season.
• Padres No. 13 prospectEric Lauer matched his career high with 10 strikeouts as he posted six scoreless frames in Triple-A El Paso's rout of Las Vegas. He permitted three hits and walked two in the performance while throwing 59 of his 97 pitches for strikes. The 22-year-old lefty has completed exactly six innings in each of his three starts this season, his first at the Triple-A level.
MILB Video - Title: Lauer's 10th strikeout - Url: http://www.milb.com/r/video?content_id=1942853983
• White Sox No. 10 prospectMicker Adolfo homered for a second straight day and was the lone Class A Advanced Winston-Salem player to collect multiple hits in a 6-3 loss against Carolina. The 21-year-old outfielder has opened the season on a tear and the 2-for-3 performance improved his slash line to .395/.435/.651 through 11 games. He's compiled seven extra-base hits and 10 RBIs in that span while striking out at an improved 17.4 percent clip.
• White Sox No. 16 prospectIan Clarkin posted his third career complete game as he pitched Double-A Birmingham past Montgomery, 2-1, in game one of a doubleheader. Throwing just 93 pitches (61 strikeouts) in the outing, the 23-year-old southpaw allowed one earned run as he scattered five hits with six strikeouts in seven innings. Zack Collins (No. 9) supported Clarkin with a solo home run, his first extra-base hit in eight games this season.