6 prospects graduate from D-backs' Dominican academy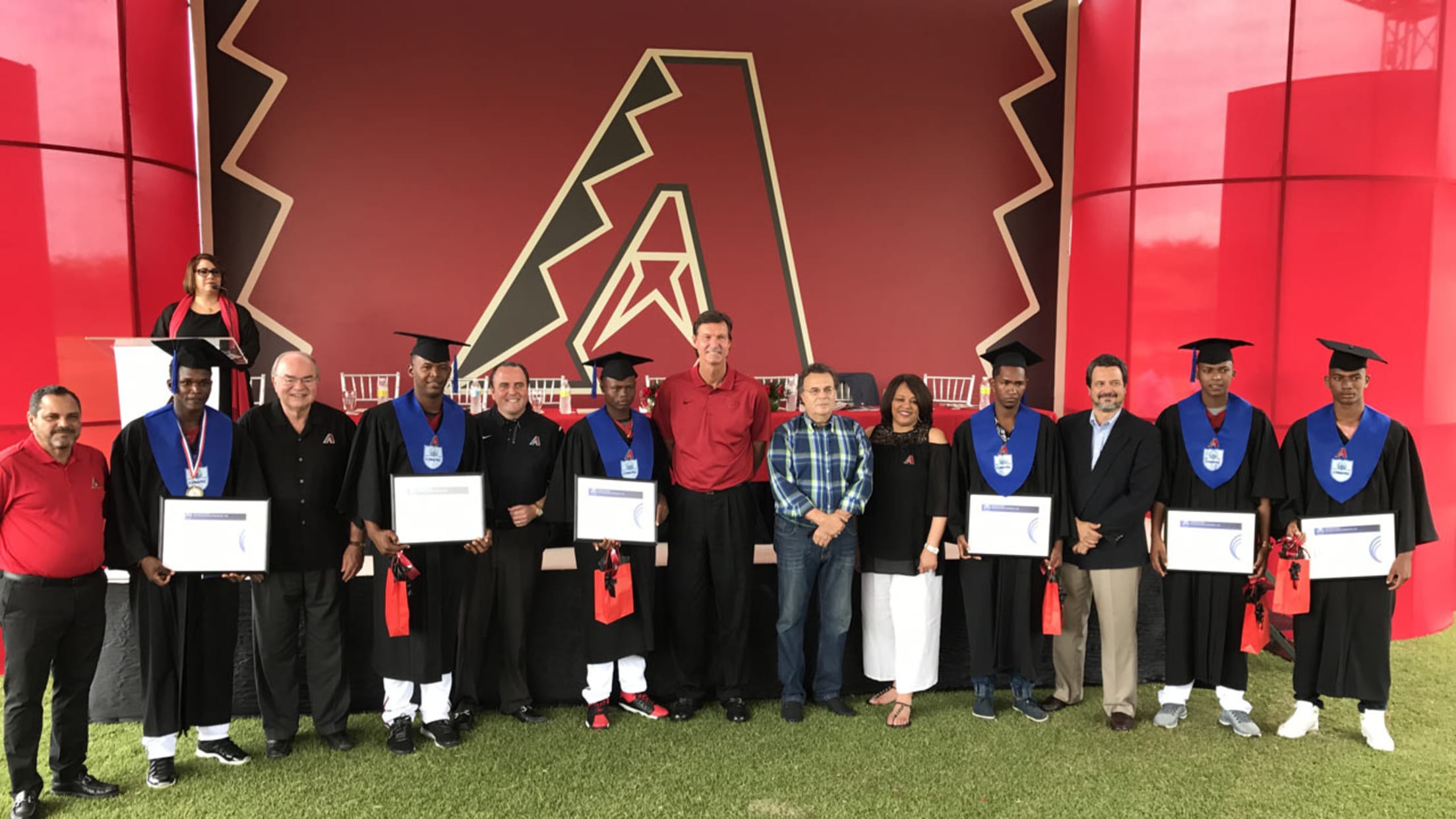 Six D-backs prospects received a high school diploma at the Dominican academy's third annual graduation on Saturday. (MLB.com)
BOCA CHICA, Dominican Republic -- Jesus Munoz stood proud on the stage on Saturday in front of his peers, family and friends at the D-backs' Dominican academy and grinned.To the teenager's left sat a group of front-office officials that included D-backs managing general partner Ken Kendrick, president and CEO Derrick
BOCA CHICA, Dominican Republic -- Jesus Munoz stood proud on the stage on Saturday in front of his peers, family and friends at the D-backs' Dominican academy and grinned.
To the teenager's left sat a group of front-office officials that included D-backs managing general partner Ken Kendrick, president and CEO Derrick Hall and special assistant to the president Randy Johnson. Junior Noboa, the club's vice president of Latin American operations, as well as senior vice president of human resources and chief diversity officer Marian Rhodes were perched near his side.
The poised teen spoke with the confidence that comes with knowing that his future is in his hands and not just his throwing arm. There was a reason why.
Munoz was one of six prospects to receive a high school diploma at the academy's third annual graduation, which brings the total number of graduates to 20 since the D-backs started the program. Nineteen other prospects also received certificates marking the completion of a grade level.
"This is a big day -- not just for me, but also for my family," Munoz, 18, said. "Getting this today is very special. Not all of us are going to make it to the Major Leagues, but maybe we can be lawyers or engineers or use our education to get ahead."
Munoz dreams of being a Major League player one day, but he also wants to be an engineer. He'd like to design his own house in the future. Noboa joked that he could design a baseball academy.
"We are really excited about it because the core of our mission being in the Dominican is to not only find baseball players, but to help with the education system," Kendrick said. "Today is a very special day for us."

The program was developed and is coordinated by Rhodes, and requires players to attend school two days each week for four hours with assigned tutors. The club provides each student with a laptop computer and covers the cost of tuition.
In addition to Munoz, Merkys Mondesy Montero Ramirez, Luis Alfredo Ramirez Alcala, Dawry Done Bello, Remy Moise Cordero Reyes and Joan De Jesus also received their diplomas. Montero Ramirez and Cordero Reyes are no longer with the organization, but still received certificates because released players are still allowed to participate in the program.
"This is very important for us, and we have put a lot of emphasis on trying to educate our kids for many years," Noboa said. "We have had about 20 graduates -- and that's one of our goals. We thank Mr. Ken Kendrick for giving us tremendous support to keep this education program."
The program comes from a promise Hall made to Dominican Republic President Danilo Medina in 2013. Hall said his team would provide Dominican youth with the best education among all 30 Major League franchises. Hall and the D-backs' front office met with Medina again on Friday. The group also toured other academies on the island and discussed options to improve their current facility.
General manager Mike Hazen and assistant general manager Amiel Sawdaye were also among the hundreds in attendance on Saturday.
"It's become a real point of pride as [the prospects] have focused on education, not only development and preparation on the field. ... [Preparation] off the field is equally, if not more important now," Hall said. "We've made a commitment to not only the president of the Dominican, but also to all of these family members. We look them in the eye and say, 'Bring your son, bring your brother and your nephew to us and we will provide that player with the greatest education that he can possibly get.' To date, we have had the best [results]."