D-backs fund renovation of Ability360's facility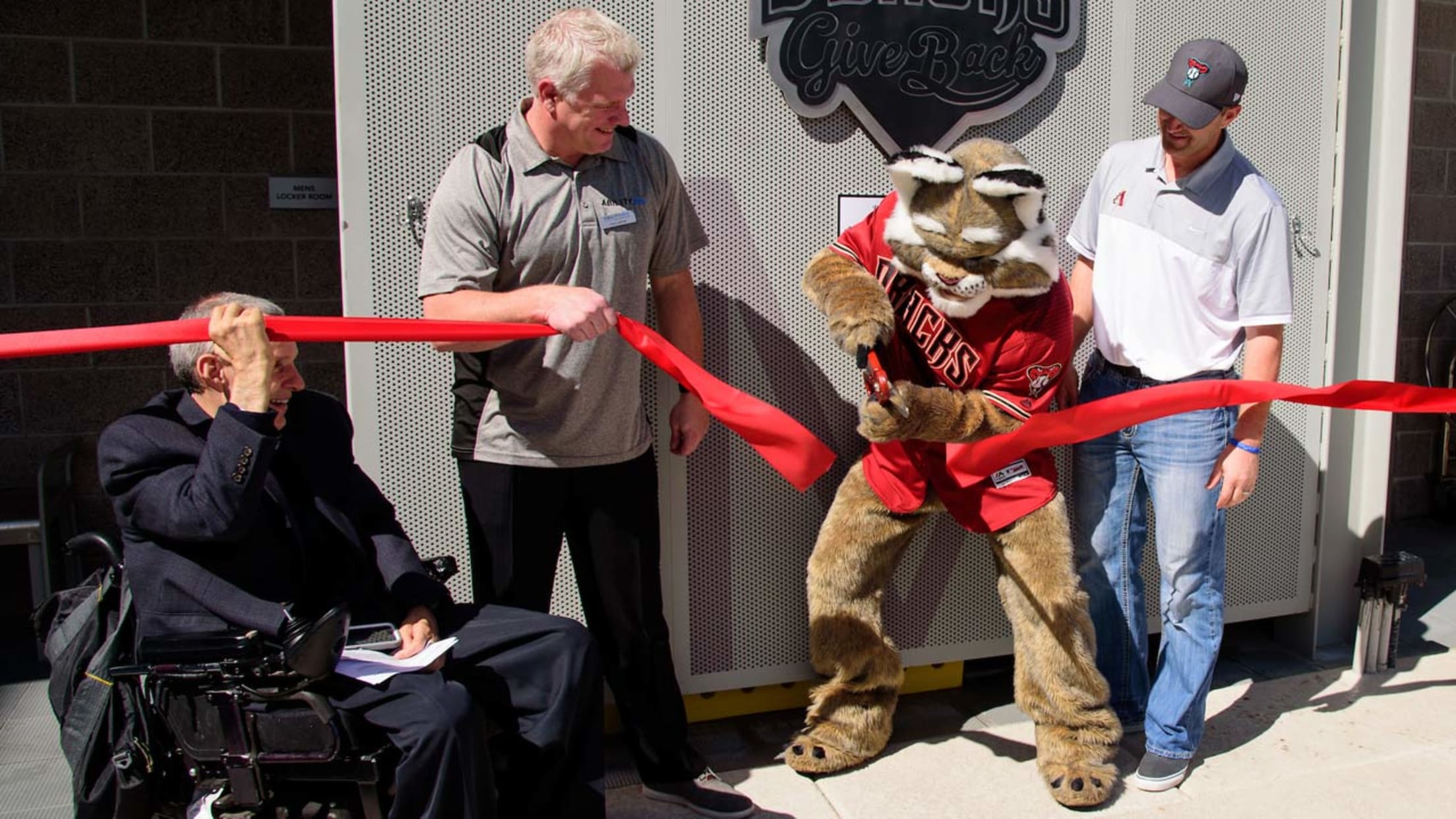 Baxter joined Phil Pangrazio, Gus LaZear and Willie Bloomquist at the unveiling of the renovated facility. (Kelsey Grant/D-backs)
It was rainy in Phoenix on Tuesday, but the sun shone brightly on the unveiling of the renovated Ability360's Sports & Fitness Aquatic Center, which was funded by a $100,000 Ken Kendrick Grand Slam Award through the Arizona Diamondbacks Foundation.Originally opened in late 2011, Ability360 is a 45,000-square-foot health and
It was rainy in Phoenix on Tuesday, but the sun shone brightly on the unveiling of the renovated Ability360's Sports & Fitness Aquatic Center, which was funded by a $100,000 Ken Kendrick Grand Slam Award through the Arizona Diamondbacks Foundation.
Originally opened in late 2011, Ability360 is a 45,000-square-foot health and fitness center.
Thanks to the recent award from the foundation, Ability360 was able to re-plaster its three pools, purchase solar-powered lifts to help transport disabled people into and out of the pools, and replace heaters and chemical-control systems. The spa area was re-tiled and the therapy pool was raised by one foot to help more people touch the bottom.
"To have one of our local professional sports teams involved in and being supportive of what we do here is indescribable," said Ability360 president-CEO Phil Pangrazio. "Many of the people with disabilities that come here and use our facilities are excited to be involved with such a great group of people like the people with the D-backs."
When Ability360 applied for the award last year, Pangrazio said he and his team only requested $40,000 to pay for the replastering portion of the remodel, but after their moving presentation to the foundation, they were told they would be receiving $100,000 to go toward their original remodel budget.
"That was a special moment," said Pangrazio. "I didn't believe it until I got the paperwork in the mail."
Debbie Castaldo, the D-backs' vice president of corporate and community impact, said Ability360's moving presentation convinced the foundation that the additional funds would go a long way toward the group's overall goal.
"When we initially read their grant, we knew this was going to be an important project," said Castaldo. "To have a pool that means so much to the local community be in such disrepair, that could not continue.
"But what means more than anything to us is when you look at Phil Pangrazio's vision and what he has done over the last few decades, you know that the $100,000 -- in addition to fixing the pool -- is going to help so many people create that environment where everyone is welcome, no matter if they are disabled or able-bodied, because this pool represents unity. This is a great facility and a truly special place."
The Arizona Diamondbacks Foundation has donated more than $49 million to the Arizona community since its inception in 1998, including $5 million with the Ken Kendrick Grand Slam Awards since that program's founding in 2002.
Willie Bloomquist, the D-backs' special assistant to the president and CEO, called the latest award recipient's remodel unveiling a "special day and a great event."
"The renovation gives people of all abilities the opportunity to get in the pool and work out," said Bloomquist. "What a great concept, a great idea and a great thing for the community. And for the D-backs to be a part of it, this is a special day for us, too."
For more information, visit dbacks.com/giveback.
Ian Kraft is a contributor to MLB.com.