D-backs give thanks through classroom grants
'School Challenge' partnership has sent funds to teachers since 2012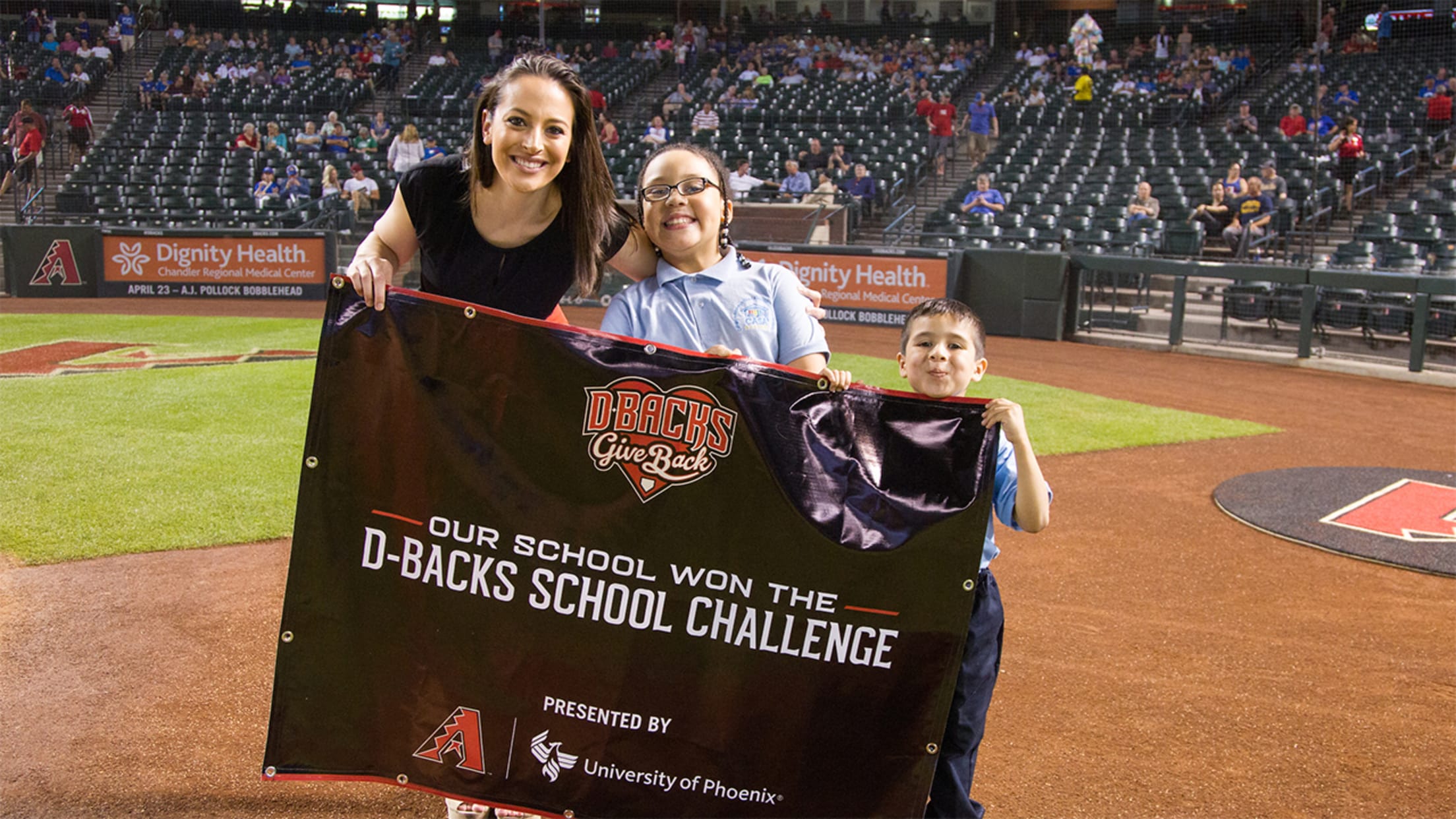 PHOENIX -- When setting up a statewide grant program for teachers, the D-backs did their homework.They talked to superintendents, principals and teachers to try to understand how to most effectively distribute funds.The result was a partnership with University of Phoenix for the "D-backs School Challenge," which has granted $750,000 directly
PHOENIX -- When setting up a statewide grant program for teachers, the D-backs did their homework.
They talked to superintendents, principals and teachers to try to understand how to most effectively distribute funds.
The result was a partnership with University of Phoenix for the "D-backs School Challenge," which has granted $750,000 directly into classrooms since 2012.
:: Baseball's Giving Spirit ::
"This program has been one of the most valuable that we have created as an organization, because we can see the direct impact that it has on students across the state of Arizona," said D-backs team president/CEO Derrick Hall. "At this time of year, when we all take time to share what we are thankful for, it's easy to be grateful for the amazing work of our teachers and administrators, and for the creativity they have shown in applying for these grants."
• D-backs' Education Initiatives
"We wanted once we granted the money for everything to work and for the money to go where it was needed," said Debbie Castaldo, the D-backs' vice present of corporate and community impact. "We got great advice on how to set up the application process so that we would know that the teacher had the principal's buy in. So far, we've had 100 percent success rate in terms of the money being spent exactly how they were proposed, which is remarkable."
Teachers submit an application that in part asks for a detailed budget for how the money, which is usually awarded in $5,000 blocks, will be used. The teachers are given 500 words in the application to make their best pitch.
"We're always surprised at what we find," Castaldo said. "The absolute creativity of some of the teachers is inspiring -- and on the other end, the absolute need at some of these schools. You can't believe that there are schools in this situation where they genuinely can't afford library books."
The team typically gets anywhere from 200 to 300 applications a year, and once they come in, they are split up for view among 25 evaluators at University of Phoenix and the D-backs.
The applications are scored on sustainability, impact, educational value and creativity. The top 50 are then discussed by a group of 10 people -- half from the D-backs and half from University of Phoenix.
"This is the most fun couple of hours," Castaldo said. "We debate them, we look into them and we jump online and research them and research the technology they're asking for, and we'll do our homework."
But the real battle begins after the decisions are made.
"We were all fighting at the end of the meeting over who got to call what teacher and tell them that they won, because you want to hear the screams from the voice of a teacher that is so excited," Castaldo said. "Some of the phone calls are amazing. These teachers are desperate for resources and when you call them and tell them that they get $5,000, many times it's pretty emotional for them, because they are so invested in their students."