D-backs' K's rising, but hitters not too concerned
Arizona strikes out 12 times in loss, 26 times in 2-game series in Toronto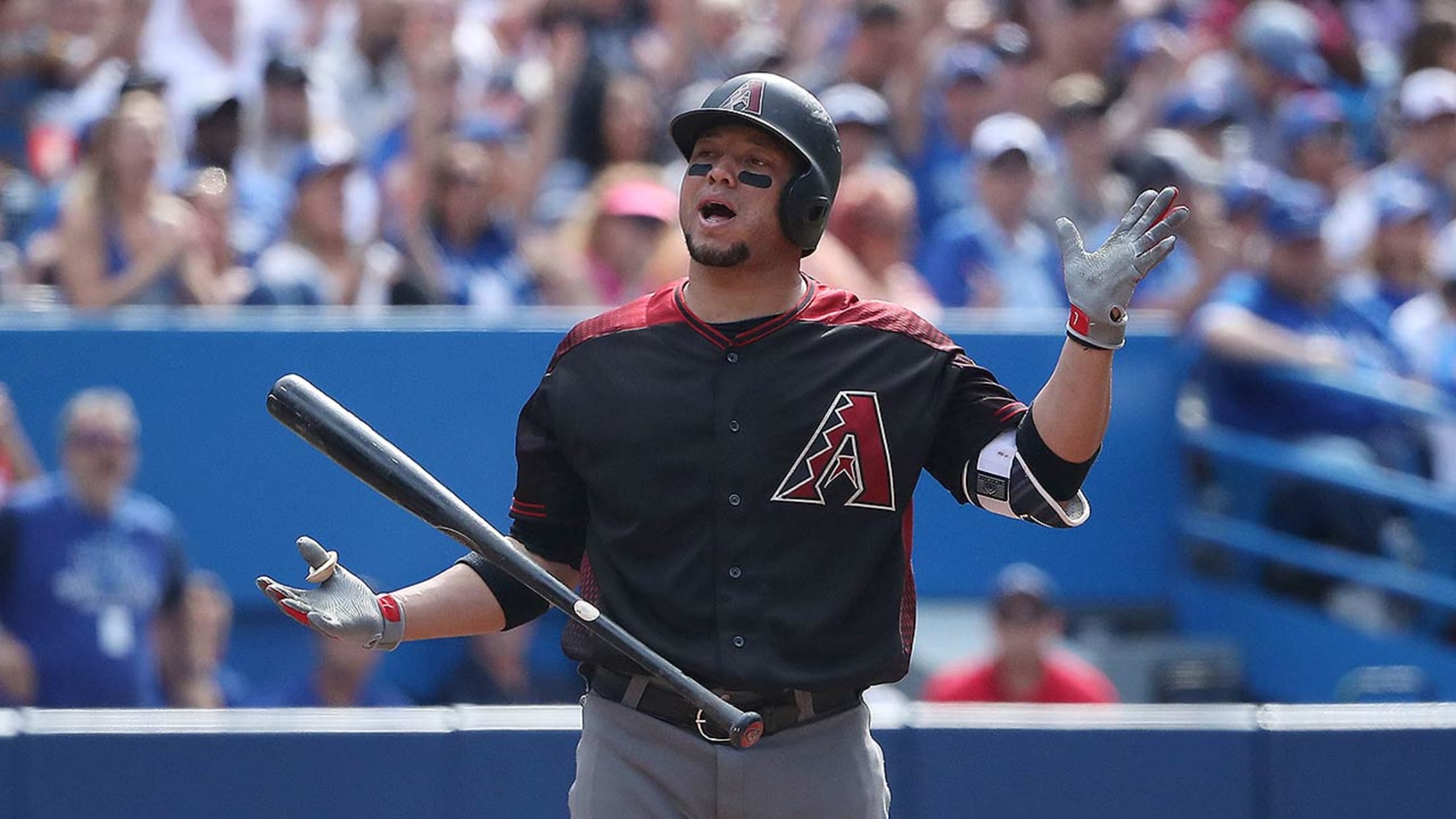 Welington Castillo reacts after one of his four strikeouts Wednesday. (Getty Images)
TORONTO -- Strikeouts have been an issue for the D-backs' offense all season. They struck out 12 more times in a 5-2 loss to the Blue Jays on Wednesday, giving Arizona 655 strikeouts on the year -- the third most in the Majors."What I make of [the strikeouts] is there's
TORONTO -- Strikeouts have been an issue for the D-backs' offense all season. They struck out 12 more times in a 5-2 loss to the Blue Jays on Wednesday, giving Arizona 655 strikeouts on the year -- the third most in the Majors.
"What I make of [the strikeouts] is there's just too many," manager Chip Hale said. "We talk about it. Sometimes you talk about it too much and guys get a little mental on it, you know. We know what kind of hitters we have too, that's part of it."
Despite earning a split in the two-game series at Rogers Centre, the D-backs struck out a combined 26 times while seeing their five-game win streak come to an end in the process.
On Tuesday night, in a 4-2 win, it was third baseman Jake Lamb leading the way with four strikeouts in his four plate appearances. On Wednesday, catcher Welington Castillo and left fielder Peter O'Brien combined to go 1-for-8 with seven strikeouts.
Wednesday marked O'Brien's third three-strikeout game of the season. He has 16 strikeouts in 37 at-bats since being called up on June 10 from Triple-A. For Castillo, it was his third three-plus strikeout game of the season -- all three have come in the last seven games after he struck out two times or fewer in his first 46 games of 2016.
"It's not concerning at all to me. It does show that I need to make an adjustment, and I am working on that, so I'll be fine," said O'Brien, downplaying the numbers. "We won five straight.
"I think if we keep going out there and having good at-bats, obviously we're going to have to keep working and keep trying to have good at-bats, but as long as we're winning ballgames and scoring runs, I think that's on the backburner."
Hale believes the number of strikeouts is a byproduct of a lineup that hits home runs. The D-backs went deep twice in Tuesday's win, but didn't homer in Wednesday's loss.
"Strikeouts are going to come when guys hit them out of the ballpark," Hale said. "You'd love 'em to be able to hit home runs and battle and get singles to right, but sometimes you put a lineup together and you put those guys in the middle who hit the ball out, and they're going to have their strikeout days."
One of the bright spots at the plate Wednesday was Paul Goldschmidt. The first baseman went 2-for-2 with a double and a pair of walks in the series finale.
"I think the first couple at-bats, first three at-bats, just able to get into a good hitter's count," Goldschmidt said. "The walks, I don't think I swung the bat. I was able to take some pitches, the one got to a 2-1 count, and the last one off [Drew] Storen, kind of fell behind, but laid off a couple good pitches that he threw and I was able to fight off that fastball and get a double."
The 28-year-old has hit safely in 14 of his last 15 games, a span in which he's batting .390 (23-for-59). Goldschmidt has reached base safely in 20 of his last 22 road games, with 20 walks.
Goldschmidt wasn't overly concerned about his club's strikeout numbers.
"You always want to strike out less, but it is what it is; just go out there and try to have good at-bats, sometimes you're going to strike out more than others," he said. "If you can find a way to produce, then it's not as big of a deal."
Dhiren Mahiban is a contributor to MLB.com and covered the D-backs on Wednesday.