Siena's Swain taken as 'Cory Hahn 34th Pick'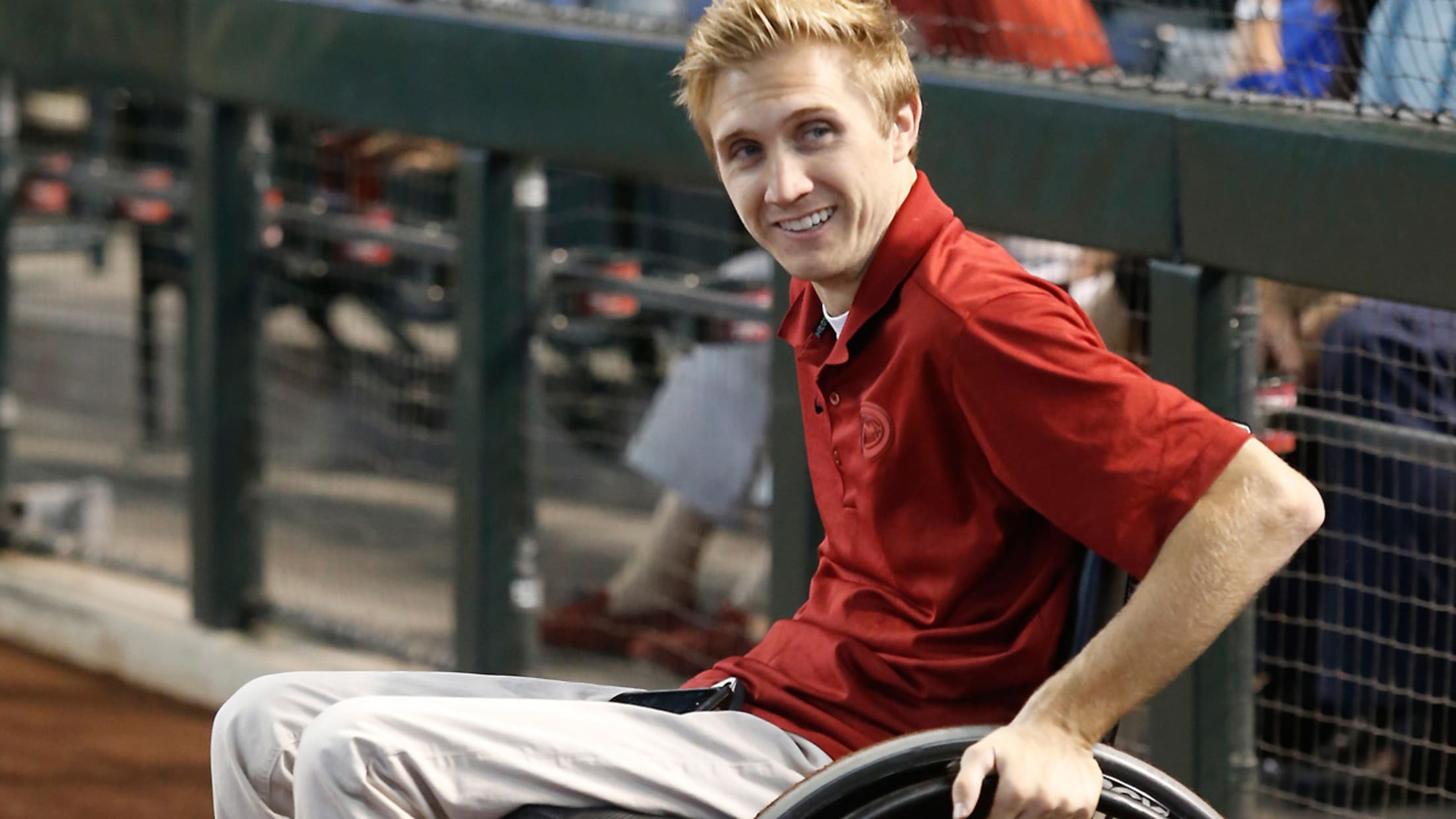 Cory Hahn was paralyzed as a baseball player at Arizona State and is now the D-backs' coordinator of pro scouting. (AP)
PHOENIX -- Siena College center fielder Dan Swain was selected by the D-backs with the "Cory Hahn 34th Pick" on Wednesday during the final day of the 2017 MLB Draft.Hahn was a freshman baseball player at Arizona State who had his career cut short on Feb. 20, 2011, when he
PHOENIX -- Siena College center fielder Dan Swain was selected by the D-backs with the "Cory Hahn 34th Pick" on Wednesday during the final day of the 2017 MLB Draft.
Hahn was a freshman baseball player at Arizona State who had his career cut short on Feb. 20, 2011, when he fractured the C5 vertebrae in his neck and was paralyzed from the chest down while sliding headfirst into second on a stolen-base attempt.
• D-backs draft polished bats, high-end talent
Hahn wore No. 34 with Arizona State, and the D-backs made him their 34th-round pick in 2013. Once he graduated in '14, the organization hired him to work in its baseball-operations department and it named the pick after him prior to the 2015 Draft.
:: 2017 MLB Draft coverage ::
Hahn has become an integral part of the front office. He is now the team's coordinator of pro scouting after initially working on the amateur side of scouting.
"It's a lot of new stuff, a lot of new work, but it's stuff that's exciting to be a part of," Hahn said of the switch to the pro side. "I think at the end of the day we should strive to be challenged as much as possible."
Swain posted a slash line of .324/.407/.559 this past season as a fifth-year senior.
"He's a good player," Hahn said. "He's a spark-plug-type player and a guy who is a leader by example for the club and respected by all of his teammates. That's what you're always looking for. We're not trying to just bring in quality baseball players, but also quality people. He's got talent on both sides of the ball. It's a good exciting package for being a fifth-year senior and being still available at that point in time. It's a pretty solid get."
Hahn does plenty of prep work when it comes to making the selection.
"He really cares about it and he wanted to draft someone that we felt like has a chance to play in the big leagues," D-backs director of amateur scouting Deric Ladnier said.
Former #Dbacks draft pick and current pro scouting coordinator @CoryHahn34 announces the team's 2017 34th-round selection, CF Dan Swain. 👏 pic.twitter.com/pOYjh2IQkt

— Arizona Diamondbacks (@Dbacks) June 14, 2017
Of course for Swain that will take a lot of hard work and perseverance, which Hahn displays on a daily basis.
Jake Peevyhouse and Connor Owings were the first two players that Hahn used the 34th pick on in 2015 and '16.
"Rather than looking at specific players, I tend to just look at more specific player types," Hahn said. "Looking at guys who are good makeup guys who when you bring them into the organization are not only going to be good players on the field, but good humans off of it. It's nice just to play a small integral part in helping someone's dream become a reality and get to play professional baseball."