Pipeline Preview: Duplantier looks to extend scoreless streak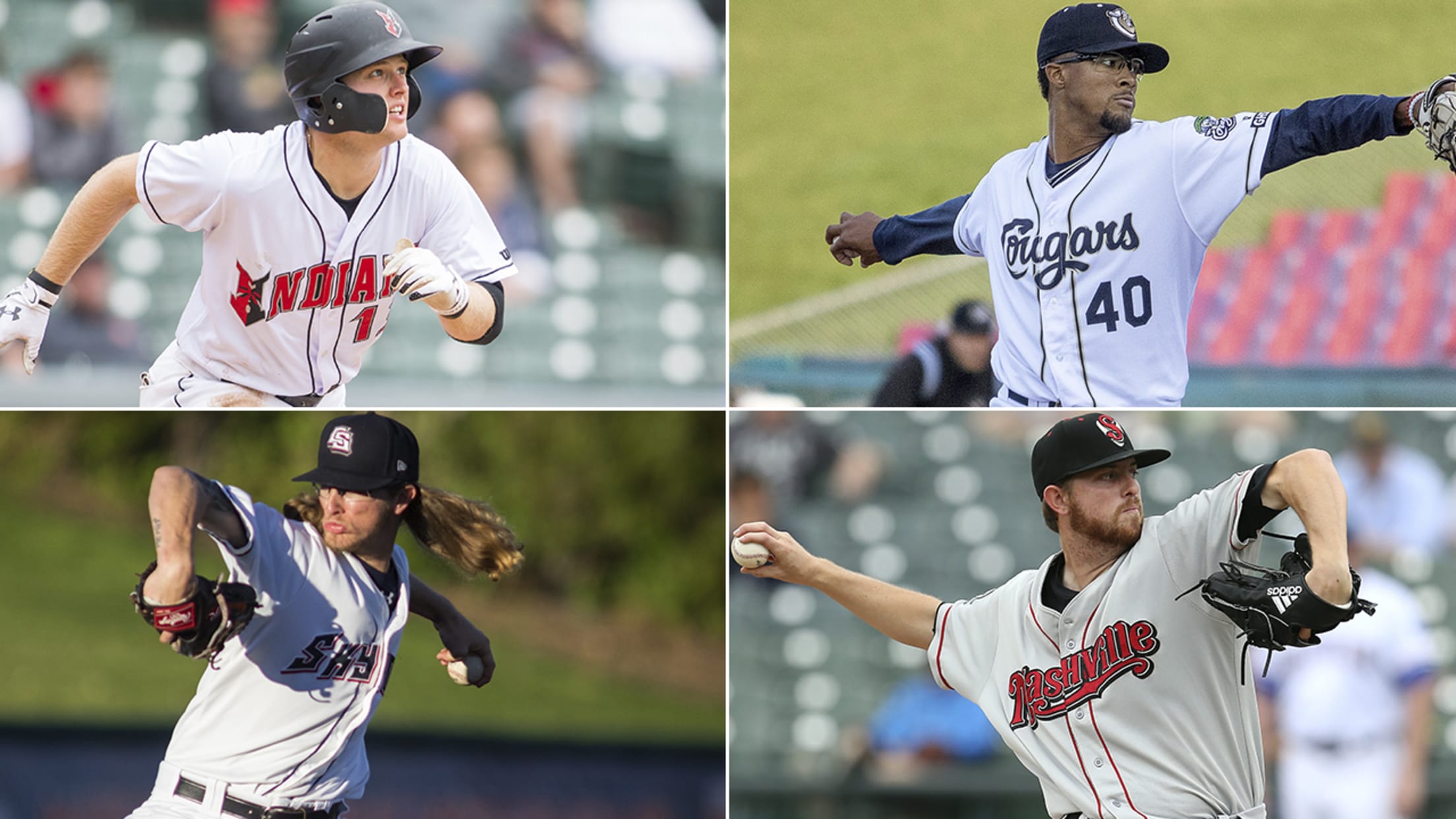 Here's a look at top prospects to watch in today's Minor League action:Hitter to watch: Austin Meadows (Pirates' No. 1), Indianapolis vs. Rochester (1:35 p.m. ET on MiLB.TV)The No. 6 overall prospect is starting to heat up. Meadows went 3-for-4 on Sunday, his fourth straight multihit effort. The 22-year-old has two
Here's a look at top prospects to watch in today's Minor League action:
Hitter to watch: Austin Meadows (Pirates' No. 1), Indianapolis vs. Rochester (1:35 p.m. ET on MiLB.TV)
The No. 6 overall prospect is starting to heat up. Meadows went 3-for-4 on Sunday, his fourth straight multihit effort. The 22-year-old has two or more hits in six of his past eight games and has raised his average from .229 to .262 during that stretch.
Pitcher to watch: Jon Duplantier (D-backs' No. 8), Kane County vs. Cedar Rapids (2:00 p.m. ET on MiLB.TV)
Duplantier has been absolutely dominant this season. The 22-year-old is 5-0 with a 0.56 ERA as he's given up just three earned runs in nine appearances (48 1/3 innings). Duplantier hasn't surrendered a run in 17 innings or an earned run in 23 innings and has struck out 16, while giving up just nine hits over that span.
Duel of the Day:Josh Hader (Brewers' No. 3) vs. Paul Blackburn (Athletics' No. 22), Colorado Springs vs. Nashville (1:05 p.m. ET on MiLB.TV)
Hader, the No. 34 overall prospect, is looking to bounce back after a rough start five days ago as he was tagged for eight earned runs, the most of his professional career. Dating back to last season the lefty has struggled in Triple-A, but armed with a deceptive delivery and a strong fastball-slider combination, Hader has the ability to turn it around.
While Hader looks to turn things around, Blackburn hopes to keep things the same. The 23-year-old has put up nothing but zeros in his last two starts and enters the day with a 13-inning scoreless streak. Overall, Blackburn has posted a 3.33 ERA through his first nine appearances at the Triple-A level.
MILB Video - Title: Blackburn throws seven scoreless - Url: http://www.milb.com/r/video?content_id=1425565483
Monday's Top 100 prospect probables
No. 28 overall Jose De Leon (Rays' No. 3), Durham vs. Pawtucket (1:35 p.m. ET on MiLB.TV)
No. 48 overall David Paulino (Astros' No. 3), Fresno vs. Albuquerque (7:05 p.m. ET on MiLB.TV)
No. 61 overall Luke Weaver (Cardinals' No. 3), Memphis vs. Iowa (1:05 p.m. ET on MiLB.TV)
No. 78 overall Ian Anderson (Braves' No. 6), Rome vs. Greenville (2:00 p.m. ET on MiLB.TV)
More top prospect probables
Josh Staumont (Royals' No. 2), Omaha vs. Round Rock (Triple-A)
Patrick Weigel (Braves' No. 15), Gwinnett vs. Syracuse (Triple-A)
Mark Appel (Phillies' No. 19), Lehigh Valley vs. Louisville (Triple-A)
Trevor Oaks (Dodgers' No. 17), Oklahoma City vs. New Orleans (Triple-A)
Shawn Morimando (Indians' No. 17), Columbus vs Norfolk (Triple-A)
Chris Lee (Orioles' No. 6), Norfolk vs. Columbus (Triple-A)
Joan Gregorio (Giants' No. 8), Sacramento vs. Reno (Triple-A)
Dillon Overton (Mariners' No. 17), Tacoma vs. Salt Lake (Triple-A)
Sam Coonrod (Giants' No. 11), Richmond vs. Harrisburg (Double-A)
Travis Lakins (Red Sox's No. 7), Portland vs. Trenton (Double-A)
P.J. Conlon (Mets' No. 22), Binghamton vs. Hartford (Double-A)
Myles Jaye (Tigers' No. 15), Erie vs. Altoona (Double-A)
Jon Harris (Blue Jays' No. 8), New Hampshire vs. Reading (Double-A)
Franklin Perez (Astros' No. 6), Buies Creek vs. Frederick (Class A Advanced)
Cody Ponce (Brewers' No. 15), Carolina vs. Myrtle Beach (Class A Advanced)
Juan Hillman (Indians' No. 12), Lake County vs. Bowling Green (Class A)
Mike Shawaryn (Red Sox's No. 12), Greenville vs. Rome (Class A)
Tony Santillan (Reds' No. 14), Dayton vs. West Michigan (Class A)
Logan Allen (Padres' No. 17), Fort Wayne vs. South Bend (Class A)
Jordan Humphreys (Mets' No. 29), Columbia vs. Augusta (Class A)
Zach Muckenhirn (Orioles' No. 26), Delmarva vs. Hagerstown (Class A)