DeShields strives for elite defense in CF
Rangers center fielder has speed necessary to play shallow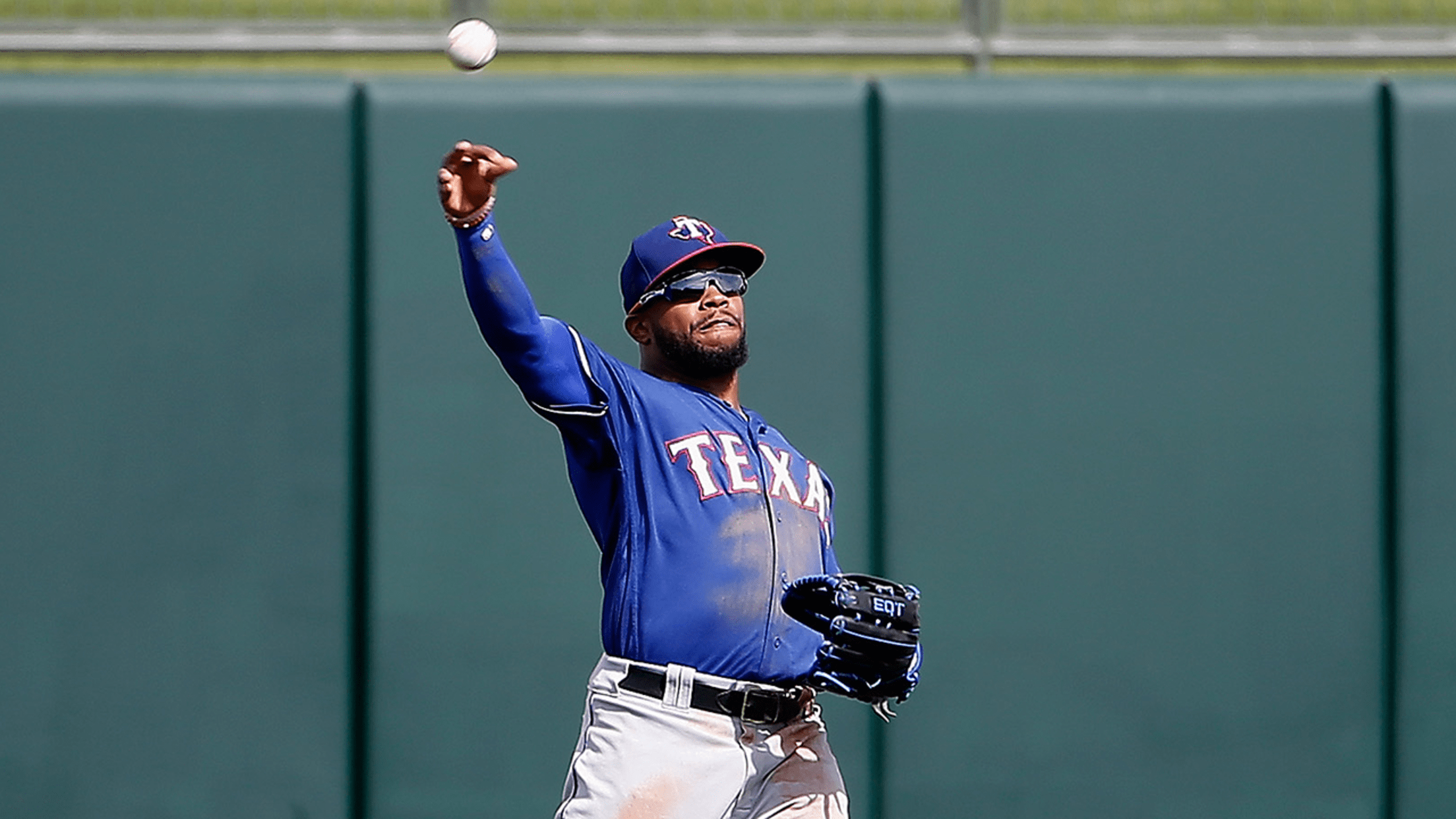 Delino DeShields was an infielder in Houston's farm system before switching to the outfield and breaking through with the Rangers last year. (Getty)
SCOTTSDALE, Ariz. -- Delino DeShields has a goal as a center fielder."I want to be an elite defender," he said.Maybe that would include a Gold Glove Award or two."Yeah, I got a couple of spots in my house for a couple of Gold Gloves," DeShields said. "But that's not the
SCOTTSDALE, Ariz. -- Delino DeShields has a goal as a center fielder.
"I want to be an elite defender," he said.
Maybe that would include a Gold Glove Award or two.
"Yeah, I got a couple of spots in my house for a couple of Gold Gloves," DeShields said. "But that's not the priority. I really want to be a good defender for myself and my team. As for Gold Gloves, material things don't matter. I just want to win for the team."
The question then would be exactly what constitutes an elite defender in center field.
"An elite defender for me is attentive on defense and shows up on every pitch," Rangers manager Jeff Banister said. "He is moving and reading on every pitch. He is the commander in chief of the outfield. He also plays shallow enough that he takes away what happens most [frequently] and still has the proper technique to get the balls in the gaps and over his head."
There are more balls hit into shallow center than deep. That's why the elite defenders play as shallow as possible, without worrying about a ball getting over their heads. Andruw Jones played extremely shallow and won 10 Gold Gloves as a center fielder.
"Andruw Jones seemed like he was playing 30 feet behind second base and nothing got behind him unless it was over the fence," Banister said. "He had the sheer ability to turn and burn, then glide and catch it. If Delino can add that ..."
DeShields has the speed. He needs to work on his jumps and taking direct routes to the ball. As an inexperienced center fielder, he played deeper than normal last season. The Rangers have made a conscious effort to play shallower this spring. His speed should allow that.
According to Statcast™, DeShields' average top speed chasing fly balls was 19.36 mph. That was second in the Major Leagues behind Billy Hamilton of the Reds at 19.51. DeShields was ninth in average route efficiency, according to Statcast™.
"We are trying to get him to use his elite speed at the start in his first three or four steps," outfield coach Jayce Tingler said. "We know he is a plus runner. We're working at getting up to top speed right off the bat."
DeShields, whose father of the same name was a Major League second baseman for 13 seasons, is an inexperienced center fielder. He was a second baseman in the Astros organization from 2011-13 before moving to the outfield in 2014. The Rangers took him in the Rule 5 Draft last year and kept him in the outfield. He made the team as the fifth outfielder and didn't take over as the everyday center fielder until July.
"That's definitely a factor," Tingler said. "That's why we want to see improvement as he logs innings and games. We have seen the improvement at times, but we want to see it for longer periods and consistently."
DeShields replaced Leonys Martin, another inexperienced center fielder who improved over time, after he was traded to Seattle. Martin averaged 2.75 chances per nine innings in 2013 and 3.09 in 2015. DeShields had 2.69 chances per nine innings last season, slightly over the league average of 2.68 for a center fielder.
Martin averaged 3.07 chances per nine innings over 152 games in 2014. That's only the third time in club history they have had a center fielder play at least 108 games and average three chances per nine innings. The others were Juan Beniquez (3.29) in 1976 and George Wright (3.05) in 1982.
Beniquez won a Gold Glove for his center field defense in 1977. The only other Rangers outfielder to be so honored was Gary Pettis in 1990.
"Delino is well ahead of the curve, based on his baseball experience and the legacy of a father having played in the big leagues," Banister said. "He's just a guy who has not logged a lot of time in center. We're still in that process. He still has a ways to go learn to be a true, dynamic, proper decision-making center fielder."
That is still the goal.