Jeter not only player who'd make great owner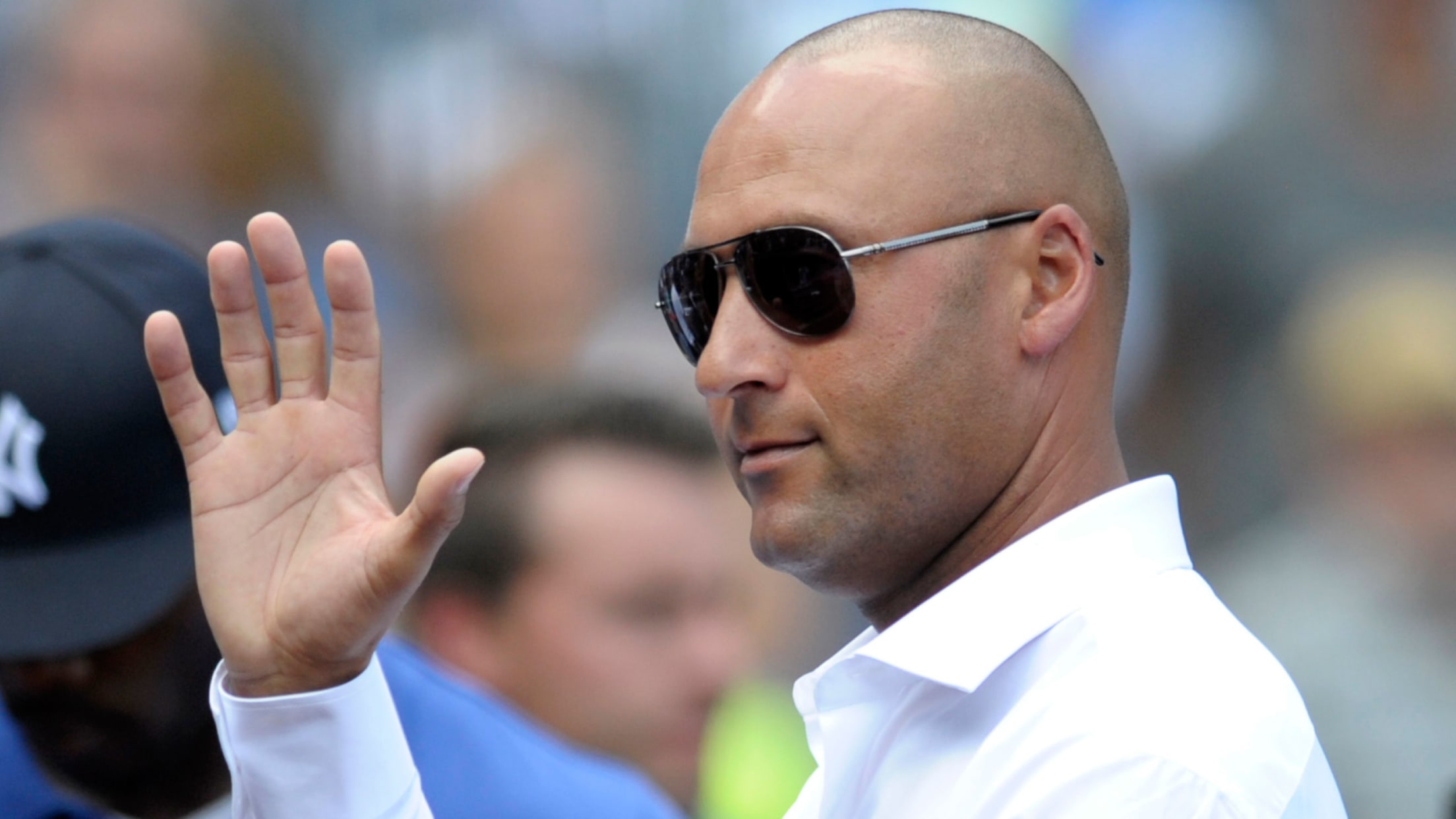 After spending two decades in the Major Leagues, Derek Jeter could become a team owner. (AP)
Somewhere, along Derek Jeter's way to becoming Mr. November while doing splendid work at the plate, in the field and on the bases, you just knew he was destined to do something such as join former Florida Governor Jeb Bush in an attempt to buy the Marlins.Jeter always gave you
Somewhere, along Derek Jeter's way to becoming Mr. November while doing splendid work at the plate, in the field and on the bases, you just knew he was destined to do something such as join former Florida Governor Jeb Bush in an attempt to buy the Marlins.
Jeter always gave you the impression he would remain significant in baseball after his playing career.
A hitting coach, perhaps? Too small.
Managing seemed a better role for a guy with striking leadership skills. Even during his rookie season with the Yankees in 1996, Jeter motivated veterans along the way to helping the franchise capture the first of five World Series championships during his time at shortstop.
Actually, Jeter was destined to run a team.
So this possible Jeter connection with the Marlins got me thinking: What other current and former Major League players could go from the batter's box or the pitcher's mound to the owner's box with ease?
There are plenty, by the way. Here are a few possibilities, starting with three players in the Major Leagues today.
R.A. Dickey
You can make the case that he is the most interesting man in baseball. When he isn't working to perfect his knuckleball for the Braves, he's reading the types of books that would appeal to the aspiring English professor that he is. He also climbed Mt. Kilimanjaro. The point is, he's well rounded, which is a perfect attribute for an owner. Plus, at 42, he remains a starting pitcher in the Major Leagues, so you know he's into longevity. That means he would have the patience to withstand the highs and lows of ownership.
Curtis Granderson
Did I say Dickey could be the most interesting man in baseball? If he isn't, Granderson probably is. All you need to know is that he has traveled to various continents to promote the game, and he even served as an ambassador for Major League Baseball International. He often has used his endorsement money to help inner-city baseball programs. I can go on and on about this Mets outfielder who knows how to rally the masses with actions and words, but you get the idea. He's got ownership written all over him.
Bryce Harper
Well, despite already having spent more than six years in the Major Leagues, he has a long way to go before he retires. That said, you already can see he is building the foundation toward becoming an owner someday. He feels like a baseball lifer. Then there is Nationals manager Dusty Baker, who has been around for a while. He said his perennial All-Star outfielder is more versed on history than any player he's ever managed. Along with money, history is a great asset for any owner of a sports team.
As for the possibilities among retired players:
Barry Larkin
Whenever Larkin speaks, you listen to every word. Just like Jeter, he was a prolific shortstop for nearly two decades. Just like Jeter, he made everybody around him better. They both are calm enough on the outside to comfort those entering their worlds, but fiery enough on the inside to make prospective employees know they demand nothing shy of success.
Reggie Jackson
Outspoken. Flashy. Intimidating. The only thing Mr. October has in common with Mr. November is that they both played for former Yankees owner George Steinbrenner, and that's enough. The Boss finished with seven World Series rings and 11 pennants during his 37 years in The Bronx. As much as Reggie often battled with George, I'm guessing he'd be just as demanding. Oh, and likely just as successful for long stretches.
Tom Glavine and John Smoltz
Since they both were part of that Baseball Hall of Fame pitching rotation for the Braves that included Greg Maddux, I've paired them together. Glavine is as cerebral as they come. You know as much, since he outsmarted hitters for years with pitches that barely ruffled the wind. So he's sharp enough to run a team, which is why he's part of another group seeking to buy the Marlins. Smoltz is just a natural whiz at anything -- basketball, announcing, ping pong, playing the accordion (seriously). Why not ownership?
Cal Ripken Jr.
Wow. What's with all of these Hall of Fame shortstops on my list? Anyway, Ripken has spent part of his post-retirement years owning Minor League teams, and he even has expressed an interest in purchasing his old Orioles team someday. He ranks with Larkin and Jeter in demeanor. Then there is this: I'm guessing he could serve an example for his employees regarding their work ethic. He played in a Major League-record 2,632 consecutive games.
David Ortiz
Talk about charisma. He defined the word during his playing career. There is nothing wrong with having an owner who is bigger than life (see Steinbrenner, although that's sacrilegious here since we're talking about one of the kings of Red Sox history). I mean, the man is called Big Papi, and there rarely was a time when he didn't live up to his nickname as a slugger who was as clutch as they've ever come. Since other players loved to play with Ortiz, you just know he'd attract great free agents.
You get the idea by now. This Jeter thing could become a trend, but I'm guessing not many baseball fans would complain.
Terence Moore is a reporter for MLB.com.