Bullpen questions remain in season's final week
Cingrani, Fields, Axford, Madson among relievers on the bubble for postseason roster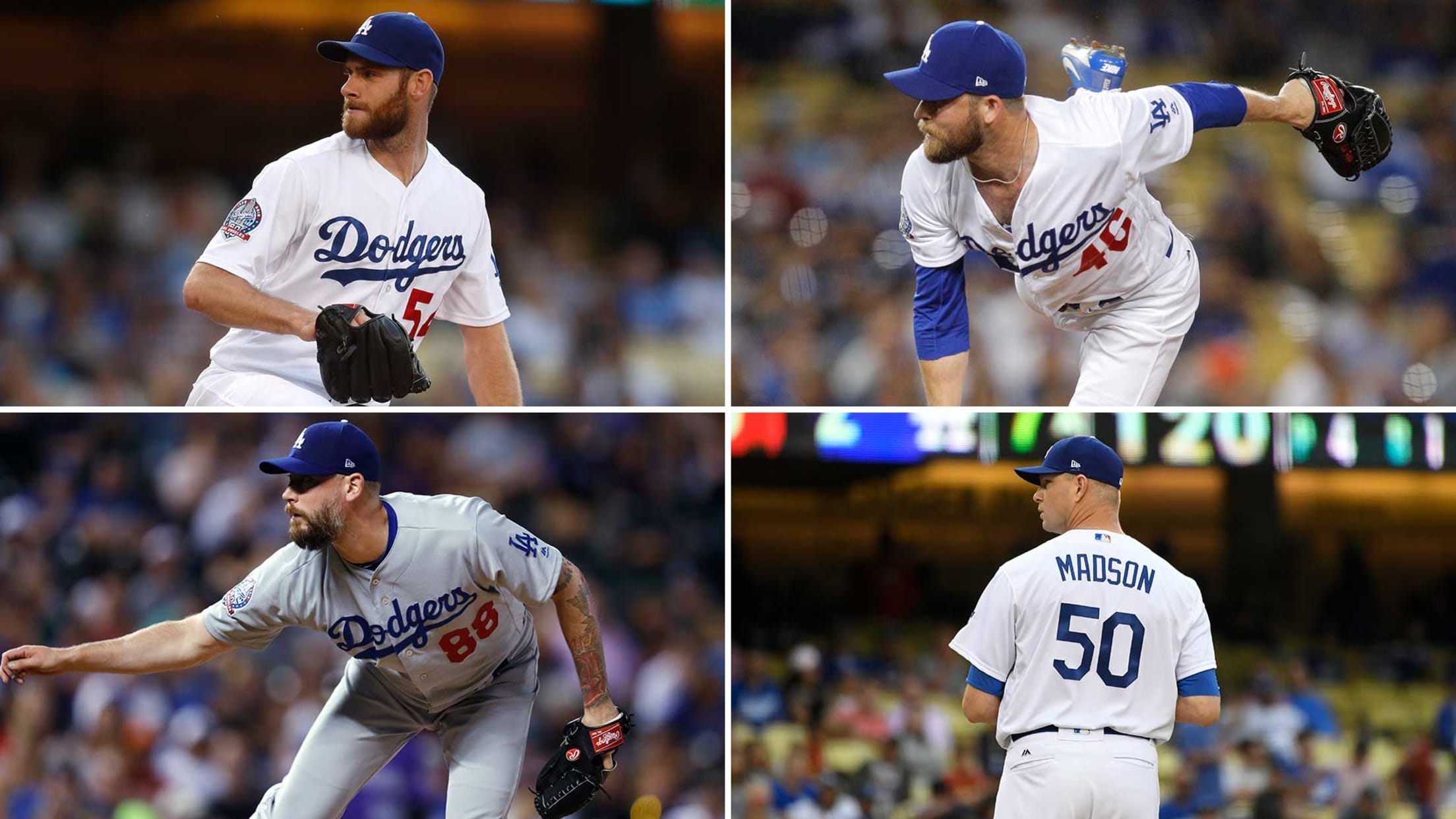 LOS ANGELES -- While clinching a postseason berth is the top priority over the final week of the regular season, the Dodgers are trying to do it with an eye on the roster they hope will be needed for October.So, the save that Kenley Jansen converted so impressively Saturday night
LOS ANGELES -- While clinching a postseason berth is the top priority over the final week of the regular season, the Dodgers are trying to do it with an eye on the roster they hope will be needed for October.
So, the save that Kenley Jansen converted so impressively Saturday night with a pair of bases-loaded strikeouts was necessitated by the shaky outing of left-handed reliever Tony Cingrani, who was such a vital bullpen component after his acquisition last year.
It was only Cingrani's second outing since returning from three months off with a sore shoulder and it didn't go well, two hits and a hit batter leaving a mess for Jansen to clean up.
Dodgers manager Dave Roberts on Sunday said Cingrani and Josh Fields -- who also has been unable to duplicate last year's contributions because of shoulder woes -- are two relievers that management hasn't seen enough of yet.
"They've been hurt a majority of the year, so for them to have an opportunity, they've got to pitch and we've got to see what we have," said Roberts. "The calendar is running short. Those are two guys you've got to give opportunities to see what you have."
Cingrani's injury created an opening for left-handed relief that Caleb Ferguson has filled, with Zachary Rosscup also contributing.
Fields missed 2 1/2 months and returned in early September. He's allowed one run in 4 1/3 innings, but also has four walks. While he was sidelined, the Dodgers acquired veteran right-handers John Axford and Ryan Madson and all three would seem to be on the bubble for the postseason, especially with the emergence of Dylan Floro in a setup role and Pedro Baez in his best form of the year.
Roster composition will be further complicated because of a surplus of starting pitchers and the first round being best-of-five. Kenta Maeda will relieve, and so might Thomas Stripling, Alex Wood or Rich Hill. Hyun-Jin Ryu figures to either start or be left off the roster.
As for Jansen, Roberts said a mechanical adjustment might have contributed to the four swing-and-miss strikes that were more reminiscent of his past dominance.
"Kenley all year has been fighting his delivery," said Roberts. "There was something he and a pitching coach saw with his lower half and it sort of clicked. He took it into the game and the swings showed it worked.
"I've always had confidence in Kenley. At times, the results haven't been there, but I do realize that for us to win this division and beyond, we're going to need him at the back end. Did I expect to use him last night? No. But to know we can go to him and close the door, that's a big win for us."
Ken Gurnick has covered the Dodgers for MLB.com since 2001.