Hernandez ready at shortstop if Dodgers need him
Versatile infielder/outfielder working on patience at plate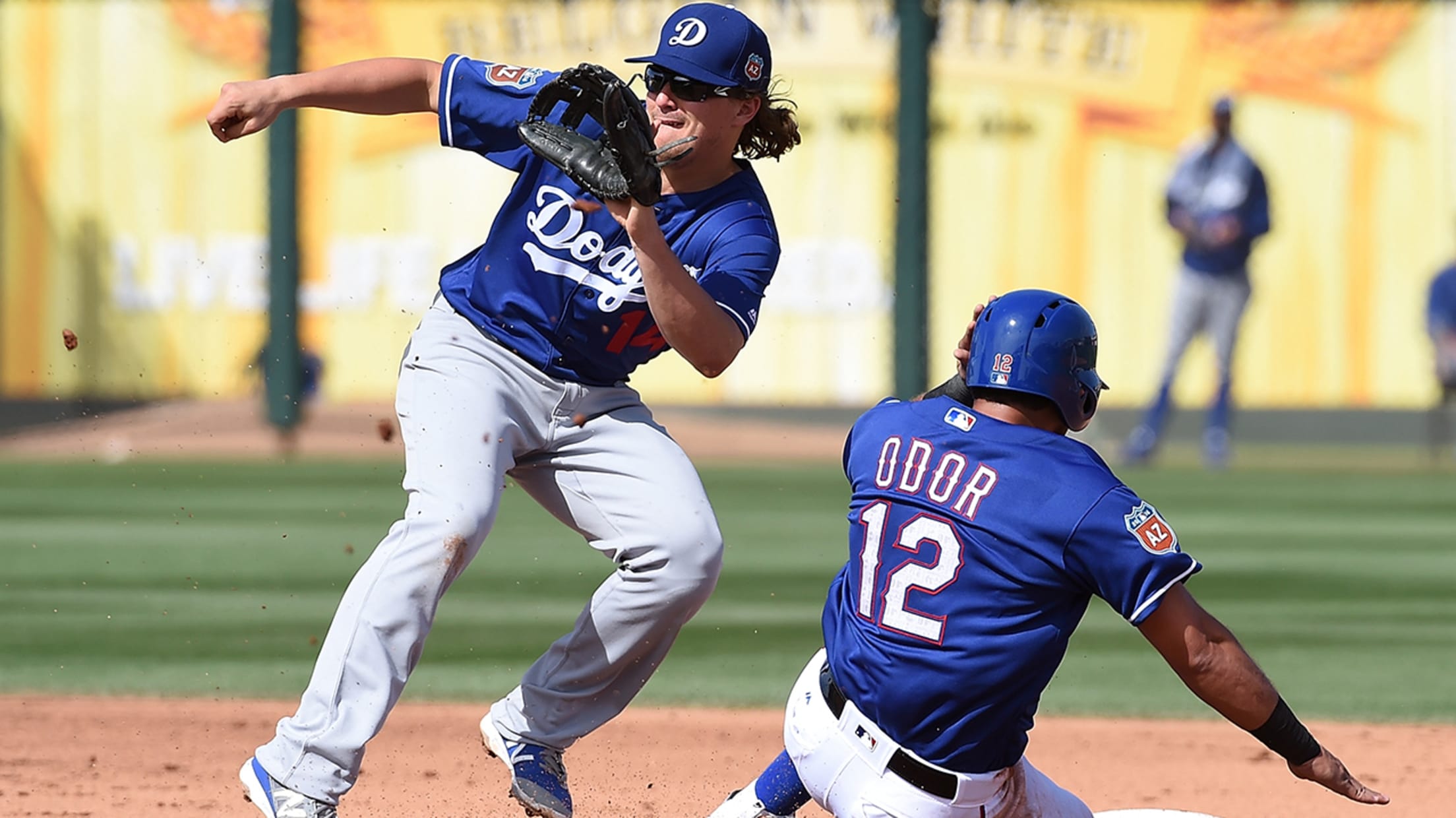 A year ago, Kiké Hernandez's versatility paid off for the Dodgers. (Norm Hall/Getty Images) (Norm Hall/Getty Images)
PHOENIX -- If Corey Seager's left knee isn't ready to open the season, the starting shortstop for the Dodgers will likely be Kiké Hernandez, who came into Tuesday's Cactus League game 2-for-20.The home run Hernandez slugged in his second at-bat against Jose Quintana in an 8-6 loss to the White Sox
PHOENIX -- If Corey Seager's left knee isn't ready to open the season, the starting shortstop for the Dodgers will likely be Kiké Hernandez, who came into Tuesday's Cactus League game 2-for-20.
The home run Hernandez slugged in his second at-bat against Jose Quintana in an 8-6 loss to the White Sox was a much-needed boost for the infielder, who opened last year's Spring Training 0-for-15 and finished up on fire with six home runs.
Hernandez said that last spring he tried to do too much early to impress the club that had obtained him in the Dee Gordon deal. This spring he said he's just not himself at the plate and won't even blame off-season right shoulder surgery on his slow start.
"I'm trying not to get too frustrated," said Hernandez, whose defensive versatility led to him taking over the center-field job from struggling Joc Pederson in the second half last year.
"Yesterday I watched some film with Turner [Ward, hitting coach] and went over to the Minor League side for five at-bats and felt pretty good. Today, I had one good at-bat out of three, so that's progress, but finished with another bad one [called strikeout]."
With Seager out of games at least two weeks and uncertain for Opening Day, Hernandez said he is buoyed by the support of management.
"I talked to Dave [Roberts, manager] and he said he's still confident in me," said Hernandez. "As long as I get my at-bats, I'll work on it and get back to it. Today I felt something I was doing wrong and made an adjustment. One good at-bat is a positive compared to the last few days."
Another young player that came over in the same trade, Austin Barnes, also homered, but he's been doing that all spring. Barnes has four in 12 games. His professional high in a season is only 13 in 2014.
"Just a streak. Baseball is funny like that," said Barnes.
Although he said he gained 10 pounds in muscle over the winter, Barnes credits his current power surge to better timing after working with Ward and assistant Tim Hyers.
"They've got me slowing the pace down and not rushing," he said.
Barnes, a catcher by trade, made his first start at second base on Tuesday and was charged with a throwing error, one of four Dodgers errors. But he said the demands of knowing two positions as different as catching and second base could present added opportunities because of his versatility.
"That's all just part of the job," he said. "It's not easy, but it's on you to prepare and be comfortable and I wouldn't want it any other way."