WS outreach helps aid victims of Calif. wildfires
Commissioner Manfred, Dodgers alumni pack care packages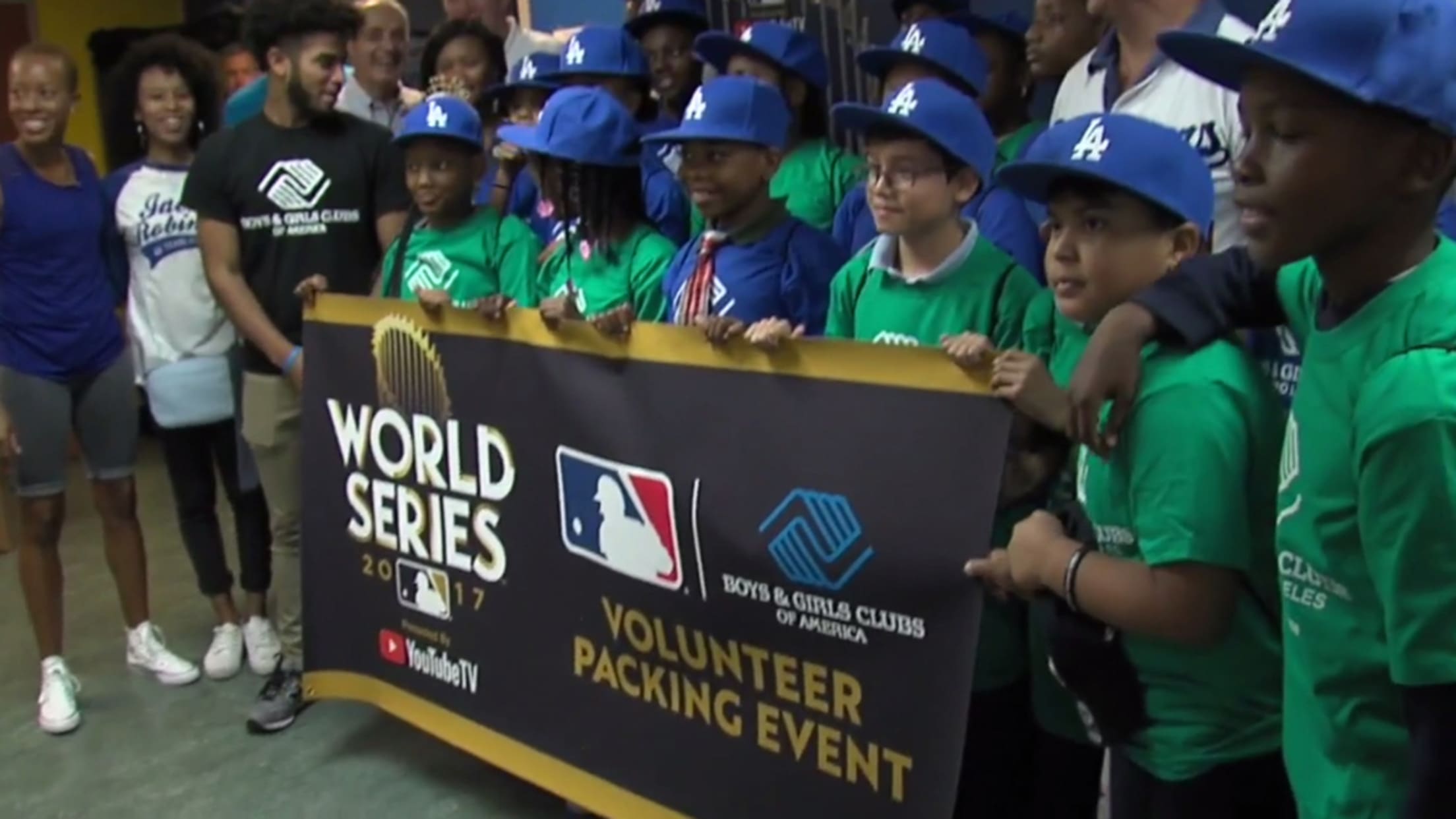 The supply kits that were packed for victims of the California wildfires will be distributed to those in need by Rebuilding Together. (MLB.com)
LOS ANGELES -- Commissioner Rob Manfred and Dodgers legends Orel Hershiser, Steve Garvey, Ron Cey and Nomar Garciaparra joined kids from the Boys & Girls Clubs of Metro Los Angeles and others on Wednesday morning to pack supply and comfort kits for victims of the Northern California wildfires -- part
LOS ANGELES -- Commissioner Rob Manfred and Dodgers legends Orel Hershiser, Steve Garvey, Ron Cey and Nomar Garciaparra joined kids from the Boys & Girls Clubs of Metro Los Angeles and others on Wednesday morning to pack supply and comfort kits for victims of the Northern California wildfires -- part of Major League Baseball's broad involvement during this World Series to assist in the aftermath of so many recent natural disasters.
"I think this is one example of how our clubs and Major League Baseball are embedded in part of the communities in which they function," Manfred said. "It's a great chance to give back to people who are suffering really tragic losses as a result of a natural disaster.
:: World Series schedule and coverage ::
"We have a great, deep relationship with the Boys & Girls Clubs of America as our official charity. The great thing about an event like this is that it teaches kids that ethic of giving back to their communities. ... I hope that they see role models like Orel Hershiser and Nomar Garciaparra doing something for their community and they take away the lesson that no matter what you do in life, it's important to give something back."
The Northern California wildfires began burning Oct. 8-9, spreading across Napa, Lake, Sonoma, Mendocino and Butte Counties after powerful wind gusts. They burned about 245,000 acres and destroyed 8,400 structures. The 15 wildfires decimated neighborhoods, schools and businesses, leaving many families in limbo.
The supply kits that were packed at the Boys & Girls Clubs of Metro Los Angeles Challenger Clubhouse before Game 2 of the World Series presented by YouTube TV will be distributed by Rebuilding Together (Petaluma) to those in need, while comfort kits will be donated to Boys & Girls Clubs of Greater Santa Rosa & Boys & Girls Clubs of Central Sonoma County.
On Thursday, MLB and the Astros will be helping Hurricane Harvey flood victims with a similar community event there, part of an important theme.
With the support of @MLB & @Dodgers we were able to put together care packages for families affected by NorCal wildfires #ThisTeam #BGCMLA pic.twitter.com/rXBM9iPrNY

— BGC of Metro L.A. (@BGCMLA) October 25, 2017
Jackie Robinson Foundation Scholars & Alumni were part of the volunteer event in Los Angeles. Dignitaries also included Tom Brasuell, MLB's vice president of community affairs; Frank Sanchez, BGCA national vice president of sports, entertainment and alumni development; Calvin Lyons, CEO of Boys & Girls Clubs of Metro Los Angeles; and Carlos Polanco, the 2017-18 BGCA National Youth of the Year.
All those who packed kits, including Manfred and the MLB contingent, signed a placard that will accompany the gifts. It read:
"On behalf of Major League Baseball, the Boys & Girls Clubs of Metro Los Angeles, Jackie Robinson Foundation Scholars, the Dodgers and the Los Angeles Dodgers Foundation, we offer you our deepest sympathies on the wildfires which have recently affected your community. We've provided a few packages to give you comfort during these difficult times. As far as we may seem, we are here thinking of you and sending our prayers."

"The most important thing is to know that this goes on on a daily basis throughout the year with Major League Baseball, with the Dodgers, with everybody involved," Hershiser said. "It's really important to do it during the World Series, because it brings more attention to it. As far as doing this and having the kids help out, because of the different disasters, it's important."
Dodgers legends spoke about the importance of giving, especially on the giant platform of the Fall Classic, and they also were asked about this Dodgers team returning a World Series to the organization for the first time since 1988.
"I think this 2017 team is more talented than we were, but if you can do it in the moment with talent, that's outstanding," said Hershiser, whose incredible consecutive-innings scoreless streak was a highlight during the 1988 title run. "We did it in the moment with a little less talent, and still won a world championship."
Hershiser said he was especially happy for the ace of the modern Dodgers. Clayton Kershaw was the winning pitcher in Game 1 on Tuesday, dominant over seven innings in the 3-1 victory over Houston.
"For him to dominate for seven innings, 11 strikeouts, no walks, 83 pitches, I think 58 strikes, he went out there and for me he was totally in control from the very first pitch," Hershiser said. "I love the fact that he started pitching right away, in a do-or-die type game when it's Game 1 of the World Series and you can put your team on the right foot. You don't want to save things for the second time around the order, you don't want to save things to have a complete game and have something left in your holster. He went right to pitching. He established his curveball in the first inning, established both sides of the plate, the slider had great depth."
Cey, who played in four World Series and won a ring in 1981, said he anticipates a tough slog in this series, featuring a pair of teams with triple-digit win totals.
"I expect Houston to be resilient and come back," he said. "One game with the adversity that they've faced through the course of the year, being in a number of elimination games, I don't think it's going to deter them. We have to stay on top of it, come out and play like we're starting from scratch again, don't give them the opportunity to feel like they have a chance, take care of business and bring home a world championship."
Cey and Garciaparra went to Boys & Girls Clubs when they were young. Cey said Wednesday's event was a reminder of what the Dodgers do year-round.
"It's part of what the Dodgers have been doing for as long as I've been associated with them," he said. "It's an effort to help out in the community when we have victims who are surviving like they are in Northern California with wildfires, and in other parts of our country that have been hit with hurricanes or whatever. These people are suffering and in need, and we're just doing our best to help them along with these care packages. And hopefully they appreciate it, because it's a difficult time for these people."
Mark Newman is enterprise editor of MLB.com and a baseball writer since 1990. Follow him on Twitter @Marathoner and read and join other baseball fans on his MLB.com/blogs hub.