With Dodgers in town, Nats push for NL's top mark
Series in Washington a likely postseason preview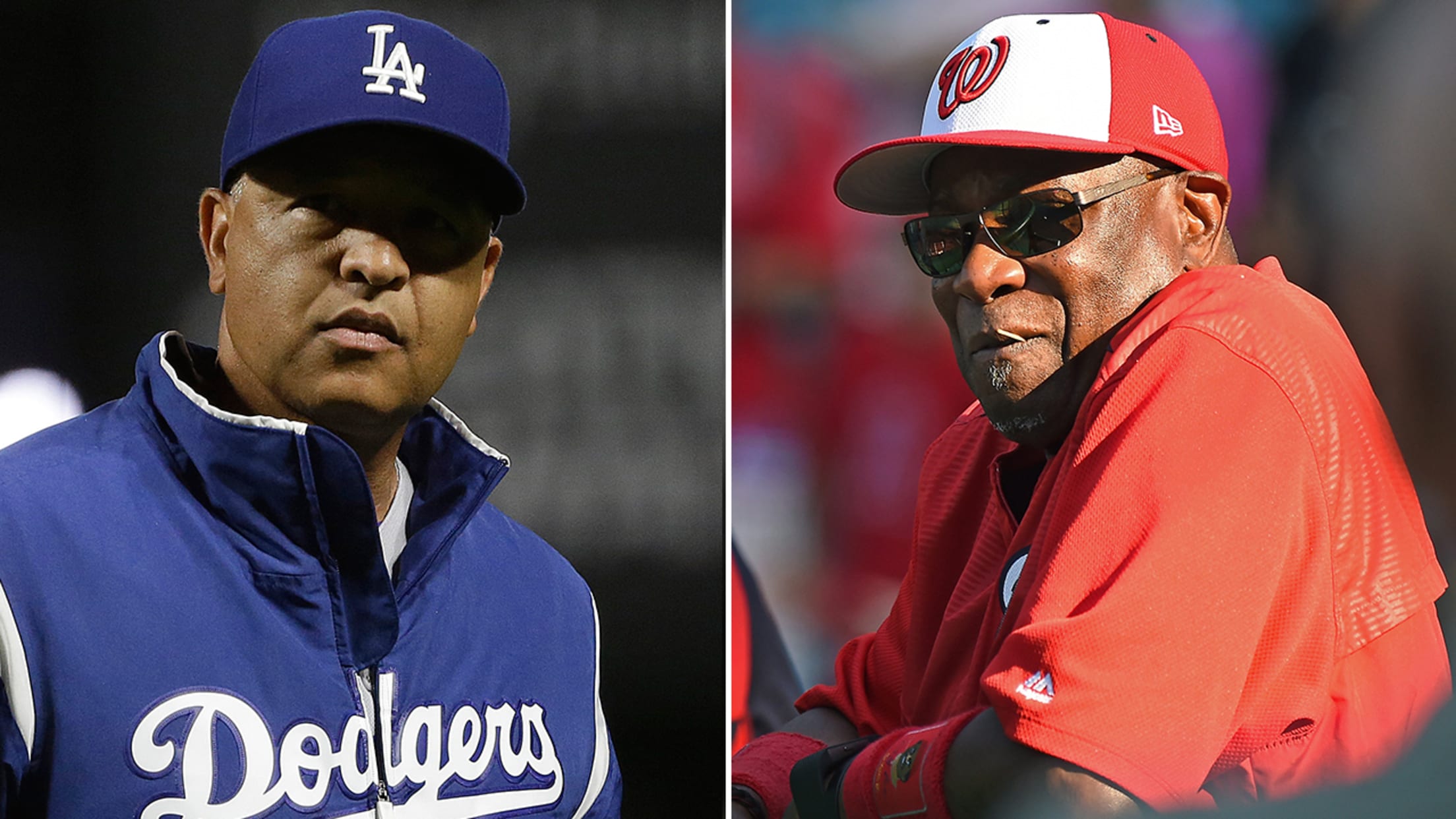 Dodgers manager Dave Roberts and Nationals manager Dusty Baker are using the series between their teams to scope out postseason strategy. (AP / Getty)
WASHINGTON -- Had you looked at the baseball calendar three weeks ago, this weekend's Dodgers-Nationals series in Washington would have been tabbed as a potential National League Championship Series preview, albeit a series itself with very little at stake.The Dodgers, winners of 56 of their previous 67 games, were the
WASHINGTON -- Had you looked at the baseball calendar three weeks ago, this weekend's Dodgers-Nationals series in Washington would have been tabbed as a potential National League Championship Series preview, albeit a series itself with very little at stake.
The Dodgers, winners of 56 of their previous 67 games, were the talk of baseball. Their .717 winning percentage had them on pace to tie the 2001 Mariners' Major League record of 116 victories. We were witnessing history.
The Nationals were firmly in control of the NL East, a 12 1/2-game lead putting them on track for a third straight division title. Home-field advantage seemed like a fantasy for Washington, which trailed Los Angeles by 14 1/2 games for the NL's best record.
Yet on Friday night, the Nats were only five games behind the Dodgers. Suddenly the NL's best record was within reach, and the team they were chasing was sitting in the third-base dugout at Nationals Park.
"I was thinking, coming in here to the ballpark, this is how it used to be when I was playing," Nationals manager Dusty Baker said. "You'd have a big series, you're thinking about it the night before, you're thinking about it during the day. It's like, 'OK, let's get down.'"
The Dodgers made a statement Friday with their 7-0 victory over the Nats, albeit against a starter (Edwin Jackson) they won't face in a postseason series. Still, the win boosted their lead for home field to six games with only two head-to-head meetings remaining.
"We got challenged and beat up for a couple of weeks," manager Dave Roberts said. "It was nice for us to come into this environment against a club like that and play well."
As expected, both sides said all the right things Friday afternoon, but the Nationals realize an opportunity has presented itself while the Dodgers are just trying to build on their first series win in more than three weeks.
"When they lost 15 of 16, that's when it was, 'Hey, it's a possibility,'" Max Scherzer said. "Are we going to break from our plan of how we feel best to prepare for the postseason? Probably not. We're going to go out there and continue to compete at the level we know we need to, and if we do chase them down, great. If we don't, we're not worried about it. We're in the postseason as a division winner; that's the first and foremost thing."
Baker claimed to be "not that surprised" that things had tightened up between the two teams, saying he believed even a month ago that his team was capable of catching the Dodgers.
"I've seen a lot," Baker said. "You're told, 'They've got the best team in baseball' and 'They're going to win 122 games' and stuff like that. Baseball has a way of kind of humbling us all as soon as you think you've got it figured out. So I'm not surprised.
"Every day, you're one game away from a 22-game winning streak like Cleveland. Did anybody think on day No. 1 that they were going to win 22 in a row? When [the Dodgers] lost 16 out of 17, it started with one day. Did they ever think that this would snowball to this? So not much surprises me in the game. It's a daily game."
Home-field advantage is a nice perk, but these teams know it guarantees nothing. The Dodgers won Game 5 in this ballpark against the Nationals in last fall's NL Division Series, though Roberts recalled the stadium being "as loud as I've heard a ballpark." Playing that game -- or, based on current records, a decisive Game 7 in the NLCS -- in Los Angeles is far more appealing to the skipper.
"To have that at Dodger Stadium, it's considerably better to see a sea of blue instead of the sea of red we saw last October," Roberts said.
As important as home-field advantage may be, both managers were eager to get a firsthand look at the other's squad with the possibility of an October meeting with much higher stakes. That, even more than home field, seemed to be the motivator for the two teams.
"When you play a team like this and know this could be a potential foe, it's always good to heighten your focus or your intensity that much more," Roberts said. "There is something to that psychological advantage about having success against a particular ball club. For us, personally, just to get on track and play good baseball, I really believe is most important. And as a byproduct, for us to secure home-field advantage, that would be good, too."
For Baker, this weekend is a chance to acquaint himself with the current version of the Dodgers, a team he hasn't seen in person in more than three months.
"Since June, a lot has happened," Baker said. "I'm watching TV trying to scout them, and I don't know half of them. ... I think it's great that we're playing them this late. Even if they learn something about us, we'll learn a whole bunch about them."
By the end of the weekend, we should all learn a lot more, namely whether the road to the World Series in the NL will go through Los Angeles or Washington.
Mark Feinsand, executive reporter for MLB.com, has covered the Yankees and MLB since 2001 for the New York Daily News and MLB.com.