Butera raises kids' spirits with shoe signings
Royals catcher offers support during visit to local hospital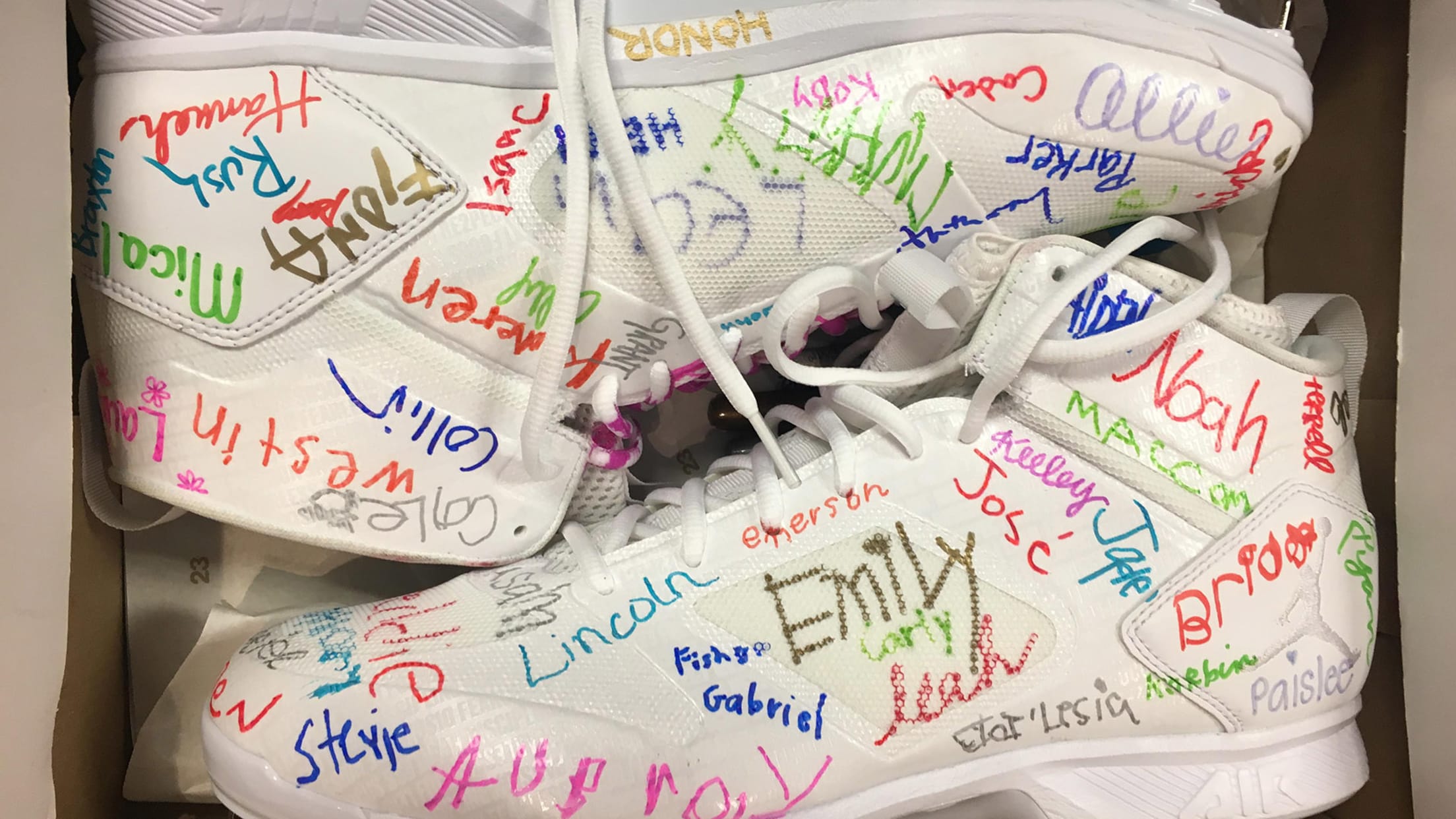 KANSAS CITY -- Royals catcher Andrew Butera (Vito) isn't sure where he got the idea to have ailing children sign his shoes."I think someone did it in [the NFL] and it just came to me a while ago," Butera said before the series opener against the Indians on Friday night
KANSAS CITY -- Royals catcher Andrew Butera (Vito) isn't sure where he got the idea to have ailing children sign his shoes.
"I think someone did it in [the NFL] and it just came to me a while ago," Butera said before the series opener against the Indians on Friday night to start Players' Weekend at Kauffman Stadium.
:: Players' Weekend presented by Valspar Stain ::
So Butera visited a local hospital recently and tried to lift the spirits of the children he spoke with.
"I got some white Jeter Jordans and I thought it would be really cool to have them all sign," he said. "I wanted to honor them and support them, and show them that we're with them all the time.
• Shop for Players' Weekend gear
"I got about 40 signatures on each shoe, about 80 altogether. I told them all to sign as big as they could. But I thought it came out really cool. And it was cool just to hear their stories. Good experience."
Hahn has surgery
It has been a rough season for right-hander Jesse Hahn, acquired from the A's in the Brandon Moss trade last offseason. Hahn was shut down in Spring Training because of a strained elbow.
Hahn tried to make a comeback this summer, and he eventually went on a rehab assignment before once again experiencing elbow pain.
On Aug. 13, Hahn underwent UCL repair surgery, which is less invasive than Tommy John surgery. Former Royals reliever Michael Maness also had the surgery, and he was able to pitch again in six months.
Hahn could be available to pitch again in March.