Baker, Garr share field for first time since '75
Nats' manager, Braves' guest instructor lifetime friends after being drafted by Atlanta in '67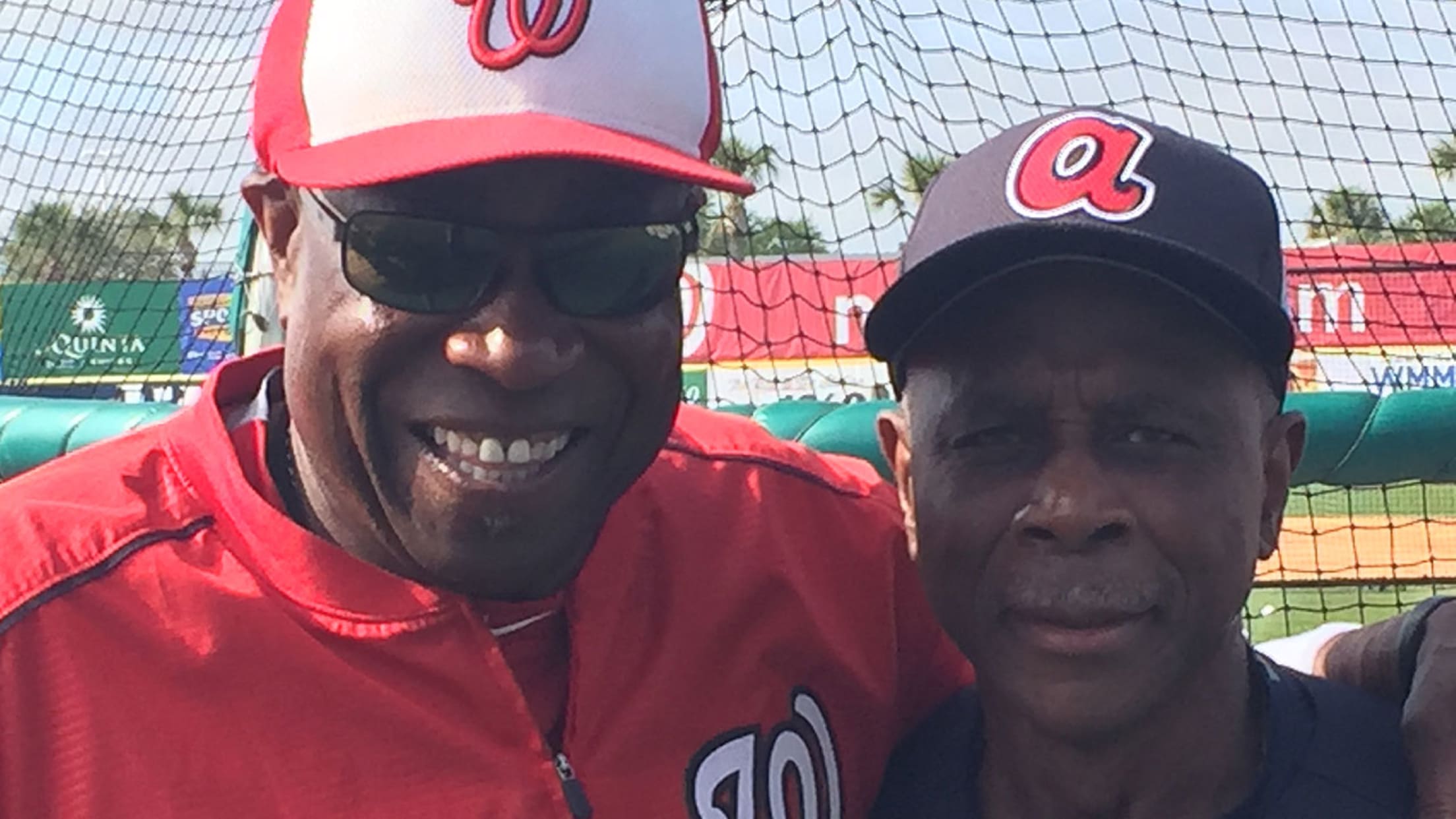 Nats manager Dusty Baker and Braves guest instructor Ralph Garr reunite before Thursday's game. (Bill Ladson/MLB.com)
VIERA, Fla. -- Before Thursday's game against the Braves, Nationals manager Dusty Baker received a great thrill at Space Coast Stadium. Braves guest instructor Ralph Garr greeted Baker with a bear hug near home plate. It marked the first time Baker and Garr were on the same field since they
VIERA, Fla. -- Before Thursday's game against the Braves, Nationals manager Dusty Baker received a great thrill at Space Coast Stadium. Braves guest instructor Ralph Garr greeted Baker with a bear hug near home plate. It marked the first time Baker and Garr were on the same field since they were teammates with Atlanta in 1975.
Baker and Garr spent at least 30 minutes talking about hitting, while Baker introduced Garr to some of his players and general manager Mike Rizzo. Baker and Garr first met after they were selected by Atlanta in the 1967 Draft. They started their professional careers with Double-A Austin that same year, and they have been friends ever since.
How close are Baker and Garr? Baker is the godfather of Garr's two kids, and Garr's wife is the godmother of Baker's daughter. Baker met his first wife through Garr, and he credits Garr for watching his back while they were playing in the South during the 1960s.
"I'd never been to the South, and he kept me out of a lot of trouble," Baker said. "I would get a little belligerent if the cops gave me a ticket or called me 'boy.' He kind of taught me the ropes of being in the South. We did everything together. He helped motivate me all the way up to the big leagues. He was always one step ahead of me."
Baker and Garr started playing every day in the Braves' outfield during the early 1970s. Garr won a National League batting title in 1974, while Baker became one of Atlanta's best run producers. Garr and Baker were separated after the Braves traded Baker to the Dodgers and Garr to the White Sox in the offseason of 1975.
Although they were apart for more than 40 years, Baker heard from Garr via telephone at least three times a month.
"He is like a brother," Garr said. "He is very intelligent. He is an adviser. He is a loving person. He is a very respectful person."