Garcia, Paddack among top prospect performers Wednesday
Phillies' prospect takes no-hitter into eighth inning; Padres pitcher impresses again with new club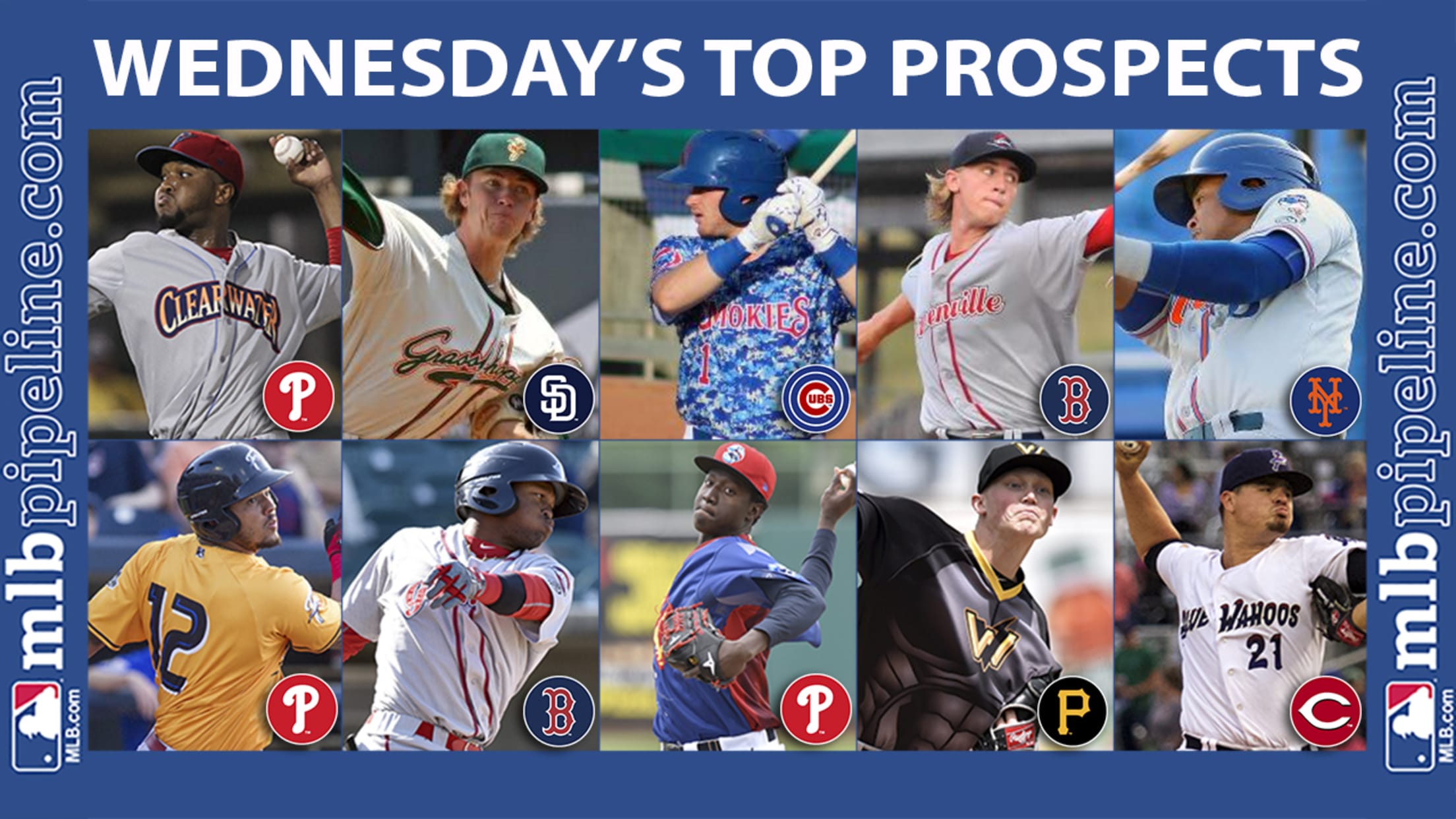 (Paul Sancya/AP)
Elniery Garcia flirted with history as he led Class A Advanced Clearwater to a 4-0 win over Palm Beach on Wednesday night. The 21-year-old lefty was unhittable for seven innings, and although a leadoff single ended his no-hit bid in the eighth, Garcia still spun his best start of the
Elniery Garcia flirted with history as he led Class A Advanced Clearwater to a 4-0 win over Palm Beach on Wednesday night. The 21-year-old lefty was unhittable for seven innings, and although a leadoff single ended his no-hit bid in the eighth, Garcia still spun his best start of the year.
The Phillies' No. 21 prospect needed just 94 pitches, 67 strikes, to carve his way through eight scoreless innings of one-hit ball. Garcia also struck out six, one shy of his season high.
"He just attacked the zone and he was moving in and out with his fastball right below the knees," pitching coach Aaron Fultz told MiLB.com. "He got a lot of early contact that was soft, and then as the game progressed, he got a couple of curveballs in. The last three, four innings, he used his changeup, which was really good tonight."
Wednesday's outing was just the latest in what is becoming another strong season for the Phillies' prospect. Garcia has won his past five decisions and sports a 2.23 ERA through 13 appearances (12 starts).
"To be honest, I expect that out of him every time," Fultz told MiLB.com. "Just with the stuff that he has, he has the potential to do that every start."
The rest of the best performances from top prospects Wednesday:
• Ian Happ (Cubs' No. 3, No. 66 overall) broke out of his slump and put together a two-hit day for Double-A Tennessee. After going 0-for-12 over the previous three games, Happ went 2-for-4 in the Smokies' loss and brought his Double-A average up to .364.
• Jorge Alfaro made the most of his experience in the Eastern League All-Star Game. The Phillies' No. 6 prospect (No. 86 overall) scored a run and hit a trio of singles in his three at-bats. Alfaro is hitting .295 in 60 games with Double-A Reading in the regular season.
MILB Video - Title: Watch: MiLB Video - Url: http://www.milb.com/r/video?content_id=925403583
• Mets No. 11 prospect Jhoan Urena is heating up for Class A Advanced St. Lucie. The third baseman hit a two-run homer in the fifth and drove in two more runs with a bases-loaded single in the eighth as part of a 2-for-4 game. Over his past two contests, Urena is 4-for-8 with five RBIs.
• Padres No. 11 prospect Chris Paddack is making a strong impression with his new organization. The right-hander struck out nine in five scoreless innings for Class A Fort Wayne and has been tough to hit since he was traded from the Marlins on June 25. In two starts with the TinCaps, Paddack has allowed one earned run over nine total innings.
• Franklyn Kilome (Phillies' No. 8) did it again. For the second time in as many starts, the 21-year-old gave up one run on three hits in five innings. Kilome has also struck out seven in each of his past two outings.
• Pirates No. 14 prospect Mitch Keller lowered his ERA to 2.64 through 16 starts with Class A West Virginia after another quality outing. The right-hander led the Power to a 3-0 win, allowing just two hits over seven scoreless frames.
• Reds No. 8 prospect Nick Travieso followed up one stellar start with another. The right-hander fired 7 1/3 innings, giving up one run on four hits for Double-A Pensacola. He walked none and struck out six. In his prior outing, Travieso threw six scoreless innings and allowed just two hits. In fact, the 22-year-old has been stellar for about a month, allowing one earned run or less in four consecutive starts.
MILB Video - Title: Watch: MiLB Video - Url: http://www.milb.com/r/video?content_id=925777683
• Michael Kopech (Red Sox's No. 5) struck out the side in the first and then just kept piling up the K's for Class A Advanced Salem. The right-hander finished with eight strikeouts and gave up just four hits in five scoreless innings. Kopech has made three starts -- totaling 13 1/3 innings -- this season and has yet to surrender a run.
• Luis Alexander Basabe (Red Sox's No. 8) was perfect at the plate and continued his recent hot streak for Class A Greenville. Basabe went 4-for-4 with a homer, two RBIs and a trio of runs scored. The center fielder has seven hits in his last 11 at-bats and six RBIs over his past four games. Red Sox No. 15 prospect Josh Ockimey also had a good day for the Drive, going 2-for-4 with a homer and three RBIs.
MILB Video - Title: Watch: MiLB Video - Url: http://www.milb.com/r/video?content_id=924578483
• Royals No. 16 prospect Seuly Matias went 2-for-5 with a pair of homers and three RBIs for the Arizona League Royals. It was the first multi-homer game of the 17-year-old's career.
• Kohl Stewart (Twins' No. 6) set the tone in Double-A Chattanooga's win over Tennessee. The 21-year-old threw seven innings of one-run ball and fired 56 of his 88 pitches for strikes. Stewart gave up seven hits in the outing, but he limited the damage and is beginning to show a propensity to pitch deep into games, completing seven innings in three of his past four starts.
2016 Draft
• Mets' second-round pick Peter Alonso hit his first professional homer as part of a 2-for-3 game for Class A Short Season Brooklyn.
MILB Video - Title: Watch: MiLB Video - Url: http://www.milb.com/r/video?content_id=925083183