Rookies to start all games in Padres' set vs. LA
Lauer, Nix, Lucchesi lined up to face postseason-seeking Dodgers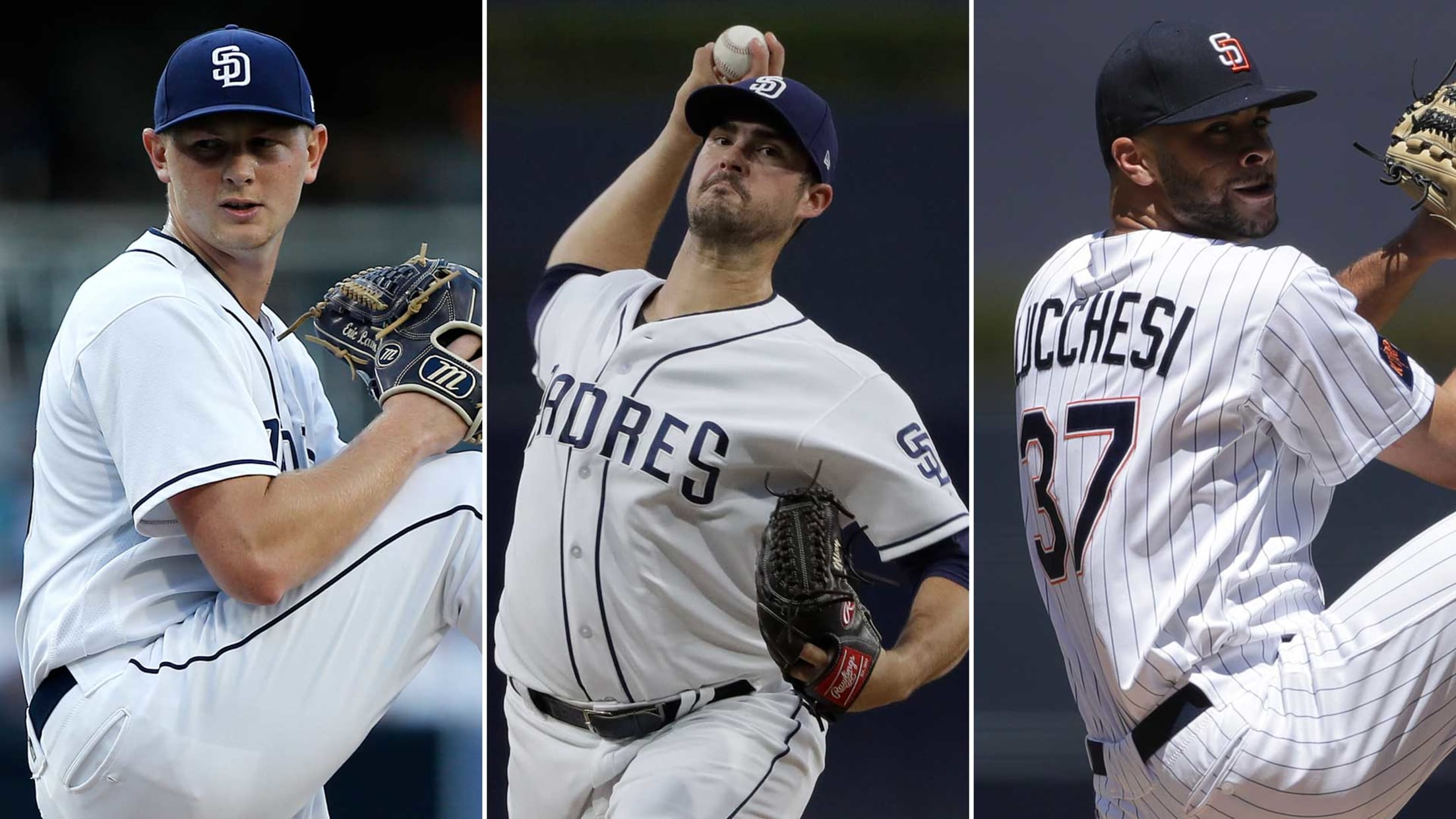 SAN DIEGO -- In the midst of an incredibly tight National League West race, the Dodgers will host the Padres for three games this weekend in Los Angeles. Three rookie starting pitchers will be thrown directly into the pennant-race fire.And that's exactly the point.When the Padres convened in early September
SAN DIEGO -- In the midst of an incredibly tight National League West race, the Dodgers will host the Padres for three games this weekend in Los Angeles. Three rookie starting pitchers will be thrown directly into the pennant-race fire.
And that's exactly the point.
When the Padres convened in early September to align their season-ending rotation, they added a couple wrinkles. Eric Lauer had his start pushed back a day so he could take the ball for the opener at Dodger Stadium. Jacob Nix was always scheduled to start Saturday, but now Joey Lucchesi is expected to jump Bryan Mitchell in the rotation by a day so he can pitch the finale.
"The pressure isn't on us, it's on them," said Lauer. "But it's still a high-leverage game, and you get the feel of that. You still want to get used to that feeling, so that when you get there and it really matters, and we're going for a pennant, we've been in that moment. Not in that same light, but we've still been there."
The Padres might be contenders next September. They might not be. But they want to make sure their young starting pitchers have been in as many different game situations as possible. It's important to the organization that they pitch in games with playoff implications.
"That'll be a really good environment for them," said catcher Austin Hedges. "As long as I've been in the big leagues, L.A.'s always been one of the most hostile environments. Obviously with them in the playoff race, it'll be crazy. ... [The rookie pitchers will] get a taste of it. They'll get a taste of the noise and the atmosphere, and hopefully next year when they're pitching in those situations, it won't be the first time."
It's possible that the three rookies could get another start with playoff implications after the Dodgers series as well. The D-backs are fading fast in the NL West, but they're still alive, sitting 4 1/2 games behind the Rockies and four behind Los Angeles.
The Padres are looking to give Lauer, Nix and Lucchesi a week's rest before their final start, and all three are also scheduled to pitch the final series of the season against Arizona. (The temporary plan is for a bullpen day next Wednesday, to push the trio back a game.)
Of course, they aren't generally the type to be overwhelmed by the moment. All three debuted in the big leagues well ahead of schedule this year, as the Padres did their best to thrust their high-level prospects into the big league spotlight.
"I'm excited to go out there every time," Nix said. "To me, it doesn't really matter if it's against the Dodgers or if it's against the Sugar Land Skeeters. I'm going out to pitch and win the game."
That doesn't mean Nix isn't looking forward to the next couple Saturdays.
"Hopefully next year we get that opportunity, and I can look back and say, 'OK, this is what that felt like,' and I'm not blindsided by it," Nix said. "But I don't think it'll really affect me. I don't care where it is, it's still a big league game. There's only 30 of us who get to start a big league game on Saturday."
Don't run on Hoz
In his seven seasons with the Royals, Eric Hosmer took home four American League Gold Glove Awards. And his glove was only half the reason why.
Hosmer has showcased an elite first baseman's arm -- and also a knack for when to use it. In each of the Padres' three games over the weekend against Texas, he recorded assists at either home plate or third base.
On Sunday, he made an excellent split-second decision, going across the diamond to third on a chopper to first (then covering second and completing the double play after a rundown ensued).
"He's definitely the best-throwing first baseman, and I don't even think it's close," said Padres manager Andy Green. "The arm is real, and the decision-making is obviously very good as well."
Noteworthy
• Rookie Javy Guerra made his third consecutive start at shortstop on Monday night, with Freddy Galvis at second. That's probably going to be the Padres' regular middle-infield alignment moving forward, though Green said Galvis might slide back to shortstop a few times over the next couple weeks.
• Said Green of Hedges' improvement at the plate this season: "His lot has changed so much that a year ago, I was pinch-hitting for him in crucial situations, and now he's pinch-hitting in crucial situations."
Hedges has posted an .803 OPS in the second half this season. Last year's second-half mark was .632. Hedges pinch-hit in the seventh inning on Sunday afternoon and grounded back to the pitcher.