Erlin working his way into Padres' future
Notes on Hosmer, Reyes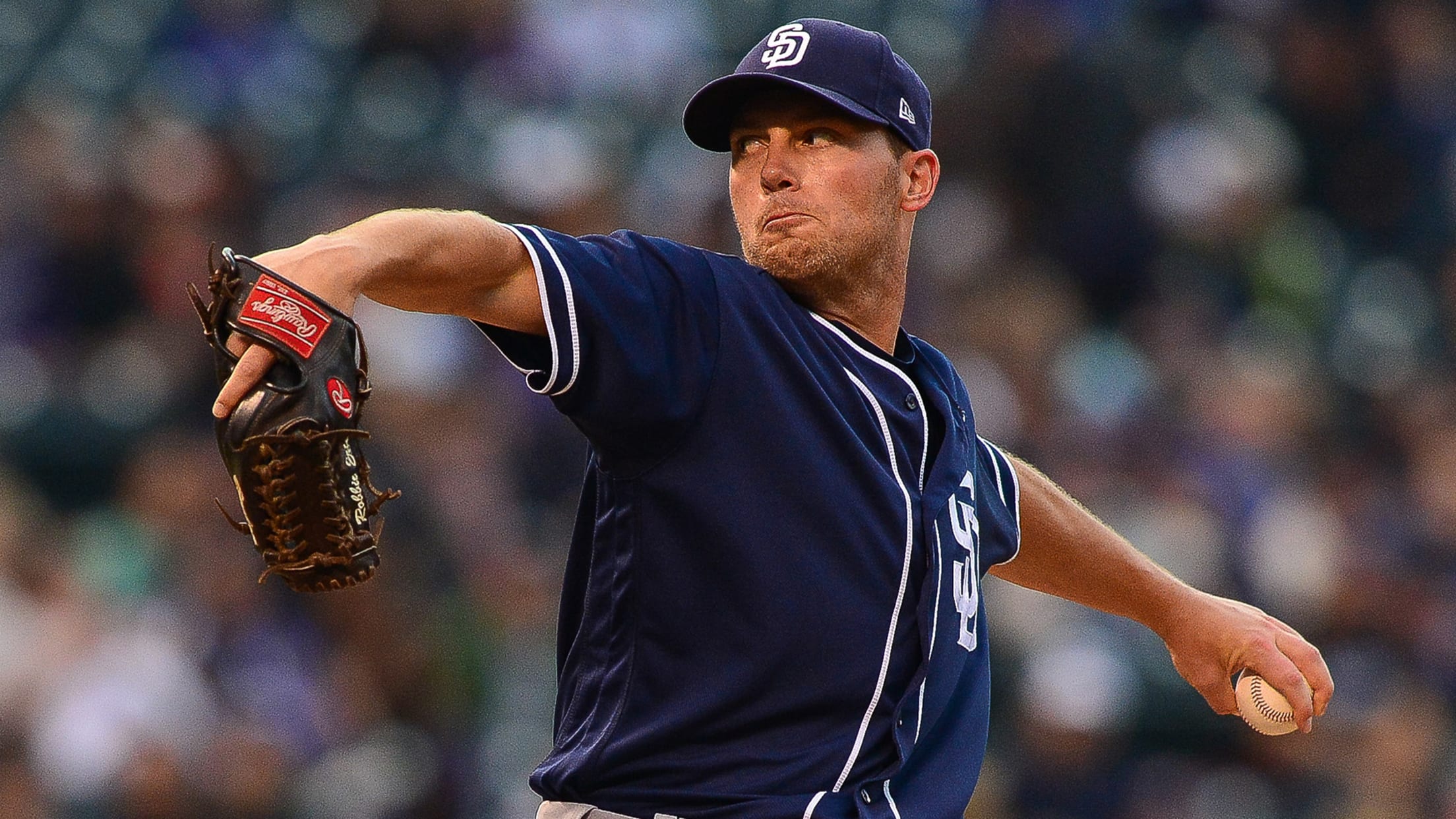 Bill Center, longtime sportswriter for U-T San Diego, is an employee of the Padres.Even before Robbie Erlin made his sixth start of the season Tuesday night in Colorado, Padres manager Andy Green was talking up the 27-year-old left-hander's future with the club."Robbie has been great in the bullpen all season
Bill Center, longtime sportswriter for U-T San Diego, is an employee of the Padres.
Even before Robbie Erlin made his sixth start of the season Tuesday night in Colorado, Padres manager Andy Green was talking up the 27-year-old left-hander's future with the club.
"Robbie has been great in the bullpen all season long," said Green.
"In his last three starts (before Tuesday) he's given us a glimpse of what he could be going into next year. That becomes a guy who has some time in the big leagues stabilizing a bunch of young guys who are probably going to be entering the rotation."
"We're pleased to see what he is doing and the opportunity sits out in front of him for the rest of the year to show it."
Green has to be even more pleased after Tuesday. Erlin picked up the win in Colorado, allowing three runs on five hits with no walks with six strikeouts over five innings. The no walks at Coors Field is a key stat.
Erlin threw 60 pitches. Forty-nine were fastballs. Forty-two of his pitches went for strikes.
"He's pitched all quadrants of the zone with his fastball," said Green. "He can drop his curveball in when he wants and his changeup keeps guys off balance. He's left a few changeups up recently that he'd love to get down. But you're nit-picking right there. He's throwing the ball really well in the rotation."
"Coors Field is always a challenge to pitch in and it's a challenge for a guy who relies on the spin and Robbie relies on that with his curveball. He's a guy we look forward to having on the mound. He's pitched very well for us."
Erlin has also been the Padres most effective starter in four outings since returning to the rotation on Aug. 2. He is 2-0 over his last four starts (the Padres are 3-1) with 10 runs allowed (eight earned) on 22 hits and two walks with 14 strikeouts in 21 innings - for a 3.43 earned run average and a 1.14 WHIP.
Erlin was 1-1 out of the bullpen this season with a 2.05 ERA and a 0.80 WHIP in 52 2/3 innings over 27 appearances.
NOTEBOOK:
• Green said Tuesday that Jose Castillo, Trey Wingenter and Phil Maton would be seeing time in late-game leverage situations as the Padres continue to evaluate talent for 2019 and beyond. "As time goes on, if Kirby Yates is not utilized in save situations frequently, we'll start looking at seventh and eighth-innings situations to make sure we keep him sharp pitching. His value is just not in the ninth inning. That opens up the ninth for a host of other guys in certain situations and it will be good for them to get that experience. I can see José Castillo, Trey Wingenter, Phil Maton, Craig Stammen all at some point in time filling that opportunity. Trey is going to get the ball. He's going to get the ball in big situations. So is Castillo. The way we've handled this bullpen recently with where we are, it's almost been more with an eye to the future rather than the matchup component."
• 1B Eric Hosmer was 2-for-5 with a two-run homer in Colorado Tuesday night to stretch his hitting streak to a ninth straight game (13-for-35) with three doubles, three homers, eight RBIs and eight runs scored. Hosmer has three homers in his last eight games after having hit only one home run since June 12.
• RF Franmil Reyes was 2-for-3 Tuesday night to snap out of a 25-at-bat hitless drought. SS Freddy Galvis was 1-for-4 with a sacrifice fly coming off a 2-for-17 slump. Austin Hedges' game-winning homer came on the heels of a 1-for-21 slump. And Manuel Margot was 2-for-4 Tuesday after going 3-for-30 since Aug. 9.