Executives give insight into building a winner
Roundtable discussion in Boston peeks into minds of front offices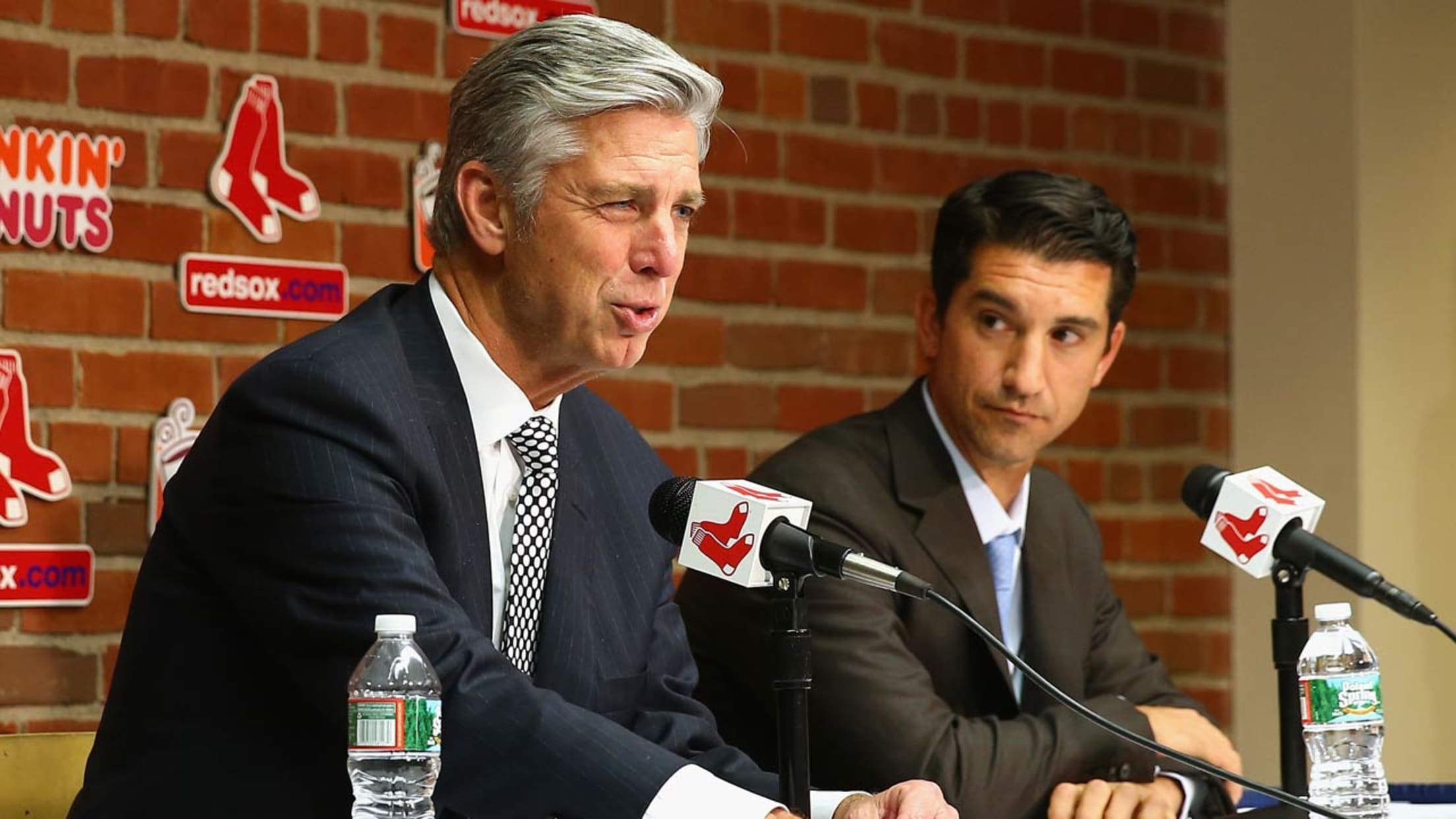 The Red Sox's Dave Dombrowski and Mike Hazen participated in a roundtable discussion. (Getty)
BOSTON -- Building a championship team is what every front office in every Major League organization spends the offseason -- and the season -- trying to do. It's much easier said than done.That was the topic of a roundtable discussion in Boston on Thursday afternoon in a ballroom of a
BOSTON -- Building a championship team is what every front office in every Major League organization spends the offseason -- and the season -- trying to do. It's much easier said than done.
That was the topic of a roundtable discussion in Boston on Thursday afternoon in a ballroom of a hotel just beyond Fenway Park's right-field bleachers. The program, moderated by veteran baseball writer Peter Gammons, featured Red Sox president of baseball operations Dave Dombrowski and general manager Mike Hazen, Giants GM Bobby Evans, Blue Jays GM Ross Atkins and Cubs president of baseball operations Theo Epstein.
Approximately 250 people from the local business community were on hand.
"For us, it started with very successful Draft picks, and that starts with scouting," said Evans of the Giants winning three World Series titles in five seasons -- 2010, 2012 and 2014. "We've worked together for so long, you're talking about a very cohesive group."
Asked if he thought he had built a winner this winter, Dombrowski, who joined the Red Sox in August, replied with a chuckle: "Well, time will tell. We're happy with the offseason moves that we made, but that's always determined on the field."
The Royals, the reigning World Series champions and winners of the last two American League titles, have developed a blueprint for winning.
"We spent a lot of time talking about KC as we planned our rebuild," Epstein said. "Basically it was an eight-year process to get to the World Series. They did a masterful job. Look at the arc of those young players' careers. Alex Gordon was optioned multiple times and in a bigger market might not have been given a second chance. Mike Moustakas didn't blossom as a good hitter until late in the 2014 season. Eric Hosmer probably underperformed, after lofty expectations for him, until midway through that 2014 season. ... [Players] experience a lot of valleys along the way whether it's being demoted or having a difficult month or year. In the end they were rewarded for their patience."
"The game seems to be getting younger at the Major League level. The game has been getting younger at the Minor League level for a number of years," said Hazen. "I think the game is going to continue going in that direction. I think we have, hopefully, a little bit of a jump, that our guys are at the Major League level, while some other teams' are maybe a little bit further down the pipeline.
"It's good to have good young players. [But], those players have to figure out how to come up here and win. That's our next step."
Not everything has changed over the years.
"You kind of go through cycles in your career," Dombrowski said. "And right now is more like when I started, in the sense that you don't have as much, per se, offense. … Now the use of analytical information is much more thorough. But believe it or not, many years ago we also did use analytics. ... They weren't as complex as they are [now]. I think still the building of a championship club is very similar. You need a very strong Minor League system, scouting department, you have to make good trades, you have to make good signings with free agents, have good people in your organization and hopefully it all works out for you."
"Developing one more player than your competitors can be the difference between winning a championship and not winning," said Epstein.
The group also talked about a growing trend in baseball front offices to have a president of baseball ops along with a GM. Each of the teams represented follows that model.
"There are only advantages," said Atkins, who was hired by the Blue Jays in December to join team president Mark Shapiro. Both came from the Indians.
"It's a full-time, huge commitment to be involved in baseball operations, and that goes down to the intern level. ... It is such a big commitment that the more experience you have, the better. The more support you have, the better. So, the fact that I'm coming into a role with a former GM and now a president who's in the office next to mine that I can bounce off ideas to is -- I can't imagine not having it. ... And I'm, quite frankly, glad for the game that it's occurring more."
The panel took questions from the audience, including one on the possibility of an international draft.
"I personally hope that it does happen," said Atkins. "Because I personally think it's better for people -- better for baseball and better for baseball players."
The program benefitted Foundation To Be Named Later, which was launched in 2005 by Epstein, then the Red Sox GM, and his twin brother Paul, a social worker in the Brookline public schools system, to benefit nonprofit agencies serving disadvantaged youths in Boston and Chicago. At the start of the forum, Paul Epstein said the foundation has distributed more than $8 million since its inception.
Maureen Mullen is a contributor to MLB.com.