Explore Visalia's Valley Strong Ballpark
Welcome to Valley Strong Park, where the Visalia Rawhide steer fans toward fun, and the answer to every question is more cowbell.
Visalia Rawhide (Affiliate of the Arizona Diamondbacks since 2007)
Established: 1946 (as the Visalia Cubs)
Ballpark: Valley Strong Ballpark (opened 1946, as Recreation Park)
League: California League
Notable Alumni: Vada Pinson, Johnny Edwards, Hawk Harrelson, Tom Kelly (as manager), Ken Singleton, Lee Mazzilli, Joe Charboneau, Kent Hrbek, Kirby Puckett, Denny Neagle, Chuck Knoblauch, Craig Counsell, Barry Zito, Max Scherzer, Justin Upton, Paul Goldschmidt
Championships: 1971, 1978, 2019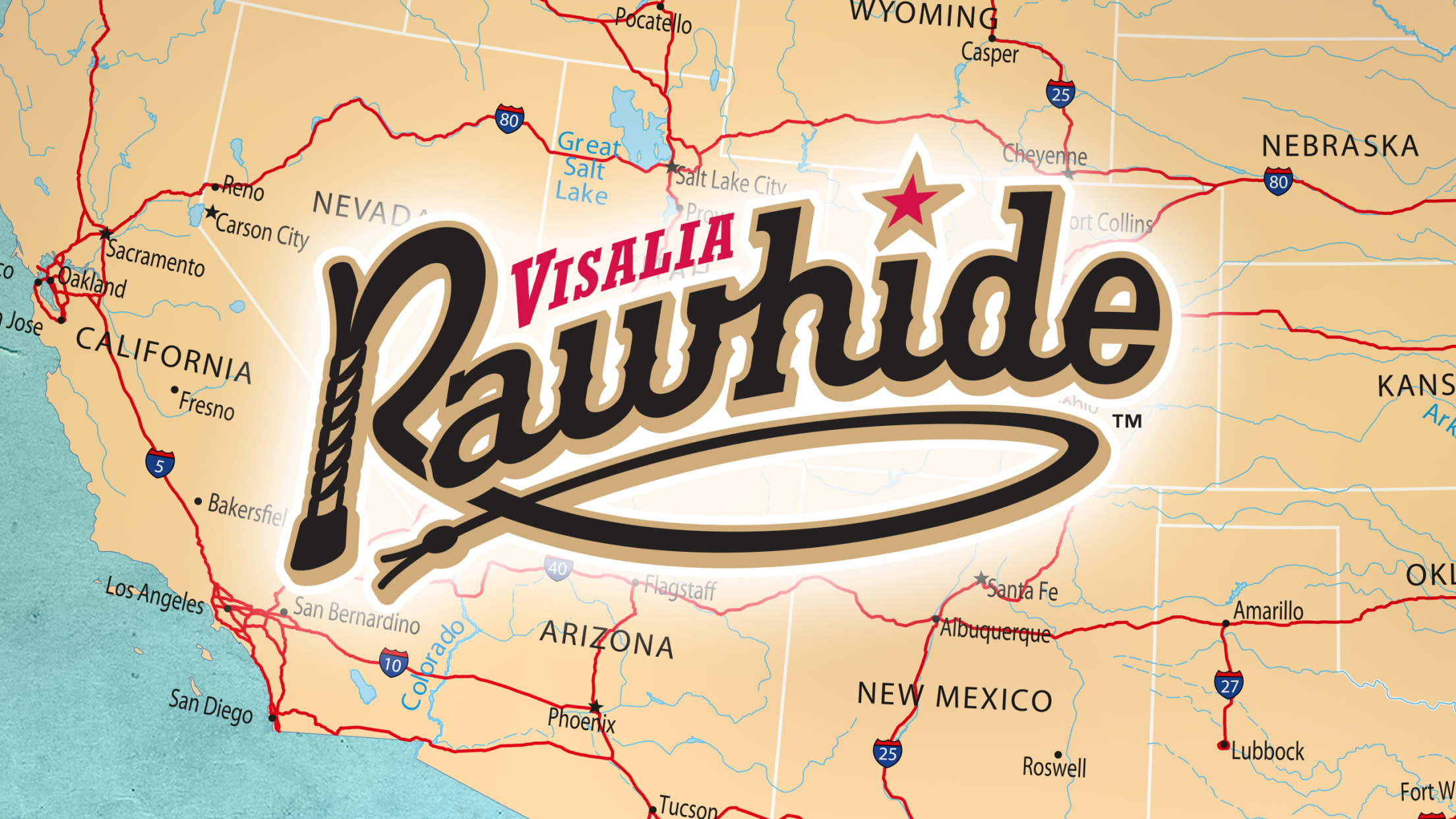 Founded in 1946 and operating almost continuously (there was a five-season gap in the '60s and an absence in '76) out of the same stadium, the Rawhide stand as one of the most historic Minor League teams on the West Coast, and indeed in all of the United States. Although the franchise has gone through numerous name changes and affiliate changes and the fan experience and facilities have evolved with the standards of the times, Valley Strong Ballpark remains an intimate, homey and often exhilarating place to catch a ballgame.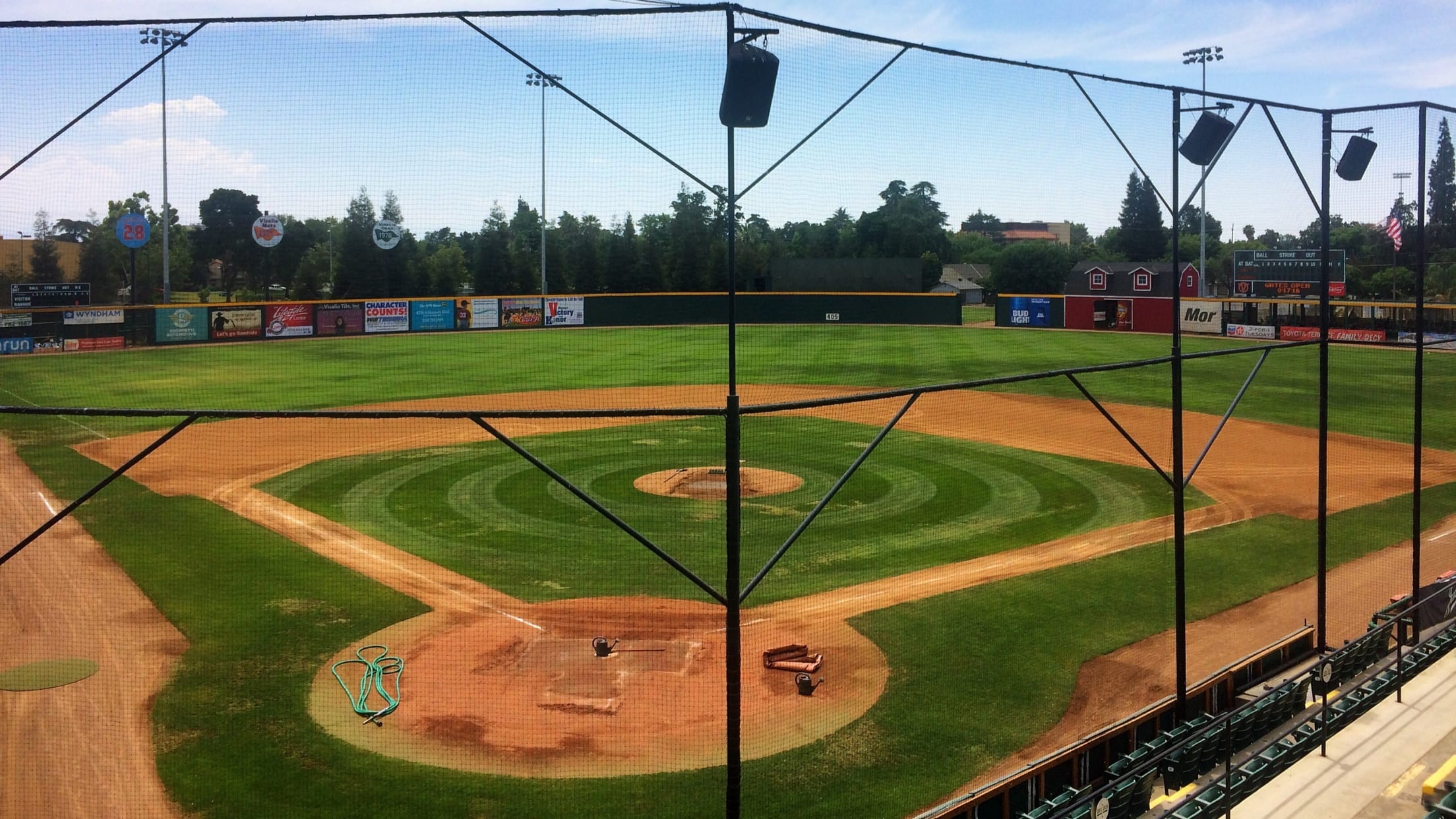 The Rawhide build their identity on their hometown pride and the flavor of the southern San Joaquin Valley. Like a hit song off the Foo Fighters' debut record, Visalia is, while certainly enjoyable to humans, for all the cows. The town is the seat of California's Tulare County, where cattle are said to outnumber people to this day. Even beyond the bovine, farming (for citrus, grapes, pistachios and more) has been the dominant way of life here for well over a century.
And at Valley Strong Ballpark, they milk the cow theme for all it's worth.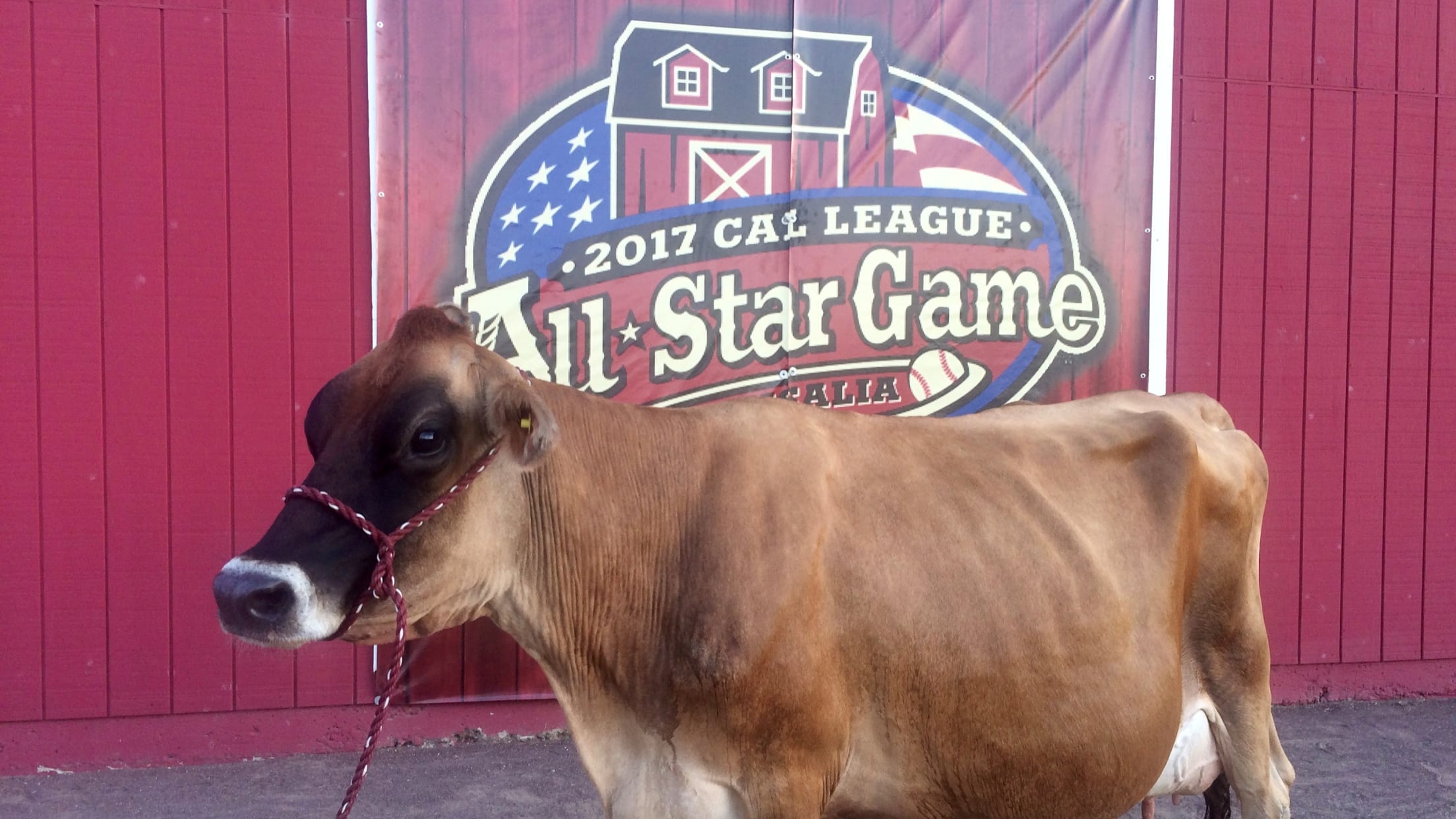 Valley Strong Ballpark
Ballpark Location (via Google Maps)
Rawhide Roster
Rawhide Schedule
300 N. Giddings St.
Visalia, CA, 93291
(559) 732-4433
Capacity: 2,468
Dimensions: right field, 320; center field, 400; left field, 320
Park Factors (2021-22)
100 = league average
Runs: 98 | Homers: 118 | Hits: 100
California League environment: 5.83 runs per team per game (highest among 11 full-season leagues)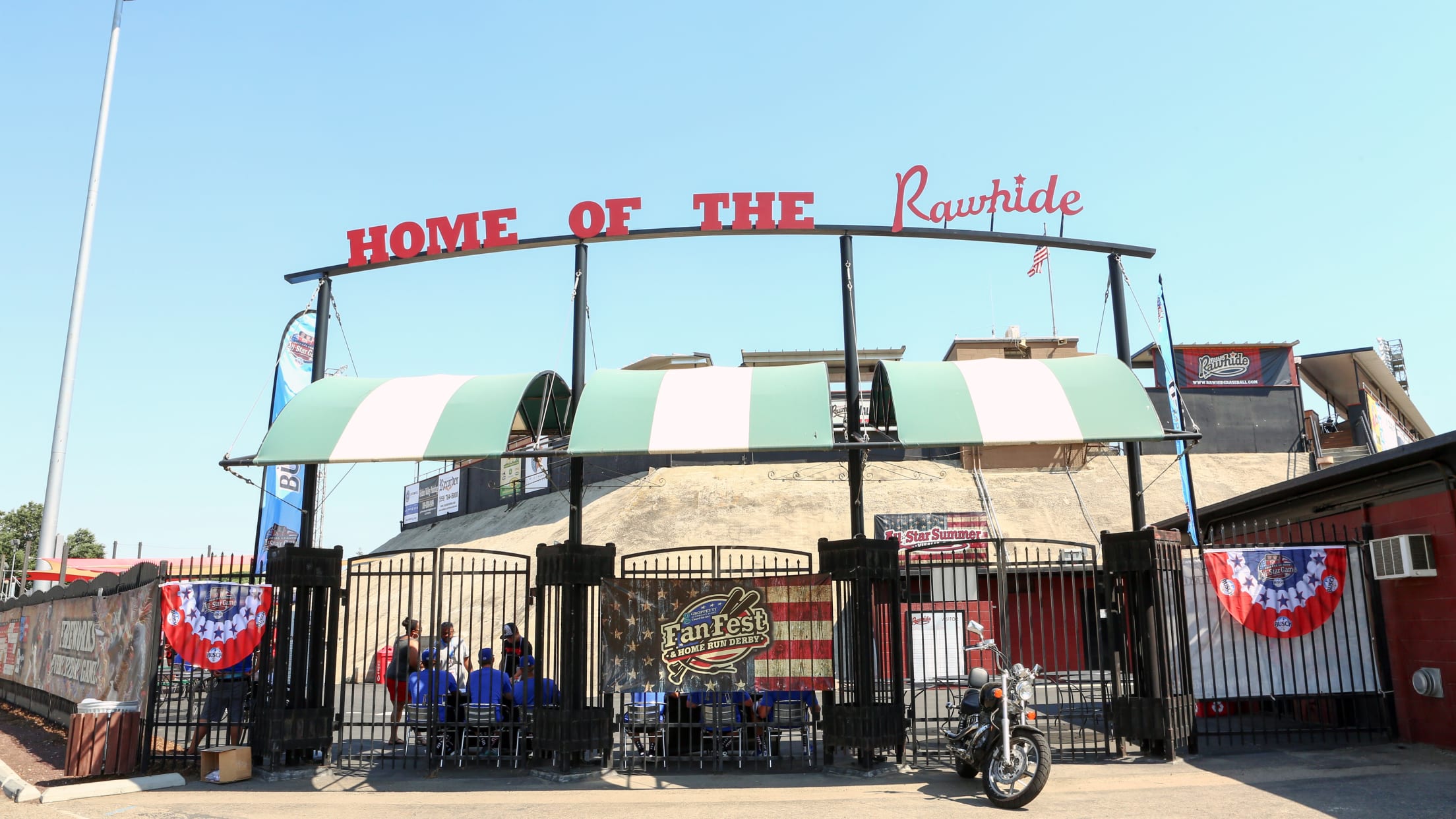 The on-field heritage of the franchise is as rich as could be expected. Bud Heslet was with Visalia when he bested Modesto's Dick Greco to set a league record with 51 home runs over 140 games in 1956. Kirby Puckett piled up 172 hits for Visalia in 1983. In 2010, Paul Goldschmidt was the league's MVP after leading the loop with 35 homers and 42 doubles.
The Rawhide were also long famous among Minors aficionados for the Curse of the Alligator, which they put to rest in 2019. But the tale -- er, tail? -- of Chopper will forever be a part of the team's lore. Joe Charboneau, destined to become the AL Rookie of the Year in 1980, played for the 1978 Visalia club (then known as the Oaks) for the whole season, and he kept in his bathtub a pet alligator.
At season's end, when the Oaks had won it all, Charboneau was forbidden by his wife from bringing Chopper home and left the reptile in the care of a teammate. Chopper, evidently displeased with this arrangement, bonked his head during a brazen escape attempt. He ultimately succumbed to the injuries to his poor akinetic skull.
The team suffered the wrath of his scaly ghost, failing to make the finals in 1979, then losing four straight championship series from 1980-83, then another in '86.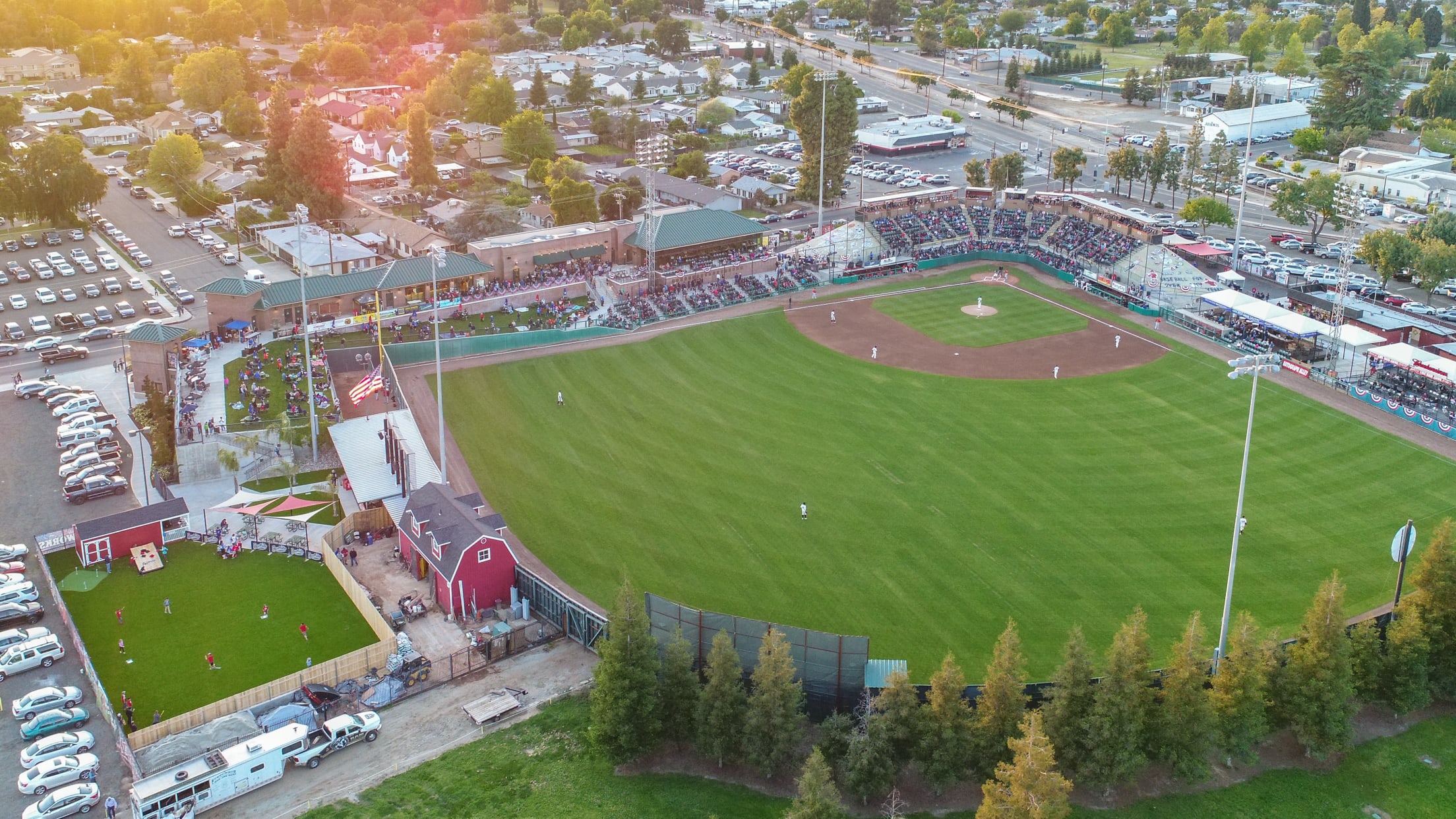 Features
If you've ever bemoaned any stadium as "cookie-cutter," there's a decent chance Valley Strong Ballpark will become your favorite sports venue the moment you visit. Steeped in tradition it is, but there's nothing cookie-cutter about this place. Several aspects of the park stand out immediately.
Valley Strong Ballpark is small, with fewer fixed seats than any other venue in affiliated baseball, and the stadium's size goes a long way in making Rawhide games feel like the best of two things: There's the electricity of pro baseball, and there's the casual intimacy of a small-town ballgame.
In right-center field is a comely red barn, which steers one's attention back to the farm feel of the place. Skyboxes -- old-fashioned, wooden enclosures offering shade, a great vantage of the game and, occasionally, a ring-able cowbell or antique barnyard dinner bell -- beautify the park even for those who aren't sitting in them.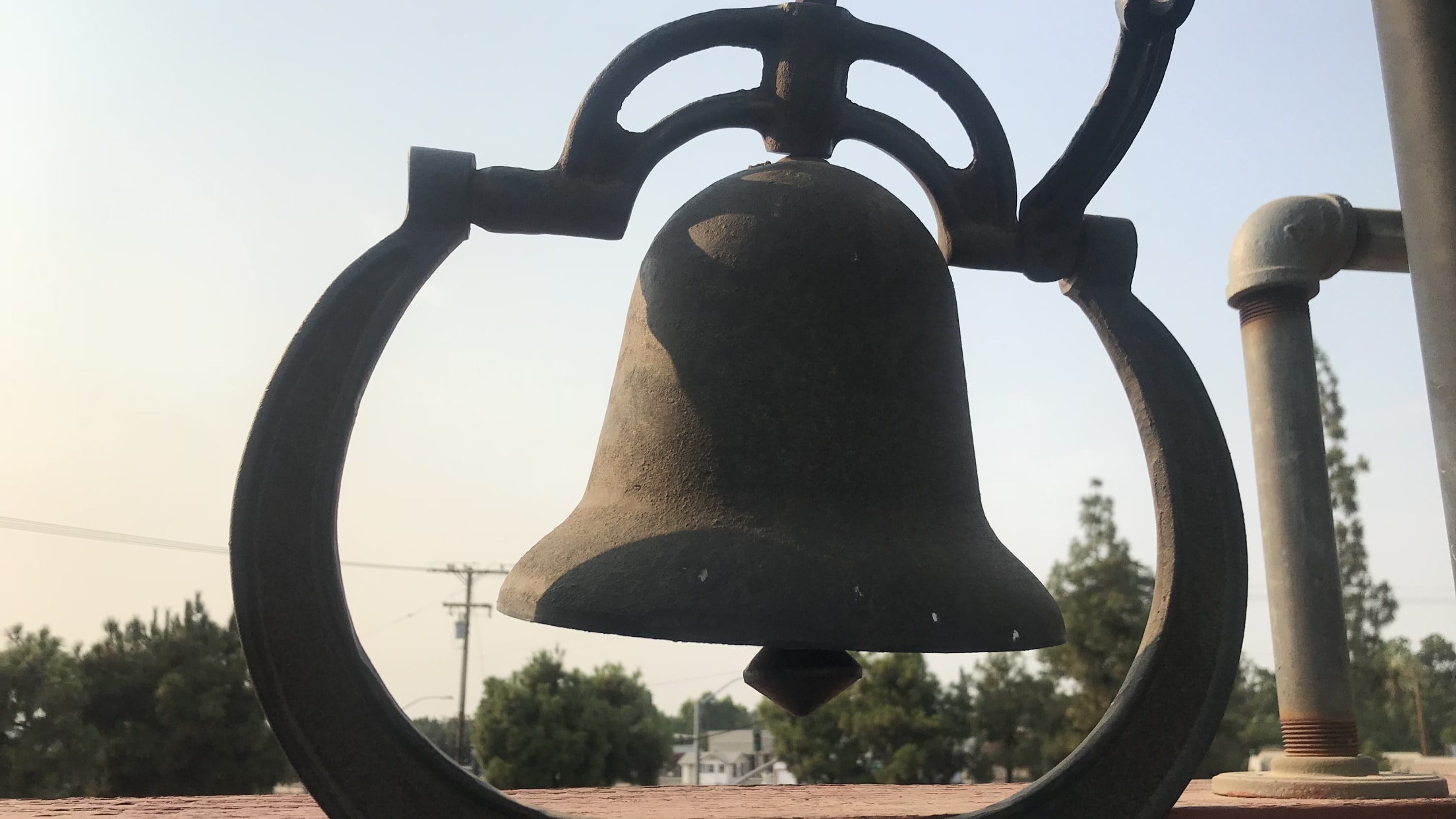 Perhaps the most striking feature -- unique in the literal sense of the word -- is an exposed cone of gunite (a pressure-sprayed mixture of cement, sand and water) upon which moments of the Rawhide's history are writ large.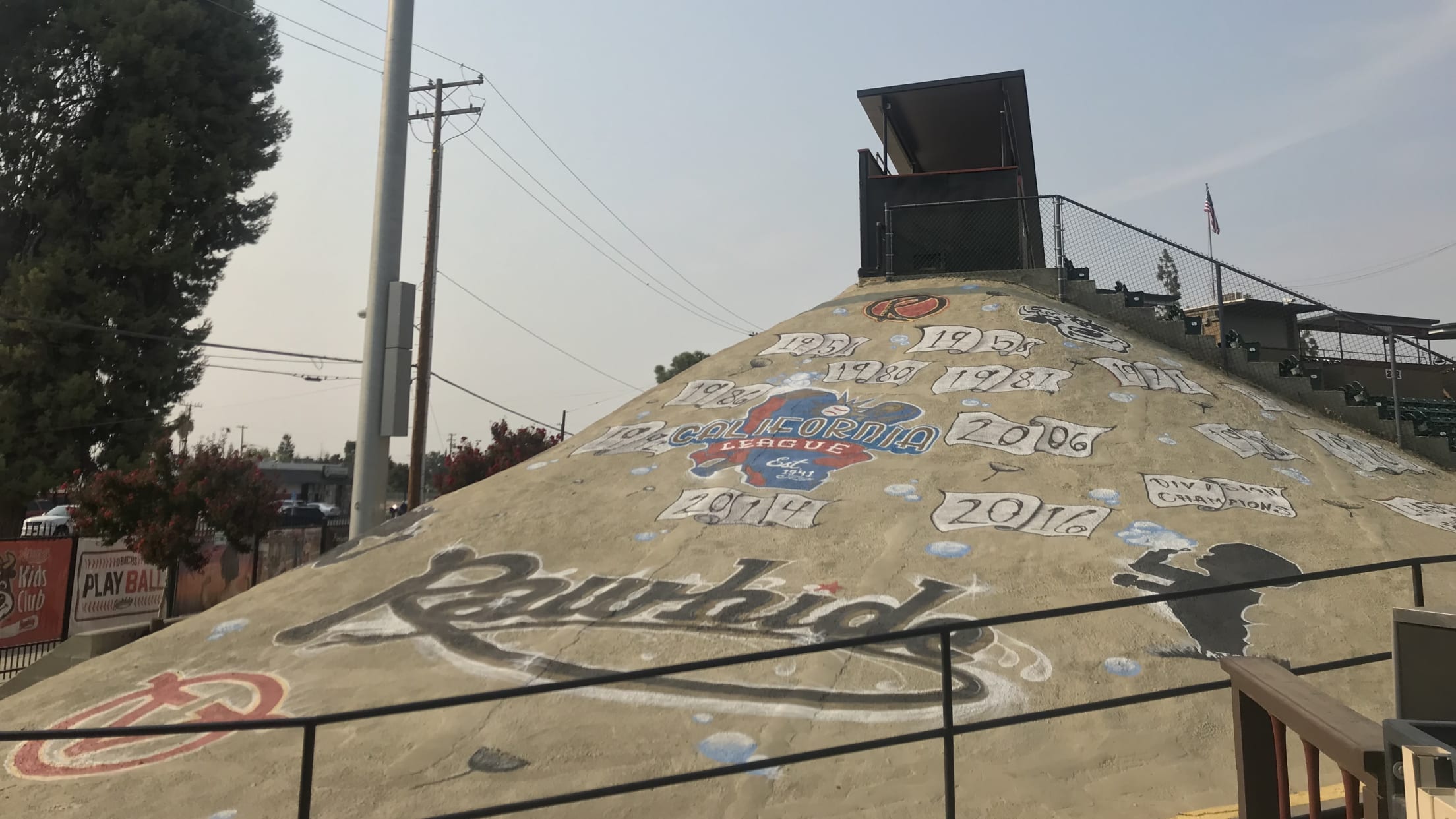 When California's Route 198 underwent an upgrade in the '60s, the town of Visalia repurposed construction debris -- rock and soil -- and covered it with gunite to form the foundation of a brand new grandstand for its two-decade-old ballpark.
The grandstand is no longer new, but it's as fantastic a place to sit and watch a game as ever.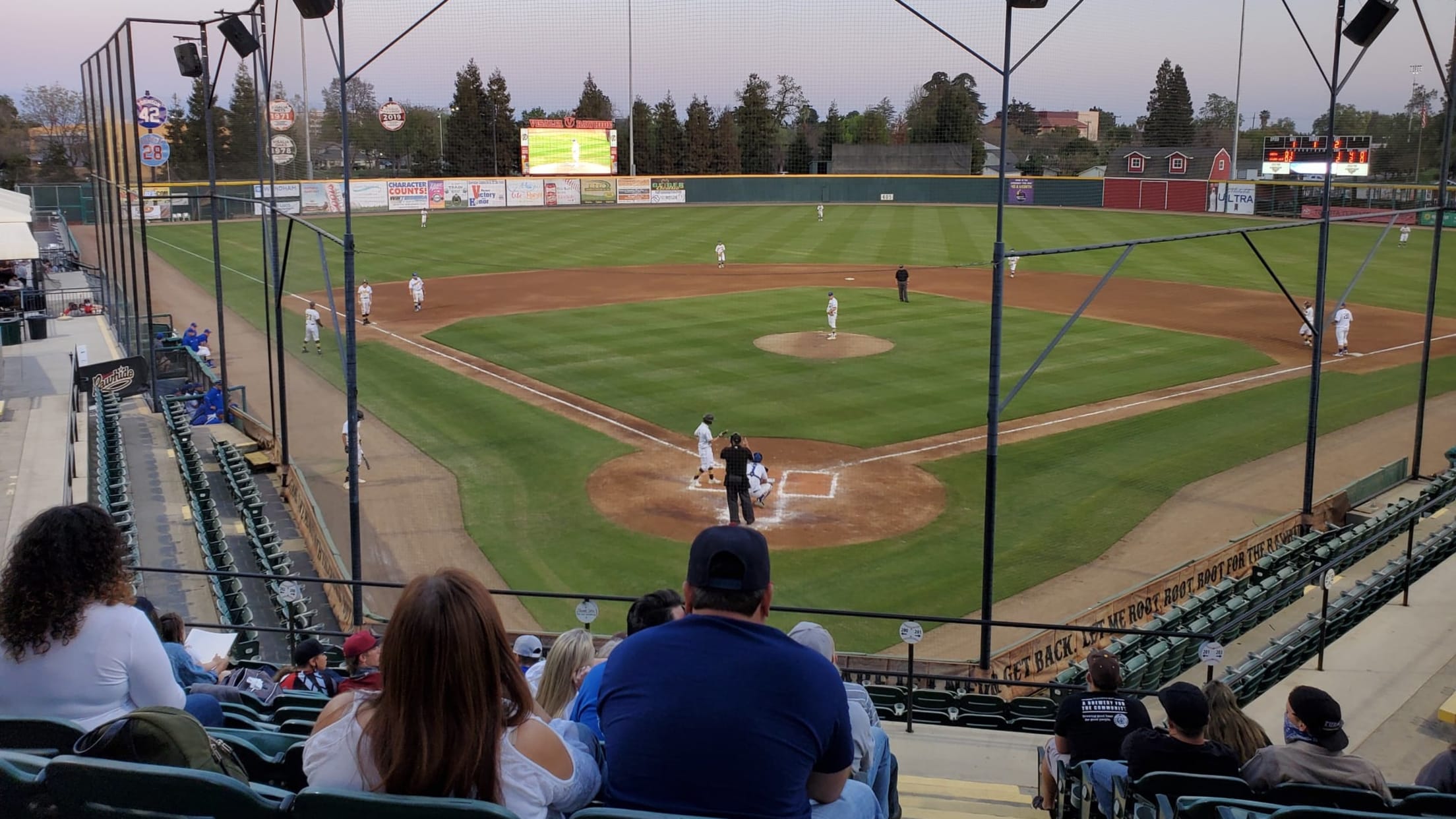 The Rawhide added a state-of-the-art videoboard for the 2021 season. At 18 feet tall and 35 feet across, it's easily visible from all over the stadium.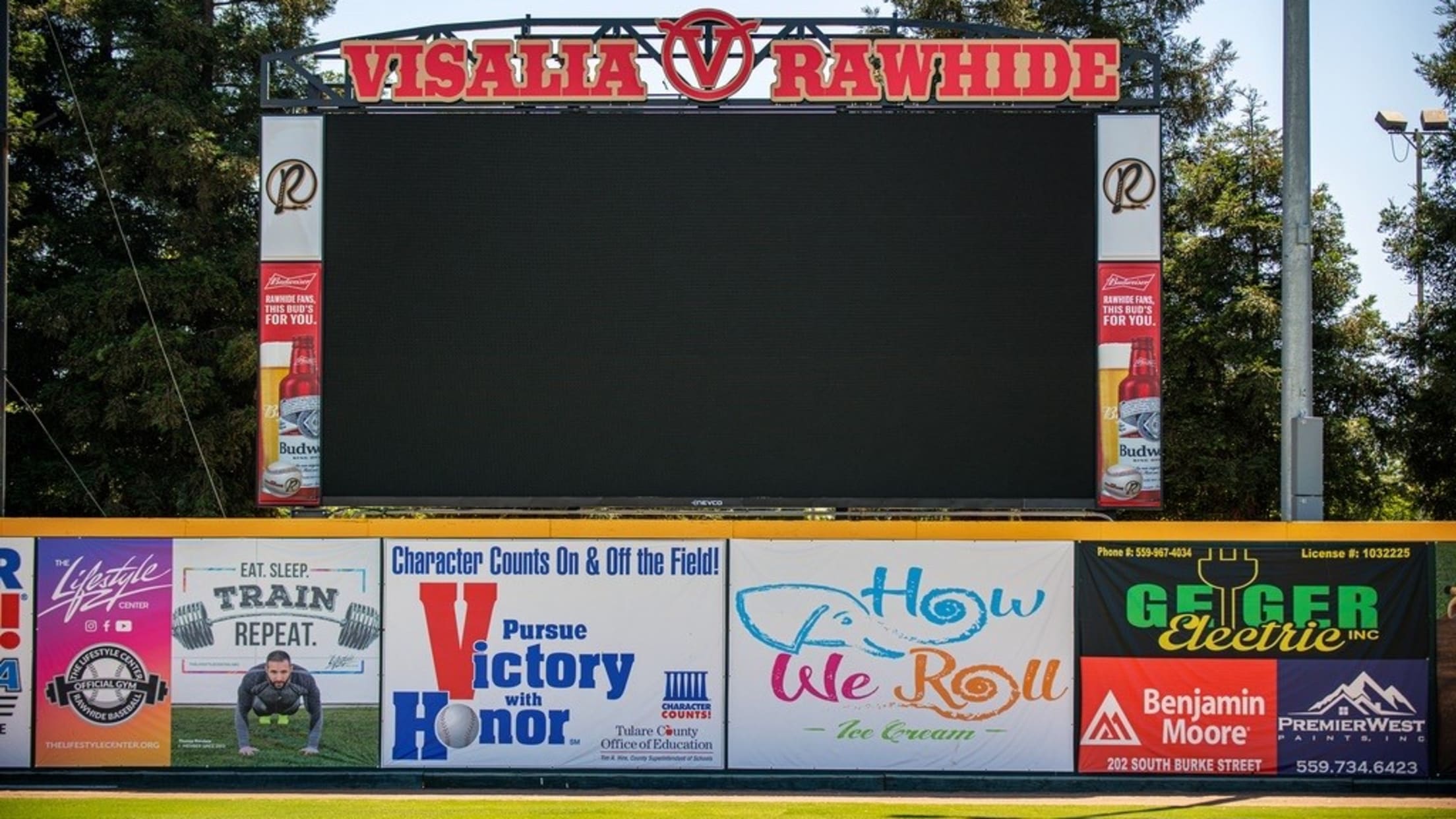 Do not miss -- although, how could you? -- America's largest cowbell on the concourse.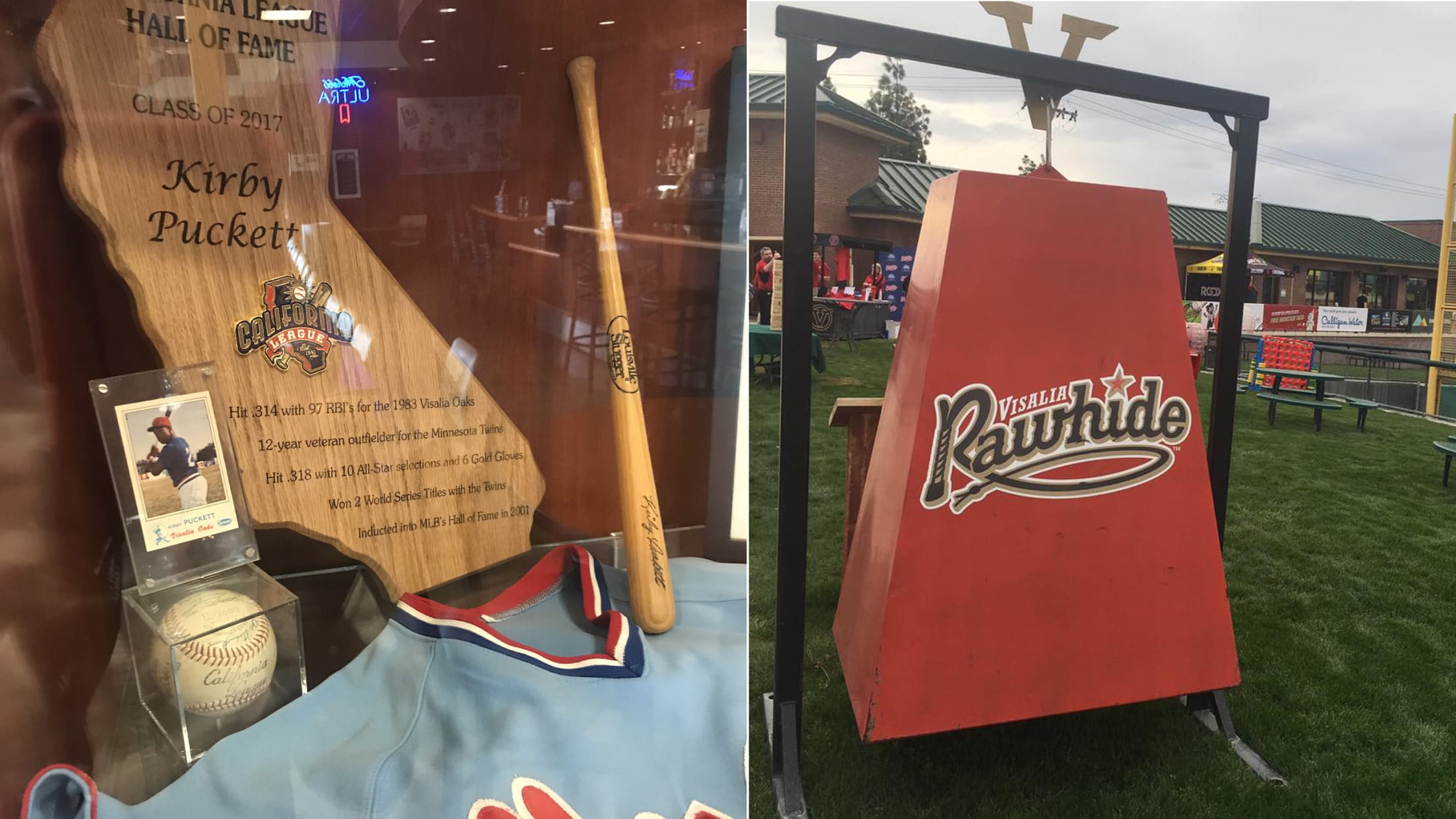 Group seating options are plentiful.
The Michelob Ultra Hall of Fame Club, an air-conditioned barroom and restaurant, is filled with memorabilia of the franchise. The surfaces of countertops are decorated with historical press clippings related to the club and its players, and the walls are adorned with trophy cases, uniforms, plaques and assorted relics of victories past.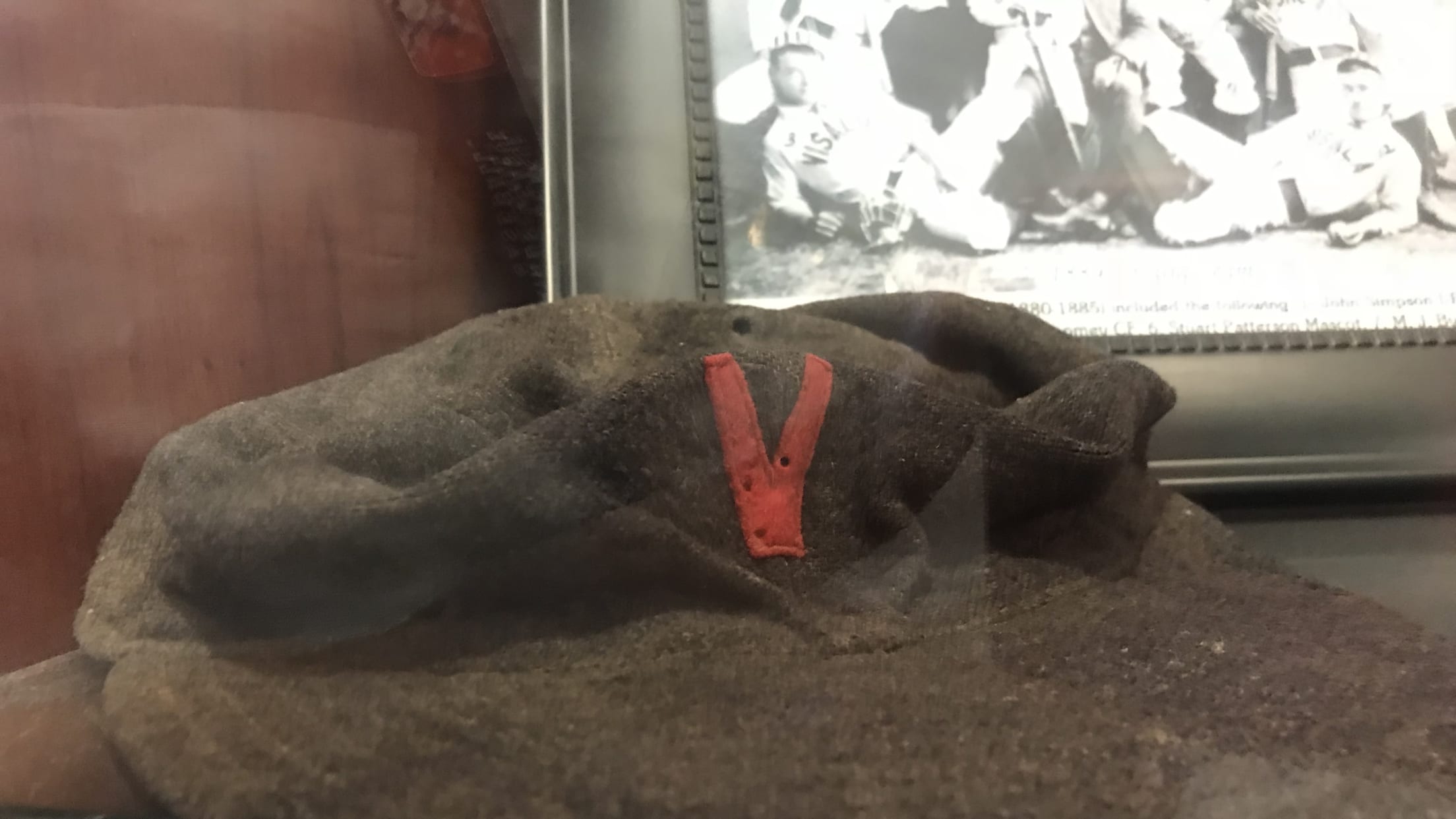 For anybody with even a passing interest in Minors history, it's a dream come true. Individual tickets to the Hall of Fame Club are often available, although it's generally more popular with groups. Buying a skybox -- which also includes waiter/waitress-service -- or booking the Tioga-Sequoia Lookout (which holds up to 18 in a shaded setup next to shallow right field) also guarantees access.
The team also honors players, managers, key civic leaders and team executives with plaques visible to all along a brick wall underneath the Michelob Ultra Hall of Fame Club.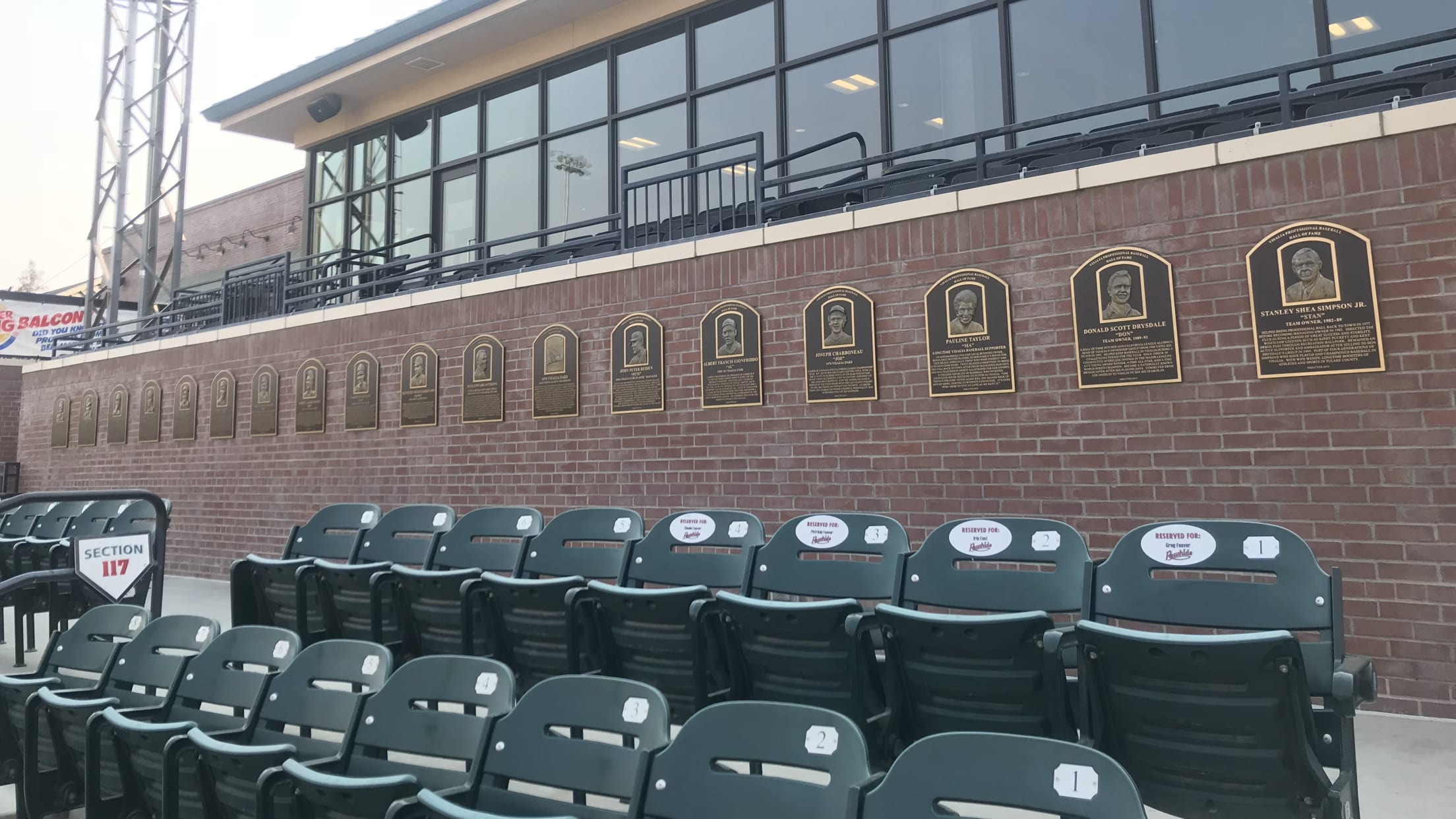 The Chevron Doers section, which can take a group of up to 31, has the best access to America's largest cowbell and the Pasture -- a huge, uh, pasture along the right-field line that curves behind the visitors bullpen.
Between the visitors bullpen and the red barn in right field is the Toyota Terrace, which offers high-top tables and chairs, stadium seating, great field-level views of the action, and exclusive access to the adjacent Kids Corral, where the wee ones can enjoy Wiffle ball and other games.
On the other side of the park, Stiehl Saloon is a party deck right atop third base, with misters keeping things cool and abundant drink options. Farther down the left-field line is the Budweiser Red Zone, with comfortable seating options for up to 200 fans. It can be booked with a full bar.
Concessions
The Rawhide know what you're thinking: "All this cow stuff, but where's the beef?" There are multiple hamburger options, but the big hit is the Rawhide Burger, which ropes in some bacon, too.
Carne asada nachos, heaped into a full-sized batting helmet, are another beloved staple, and carne asada burritos are also on hand.
Cheese curds begin to cover your bases for dairy, but it would be unreasonable on a hot day to forgo ice cream from the local Rosa Brothers Milk Company.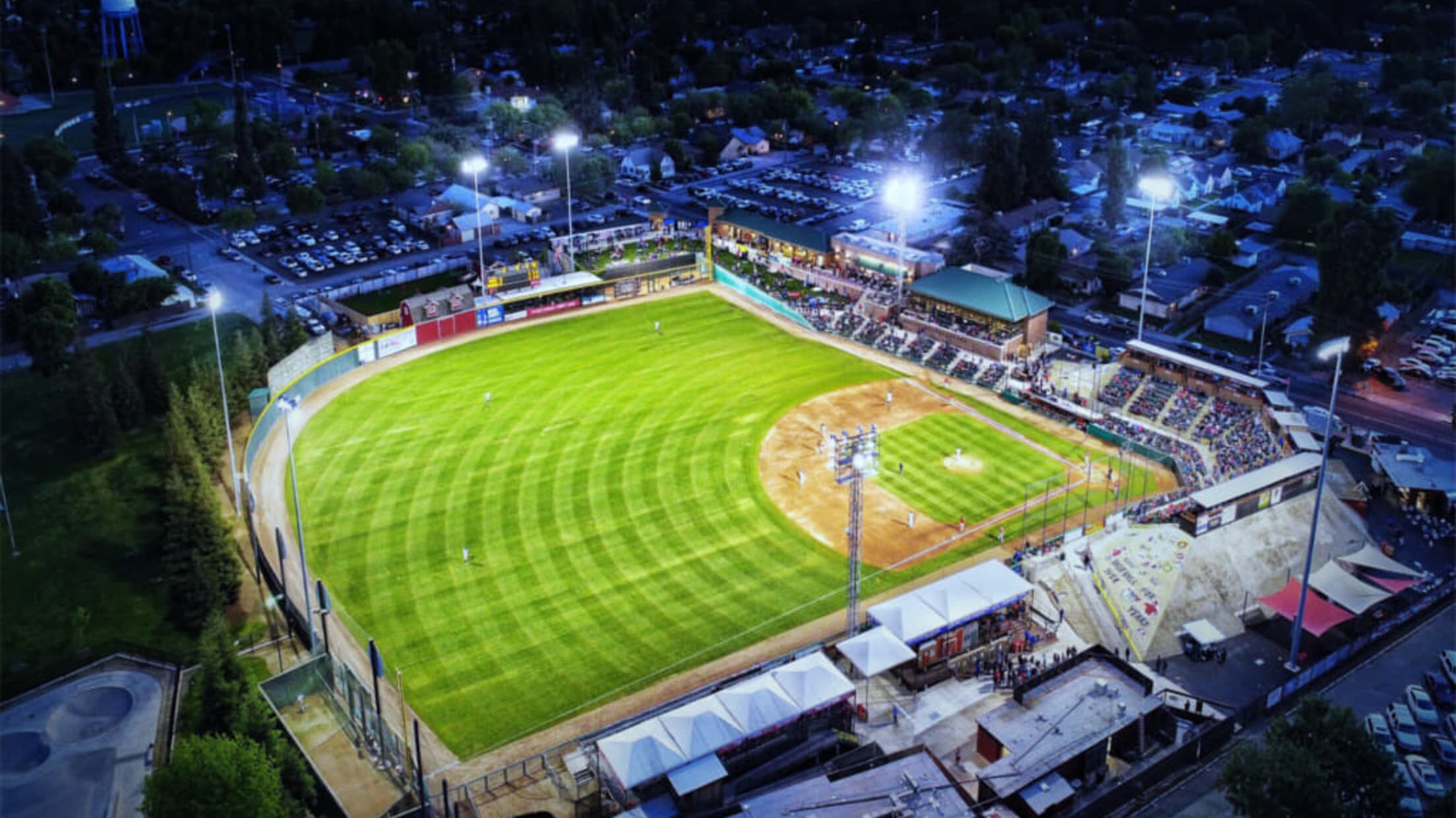 Fancy a tipple? Head to the Jameson On Deck Grill, where spirits and grilled items alike are served behind the visitors dugout.
Craft beers -- including but not limited to selections from local-favorite Tioga-Sequoia Brewery -- are available at concessions stands.
The Rawhide are also known to shake things up a bit depending on the opponent. When the Dodgers-affiliated Rancho Cucamonga Quakes are in town, you might be offered a Dodger Dog. The arrival of the San Jose Giants may fill Valley Strong Ballpark with the aroma of garlic fries.
Mascots
Tipper T. Bull is a bovine of the people. He loves only one thing more than he loves baseball, and that's the community of Visalia.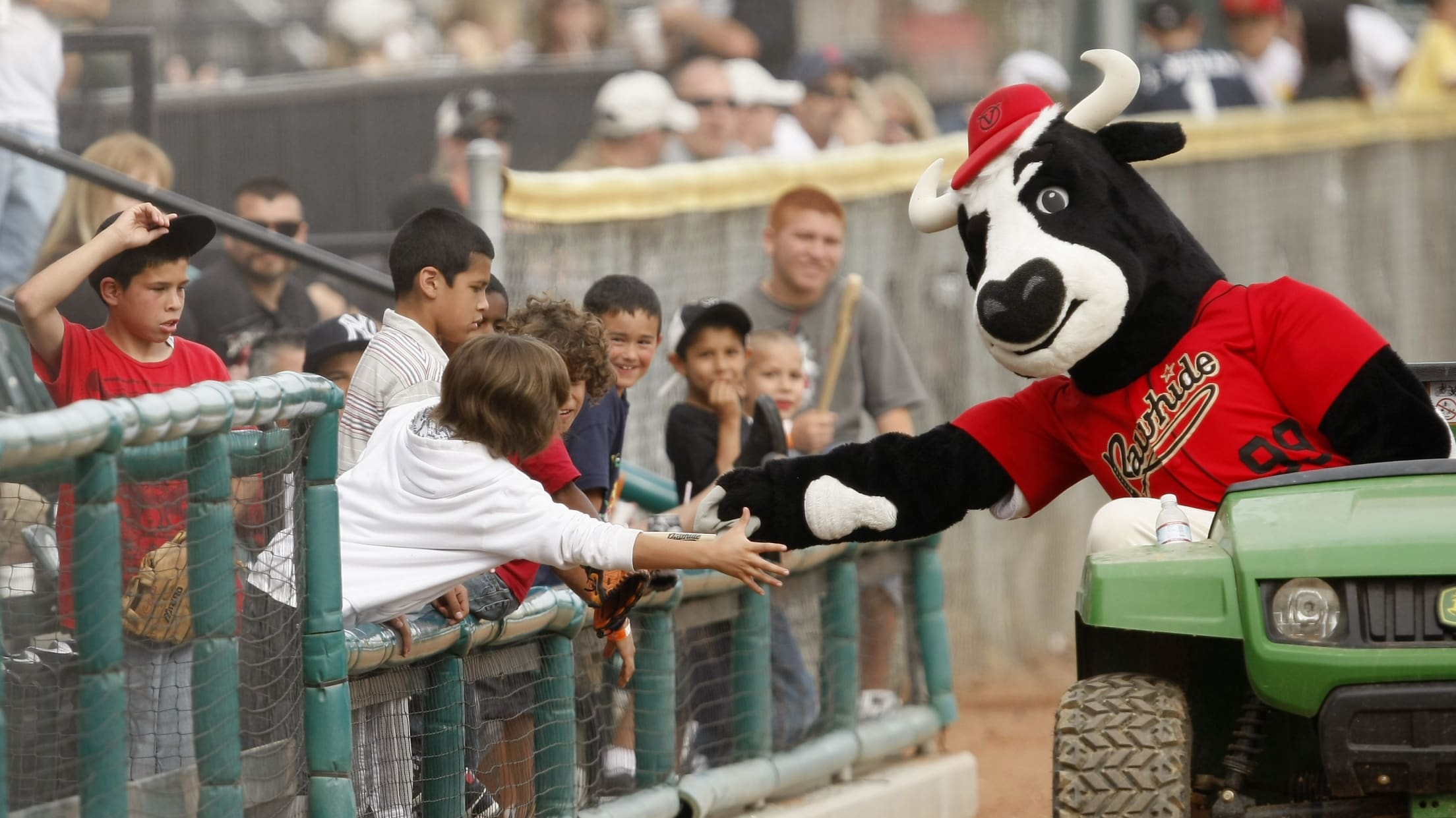 Always a friend to children, he's been known to play pranks on their parents.
Where to Stay
Headed to the stadium and looking for a hotel nearby? Your Wyndham is waiting. As the Official Hotel of Minor League Baseball, Wyndham Hotels & Resorts welcomes baseball fans with a portfolio of 24 trusted brands. Find Hotels by Wyndham closest to the ballpark below and book now at wyndhamhotels.com.
• Super 8 by Wyndham Visalia
• Super 8 by Wyndham Lindsay Olive Tree
• La Quinta Inn & Suites by Wyndham Tulare
• Wyndham Visalia
• La Quinta Inn & Suites by Wyndham Visalia/Sequoia Gateway
Local attractions
Visalia is a likely stopping place on any California road trip that doesn't strictly hue to a coastal route, because it forms the eastern point on a triangle with San Francisco to the northwest and Los Angeles to the southwest. But it's also a must-stop spot for many because of its proximity to Sequoia and Kings Canyon National Parks. The Rawhide get visitors from all over the world -- wise travelers who realize a trip to see the world's most massive tree (General Sherman, in Sequoia National Park) is incomplete without a visit to America's biggest cowbell.
The inverse is true, too: if you're coming to see the wonder of the Rawhide, you'll have no regrets about including a stop of any duration in the parks of the southern Sierra Nevada.
No interest in the trail, but still hope to get your peepers on some animals? As it happens, the aforementioned Rosa Brothers Milking Company offers both creamery tours and farm tours, and other agriculture-oriented tourism options abound in the region.
There are also sights worth seeing in Visalia itself. The Fox Theatre, an original movie palace built in 1930, was a key piece of downtown nightlife for decades and underwent a loving restoration by members of the community in the late '90s. Today it operates as a non-profit performing arts venue, with live music, theater, retrospective film showings and more.
Visalia Adventure Park has batting cages, go-carts, water slides, laser tag, mini golf and -- believe it or not -- more.
Food and drink
Main Street in downtown Visalia has a multiple-block stretch crammed with restaurants of just about every kind, also including breweries, pubs and wine bars. Take pleasure strolling up and down the sidewalk before making your choice.
If fatigue or the anxiety of indecision forbids such a thing, save the stroll for later and go directly into Quesadilla Gorilla, right next to the Fox Theatre. Begun by a husband-and-wife team and adhering to a philosophy of "Peace, Love & Dillas," Quesadilla Gorilla offers tortilla concoctions from the tried-and-true to the funky. There are vegan options, options for those who can't get enough meat and options for Nutella freaks. There are homemade salsas. There's a specialty "Dilla of the Day." There is, in short, something for everyone.
If you have breakfast on the brain, a few quality diners are in the downtown area. Dimples Diner has eggs any way you want them, griddle options and generous portions served with a giant slice of Americana on the side. On the other end of the Main Street stretch and around the corner, the 210 Cafe has somewhat lighter fare in the same general price range.
Component Coffee Lab on Main Street serves up a dynamite cup and also offers an upscale breakfast burrito, breakfast sandwiches and donuts -- colorful and sweet-smelling and topped with all varieties of goodness -- that defy resistance.
There are many noteworthy dining options away from Main Street, too. El Jardin Mexican Restaurant, a few blocks north, is a local favorite. The Pickled Deli, a 10- or 15-minute drive from downtown, opened in 2019 and has drawn rave reviews.
Moving on
In Visalia, you're in the middle of everywhere. The Rawhide play in the league's south division, but never was there ever such a northerly team of the south. Fresno (about 40 minutes), Modesto (2:15) and Stockton (2:45) are a straight shot along Highway 99 northbound. When you're up there, keep going north to see the Sacramento River Cats (Triple-A affiliate of the Giants), and hook over to the Bay Area to catch a game in San Jose before seeing the big league parks there.
If you're eager to take in Southern California, who could blame you? Catch the Rancho Cucamonga Quakes, Inland Empire 66ers and Lake Elsinore Storm while stitching in Dodgers, Angels and Padres games.
The Road to Arizona
Before D-backs prospects get to The Show in Phoenix, they travel all over the West, with stops in California, Oregon, Texas and Nevada.
Single-A: Visalia Rawhide
High-A: Hillsboro Hops
Double-A: Amarillo Sod Poodles
Triple-A: Reno Aces