Mejia being aggressive in first Padres stint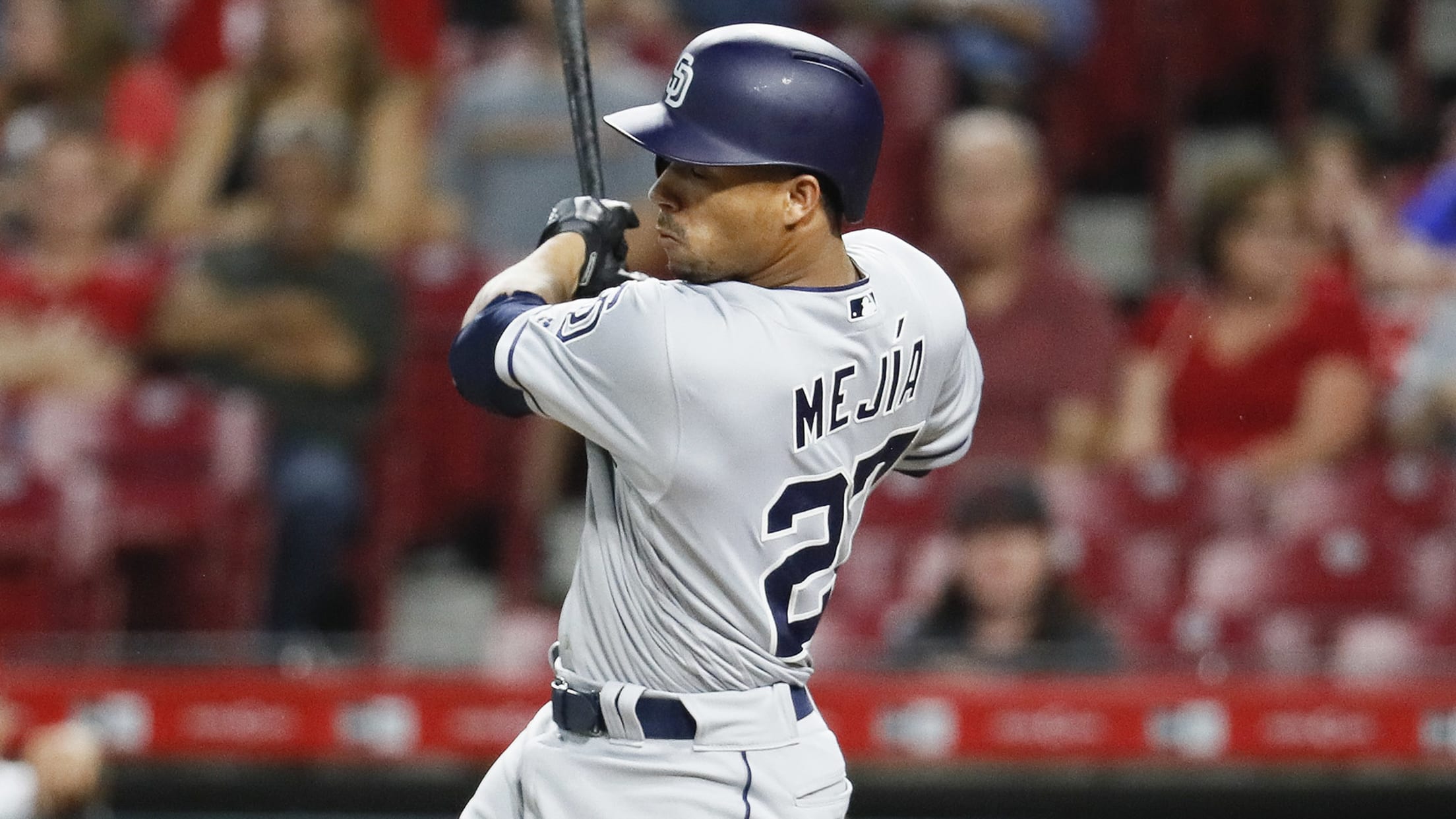 San Diego Padres' Francisco Mejia hits a single off Cincinnati Reds starting pitcher Anthony DeSclafani in the first inning of a baseball game, Friday, Sept. 7, 2018, in Cincinnati. (AP Photo/John Minchillo) (John Minchillo/AP)
SAN FRANCISCO -- When the Padres traded for Francisco Mejia in July, they knew they'd landed an extremely unique bat.It's been three weeks since Mejia -- MLB Pipeline's No. 1 catching prospect -- received his callup. He's lived up to that billing.Through 50 plate appearances, Mejia is hitting a mundane
SAN FRANCISCO -- When the Padres traded for Francisco Mejia in July, they knew they'd landed an extremely unique bat.
It's been three weeks since Mejia -- MLB Pipeline's No. 1 catching prospect -- received his callup. He's lived up to that billing.
Through 50 plate appearances, Mejia is hitting a mundane and unimpressive .217/.280/.457 with three homers, three walks and 15 strikeouts. But the at-bats he's taken to arrive there have been nothing short of extraordinary. Nearly all of his plate-discipline numbers are outliers. He's swinging at everything.
To be precise:
• Mejia is swinging at pitches outside the strike zone at a 51.9-percent clip. That's easily the highest mark in the Majors among players with at least 50 plate appearances.
• Likely stemming from that first number, Mejia has seen pitches in the strike zone only 36.5 percent of the time, the Majors' third-lowest mark.
• And yet, despite the swings he's taking at pitches that should be balls, Mejia is making contact on 76.3 percent of his swings (approximately MLB average). He is whiffing on 13.7 percent of pitches (above MLB average, but not by much).
There's a lot to unpack in these numbers. But it's pretty obvious why they exist.
Mejia has other-worldly bat speed, which allows him to hit pitches other hitters can't. That much became obvious in his first start, when he crushed two homers on upper-90s fastballs -- both of which painted corners.
"Franky has the ability to put the barrel on the ball in unique spots," Padres manager Andy Green said. "Balls that have almost hit him, I've seen him barrel up -- hard."
Generally speaking, that's a good thing. It's what attracted the Padres to Mejia in the first place. It's why they gave up Brad Hand and Adam Cimber to acquire him. But...
"Damage is going to be a lot harder to do if he's swinging at pitches outside of the strike zone," Green said. "He could get some hits. But driving pitches hard, consistently, is going to be more difficult."
And therein lies the biggest question mark surrounding Mejia's bat: As he develops and grows more comfortable in the Majors, can he force pitchers into the strike zone?
"I know that when I'm in the strike zone, I get good pitches and I do damage," Mejia said through an interpreter. "I can make contact all the time. But it's not necessarily good contact. It's something weak, not something I can do damage on."
It's important to recognize Mejia's early numbers represent a small sample -- and the sample isn't random either. It's his first taste of regular at-bats in the Majors. It's fair to expect he'd be a bit over-aggressive.
Two years ago, another over-eager Padres hitter arrived on the scene with similar question marks. This year, Hunter Renfroe has been arguably their best offensive performer.
"He's similar to Hunter in that when he showed up to the big leagues, he could say he'd hit the pitch that was six inches above the zone," Green said. "Pitches a foot inside, he's hit out of the ballpark before. Down, underneath the zone, he's hit those out before.
"If I've hit those pitches out, why wouldn't I be swinging at them? It creates, in some ways, a positive reinforcement for chasing."
As time goes by, Mejia will almost certainly be forced to evolve. The bad pitches he managed to hit in the Minors might be unhittable in the Majors. Mejia will need to learn to lay off those pitches. That's no easy task -- just ask Renfroe -- but Mejia is keenly aware of its importance.
"Up here, there are reports," Mejia said. "People know what you do, how you swing. For me, I need to go into the offseason with the mindset to redo my approach."
Indeed, Mejia's first taste of regular playing time in the big leagues hasn't taught the Padres anything they didn't already know. It's how he adjusts to this stint that could be telling.
"We looked at him as a unique talent when we acquired him," Green said, "someone who was capable of doing things other people aren't capable of."
Worth noting
• The Padres have renamed their annual prospects game against the Rangers as the "Don Welke On Deck Classic." It's a tribute to Welke, the vice president of scouting operations who died last Thursday at 75. Welke spent 50 seasons in Major League Baseball, including stints with both the Rangers (2007-14) and Padres (2014-18). This year's "Classic" takes place on Thursday at Petco Park.
• Right-hander Luis Perdomo will start a bullpen game in Wednesday's series finale against the Giants. The Padres chose Perdomo as the starter over Matt Strahm and Miguel Diaz, who could both be used in relief. Perdomo is expected to pitch about three innings, Green said.