Montas set to rejoin A's rotation tonight
Right-hander to be activated prior to start; Joyce progressing; Gossett shut down after setback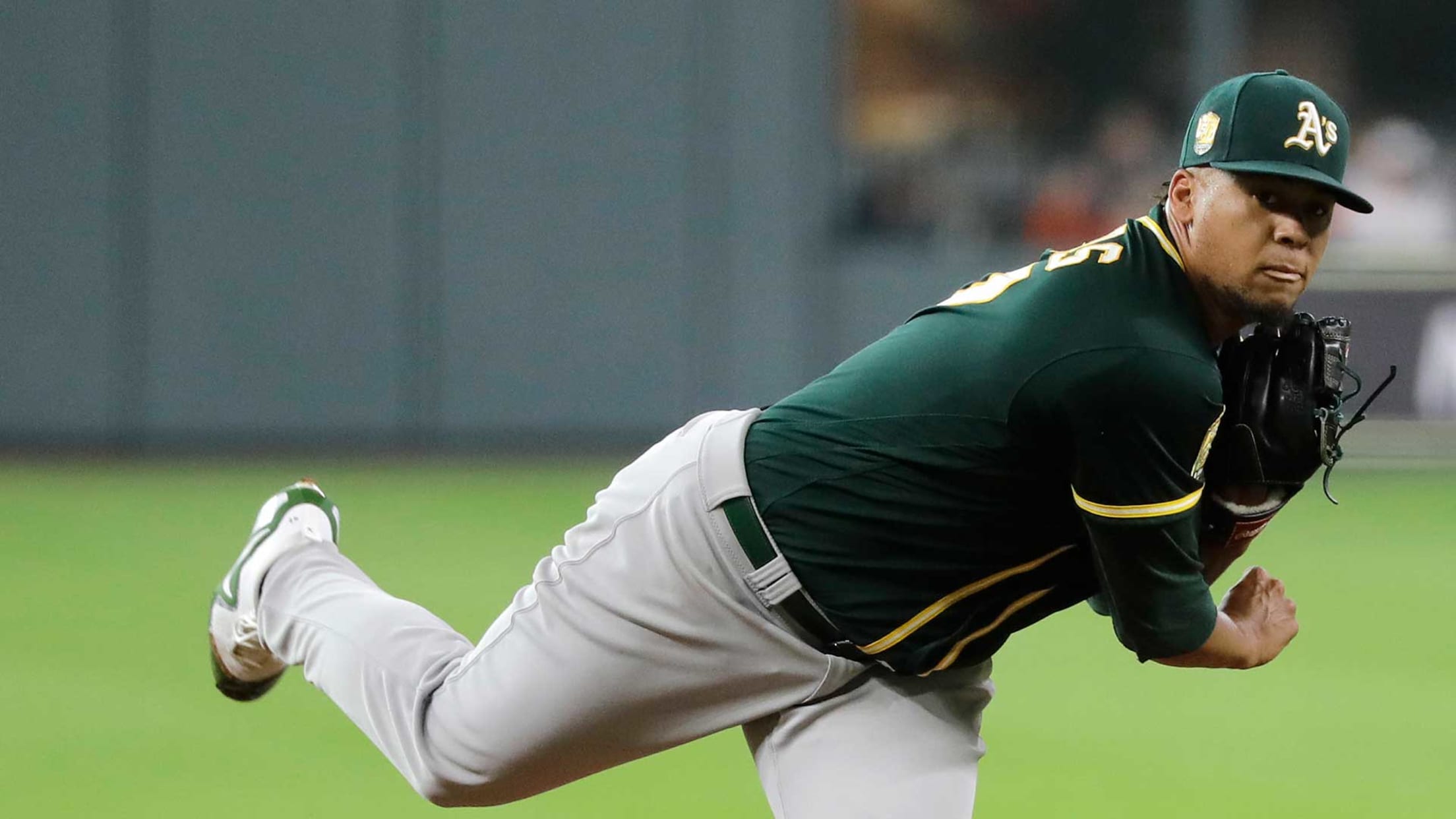 ARLINGTON -- The A's have more than half a dozen starting options available at their disposal these days -- a luxury for a club that, not long ago, was struggling to keep five healthy.Finally, they're in position to make rotation decisions based on performance rather than sheer need. To that
ARLINGTON -- The A's have more than half a dozen starting options available at their disposal these days -- a luxury for a club that, not long ago, was struggling to keep five healthy.
Finally, they're in position to make rotation decisions based on performance rather than sheer need. To that end, they opted to round out their post-break rotation with right-hander Frankie Montas, who will start Tuesday's game in Arlington.
Montas was in the A's clubhouse ahead of Monday's series opener with the Rangers and will be activated Tuesday.
"It's a little different than what we've had here recently with guys going down, and now we have tougher decisions to make about who's going to be part of the five," A's manager Bob Melvin said. "Frankie did exactly what we asked him to the last couple times out."
Montas has completed at least five innings in seven of his eight starts with the A's, allowing no more than three earned runs in six of them. He's averaging 2.8 walks per nine innings, after averaging 5.6 out of the bullpen last year. Moreover, he's yielded just two homers across 48 1/3 innings, compared to 10 in just 32 innings in 2017.
"It's confidence," Melvin said. "The stuff's always been the same for him. It's throwing it over the plate, it's trusting your mechanics and being confident on the mound, and when you have success at the big league level after what was a tough year for him last year, you can just see the talent level come out, and that's because of the confidence level he has on the mound now. He's pitched really well, and he should be confident."
Montas' impending return means right-handers Daniel Mengden and Chris Bassitt will continue getting work at Triple-A Nashville. Mengden, who pitched well when healthy for much of the first half, will likely be the next man up when the A's decide to make another change.
Mengden hasn't pitched for the big league club since June 23, having spent the majority of the last month rehabbing a sprained right foot. In total, Oakland has relied on 12 different starters this year.
"We'll just see how it works out down the road, but we're in a better spot to have more guys than the spots we have than try to patch it together and start some relievers like we were having to do earlier," Melvin said. "We're in a position where there's a little bit more of an emphasis on trying to win every game. Guys that perform will get more looks. There's also the dynamic of trying to keep as many guys in the fold as you can based on the fact that we've had the injuries that we've had. But the bottom line is we're trying to win every game we can."
Worth Noting
• Outfielder Matt Joyce (lumbar strain) resumed baseball activities on Monday, taking dry swings at the Coliseum as he begins a gradual progression to a rehab assignment.
• Right-hander Daniel Gossett (elbow strain) suffered a setback in his rehab, Melvin said, and has been shut down from throwing.
Jane Lee has covered the A's for MLB.com since 2010.