Streaking Reyes leads MLB in hitting since Aug. 21
Notes on Galvis, Myers, Erlin, Spangenberg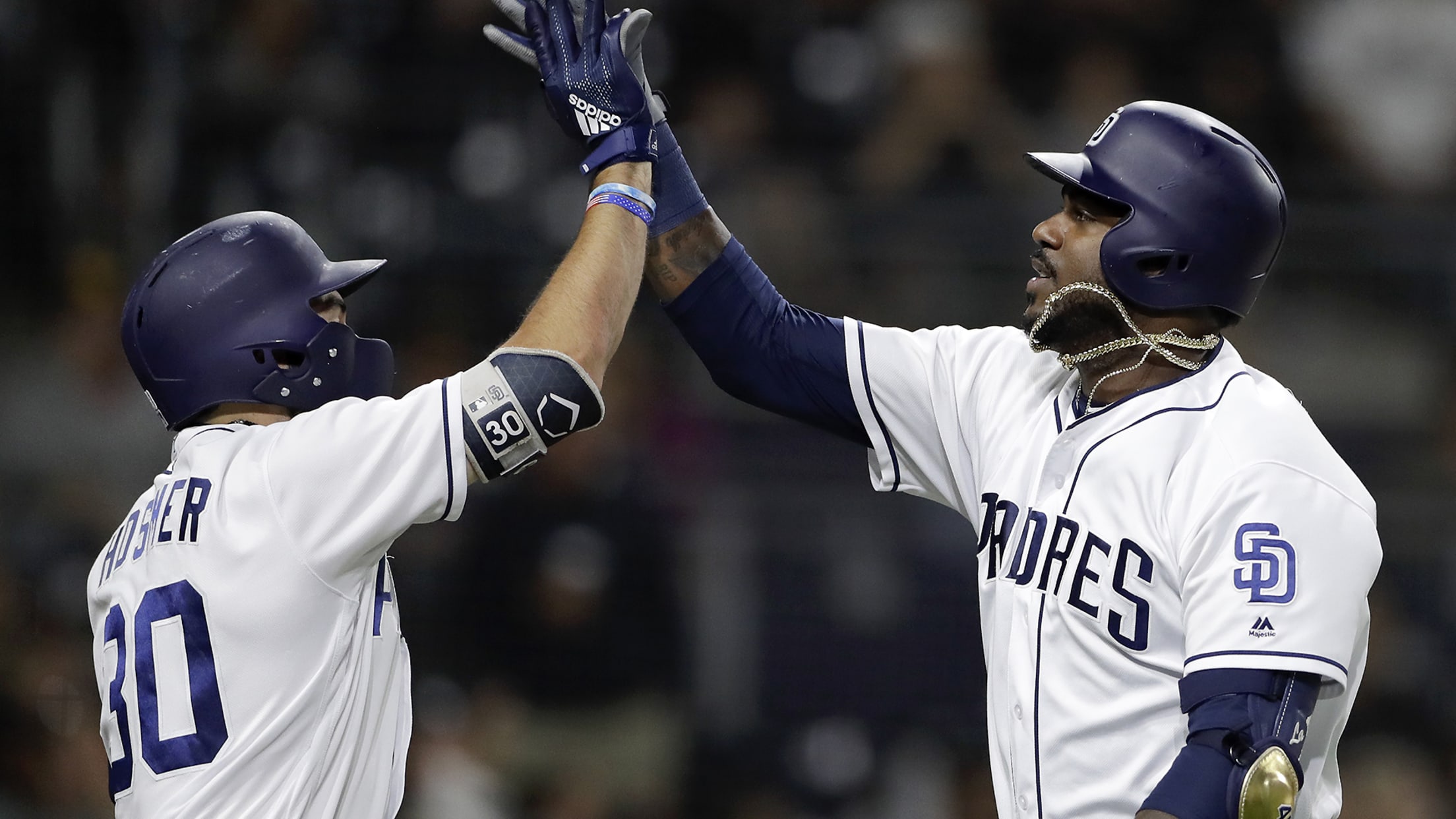 San Diego Padres' Franmil Reyes, right, celebrates with Eric Hosmer after hitting a two-run home run during the fifth inning of a baseball game against the San Francisco Giants on Tuesday, Sept. 18, 2018, in San Diego. (AP Photo/Gregory Bull) (Gregory Bull/AP)
Bill Center, longtime sportswriter for U-T San Diego, is an employee of the Padres.Franmil Reyes has hit safely in 11 straight games.Just before that, he hit in 10 straight games. The rookie right fielder has hit safely in 21 of his last 22 games and 24 of his last 26.Had
Bill Center, longtime sportswriter for U-T San Diego, is an employee of the Padres.
Franmil Reyes has hit safely in 11 straight games.
Just before that, he hit in 10 straight games. The rookie right fielder has hit safely in 21 of his last 22 games and 24 of his last 26.
Had Reyes gotten a hit on Sept. 6 at Cincinnati (0-for-3) and Aug. 24 at Dodger Stadium (0-for-2 with a walk), he'd be riding the third-longest hitting streak in Padres history.
Reyes' current streak is tied for the longest by a Padre this season. Christian Villanueva and Hunter Renfroe also had 11-game hitting streaks this season.
Reyes is 16-for-39 (.410) during his 11-game hitting streak with a double, a home run, four RBIs and six runs scored.
Over his last 26 games since Aug. 21, Reyes has gone 32-for-81 with two doubles, seven home runs, 14 RBIs, 14 runs scored and 11 walks for a .395 batting average, a .467 on-base percentage, a .679 slugging percentage and a 1.146 OPS.
His .395 batting average is the highest in the Major Leagues since Aug. 21. He has raised his season batting average from .222 to .284 in the 26 games.
Reyes' run immediately followed a 0-for-23 drought.
Speaking of hitting streaks in Padres history, Benito Santiago's 34-game streak toward the end of the 1987 season remains the longest ever by a Padre. Santiago's streak is also the longest hitting in Major League history by a rookie and a catcher.
The second-longest hitting streak in Padres' history was also by a catcher -- John Flaherty's 27-game streak in 1983.
Tony Gwynn's 25-game hitting streak is the third longest in Padres history followed by Bip Roberts (23 straight games in 1994), Bobby Brown (21 straight games in 1983) and Steve Finley (21 straight games in 1996).
Gwynn has the next two longest streaks at 20 and 19 games. Both of those streaks came during the 1997 season. Gwynn also had an 18-game streak in 1988 - giving the Hall of Famer four of the 13 longest hitting streaks in Padres history. No other player appears more than once on the list.
NOTEBOOK
Freddy Galvis was 2-for-4 Wednesday against the Giants with his 12th homer and four RBIs. The four RBIs moved Galvis back into a tie for the most by a Padre this season. Both Galvis and Eric Hosmer have 65 RBIs this season while Hunter Renfroe has 63. The game also extended Galvis' hitting streak to five straight games -- 10-for-20 (.500) with four doubles, his 12th homer, five RBIs and six runs scored. The streak followed a 3-for-34 drought.
Robbie Erlin has a 3.02 ERA at Petco Park this season compared to a 6.09 ERA on the road. He was credited with the win Wednesday night against the Giants, after being tagged with the loss in each of his last four starts. Wednesday was also his first career win against San Francisco.
With nine games to be played against National League West rivals this season, the Padres are only 22-44 inside their division and have lost the season series to each of their four division rivals. The Padres finished 15-17 against teams from the National League East and 16-18 against teams from the National League Central. They were 7-13 in interleague play.
William Myers hit only his second homer Wednesday since moving to third base on Aug. 13. In 28 games as a third baseman, Myers has hit .217 with a .297 on-base percentage, a .349 slugging percentage and a .646 OPS. He has six RBIs and 13 runs scored with five stolen bases.
Cory Spangenberg was 2-for-4 Wednesday with his first extra-base hit since Aug. 22. The game snapped a 3-for-30 drought.