Galvis finishing strong despite starting every game
Notes on Erlin, Myers, Reyes, Strahm, extra-inning record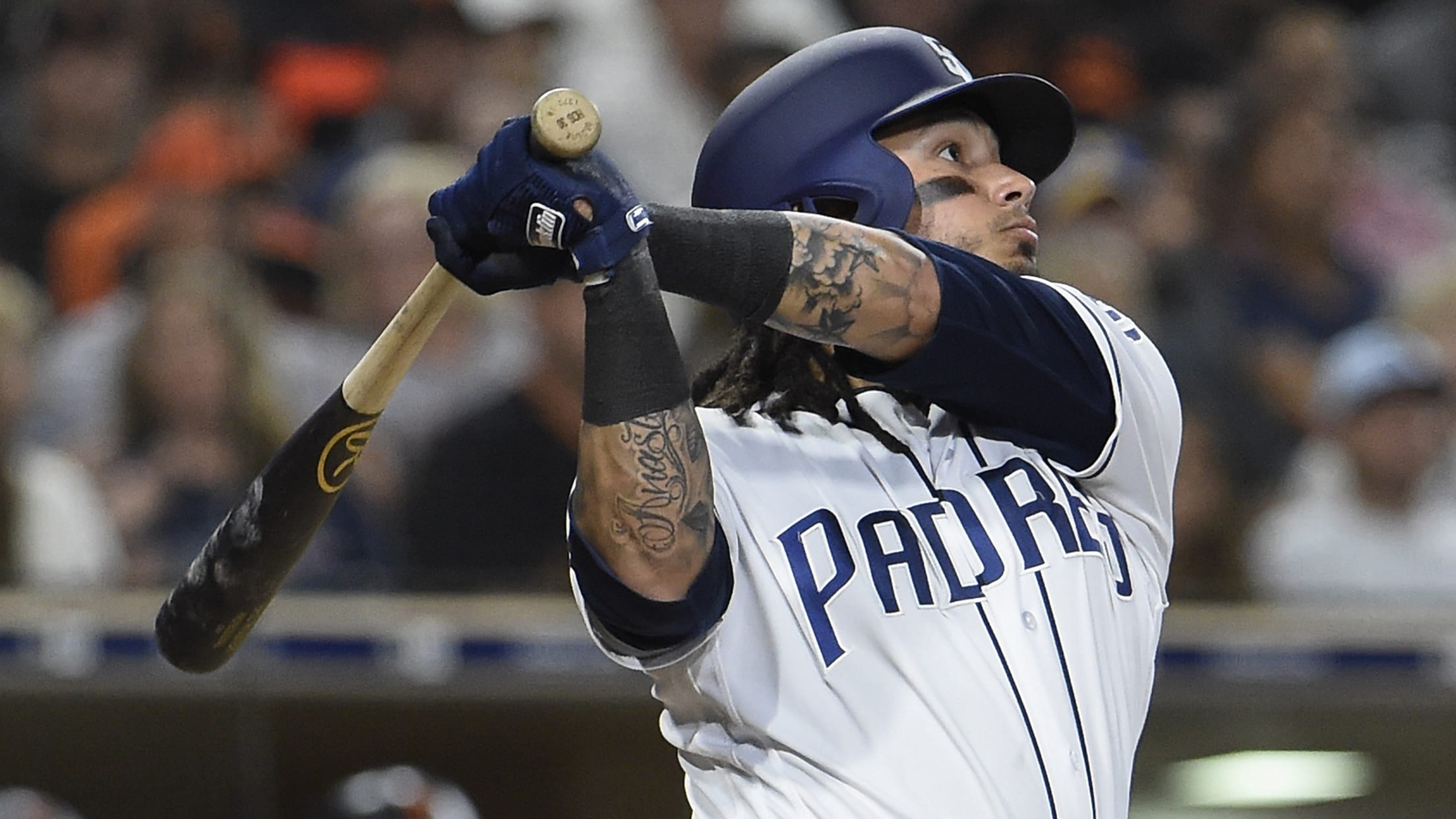 (Denis Poroy/Getty Images)
Bill Center, longtime sportswriter for U-T San Diego, is an employee of the Padres.Freddy Galvis should be wearing down.The Padres have played 158 games. And Galvis has made 158 starts -- 154 at shortstop and four recently at second base.But Galvis is getting stronger. The 5-foot-9, 192-pound, 28-year-old switch-hitter goes
Bill Center, longtime sportswriter for U-T San Diego, is an employee of the Padres.
Freddy Galvis should be wearing down.
The Padres have played 158 games. And Galvis has made 158 starts -- 154 at shortstop and four recently at second base.
But Galvis is getting stronger. The 5-foot-9, 192-pound, 28-year-old switch-hitter goes into the final four games of the season on his hottest run with the bat.
The native of Venezuela was 4-for-5 with two doubles and a walk Tuesday night in San Francisco.
He has hit safely in nine of his last 10 games since Sept. 15 -- going 18-for-39 with seven doubles, two homers, eight RBIs and nine runs scored. He has raised his batting average from .230 to .246 during the run.
During the 10-game run, Galvis is hitting .462 with a .500 on-base percentage, a .795 slugging percentage and a 1.295 OPS.
Galvis' 30 doubles lead the Padres this season. His 66 RBIs are one behind Padres' co-leaders Hunter Renfroe and Eric Hosmer. He also has four triples and 13 homers for a .378 slugging percentage and a .677 OPS.
Barring unforeseen circumstances, Galvis will finish the season as the only player in the Major Leagues to have played every game over the past two seasons.
NOTEBOOK
The Padres' 5-4, 12-inning loss in San Francisco on Tuesday night dropped them to 3-11 in extra-inning games this season.
Robbie Erlin allowed two runs (one earned on a Hunter Pence homer) on four hits and no walks with four strikeouts over five innings in San Francisco on Tuesday night. Over his last three starts, Erlin allowed five runs on 15 hits and two walks in 15 1/3 innings for a 2.94 ERA and a 1.11 WHIP. In his first season since returning from 2016 Tommy John surgery, Erlin made 39 appearances with 12 starts. He worked 109 innings with a 4.21 ERA and a 1.14 WHIP. He had 88 strikeouts against only 12 walks.
Franmil Reyes has gone 5-for-9 with a double and three RBIs the past two nights in San Francisco after back-to-back 0-for-4s over the weekend at Dodger Stadium. He has hit safely in 27 of his last 31 games -- going 38-for-101 (.376) with three doubles, seven homers, 17 RBIs, 16 runs scored and 13 walks for a .447 on-base percentage, a .614 slugging percentage and a 1.061 OPS.
William Myers had a double in five at-bats Tuesday night to extend his hitting streak to six straight games. He is 9-for-25 (.360) during the streak with four doubles, a home run, four RBIs and a run scored. He has raised his batting average from .251 to .260 during the streak.
Matt Strahm struck out two and worked a perfect inning in San Francisco Tuesday night to drop his ERA to 1.97. Strahm has allowed two runs on 13 hits and four walks with 27 strikeouts over 18 2/3 innings in his last 16 appearances since the end of July for a 0.96 ERA and a 0.91 WHIP.